A woman walking down a residential street, noticed a little old man rocking in a chair on his porch. She called
out to him as she passed. "Hello there! I couldn't help but notice how happy you look. What's your secret for a long happy life?"
"I smoke three packs of cigarettes a day," he replied. "I also drink a case of whiskey a week, eat nothing but fast food, and never exercise."
"Wow!" The woman was amazed. "How old are you?" she asked.
"Twenty-six," he replied.
Glen, Bangalore.
Finding one of her students making faces at others on the playground, Ms. Smith stopped to gently reprove the child. Smiling sweetly,the Sunday school teacher said, "Johnny, when I was a child, I was told if that I made ugly faces, it would freeze and I would stay like that." Johnny looked up and replied, "Well, Ms Smith, you can't say you weren't warned."
Jack is on his death bed, and he says to his wife, "Can you give me one last wish?" She says, "Anything you want." He says, "After I die, will you marry Larry?" She says, "But I thought you hated Larry." With his last breath, he says, "I do."
Three guys are fishing when Fred gets up to get a beer, loses his balance and falls out of the boat. Ed says " What should we do?" Bill says, "You better jump in after him, he's been under water for a while, we might need some help." So Ed jumps in, and after some time, he surfaces.
He says, "Help me get him in the boat." They wrestle Fred back into the boat. Ed says, "What do we do now, it doesn't look like he's breathing." Bill says, "Give him mouth to mouth." Ed starts to blow air into Fred's mouth and says, "Whoa, I don't remember Fred having such bad breath." Bill says, "Come to think of it, I don't think Fred was wearing a snowmobile suit, either."
One Liners….
If you're not part of the solution, you're part of the precipitate.

[Referring to a glass of water] I mixed this myself. Two parts H, one part O. I don't trust anybody!
They say we're 98% water. We're that close to drowning... [Picks up his glass of water from the stool...] I like to live on the edge...
I bought some powdered water, but I don't know what to add to it.
I was born by Cesarean section... But not so you'd notice. It's just that when I leave a house, I go out through the window.
When I was little, my grandfather used to make me stand in a closet for five minutes without moving. He said it was elevator practice.
I didn't get a toy train like the other kids. I got a toy subway instead. You couldn't see anything, but every now and then you'd hear this rumbling noise go by.
When I was a kid, I went to the store and asked the guy, "Do you have any toy train schedules?"
It's a good thing we have gravity, or else when birds died they'd just stay right up there. Hunters would be all confused.
When I die, I'm leaving my body to science fiction.
I went to the bank and asked to borrow a cup of money. They said, "What for?" I said, "I'm going to buy some sugar."
I saw a bank that said "24 Hour Banking", but I don't have that much time.

I went to the museum where they had all the heads and arms from the statues that are in all the other museums.
One time I went to a museum where all the work in the museum had been done by children. They had all the paintings up on refrigerators.
Last time I went to the movies I was thrown out for bringing my own food. My argument was that the concession stand prices are outrageous. Besides, I haven't had a Bar-B-Que in a long time.
One time I went to a drive-in in a taxi cab. The movie cost me $95.
Lavina Serrao, Sasthan.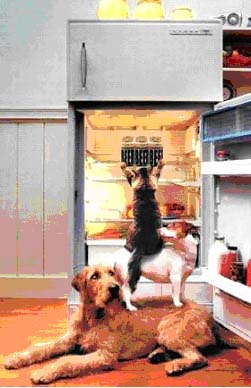 Cooperate and Reap Greater rewards
James Fernandes, USA
Letter to a Sardaar from his mother.
I am in a well here and hoping you in the same well there. I'm writing this letter slowly, because I know you cannot read fast.
We don't live where we did when you left home. Your dad read in the newspaper that most accidents happen 20 miles from home, so we moved 20 miles.
I wont be able to send the address as the last Sardar who stayed here took the house numbers with them for their new house so they would not have to change their address.
Hopefully by next week we will be able to take our earlier address Plate here, so that our address will remain same too.
This place is really nice.It even has a washing machine, situated right above the commode. I m not sure it works. Last week I put in 3 shirts, pulled the chain and havent seen them since.
The weather here isn't too bad. It rained only twice last week. The first time it rained for 3 days and second time for 4 days.
The coat you wanted me to send you, your Aunt said it would be a little too heavy to send in the mail with all the metal buttons, so we cut them off and put them in the pocket.
Your father has another job. He has 500 men under him. He is cutting the grass at the cemetery.
By the way I took bahu to our club's poolside. The manager is badmash. He told her that two piece swimming suit is not allowed in this club. We were confused as to which piece should we remove?
Your sister had a baby this morning. I haven't found out whether it is a girl or a boy, so I don't know whether you are an Aunt or Uncle.
Your uncle, Jetinder fell in a the nearby well. Some men tried to pull him out, but he fought them off bravely and drowned. We cremated him and he burned for three days.
Your best friend, Balwinder, is no more. He died trying to fulfil his father's last wishes. His father had wished to be buried at sea after he died. And your friend died while in the process of digging a grave for his father.
There isn't much more news this time. Nothing much has happened.
P.S : Beta, I was going to send you some money but by the time I realized, I had already sealed off this letter.
For More of Barkur Masala Click