In the poor zoo of Africa, a lion was so much frustrated as he was offered not more than 1 kg meat a day. The lion thought its prayers were answered when a Sheikh of Kuwait visits the zoo and requests the zoo management to shift the lion to a Kuwaiti zoo. The lion was so happy and started thinking of a central A/C environment, a goat or two every day and a Kuwaiti residence permit also.
On its first day after arrival, the lion was offered a big bag, sealed very nicely for breakfast. The lion opened it quickly but was shocked to see that it contained peanuts. Then the lion thought that may be they cared too much for him as they were worried about his stomach as he had recently shifted from Africa.
The next day the same thing happened. On the third day again the same food bag of peanuts was delivered. The lion was so furious, he stopped the delivery boy and blasted him, "Don't you know I am a lion...king of the Jungle..., what's wrong with your management? what nonsense is this?, why are you giving me peanuts to eat?
The delivery boy politely said, "Sir, I know you are the king of the jungle but...err... did you know that you have been brought here on a "monkey's visa"???
Jossie Pinto, Kuwait
Kids Advice on Love and Marriage
HOW DO YOU DECIDE WHOM TO MARRY?
You got to find somebody who likes the same stuff. Like, if you like sports, she should like it that you like sports, and she should keep the chips and dip coming.
* Alan, age 10
No person really decides before they grow up who they're going to marry. God decides it all way before, and you get to find out later who you're stuck with.
* Kirsten, age 10
WHAT IS THE RIGHT AGE TO GET MARRIED?
Twenty-three is the best age because you know the person FOREVER by then.
* Camille, age 10
No age is good to get married at. You got to be a fool to get married.
* Freddie, age 6
HOW CAN A STRANGER TELL IF TWO PEOPLE ARE MARRIED?
You might have to guess, based on whether they seem to be yelling at the same kids.
* Derrick, age 8
WHAT DO YOU THINK YOUR MOM AND DAD HAVE IN COMMON?
Both don't want any more kids.
* Lori, age 8
WHAT DO MOST PEOPLE DO ON A DATE?
Dates are for having fun, and people should use them to get to know each other. Even boys have something to say if you listen long enough.
* Lynnette, age 8
On the first date, they just tell each other lies, and that usually gets them interested enough to go for a second date.
* Martin, age 10
WHAT WOULD YOU DO ON A FIRST DATE THAT WAS TURNING SOUR?
I'd run home and play dead. The next day I would call all the newspapers and make sure they wrote about me in all the dead columns.
* Craig, age 9
WHEN IS IT OKAY TO KISS SOMEONE?
When they're rich.
* Pam, age 7
The law says you have to be eighteen, so I wouldn't want to mess with that.
* Curt, age 7
The rule goes like this: If you kiss someone, then you should marry them and have kids with them. It's the right thing to do.
* Howard, age 8
IS IT BETTER TO BE SINGLE OR MARRIED?
I don't know which is better, but I'll tell you one thing. I'm never going to have sex with my wife. I don't want to be all grossed out.
* Theodore, age 8
It's better for girls to be single but not for boys. Boys need someone to clean up after them.
* Anita, age 9
HOW WOULD THE WORLD BE DIFFERENT IF PEOPLE DIDN'T GET MARRIED?
There sure would be a lot of kids to explain, wouldn't there?
*Kelvin, age 8
"And the #1 Favorite is........"
HOW WOULD YOU MAKE A MARRIAGE WORK?
Tell your wife that she looks pretty, even if she looks like a truck.
-Toswyn Menezes, Kuwait
One for you, one for me:
On the outskirts of a small town, there was a big, old pecan tree just inside the cemetery fence. One day, two boys filled up a bucketful of nuts and sat down by the tree, out of sight, and began dividing the nuts.
"One for you, one for me. One for you, one for me," said one boy. Several nuts ropped and rolled down toward the fence. Another boy came riding along the road
on his bicycle. As he passed, he thought he heard voices from inside the cemetery. He slowed down to investigate. Sure enough, he heard, "One for you, one for me. One for you, one for me." He just knew what it was. "Oh my," he shuddered, "its Satan and the Lord dividing the souls at the cemetery." He jumped back on his bike and rode off.
Just around the bend he met an old man with a cane, hobbling along. "Come here
quick," said the boy, "You won't believe what I heard! Satan and the Lord are down at the cemetery dividing up the souls." The man said, "Beat it kid, can't you see it's hard for me to walk." When the boy insisted though, the man hobbled to the cemetery. Standing by the fence they heard, "One for you, one for me. One for you, one for me...." The old man whispered, "Boy, you've been telling the truth. Let's see if we can see the Lord himself." Shaking with fear, they peered through the fence, yet were still unable to see anything.
The old man and the boy gripped the wrought iron bars of the fence tighter and tighter as they tried to get a glimpse of the Lord. At last they heard, "One for you, one for me." And one last "One for you, one for me. That's all. Now let's go get those nuts by the fence, and we'll be done." They say the old man made it back to town a full 5 minutes ahead of the boy on the bike!
Anjie Fernandes. USA
What's in the Egg?
One Easter Sunday morning as the minister was preaching the children's sermon, he reached into his bag of props and pulled out an egg. He pointed at the egg and asked the children, "What's in here?" "I know!" a little boy exclaimed. "Pantyhose!"
Replacement Cat:
A woman had a faithful cat. And one day, a man ran over the cat. So, he went to the old woman and said: "I'm terribly sorry about your cat. I'd like to replace him."
"That so nice of you!" said the old woman, deeply touched. "How good are you at catching mice?"
The Whale Show:
At Sea World, our grandson absolutely refused to see the show featuring Shamu the killer whale, but he wouldn't tell us why. No amount of discussion could get him to change his mind. Later, when we got home, we discovered the reason for his reluctance.
An aunt had told him how exciting the show would be because "they choose children from the audience to feed Shamu."
Kitty Flight:
A pastor had a kitten that climbed up a tree in his backyard but then was afraid to come down. The pastor coaxed, offered warm milk, etc. The kitty would not come down. The tree was not sturdy enough to climb, so the pastor decided that if he tied a rope to his car and drove away so that the tree bent down, he could then reach up and get the kitten. He did all this, checking his progress in the car frequently, then figured if he went just a little bit further, the tree would be bent sufficiently for him to reach the kitten. But as he moved a little further forward....the rope broke. The tree went "boing!" and the kitten instantly sailed through the air-out of sight.
The pastor felt terrible. He walked all over the neighborhood asking people if they'd seen a little kitten. No. Nobody had seen a stray kitten. So he prayed, "Lord, I just commit this kitten to Your keeping," and went on about his business. A few days later he was at the grocery store, and met one of his church members. He happened to look into her shopping cart and was amazed to see cat food. Now this woman was a cat hater and everyone knew it, so he asked her, "Why are you buying cat food when you hate cats so much?" She replied, "You won't believe this," and told him how her little girl had been begging her for a cat, but she kept refusing. Then a few days before, the child had begged again, so the mom finally told her little girl, "Well, if God gives you a cat, I'll let you keep it."
She told the pastor, "I watched my child go out in the yard, get on her knees, and ask God for a cat. And really, Pastor, you won't believe this, but I saw it with my own eyes. A kitten suddenly came flying out of the blue sky, with its paws spread out, and landed right in front of her."
Miracles are still around! You need grace to recognize and find an explanation.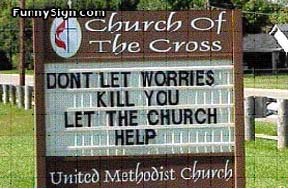 It seems this church sign has been that way since its inception.
James Fernandes, USA