HOW DID JESUS BEAT SATAN IN THE COMPUTER TEST ?.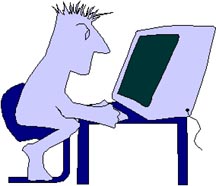 Jesus and Satan were having an ongoing argument about who was better in his computer. they had been going at it for days, and God was tired of hearing all of the bickering. Finally God said, "Cool it. I am going to set up a test that will run two hours and I will judge who does the better job".
So down Satan and Jesus sat at the keyboards and typed away. They moused. They did spreadsheets. They wrote reports. They sent faxes. they sent E-Mails. They sent out E-Mails with attachments. They downloaded. they did some genealogy reports. They made cards. They did every job. But ten minutes before their time was up, lightening suddenly flashed across they sky, thunder rolled, the rain poured and, of course, the electricity went off.
Satan stared at his blank screen and screamed every curse word known in the underworld. Jesus just sighed. The electricity finally flickered back on, and each of them restarted his computer. Satan started searching frantically, screaming "It's gone! It's all gone!! I lost everything when the power went out!". Meanwhile, Jesus quietly started printing out all of his files from the past two hours. Satan observed this and became irate. " Wait! he cheated, how did he do it?"
GOD SHRUGGED AND SAID, "JESUS SAVES".
Fr. Tony Andrade, USA
* * * * * * *
Computer Women
RAM Woman: She forgets about you, the moment you turn her off.
WINDOWS Woman: Everyone knows that she can't do a thing right, but no one can live without her.
EXCEL Woman: They say she can do a lot of things but you mostly use her for your four basic needs.
SCREENSAVER Woman: She is good for nothing but at least she is fun!
INTERNET Woman: Difficult to access.
SERVER Woman: Always busy when you need her.
MULTIMEDIA Woman: She makes horrible things look beautiful.
CD-ROM Woman: She is always faster and faster.
E-MAIL Woman: Every ten things she says, eight are nonsense.
VIRUS Woman: Also known as "WIFE"; when you are not expecting her, she comes, installs herself and uses all your resources. If you try to uninstall her you will lose something, if you don't try to uninstall her you will lose.
A city boy, Kenny, moved to the country and bought a donkey from an old farmer for $100. The farmer agreed to deliver the donkey the next day. The next day the farmer drove up and said, "Sorry son, but I have some bad news, the donkey died last night ."
Kenny replied: "Well then, just give me my money back." The farmer said: "Can't do that. I went and spent it already."
Kenny said: "OK then, just unload the donkey." The farmer asked: "What ya goanna do with him?" Kenny: "I'm going to raffle him off." Note: To raffle is to sell a thing by lottery - draw lot - to a group of people each paying the same amount for a ticket)
Farmer: "You can't raffle off a dead donkey!" Kenny: "Sure I can. Watch me. I just won't tell anybody he's dead."
A month later the farmer met up with Kenny and asked, "What happened with that dead donkey?"
Kenny: "I raffled him off. I sold 500 tickets at two dollars apiece and made a profit of $898."
Farmer: "Didn't anyone complain?"
Kenny: "Just the guy who won. So I gave him back his two dollars."
Kenny grew up and eventually became the chairman of Enron.
Eric DSouza, Dubai
* * * * * * *
Two married women go to the horse race on Sundays. They decide to bet. One says "We have no clue, what number should we bet ?"
The other one says "What is your bra size ?" "L5, why" "Ok mine is X4, so lets bet on 54 as combination of the numbers" So they bet all money on 54....and really 54 wins. So they go back and tell their husbands with all money in their pockets how they won.
Next Sunday the 2 husbands go to the horse race as well. They remember the logic of their wives and so one asks "We also have no clue how to bet, what number to pick" "No problem" says the first "How many times can you make love to your wife a night ???" "4 times easily" "ok, I can 3 times" So they bet all their money on 43... and lose, as the winner is 11.
"Damned, we should have been honest!
OFFICE INSPIRATIONAL POSTERS
* Rome did not create a great empire by having meetings.........they did it by killing all those who opposed them.
* If you can stay calm, while all around you is chaos.........then you probably haven't completely understood the seriousness of the SITUATION.
* Doing a job RIGHT the first time gets the job done. Doing the job WRONG fourteen times gives you job security.
* Artificial Intelligence is no match for Natural Stupidity.
* A person, who smiles in the face of adversity, probably has a scapegoat!!!!!!
* Plagiarism saves time.
* Never put off until tomorrow what you can avoid altogether.
* TEAMWORK... means never having to take all the blame yourself.
* The beatings will continue until morale improves.
* Never underestimate the power of very stupid people in large groups.
* We waste time, so you don't have to.
* Hang in there, retirement is only thirty years away!!!!!!
* Go the extra mile. It makes your boss look like an incompetent slacker.
* When the going gets tough, the tough take a coffee break.
* INDECISION is the key to FLEXIBILITY.
* Aim Low, Reach Your Goals, Avoid Disappointment. Damned, we should have been honest!
Sunitha, Kuwait
* * * * * * * *
Questions that have Confused humankind !!
Who was the first person to look at a cow and say, "I think I'll squeeze these dangly things here, and drink whatever comes out?"
Who was the first person to say "See that chicken there....I'm gonna eat the next thing that comes outta it's butt."
Why do toasters always have a setting that burns the toast to a horrible crisp, which no decent human being would eat?
Why is there a light in the fridge and not in the freezer?
If Jimmy cracks corn and no one cares, why is there a song about him?
Can a hearse carrying a corpse drive in the carpool lane?
If the professor on Gilligan's Island can make a radio out of coconut, why can't he fix a hole in a boat?
Why do people point to their wrist when asking for the time, but don't point to their crotch when they ask where the bathroom is?
Why does your OB-GYN leave the room when you get undressed if they are going to look up there anyway?
Why does Goofy stand erect while Pluto remains on all fours? They're both dogs!
What do you call male ballerinas?
Can blind people see their dreams? Do they dream??
If Wile E. Coyote had enough money to buy all that Acme crap, why didn't he just buy dinner?
If quizzes are quizzical, what are tests?
If corn oil is made from corn, and vegetable oil is made from vegetables, then what is baby oil made from?
If electricity comes from electrons, does morality come from morons?
Isn't Disney World just a people trap operated by a mouse?
Why do the Alphabet song and Twinkle, Twinkle Little Star have the same tune?
Do illiterate people get the full effect of Alphabet Soup?
Why do they call it an asteroid when it's outside the hemisphere, but call it a hemorrhoid when it's in your ass?
Did you ever notice that when you blow in a dog's face, he gets mad at you, but when you take him on a car ride, he can't wait to stick his head out the window into the wind?
Does pushing the elevator button more than once make it arrive faster?
Prayers.....
I had been teaching my three-year old daughter the Lord's Prayer. For several evenings at bedtime, she would repeat after me the lines from the prayer. Finally, she decided to go solo. I listened with pride as she carefully enunciated each word, right up to the end of the prayer: "Lead us not into temptation," she prayed, "but deliver us some E-mail. Amen."
And one particular four-year old prayed, "And forgive us our trash baskets as we forgive those who put trash in our baskets."
A little boy was overheard praying: "Lord, if you can't make me a better boy, don't worry about it. I'm having a real good time like I am."
A Sunday school teacher asked her little children, as they were on the way to church service, "And why is it necessary to be quiet in church?" One bright little girl replied, "Because people are sleeping."
The preacher was wired for sound with a lapel microphone, & as he preached, he moved briskly about the platform, jerking the mike cord as he went. Then he moved to one side, getting wound up in the cord & nearly tripping before jerking it again. After several circles & jerks, a little girl in the third pew leaned toward her mother & whispered, "If he gets loose, will he hurt us?"
Six-year old Angie & her four-year old brother Joel were sitting together in church. Joel giggled, sang & talked out loud. Finally, his big sister had had enough. "You're not supposed to talk out loud in church." "Why? Who's going to stop me?" Joel asked. Angie pointed to the back of the church & said, "See those two men standing by the door? They're hushers."
A mother was preparing pancakes for her sons, Kevin, 5, and Ryan, 3. The boys began to argue over who would get the first pancake. Their mother saw the opportunity for a moral lesson. "If Jesus were sitting here, He would say 'Let my brother have the first pancake, I can wait'". Kevin turned to his younger brother & said, "Ryan, you be Jesus!"
A father was at the beach with his children when his four-year old son ran up to him, grabbed his hand, & led him to the shore, where a seagull lay dead in the sand. "Daddy, what happened to him?" the son asked. "He died & went to Heaven," the dad replied. The boy thought a moment & then said, "Did God throw him back down?"
A Sunday school class was studying the Ten Commandments. They were ready to discuss the last one. The teacher asked if anyone could tell her what it was. Susie raised her hand, stood tall, & shouted, "Thou shall not take the covers off thy neighbor's wife."
At Sunday School they were teaching how God created everything, including human beings. Little Johnny, a child in the kindergarten class, seemed especially intent when they told him how Eve was created out of one of Adam's ribs. Later in the week his mother noticed him lying as though he was ill, & asked, "Johnny what is the matter?" Little Johnny responded, "I have a pain in my side. I think I'm going to have a wife!"
This last one is out of the mouth of my co-workers 3-year old son Reese: "Our father, who does art in heaven, Howard is his name...."
Charles Lewis, Bahrain
Topless Dancers.....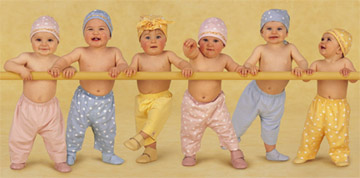 Charles Lewis, Bahrain