Principal Rajshekhar Hebbar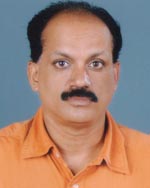 Late 70's, rightly the renaissance era in higher education, the just established Mangalore University, comprising Coorg and D.K. Districts, earlier under the jurisdiction of the University of Mysore, was about to sanction and approve new Colleges, that too in semi urban, and less known towns, in the un-divided District of South Canara, and me too, one among so many of the aspiring, to go for degree education, at the native town, were dreaming of a College at our Barkur.
'National Junior College', had almost all pre-requisites - huge campus, quality Lecturers, hundreds of students at its backyard…… to get it promoted as one….. Rumors were ripe and we were anxious and preparing, rather dreaming to see a First Grade College in the year 1979, at Barkur….. Most of us disappointed with desperation to hear there were no takers for the genuine demand…. By then, one academic year was over and few got enrolled in distant MGM, PPC, at Udupi, Bhandarkars at Kundapur, some at Sharada College, Basrur, and a big chunk at Milagres College Kallianpur. Next year also hopes were re-kindled, alas Barkur had no visionary to press or convince the decision makers or shoulder the responsibility… and to bury all the hopes, neighboring Brahammavar was fortunate to have a degree College in the year 1980 – St Mary's Syrian College under the able and dynamic educationist, Principal, Prof. Mathew C.Ninan.
Everyday, for next couple of years, while traveling all the way to Kallianpur, scores like me unknowingly used to curse the so called leaders of the time, later realized it's not an easy task. Years… and couple of decades gone by…, in between, Brahmmavar got one more College viz Cross-land at Chantar at Little Rock Hills, our sleepy Barkur town had a divide of haves and have-nots - as former group studying in the neighboring Colleges and the latter, bid adieus to a College degree and started to leave the place in search of jobs / career in places like Bombay, Bangalore. We must not be wrong, 'a College at that opportune time, would have changed, both the social and economical scenario of the place to a great extent'. The above are some flashback events, surly not at all ready to fade away from my memory.
It took unusually long course of time to have a College at Barkur, better late than never, and it was in the year 1998, the Ministry of Education - Government of Karnataka, with the efforts of then Minister and MLA of the Brahmmavar constituency Mr. Jaya Prakash Hegde, a College was approved and it was on 12th August 1998, Prof. Rajshekar Hebbar took the reins, as its 'Founder Principal' and since then no stones unturned to establish this Institution at par with any private College and one of the tallest among the Govt. run Colleges in the University.
Major credit rightly goes to Principal Rajshekhar Hebbar, the founder Principal of Smt. Rukmini Shedthi Memorial National First Grade Govt. College, Barkur (SRSMNFGGCB), and 'Barkur-on Line team' feel very proud, elated and honored to recognize his services to a worthy cause and salute him by joining our hands and respectfully bow our heads to say from the bottom of our hearts – Well done Sir, and a Big Thank you.
Borrn on 20th May. 1963, Prin. Hebbar's is a colorful personality, an active student during School and College days, well built and handsome, equally good in studies and extra-curricular activities during College days was a University Badminton Champion, got qualified himself as a post graduate in Commerce – M.Com. from Mangalore University, and soon embraced teaching, profession royal, not only as a passion but mission of life on 20th Feb.1986, now almost 21 long years, out of which plus 15 years as Principal speaks in volumes of a man, who brought glory and laurels to Barkur, and instrumental to fetch degrees to economically poor students of this area, thereby transforming dreams into reality, especially offering ladies of this rural area, door of higher education.
Words do not suffice, to narrate the sacrifices, trial and tribulations Prin. Hebbar underwent to bring stability, status, and to run this institution. By now, our valued readers must have realized while having a glance at his profile, how he managed to equip himself just not as a teacher, also equally good administrator over the years………..a man who has the most information have the greatest success in life. And Smt. Rukmini Shedthi Memorial National First Grade Govt. College, Barkur is the only government college to get B accreditation by NAAC in the whole of Udupi district.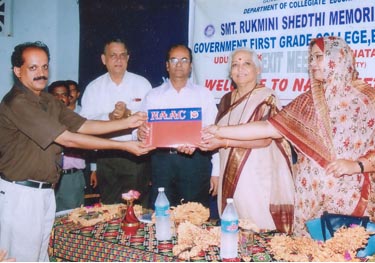 It is said 'burden of one's own choice is not felt', and Rajshekar Hebbar was also the founder Principal of Shankernarayana Govt. College and simultaneously handled the additional charge as Principal of Women's College Udupi at ease. Isn't it friends, - the way a great ship asks deep waters – Mr. Hebbar has the tact, talent and strength to handle any given responsibility and loves to do it.
In short about family:
'Hebbar clan of Brahmins' at Airody, Sastan was a well known household name, and so are Narasimha and Bhagirathi the proud parents of Rajshekar, who later shifted to Chantar Brahammavar. They had 6 children all settled comfortably in different walks of life. In short, - Narayana and Ramachandra engaged themselves as agriculturists, Ganesh is contractor, Sisters Laxmi is serving at PF Office and Jayanthi is housewife.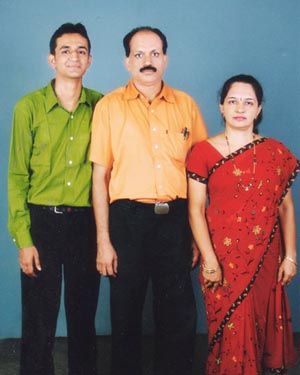 Rajshekhar married to charming Savitha, yet again a Lecturer, by profession, who earlier served at Milagres P.U. College Kallianpur. As the saying goes 'a tree known by its fruit', this couple is blessed with a talented son Kartik, who is doing his B.Tech. Studies at NIT Suratkal – was winner of Second Prize, state level IT Quiz and 10th rank holder in state level Math's Olympiad.
Let me very short, but feel the following observations by his admirers are worthy a mention:
Dr. Gabriel Fernandes, USA:
"My close association with Principal Hebbar goes back nearly 5-6 years. It may be necessary to mention that the Village To college Scholarship program was started at Barkur Parish to help needy students to attend Colleges under the guidance of Rev Fr. Sylvester D'Souza.
However as the prosperity increased, there was less need of assistance to Barkur Parish students, I there fore approached Principal Hebbar for his help to extend this program under his guidance at the Govt. Barkur College. He readily identified the need of scholarship help to several needy Village students especially among female students who otherwise were unable to attend the College due to the shortage of cash to pay the tuition cost. Each year, Shri Hebbar collects applications only from very needy students and after his close scrutiny he sends them to me for my final selection.
With his close help we have been awarding close to 30-40 scholarships each year His advice was also not to award fewer scholarships with large amounts but give more scholarships with lesser amounts e.g. Rs. 1000, 2000 etc so many more students will benefit and encouraged to attend the College. He told me our 'Village to College scholarship' program www.villagetocollegefdn.org has received much praise from the University Grants Commission members when they paid accreditation visit last year to the College. I really appreciate the hard work and dedication of Shri Hebbar to expand the College at Barkur."

Gabriel Fernandes, MS, PhD
Professor of Medicine, Microbiology and Physiology
University of Texas Health Science Center
7703 Floyd Curl Drive
San Antonio, TX 78229-3900
Tel: 210-567-4663
Fax: 210-567-4592
fernandes@uthscsa.edu
Mr. James Fernandes, Chicago, USA:
"Normally those popular teachers who teach well are not necessarily good Principals; however, Shri Hebbar has proved not only as a best teacher, but also as a good administrator with compassion for less fortunate children."
Mr. Jude Alfred Furtado, a former staff who served as Part time Lecturer in English at Barkur College
"A rare human being dedicated the best part of one's life, for the welfare and betterment of Barkur College, is Prof. Rajshekar Hebbar, a perfectly cultured and lovable gentleman, though an intellectual giant, as simple to mingle with all at ease. In my short tenure of couple of years, professionally, found him a great inspiring, guiding and extracting best in his sub-ordinates….. Though his faculty is commerce and finance, his knowledge on contemporary events is amazing……"
Conclusion:
Decennial Celebrations of the College next year have every reason to be a grand moment to thank everyone who made this educational institution a 'model temple of learning'. The man at the helm, Prin. Hebbar still young and energetic has shown the way and certainly has various plans and programmes for the further addition of courses in Computer Science – BCA, Business Management – BBM, and B.Sc courses. Patrons of the College, the Management Committee, The Barkur Educational Society and many other public minded people have done and are doing and showing concern and working hard to provide better facilities in the campus.
'Barkur on line' too have high hopes in Prin. Hebbar – yes hope is the companion of power, and the mother of success; for who so hopes has within him the gift of miracles, we saw miracles taking place in the College campus. A man set a good example himself rather than giving sermons, now admired and respected by students and parents alike.
A evolution in education is on, with small families, every parent expect their child to excel and study in a reputed educational institution and ready to sacrifice a little more… and to live up to their and students expectation as well, is the immediate challenge and task of any teacher, especially head of the Institution. Prin. Hebbar also knows it better than anyone else, quality education, that too to train the youth to face the challenges of modern world in a congenial atmosphere widely respected.
While acknowledging his concern and service to student fraternity of this area, we at Barkur-on-line express special thanks and wish him and his family good health in coming days.
On behalf of Barkur-on-line Team & ICYM Barkur Ex-Members Association,
P.Archibald Furtado, 7th November, 2007 – archibaldfurtado@hotmail.com
Archives
Rev.Fr.Sylvester D'Souza Mr.V.L.Roche Mr.Chooda Poojari Mr.Richard Carvalho Mr.B.Seetharam Shetty Mr.B. Shantharam Shetty Mr. Henry Roche Mr.Felix Barnes Dr.Gabriel Fernandes Dr.Derrick D'Souza Dr.Sheshagiri Rao Mr. Kasim Saheb Mr. Staney Pais Dr. B.L.N.Adiga Rev.Fr.Cyprian Henry D'Souza Mr. Peter Furtado Mr.Harry Fernandes Mr. K. Sadashiva Kalkur Mr. Micheal D'Souza Dr.N.C. Kalkur Mr.Wilfred Gonsalves Dr. Sr. Consillia Mr.Baptist D'Souza Rev.Fr.Tony Rtn. Jayarama Shetty Mrs.Eugene Quadras Mr.Charles D'Lima Dr.Niranjan Rao Dr.Barkur Shasthry Mr.Jerome John Fernandes Mr.MVR Acharya Nritya Vidushi Sushma Kamath Fr.Charles Lobo Mr.N.M.Bhat Mr.Barkur Sudhakar Shetty Fr.Remigeous Aranha Fr.Mark Gonsalves Divya Furtado Augustine Arunraj Dais Herald D'Souza