Called to Serve and They Serve With a Smile.
Every year when I go home for vacation to visit my beautiful mother India and my wonderful town of Barkur I have the opportunity to greet all the car and autoricksha drivers waiting in line to serve visitors who come to our historical Barkur. These drivers also serve the resident of Barkur and surrounding villages.
Kalchapura is the main bus stand in Barkur. Visitors come by bus from far away places and then look for assistance to reach their final destination. Our local drivers, who are born and brought up in Barkur, know their way around and are a big help in assisting visitors and residents.
Since there are no big hospitals in Barkur, when a medical emergency occurs, these drivers are like angel lifesavers as they help families reach the hospital of their choice. I have heard many touching stories about these drivers who have saved many lives due to their generous acts of love and concern. They frequently are called upon during the night and asked to drive the sick and their families to one of the nearby hospitals.
Among these wonderful and trustworthy drivers there are two outstanding figures. They are Raju Poojary and Krishna Kunder. These two drivers are most popular in Barkur and the surrounding villages.
Raju was born in the village of Hanehalli on October 16, 1972, to Nanu Poojary and Kalyani Poojarthy. He has three siblings, an older brother and two sisters. Raju finished his early elementary education in a nearby public school and completed his high school education at the National Junior College in Barkur. A few years ago Raju married his wonderful wife, Preethi, and they now have a son, Prethviraj.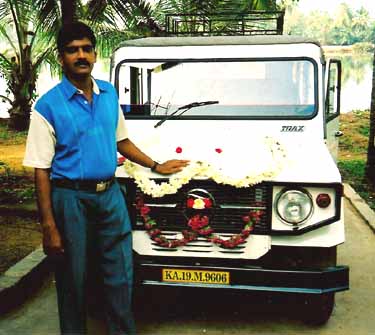 Raju with his Tempotrax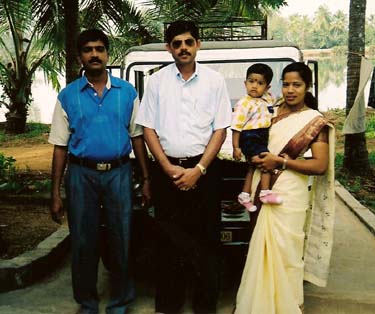 Raju with his family and friend
Raju drives his one Tempo Track, which he purchased last year. Previously he was driving the autoricksha and later the Ambassador car. He has fifteen years of driving experience under his belt.
Krishna was born in the village of Kachur on July 21, 1967, to Soma Marakala and Chandu Kunder. He completed his high school education in the Maryknoll High School in Barkur. He was married a few years ago and they are now blessed with a beautiful child. He is a professional driver and has eighteen years of driving experience without any accidents. He drives his own Ambassador car. His younger brother, Baskara, was also a professional driver in Barkur, but now is working in Dubai continuing his driving profession there.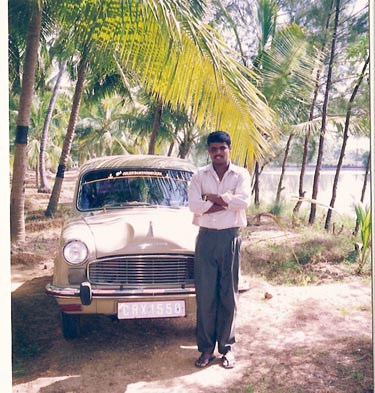 Krishna with his car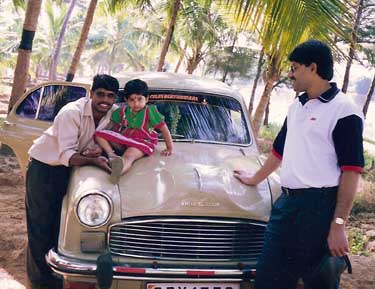 Krishna with Resha and Rony
Both of these young men are good, safe drivers and very trustworthy. They are very clever in finding out how to get you safely to your destination. I admire their simplicity and also devotion to God. Many times they drive pilgrims of different religions to their particular temple, church or other place of worship. They patiently remain with them to make sure they find their way around and obtain the help they need. They are committed to their driving profession and also have a good sense of humor that keeps customers happy. Their wonderful Smile and energetic spirit is a special help to customers who have traveled long distances. They know how to drive safely in the middle of heavy rains that may go on for hours. During the summer season they are very busy with wedding calls, driving families to wedding parties.
Those of you who are in a foreign land, away from home, or elsewhere in India working and planning to visit your hometown of Barkur, I highly recommend the services of Raju and Krishna. They can be reached at:
Raju Poojary: Residential phone 0820-2587800, Mobile phone 9845955702
Krishna Kundar: Residential phone 0820-2587050 ,Mobile phone 9865367054
We in Barkur are truly blessed with the wonderful service provided by our local car drivers. When traveling, safety is always a concern and these professional drivers always do their very best in caring for their riders. Let us thank them for their service and assure them of our prayerful support.
May God bless all our drivers in Barkur.
Fr. Tony Andrade.