IN ADVENT LET US PRAY WITH ONE VOICE.
"MARANATHA"….. COME LORD JESUS COME.
The liturgical year helps us by breaking up time and inviting us to change. So here we are at the beginning of Advent. Together with the whole church, the bride eagerly waiting to see the promised groom at last. We call to him using the ancient words of the Bible: "Maranatha" come, O come, Lord Jesus (Rev.22: 20). And as we await this coming we prepare our hearts to celebrate Christmas.
With the coming of the Advent on the weekend of November 26, 27 th church opens its new liturgical year, summoning all the faithful- young and old- to a renewal of their lives. The Holy Season of Advent, which comes 4 weeks before Christmas, is a time of preparation, waiting with hope to celebrate the birth of our savior Jesus Christ joyfully.
The Advent liturgy resounds with the longing cries of the Hebrew prophets, and John the Baptist preaching that the Lord is near. Hear their message still ringing through today's dark winters. The brief meditation on the Gospels for the Sundays of advent may help you listen to their voices. Among the customs of advent, the Advent wreath is probably the most important. Lighting the Advent candles each day with a prayer can prepare your household for Christmas. For children, an advent calendar marking off the days before Christmas can be an aid for living the Holy season. Putting up the Christmas tree in the family living room is another beautiful custom carried on for centuries in the church. The manager scene with Joseph, Mary and baby Jesus adds a special inspiration to our advent journey.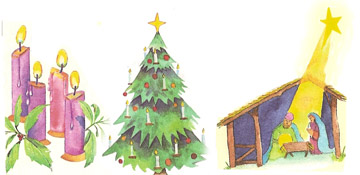 Christmas and advent customs appear everywhere today. True symbols that they are, the living traditions of the season bringing people and families together and connect us with our ancient faith. And they respond surprisingly to modern needs as well. The Christmas and advent seasons uphold so many precious realities presently endangered: birth, children, family and earth itself. In celebrating Christmas and Advent, keep their message for today in mind. In a world where nature and our environment are threatened, let us make our Christmas tree and manger scene remind us of the beauty and sacredness of nature. How closely at His coming did Jesus bind himself to the animals of the field, as well as to the earth and the open sky! Remembering the poor shepherds and the circumstances of Christ's birth, so marked by poverty, let us make them remind us of the forgotten poor of the world.
Let the Child, Joseph and Mary teach us the dignity and importance of children and families in a society so neglectful of them. The Christmas season's rich traditions come from peoples throughout the world. Let them remind us of the unity of all people as the children of God.
Fr.Tony Andrade