The Story Of These Four People Could Be Our Story Too!!
In a certain village there lived four people. Their names are very easy to remember and hard to forget. They are Everybody, Somebody, Anybody, and Nobody. One day there was an "important job" to be done and Everybody was sure that Somebody would do it. Anybody could have done it, but Nobody did it. Somebody got angry about it, because it was Everybody's job. Everybody thought that Anybody could do it. At the end Everybody blamed Somebody when Nobody did what Anybody could have done.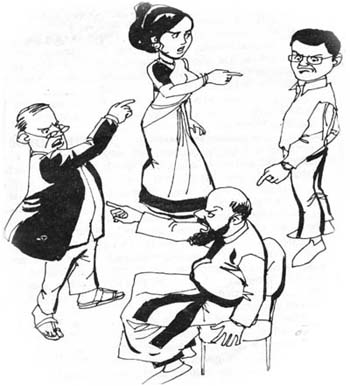 My dear brothers, sisters and readers of this website www.Barkur.com,
Don't you think sometimes the above story could be our story too??
Very often we see this happening in our community, in our families, in our parishes and also in our world. We all need to be aware of our responsibility to always do our very best to make our community a better place to live in. As Helen Keller once said: "Alone we can do so little, together we can do so much."
Many prominent figures of our time have made a difference in the lives of people by their total service to them. One of the best examples is Mother Teresa of Calcutta. In serving the poorest of the poor she said: "I see God in the lives of those poor people I serve." She took upon herself the great responsibility of caring for the poor and needy. She did not say that it is Somebody's job, rather she invited Everybody to take part in the mission of our God to care for his people.
Our Holy Father, John Paul II, constantly calls world leaders to face the challenges around them and to be a model to one another.
Within our society where we live, there are certainly ample opportunities to join our hands with others to do good. Every religion teaches the same principles: "To do good to others and to avoid evil." There is enough evil out there, mainly because of man's selfish nature. If we allow ourselves to think only about our own self-centered world we will lack the openness to accept and/or to reach out to others.
This reminds me of a little story from the book Prayers of the Frog written by Fr. Anthony D'mello, SJ, a retreat preacher who died a few years ago. He said a group of frogs sat in a well and said to themselves: "this is the world, the best place to be in, and there is no other place better than this." These frogs never came out of the well and never saw anything besides themselves swimming around in the water of that well.
Let us join the Everybody group and do our very best to build a better community of love and fellowship.
God bless you all,
Fr. Tony Andrade.