Presenting Mr.Richard Carvalho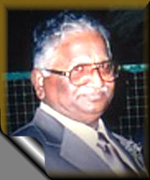 RICHARD GARAGE, Marol, Mumbai.
We are happy to introduce Mr. Richard Carvalho, proud son of Barkur through our website who was instrumental in uniting Barkurians' residing in Mumbai through his wast contacts and influence he had. Mr.Carvalho, born on 25.10.1940 was the 3rd son of Late Mr. Boniface Carvalho and Late Mrs. Severine Carvalho. He completed his primary education at Mary knoll Higher Primary School and later joined National High School (Now NPUC) and continued up to 8th std. He left to Mumbai during 1954 and continued his education till Metric (SSLC) at St. Anne's High School.
He had a vision during his journey towards Mumbai that he should do something, start a way of his own, should give employment to some people......"haven ek manis jaije".......so he started his garage life at Mumbai in 1961 at Bachchu Garage at Agripada till 1967. Within 7 years he could prove his ability in the garage life and found a place at Sewri to lay foundation on 1st January 1968,to his thought "haven ek manis jaije". For this premises he paid a rent of Rs. 125/- per month. He had with him about Rs. 1250 (hard earned money) which could change the direction of his life. From there it was no looking back for him. In the year 1975 he bought the present premises which is situated at Andheri East at Marol. Customers used to seek his services and satisfied customers were his advertisers. Now he owns the Telco Authorised Service Center (TASC) for the automobile gaint TELCO . He is employing about a strong and dedicated staff of 70 at his state of the art workshop RICHARD GARAGE.
Today he remembers that Mr. Vincent D'Almeida, Mr. Archibald Furtado, Mr. Lawrence Sequeira and Mr. Ivan Rebello came for his visit with a purpose of starting St. Peter's Association (Barkur), Mumbai. They organised a get together of Barkurians' residing in Mumbai at Preetam Hotel which was a starting step towards the formation of S P A.
Mr. Carvalho married in the year 1970 to Celine Florine Banz (D/o Mr. Simon Peter Banz and Mrs. Veronica Banz) of Matapady, Brahmavar. They are blessed with 3 children, (late) Mr. Kevin (who expired in the year 1997) Mr. Dev Kiran Boniface, married on 9th December 2001 with Ms. Charlotte and daughter Miss Sarina Malita who is in her 2nd year commerce graduation.
Yes, successful in his life Mr. Carvalho is a happy, satisfied person. He says not to miss any opportunity how ever small, as it may change the direction of one's life. Proud parishioners are honouring Mr. Richard Carvalho on Sunday the 26th May 2002 in the leadership of Rev. Fr. Sylvester D'Souza and we all at www.amchenbarkur.com wish him the very best in his life.
"HANV EK MANIS JALON"
-Harry Souz.
For the full story of SPA (Barkur) Mumbai , checkout Archie's Corner !