How often do you laugh??
If we take a few minutes off of our busy schedules and look around us, what do we often see or become aware of? Some sort of tension going on in the lives of individuals. Families, parishes, religious communities, dioceses all experience tensions and worries in their daily activities. Newspapers often carry information about untimely and cruel death resulting from the demon of tension. Frequent visits to doctors and psychiatrists are further proofs for us that we need some relief from mental tensions. Those working in leadership positions are frequently easy victims of tension.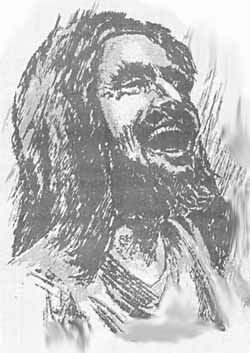 Is there a way we can relieve tension? The answer is an emphatic "YES" and a way is "LAUGHTER." If laughter has disappeared from families, our communities, or our circle of friends, then something is seriously wrong in our society!
We all have a sense of humor. Humor makes life lighter and human exchanges more delightful. One day a senior priest asked me; "do you know the three signs of old age?" "No," I told him. "Well, he said, these are the three signs of old age. One, loss of memory. The other two I forgot!" The ability to laugh is good for us in many ways. Laughter is good for our physical health. Smiling and laughter are good physiological helps, while tension and worry tends to damage our health.
Laughter makes the environment more enjoyable for everyone. People like St. John Bosco or St. Therese of Lisieux brought much cheer to their community inspite of their sufferings. St. Francis de Sales used to say; "a sad saint is a sorry sort of saint." Blessed Teresa of Calcutta had a great sense of humor. On one occasion, while speaking with a group of seminarians of which I was a part, she told a joke. She said; "the other day I dreamed that I was at the gates of heaven, and St. Peter said, "go back to earth, there are no slums up here." Then she laughed and laughed! We should work to create a happy environment for the people we work with. A gloomy or fear-filled environment, where all spontaneity dies, is a real killer.
Humor is not meanness. It is not a cruel or insensitive game of poking fun at others or making them feel bad. Humor basically is the ability to see ourselves as we are, as fallible human beings who make mistakes. It is the ability to laugh at ourselves, not the attempt to ridicule someone else. Humor is based on intelligence. When philosophers and theologians wanted to pinpoint the trait most proper of human beings, they picked reason. As the clearest manifestation of reason, the quality they highlighted was humor. (Have you ever heard cats and dogs cracking jokes or having a laugh?)
Our sense of humor, as well as our particular type of humor, seems to depend on our culture and family upbringing.
Humor can also be inappropriate, harmful or cruel. For example, laughing at someone's physical defect, lower income level or lack of education. At times it is easier to tease someone rather than express tender, loving words of appreciation. All of us need to hear from our significant others that they love and care for us. It can never be substituted by teasing and/or laughter.
Let me conclude with a God joke.
One day in heaven, the Lord decided he would visit the earth and take a stroll. Walking down the road, the Lord encountered a man who was crying. The Lord asked the man; "why are you crying my son?" The man said that he was blind and had never seen a sunset. The Lord touched the man's eyes, now he could see, and he was happy. As the Lord walked further, he met another man crying and asked; "why are you crying my son?" The man was born a crippled and was never able to walk. The Lord touched him, he was able to walk, and he was happy. Farther down the road, the Lord met another man who was crying and asked; "why are you crying, my son?" The man said, "Lord, I work for the government." The Lord sat down and cried with him.
Let us hope you see the funny side of life and laugh heartily and often. Let us hope you use humor to cheer up and unite people, never to put them down or divide them. Someone said; "if Christ were to revise the sermon on the Mount, he would add one more beatitude, Blessed are those who make others laugh, for they are the children of my Heavenly Father."
God bless,
Fr. Tony Andrade