Presenting Mr.B.Seetharam Shetty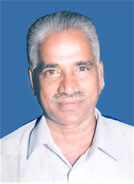 We are very happy and delighted to present Mr.B. Seetharam Shetty, retired principal NJC Barkur...as our Personality Of the Month at the launch of our new home page.
Born on 14th January 1940 as the 3rd son of Cahmpady Patel Veeranna Shetty and Bhagirathi Shedthi at Dodda hadi mane of Kumragodu Village, Brahmavar. He had his primary education and higher primary education at St.Antony's Higher Primary School, Pandeshwar, Sastana. He joined the Govt. Hr. Pry. School, Barkur for the 8th Std. and he continued his high school education at National High School, Barkur. He completed his P. U. C. and Graduation at Sahyadri College, Shimoga and he got his Master's Degree in Political Science from Karnataka University, Dharwad.
After completing his education he joined Malnad High School, Vandse, Kundapur as graduate assistant and he served there for just one year before starting his marathon innings of 35 years of service in Barkur under various capacities. First 9 years as graduate assistant at National High School, Barkur and then 26 years as PRINCIPAL at National Junior College, Barkur since its inception. During his service as Principal not only he enjoyed good name and fame, but also involved himself in many activities and served many associations in various capacities.
He was the governing council member of the Syndicate Agricultural foundation for about 15 years, advisory committee member of The Krishi Vijnana Mahithi Kendra (Agricultural Science & Research Center) of Brahmavar. Also served as the President of Udupi Taluk Principal's Association of Junior Colleges. Secretary of east-while DK Dist. Private Managements Jr. Colleges Principal's Association. As an active Lion, he served as the Secretary/President of the Lions Club, Barkur-Brahmavar. He also served as the Zone Chairman and Dist. Chairman in Lion Dist. and Administrator of Lions Eye hospital of Kota, sponsored by Lions Club, Barkur-Brahmavar.
He is serving as the President of the local committee of the All India Co-coordinated Project, which is sponsored through Bharathiya Vikas Trust, Manipal. The trust has sponsored Hosala Village of Barkur for development and has initiated many projects.
He is the member of Nethravathi Vikasa Vahani Club of Barkur, which is exclusively meant for the agricultural activities of the locality. The club is working for the agricultural improvement by conducting seminars, demonstrations, field visits, educating the people to go for rain water conservation techniques, making farm ponds, bunds, check dams etc.
Retired in the year 1998, Mr. Shetty has involved himself in various social service activities besides his main activity of agriculture. He is the vice president of the "citizens forum" of Brahmavar-Barkur, which is keenly interested in beautification, maintaining the tourist spots properly, providing facilities for the Barkur Railway Station and to encourage the youth to start small-scale industries. Presently he is the correspondent of National Pre University College, which is run by Barkur Education Society; Secretary of Anitha Education Society, Kokkarne, which is managing one Teacher's Training College and three Higher Primary Schools.
Mr. Shetty is happily married to Smt. Hemavathi Shetty and blessed with three daughters Anitha, Amitha and Preetha and grand children Pavan, Priya, Vibha and Anusha. Out of his three daughters, Mrs. Preetha is an Associate Professor in the College of Dental Surgery, Dharwad thereby continuing the legacy of her father's profession of TEACHING.
At this juncture we all at Barkur.com wish Mr.Seetharam Shetty a happy retired life filled with God's Blessings.
-Harry D'Souza
Archives