Presenting Mr.B.Shantharam Shetty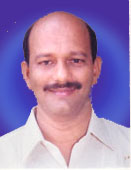 We are happy to present Mr. Shantharam Shetty as our personality of the month
We are pleased to introduce a great personality of Barkur, a politician, a social worker, an agriculturist, a friend to all, Mr. Shantharam Shetty was born on 23rd January, 1954.
His father, Late Mr. B. Umashankar Shetty, expired on 18th September 1992 (10 years ago) was also responsible for the development of Barkur. We, on behalf of "barkur.com" pay tribute with respect to Late Mr. B. Umashankar Shetty.
His mother Mrs. Pushpavathi Shedthi, a supportive force behind Mr. Shantharam Shetty is always a guide to him. Mr. Shetty became the Panchayath President at an early age of 25 (in the year 1979) and continued as President till 1994 when he was elected to the Udupi Taluk Panchayath and was the Taluk Panchayath member till 1999.During the Taluk Panchayath election held in 2000 he could not contest from Barkur since this constituency was reserved for ladies. Under his leadership Barkur won the prize for "Educating the Illiterates under the Eradication of Illeteracy programme" of the Govt. of India in the District. He has conducted a Yoga sammelana and an Eye camp under the participation of Sri. Dharmasthala Manjunatheshwara Ayurvedic Medical College and Lions Club, Barkur-Brahmavar.
Besides politics, he is engaged in all sorts of social service activities of Barkur. He is the vice president of Barkur Education Society which is running a Junior College, 3 primary schools and an ITI. He is the Correspondant of Kumuda Umashankar Shetty Teachers' Training School, Kokkarne which is run by Anitha Education Society. This Education Society is also running three primary schools.
He is the founder president of "Sneha Sports", Barkur which has conducted many tournaments and they have won many awards for their best performance in cricket. A very fine actor that he is Mr.Shetty has acted in many plays and was very active in "Sneha Ranga" a cultural organization and won the best actor award. He has served the Lions Club, Barkur-Brahmavar as its President. He is the President of Barkur Vyavasaya Sahakari Sangha (BVSS), since 1992 and under his presidentship this society has achieved all the targets given by the Registrar of Societies and District Development Banks.
The famous temples of Barkur, Panchalingeshwara, and Batte Vinayaka Temple, Moodukeri are being renovated under the presidentship of Mr Shetty. The work is going on very fast and Mr. Shetty expects to complete it very soon.
Happily married to Mrs. Suchithra Shetty and blessed with two sons, Mr. Neeraj and Mr Athmaj. Mr Neeraj is studying in 2nd year B.E. (Computer Science) at Nitte Engineering College (NMAMIT), Nitte , and the younger Mr. Athmaj is studying in II P. U. C. at Coorg Public School, Gonikoppalu (near Madikeri).
It is worth mentioning here that Mrs. Suchithra Shetty is the sister of Late Mr. Sunil, famous Kannada Film Actor who met with an tragic accident on 25th July 1994. Mr. Sunil was the no. 1 Kannada Hero at the time and his sudden demise put Kannada Film Industry in deep shock. We the team members of "barkur.com" pray the Al-Mighty to rest his soul in peace.
While thanking Mr. Shantharam Shetty for his services to the society we wish him all the best in the days to come.
-Harry D'Souza
Archives