CALLED TO SERVE & HE SERVES WITH LOVE
Introducing Dr. Hemanth Kumar, M.B.B.S.
When we read the Holy Bible, the creation story in the book of Genesis, it says; "God created everything and on the last day He created man in His image, in the divine image He created him, male and female He created them." (Genesis 1:27-28).
Religions of the world believe there is a God who is the all powerful creator of the universe. In creating us God blesses us with many talents and gifts to be used for our own good and the good of the society where we live. Often that aspect of using our talents and gifts for the good of the community is forgotten and we become selfish and self-centered.
However, there are some among us who serve the community using the talents and gifts God has given them. One of them is Dr. Hemanth Kumar of Sastan. Some of the viewers of the web site barkuronline.com may wonder where Sastan is located. It is a neighboring town of Barkur and the national highway 17 passes right through it. It comes under the Udupi district of the state of Karanataka.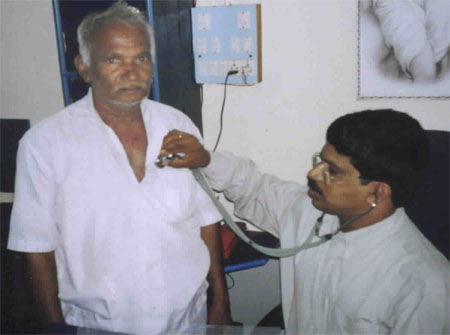 Dr. Hemanth busy examining a patient.
Every year, during my home visit, I visit Dr. Hemanth Kumar and I am always impressed by his dedication and love for his work. He is truly talented and competent in his medical practice. He serves his patients with love and the utmost care and is available to them day and night. When called upon for emergencies, no matter the time of day, he willingly goes to their homes to treat them. His clinic in Sastan is always busy. People from surrounding villages trust him and go to him for their medical care.
Dr. Hemanth Kumar was born in Gundmi, a small village in Sastan, to B. Rama Amin and Sharada of Barkur. His parents later moved to Gundmi. He has two brothers and a sister. His brothers are Mr. Suresh and Dr. Shridar. Suresh has a B.E. degree in Automobile Engineering and presently working in Muscat. Dr. Shridar, M.B.B.S.,D.O.M.S. is an eye specialist. His sister, Shailaja, is working on her B.S.N.L.
Dr. Hemanth Kumar completed his primary education in the government primary school in Gundmi, and then attended the Viveka Junior College in Kota. There he completed his high school and P.U.C. education. He completed his medical studies in Karanatada Medical College in Hubli in 1991 and obtained a M.B.B.S. degree. After graduation he was appointed medical officer at the Primary Health Care Center in Nada where he served from 1993-1995. This is located in Kundapura Taluk. Following that he was appointed primary physician at E.S.I. Hospital in Ajjarkad in Udupi. During this time he also served as an insurance medical officer from 1995-2000. Currently he is working in the E.S.I. Hospital in Kundapura.
In 1995, aware of the growing health care needs in his own native town of Sastan, Dr. Hemanth opened a medical clinic. With the help of his wife, Dr. Usha Hemanth, he continues to carrying out his mission of service and care to his people.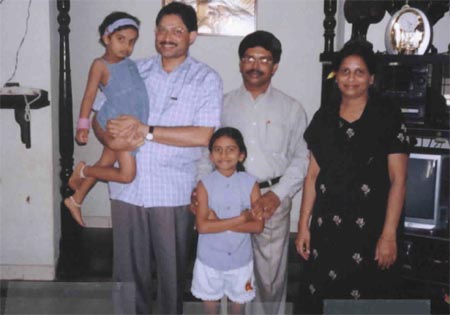 Dr. Hemanth with his wife, Dr. Usha, Children Spandana and Sinchana
with Fr.Tony Andrade
Dr. Hemanth Kumar is blessed with a very supportive wife, Dr. Usha, and two beautiful children, Spandana and Sinchana. Both children are studying in Nirmala English Medium School in Brahmavar.
I am happy and proud to introduce Dr. Hemanth Kumar to the viewers of our web site Barkuronline.com.
I wish Dr. Hemanth Kumar the very best in his wonderful mission of service to the local community. I assure him of my humble prayers, that God Almighty will bless him and his family in many ways and continue to give him the strength and good health to carry on his mission of service to his people.
Fr. Tony Andrade.