MR. HENRY LESLIE ROCHE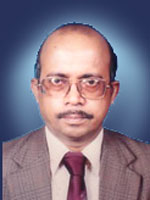 We are pleased to introduce yet another great personality, a Barkurian who was instrumental in uniting Barkurians residing in Mumbai under one umbrella called "St. Peter's Association, Barkur (Mumbai)" and organizing many social as well as cultural programmes in Mumbai, therby highlighting the name of Barkur in Mumbai.
Born on 9th July 1942 at Barkur as the eldest son of Late Mr. Abundias Roche and Late Mrs. Piad Roche in a family of 10 children (Mr. Henry Roche, Mr. Walter Roche, Mr. Victor Roche, Mrs. Heralda Bothello, Mrs. Treasa Pinto, Mr. Julias Roche, Mrs. Alice Sequeira, Mrs. Gladys Pereira, Mrs. Pramila D'Silva and Mrs. Jenevieve Gonsalves).
Mr. Henry Roche had his primary education at Moodahadu Primary School , Pandeshwar, Sastan. He joined National High School , Barkur for continuation of his secondary education and got his . B. A. degree from Lingaraj University , Belgaum . After completing his education he selected teaching as his profession but could not continue for more time, as he jumped to business at an early age of 30 years, i.e. in the year 1972 itself. As a successful transporter he earned name and fame in this line and helped many to earn their daily bread. His contacts, leadership qualities, helping nature were mainly accountable for his success.
Apart from business he involved himself in many social service activities. He is the PRESIDENT of St. Peter's Association, Barkur (Mumbai). In his leadership the group is marching ahead and instrumental in uniting Barkurians residing in Mumbai and is helping in many ways to students studying in various schools of Barkur. This year they have donated uniforms to the students of Mary knoll Higher Primary School , Barkur (from std. 3 to std. 7). St. Peter's Association has also sponsored an English teacher to the school. The people of Barkur are ever greatful to the Association.
Mr. Roche is happily married to Mrs. Ida Roche in the year 1973 and blessed with two sons Mr. Rohan and Mr. Russel. We on behalf of the Barkurians wish Mr. H L Roche and his family every success in the days to come.
-Harry D'Souza
Archives