Let us Celebrate Mother's Day With Our Mother's Blessings.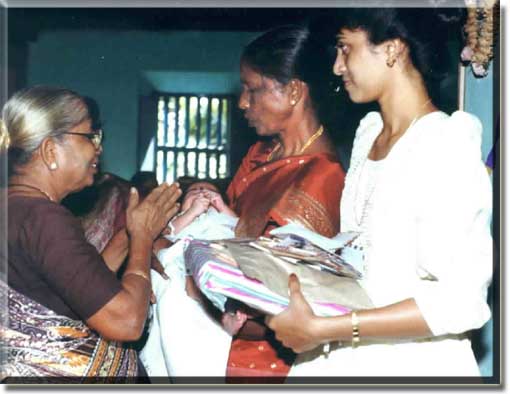 Grandmother blesses the newborn baby during the cradle ceremony
Every year we celebrate Mother's Day in May and this year it will be on May 9th. We are proud of our mothers and celebrate her day with great love as we assure her of our prayers and support. A mother's love for her children is immeasurable and unconditional. She gives herself totally to them from the moment of their conception.
Throughout the world there are various customs and traditions in celebrating Mother's Day.
In America cards and/or flowers are given. Often families will make great plans so on this day their mother does not have to cook. If she lives in a nursing home or other eldercare facility children will go and visit. Children living far away will make sure and connect by calling their mother.
In India receiving a blessing from your parents is a common custom especially on occasions such as getting married, receiving the sacraments such as; Holy Communion, Confirmation, Holy Orders or when leaving home to study or work in a foreign country. When asking for a blessing the child joins both hands and the mother blesses her child in the name of God.
Blessings given by our mothers in the name of God have a great effect in our lives. I left home at the age of 18 to enter the seminary in Pilar, Goa, located about 300 miles from my hometown. For the first time in my life I realized the importance of her blessing. It came from my mother's heart as she said, " Devachem besanv Putha." (This saying is in my mother's tongue, called Konkanni, and it means "God bless you son"). At a time like this our mother's often become tearful when their child leaves and goes far from home. I am sure many of you may have a similar experience of receiving the blessings from your parents and how that helps in your day to day life. People of other religion and other faith have some other way of receiving the blessings from their parents. Some touch the feet of their parents in reverence and respect.
When we gather to worship either in the temples or in the churches we pray to God for the blessings upon us and our loved ones. Catholics around the world believe and pray to our heavenly mother, Mary. She is the Mother of the Church and mother of our Lord Jesus, the Savior of the world. She blesses us everyday and helps us to walk in the footsteps of her son, Jesus. As she said to the servants at the wedding at Cana, "do what he tells you to do" she does the same to us. By following Jesus, our Lord, we may one day also attain everlasting life in heaven.
Let me conclude with a prayer for our Mothers.
Dear God,
Now that I am no longer young, I have friends whose mothers have passed away. I have heard sons and daughters say they never fully appreciated their mothers until it was too late to tell them. I am blessed with a dear mother who is still alive. I appreciate her more each day. My mother does not change but I do. As I grow older and wiser, I realize what an extraordinary person she is. God, almighty creator of heaven and earth, bless my mother richly as she deserves and help me to live up to the example she has set. Amen.
Let us not hesitate to receive blessings from our parents whenever we can. Those blessings can be a source of comfort to a sorrowing heart and a joy to a rejoicing heart.
Long live our Blessed Mothers and Fathers and happy "Mother's Day"
Fr. Tony Andrade.