GANDHI'S PRINCIPLES OF NON-VIOLENCE...STILL RELEVANT TODAY.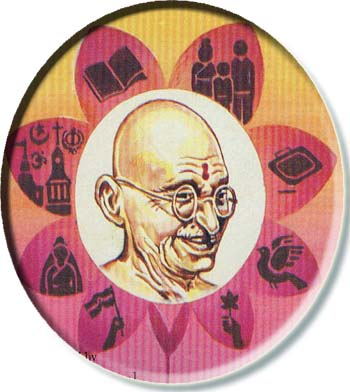 Everyday when we turn on the TV or open the newspaper what we hear or read is mostly about violence.
Conflict and violence are everywhere! There is open violence in the many wars going on in world today. It is also hidden in the structural violence that exploits the poor and oppresses the social and politically marginalized. Both kinds of violence are interrelated and it becomes a never ending spiral. There is violence in the homes, against women and children. There is violence in the hearts of those seeking self-affirmation in dominating and/or hurting others and in the hearts of those burning with impotent rage, resentment and revenge. And sadly, these feelings of resentment and revenge often are passed on from one generation to the next.
In the midst of this chaotic world we wonder; "Is there ever going to be a peaceful day in a world where there is so much hatred and animosity? What should one do? What should our response be to the never ending violence in our communities, nation, and in the world?"
In reflecting on the issue of violence I was lead to watch the movie "Gandhi" once again. Those of you who have seen the movie remember how Mahatma Gandhi worked through the means of non-violence in order to obtain the independence of India on August 15, 1947, from the British empire. Today Mahatma Gandhi is regarded by the world community as one of the most outstanding teachers of non-violence and a peacemaker whose teachings and vision have shaped millions of lives. A man of "truth and non-violence", open to all cultures and religions, and for whom education consisted "in drawing the best out of yourself." Gandhi is a challenge and inspiration to the educators and peacemakers of today.
In his book, Young India , Gandhi writes; "If we are to reach real peace in this world and if we are to carry on a real war against war, we shall have to begin with children; and if they will grow up in their natural innocence, we won't have to struggle, we won't have to pass fruitless, idle resolutions, but we shall go from love to love and peace to peace, until at last all the corners of the world are covered with that peace and love for which, consciously or unconsciously, the whole world is hungering. Non-violence requires a double faith, faith in God and also faith in the people. An eye for an eye ends up making the whole world blind."
Mahatma Gandhi was a man of prayer. A Hindu by birth, he read the Holy Bible frequently drawing strength and inspiration from it for his own spiritual life. Through the Bible he came to know that Jesus preached non-violence his entire life, even to his death on the cross. The gospel words of Jesus; "Do not resist one who does evil. If anyone strikes you on the right cheek, turn to him the other as well." (Mt. 5:39). "Love your enemies and do good to them." (Lk. 6:35) and many other teachings of Jesus helped Gandhi lay a strong foundation to his principles of non-violence.
Gandhi observed every Tuesday as a day of silence and he was very faithful to this practice. He called it his appointment with God.
Like Mahatma Gandhi let us put our hope and trust in our loving God who by His very nature is non-violent. May God inspire our world leaders to use Gandhi's principles of non-violence to achieve their goals in bringing "peace and harmony" to a world broken and torn apart by war and violence.
By Fr. Tony Andrade, 29/05/2004