Introducing....Dr.Gabriel Fernandes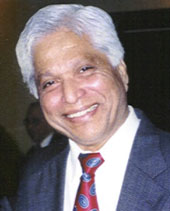 Dr. Gabriel Fernandes, PhD
Professor, Department of Medicine
University of Texas Health Science Center at San Antonio
7703 Floyd Curl Dr.
San Antonio, TX 78229-3900
Ph. 210-567-4663
Fax 210-567-4592
Where there is a will, there is a way, and there is no substitute for hard work. We are very proud to present Dr. Gabriel Fernandes of Moodahadu Village of Barkur, who proved the above sayings by rising to the position of acclaimed scientists in USA by his sheer hard work and a will to achieve the impossible, is our Personality of the month.
Moodahadu Village is an isolated place in Barkur, surrounded by a river. The nearest bus stop is at Sasthan, even today. A dilapidated hanging bridge that was built some 15-20 years back is the only link to the outside world other than the crude wooden boats, so one can imagine the situation half a century back.
Gabriel Fernandes was born on 25th March 1936, as the 3rd son of the late Mr. Jerome D. Fernandes and the late Mrs. Assumptha Fernandes at Moodahadu village. He attended primary school at Pandeshwar and higher primary at St. Anthony's Parish at Sastan, mainly because of difficulties in crossing the rivers to reach Barkur. Luckily, since a National High School was just opened in Barker, he was the first in the family to be able to attend and complete high school in 1953. Although St. Aloysius College in Mangalore offered him a free scholarship, he could not go to the college since his family was quite poor and he also had three younger siblings.
Bowing to his fathers wish, he went to the city of Bombay to find work to support the family, and after several months, with many hardships found a small job at Tata Cancer Research Center, looking after the chickens and mice kept for research. Since he had no proper training, he was sent to Poona, to the Agricultural College to complete training in poultry keeping, and there he stood 1st in the class. Quickly, Gabriel found an opportunity to undertake nutrition research in chickens to optimize the body growth and egg laying capacity using pharmaceutical wastes as dietary supplements. He soon published this work in scientific journals and it received much attention. He was sent to Sydney, Australia in 1962 to present his work at the 12th World Poultry Congress. He was also allowed to receive additional training at other research Institutes in Australia, and after his return was promoted to Chief Animal Technician of the Institute, supervising nearly 25 technicians.
During his stay in Bombay, besides his laboratory work, he has to his credit the following,
1) He was asked to present his work in a workshop during the Papal visit in 1964\ at the 38th International Eucharistic Congress held in Bombay.
2) He was also the founder of the St Peregrine (Patron Saint of Cancer victims) Association of catholic employees of the Tata Center including the late Dr. Borges who also gathered annually to offer a Thanksgiving mass.
Although, he remained active with his work without a College degree, he was fortunate to receive an opportunity in 1968 to join the University of Minnesota, in the USA to work fulltime in a lab and at the same time to attend College in the evenings. Gabriel completed his B.Sc. degree in 1973, twenty years after his high school and his M.Sc. in 1975 at the University of Minnesota. In the meantime, while working full time, he also continued his nutrition research in mice on the side and was able to publish his work with other famous Professors in several prestigious scientific journals.
In 1977, he was offered a Scientist job at the well-known Sloan Kettering Cancer Center, at New York. He was also given an opportunity by the Institute to continue his research and to complete his PhD degree from the University of Bombay in 1979. Soon after the completion of his doctorate degree, he was promoted to Assistant Professor at Sloan Kettering and was able to obtain research grant support from the NIH to do his own research. In the meantime, he also successfully completed other examinations to become a certified Laboratory Animal Technologist and Board certified Nutrition Specialist.
Dr. Fernandes, based on his outstanding research in the area of nutrition, cancer, and aging, was then offered an independent job as Associate Professor of Medicine at the University of Texas Health Science Center, at San Antonio and moved there in 1981, where he became Full Professor of Medicine, Microbiology and Physiology in 1988.
His current research involves using fewer calories to prolong life span and slow the aging process by inhibition of autoimmune diseases and cancer in mice. This involves changes in the immune system and in the expression of various genes in the tissues and cells. He recently started research on fish oil which has also been found to modify the immune system and many autoimmune disorders such as kidney disease, cancer and bone loss. His work has always been supported by grants from NIH and other agencies. He has published 170 refereed papers, 80 reviews and book chapters and over 230 abstracts so far, and has been invited to present talks at various National and International meetings held in various countries. Dr. Fernandes has served in various National organizations and on Editorial Boards, and was a member of two NIH study sections for terms of 4 years each, to review research grants at Washington D.C. He also received awards such as the Distinguished Scientist and International Nutritional Immunology Group Award etc.
Dr. Fernandes is currently President of the Association of Scientists of Indian origin in America, Inc., and also President of the Indian Faculty Association of the University of Texas Health Science Center, which provides help to students and Post Doctoral trainees etc. He also regularly trains postdoctoral fellows particularly those arriving from India. Several of the fellows he has trained have already become research Professors at other Universities. Dr. Fernandes is also currently a member of the Scientific Advisory Board of the American Autoimmune Related Diseases Association.
In spite of his busy research and other activities in the USA, Dr. Fernandes has not forgotten his native place and his childhood memories in the village. He recently started to provide Dr. G. Fernandes Scholarships to needy students who are having difficulty attending either Pre University or regular College due to inability of their parents to pay for college tuition and books. He has so far given over 40 scholarships to many students, both Hindu and Christian, with the kind help of the Parish Priests of Barkur, in amounts varying from Rs1000 to 2000 per year. He is also trying to establish a "Village to College Scholarship fund" to provide assistance on a regular basis to bright and very needy students by raising additional funds from new donors to help many more students from nearby villages to complete a College degree. He has also given financial help to churches and schools and recently a generous donation was given by him to the Rotary Club of Brahmavar to build a drinking water storage tank at the National Junior College in Barkur. For this particular effort, the Rotary Club of San Antonio, Texas recently gave him a Paul Harris Fellow Award
Dr. Fernandes is happily married to his wife Clara, from Bombay (originally from Shirva) who is a trained Social Worker. His son Ashu, married with two small boys, is currently serving as a Regional Manager of a large Pharmaceutical Co in Chicago, and his daughter Anjali is working as Speech Pathologist in San Antonio. His brothers and sisters are Benedict, Romalth, Sr. Dr. Consilia (Helen), James, and Vincent. Sr. Dr. Consilia is a famous obstetrician and gynecologist at Hyderabaad.
We hope this story of Dr. Gabriel Fernandes will serve as a ray of hope to many needy students of Barkur and that many students will avail themselves of the help from his educational fund. Soon we will publish the details of the fund and the criteria to obtain financial assistance from this fund for the deserving candidates.
Archives