Presenting....Dr. Manjunath Somayaji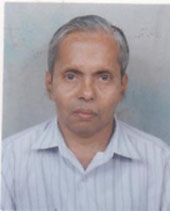 Dr.Manjunath Somayaji, Ph.D
Head Of Department of Chemistry, Poorna Prajna College, Udupi
Barkur.com proudly presents yet another great personality from Barkur, Dr. Manjunath Somayaji, Head of The Department of Chemistry, at Poorna Prajna College, Udupi.
"It's not enough you live," says Dr. Somayaji, "but you have to let others live as well." "It's not enough you let others live, but you must help others to make their lives better, comfortable, and enjoyable, by helping them to understand the purpose and meaning of their lives." "One should take part in public affairs, and immerse in social works to the best of one's ability. Besides, everyone should have goals, realistic goals, and unless you have dreams and ambitions, you can't achieve anything in this earth." "Nobody is inevitable to this world, and you can't discard anyone. Each and every person is important, useful, and has potentials, but it's up to each one of us to draw the best out of others." Essentially, a teacher has this ability to recognize a pupil's potential and channel it in the right direction.
"My dream as a student was to become at least a primary school teacher. Gratefully I acknowledge Rev. Fr. Rego, Moodubelle, who, without asking me a single academic question opened the doors for me to the teaching world in 1970. All he asked me was "When can you join?" My answer was, "Tomorrow morning." Thus I successfully started this profession I dreamed and loved. Happiness I derive from this job is immense, and I love my students and I love teaching." "I am interested in total personality development of my students. This is the secret of my success in this profession," says Dr. Somayaji, repeatedly, and at times non-stop! He is a friend, a guide, a mentor, a Guru, a Pandithji, to all; a noble soul from Barkur indeed. "It gives me great joy and sheer happiness when an occasional pupil of mine narrates his/her achievement to me, with gratitude, and this motivates me, please."
Born on 3rd July 1948, to Mr. K. Laxminarayana Somayaji and Late Mrs. Ganga Bhagirathi (expired about 7 years ago), in an orthodox Brahmin family as their first born, had his primary education at Hanehalli Primary School (till 5th). He joined National Higher Secondary School (now N. J. C.), and continued his education till 10th grade. He opted for "Science" as his optional subject (normally reserved for the brilliant ones!), and got his P.U.C. from Poorna Prajna College, Udupi in the year 1965. He obtained his B.Sc. Degree from Manasa Gangothri, Mysore. He had great ambitions and wanted to achieve major goals in his life. As a reward for one of his goals and hard work, he was selected for the "Faculty Improvement Programme." sponsored by The University Grant Commission and was sent to Indian Institute of Science, Bangalore, for higher studies where he was bestowed with a Ph.D. degree. He also got the prestigious GOLD MEDAL for his doctorate thesis on "Polaro Graphy" in the year 1981.
Since childhood, his ambition, goal, and dream were to become a teacher. In the year 1970 (June) he was selected as a lecturer at St. Lawrence Higher Secondary School, Moodubelle to teach Science to P.U.C. students. In July 1971 he got transferred to Poorna Prajna College, Udupi as demonstrator in Chemistry Department. He was promoted as lecturer in 1975. His sincere and hard work paid him rich rewards thus becoming the Professor and Head of the Chemistry Department, in 2001, a position he holds humbly to this day. Dr. Somayaji has involved himself in many social activities in Barkur. Way back in '70s when there were hardly any social organizations or clubs, he thought of brining the youth to a common platform by forming a youth club called, "ANAMIKA, BARKUR". As a treasurer, and as a leader, he successfully motivated the members in the positive directions. He served in many social organizations and has been the secretary of the Barkur Education Society for the last 17 years.
At present he is very busy in the "Swajala Dhara Yojana" of the Central Govt., whereby funds to the tune of 18 lakhs will be released if the local people contribute 2 lakhs for cleaning the tanks in rural places for the purpose of providing clean drinking water and he informed us that he has already achieved this goal. Congratulations to Dr. Somayaji!
Dr. Somayaji, is happily married to B. Barathi, in 1978 and they have 3 children. His eldest daughter Aparna, is doing her 1st year M.Sc. in material Science at Mangala Gangothri, Mangalore. His first son Ranganath is studying in 2nd year Mechanical Engineering at PESIT, Bangalore, and his second son Srinivas is doing his 1st P.U.C. at National Junior College, Barkur.
We all at "barkur.com" along with all the proud Barkurians, salute this great son of Barkur and wish that his ideals may serve as a role model to his students and all. "Live and let live!" .
Archives