THE JOYS OF FATHERHOOD.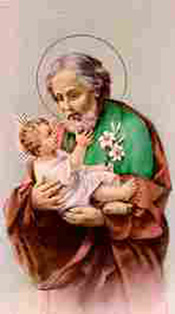 This weekend we celebrate Fatherís Day and a few weeks ago we celebrated Motherís Day. We celebrate these days with great joy in our hearts. As a result of their goodness and what they have taught us, it has helped us to be who we are and how we can best help each other in our life journey.
I believe Fatherhood is one of the greatest blessings that God has bestowed on man. In a way He condescends to take the help of parents in the great work of creation and in the noble task of filling the ranks of the Christian family, that makes up the Mystical Body of Christ.
Whenever I think of Fatherhood I think of a valuable piece of advice I received as a young seminarian years ago from Cardinal Simon Pimenta of Bombay, India. For our seminary reopening day he was invited to address the seminarians as they began the new academic year. In his address to us Cardinal Pimenta said; ďIf you want to become priests take your time and grow with the love of Jesus. If you want to remain single, think twice, then twice again. If you decide to get married do not wait like many young men in our community until you are so old that when you marry and have children you cannot even play with them.Ē I felt this was good advice for some who were in the discernment process in deciding their future.
In our Catholic Church parishioners call their pastor ďFather.Ē I donít know the exact origin of that title for Catholic priests, but it does make sense. As priests we care for the spiritual needs of our people and dedicate our entire life to the service of the church and to Christ.
For parents it is always a great joy to see their sons and daughters grow and become involved in family activities. Children are the greatest gift from God to parents.
Let me conclude with A FATHERíS PRAYER.
∑ God, giver of life and Father of us all, help me to be the kind of father to my children that you are to me. May I love them unconditionally, forgive them when they fail, counsel them when they doubt, lift them up when they fall, guide them in the darkness and walk beside them in the light. Show me, loving God the Father, how to teach them, to play with them, to share with them, and to pray with them. Thank you God for the beautiful gift of children, thank you for my role as a father. St. Joseph patron of Fathers pray for me Amen.
I wish you a Happy Fatherís Day!!
Fr. Tony Andrade.