Bendkaar Konkani Movie on Daijiworld OTT Localwood
-P.Archibald Furtado, Barkur
Benddkar the musician, super hit Konkani Movie, will be available on Localwood platform from 10th June, 2021. 8pm (IST) onwards.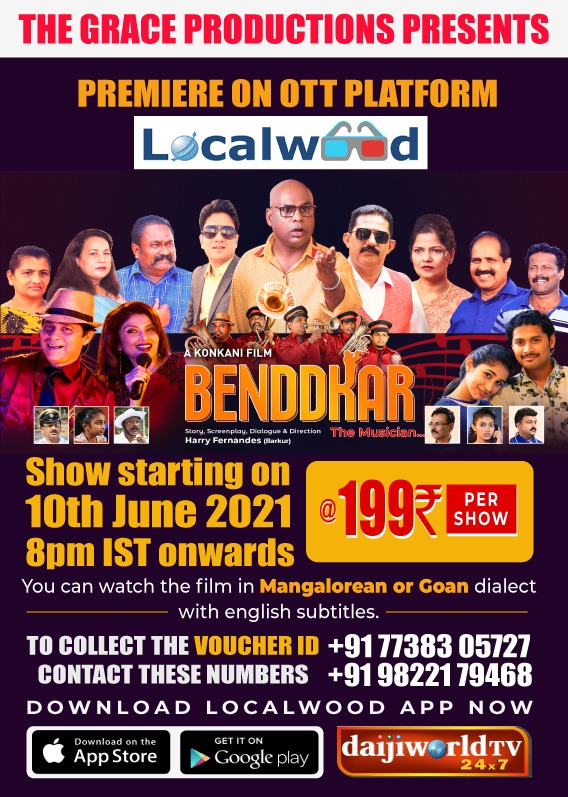 Harry Fernandes, Barkur - one of the most successful movie directors in Hindi, Marathi and Bhojpuri languages over the years. He became a household name in Konkani filmdom, which was crawling rather going very slow in producing commercially viable movies till 2014 due to various reasons. Harry and his team took a brave step, a calculated risk by bringing out four films in row. Super duper success in "Noshibacho Khel" followed by "Sophiya" a love story, "Zanvoy No1" a wholesome masala entertainer and above all in  "Bendkar" an emotionally packed beautiful social story with best talents picked both from Goa and Mangalore.
In November 2019, due to non availability of proper theatres at right time it was released only in Big Cinema and selected centres. Various Konkani spectators appreciating and first time comparing it with contemporary quality cinema in Kannada, Tulu and Hindi films.
Alas, when scheduling was on for its shows elsewhere in the Coastal Karnataka, Bangalore and Mumbai, and Goa in Jan / Feb 2020, the most unfortunate Covid 19 pandemic spoiled and derailed the whole set of arrangements. The producer & distributers – The Grace Productions had a long wait to improve the conditions which now seems to be a distant possibility. Moreover today, the cinema lovers accustomed and well versed to watch them at their Android or I phone and mobiles, lap-top, computer or on the larger screens in their ward rooms. The one time fun of watching and experiencing the great sound effects in a movie house together with hundreds of spectators may  be over or a luxury in days to come, as such theatres are now converted as shopping mall and business complex etc.
Benddkar (brass band team) a traditional musician in our native Coastal districts always an integral part of social, religious celebrations like – Weddings, Roce, First holy communion, Jubilees, Ordination, feasts like Compricho Aitar, Parish feast, Monthi Festh etc. No one can forget the heart touching musical scores played by these groups during funerals…. The story of a middle class Bendkar Jacob, played by veteran Goan hero Prince Jacob and his wife Jessie performed by  an all time great and versatile  actress Varsha Usgaonkar and his family had lot to convey about the disappearing art form, once almost every parish had at least a band set or team. The movie received a warm reception in Gulf countries. The press too appreciated Harry Fernandes team for producing an almost flawless wonderful family entertainer, with available resources….
Lead role played by handsome and energetic Kevin D'Mello and debutant Naisa Lotlekar has given her best possible especially to won the young hearts by their dances to the melodious songs. John DSilva and team comprising  Suneetha Menezes, Deepak Paladka  bombard with laughter bombs and most of the character roles doing and exhibiting their best talents for the success of the almost 140 minutes of nonstop involvement in viewing. The Director Harry Fernandes with his cinematographer Shafeeq Sheikh has captured natural cynic and serene beauty of Hoode - Kemmannu, Barkur, Karje- Brahmmavar, Goa etc will give the viewers 'feel at home town' with soothing music by Patson Pereira and hit songs composed by Wilson Kateel.
Now coming to the point - The Grace Productions and the Director of Movie 'Benddkar' now thought of a novel idea for screening it worldwide for at least for two weeks through Daiji World's OTT Platform "LOCALWOOD" and the film Benddkar starting from 10th June, 2021, 8.00 pm (IST) onwards…. One has to register by paying a nominal cost of Rs.199/- (Rupees one Hundred and ninety nine only).
Once you pay through phone-pay, Google pay, Credit card or any other convenient mode, described by the arranger you log in and start watching it, the full length movie.  For that you have to download "LOCALWOOD"  App, which is available today also, after downloading, you can watch free many Konkani, Tulu, Kannada, dramas, serials, and musical programs, available now…..
We were informed shortly, Localwood will also available on Amazon Stick, Android TV, Jio Fibre and many such platforms worldwide….
But for watching film Bendkar u have to wait till 10th of June 2021.
Friends, make it convenient to log in and reserve a day for watching a classic movie in Konkani sitting and relaxing at your home with family and friends. Please encourage your children to watch it and we will ensure it will not disappoint them with a crispy story line and music. 
The Team Bendkar think tank has a novel plan in their mind. A portion of the subscription now you are paying now,  will be earmarked to produce one more Konkani film very soon as the search for suitable artists is on and just waiting to calm down the current situation haunting the mankind with Covid19 pandemic.
We will soon share other guidelines, links and payment procedures over here. We are optimistic and full trust on our Konkani language lovers for your best support and encouragement.
On behalf of Team Benddkar Konkani Movie,
P. Archibald Furtado, 2nd June, 2021, Mobile: 98457 42750, archibarkur@gmail.com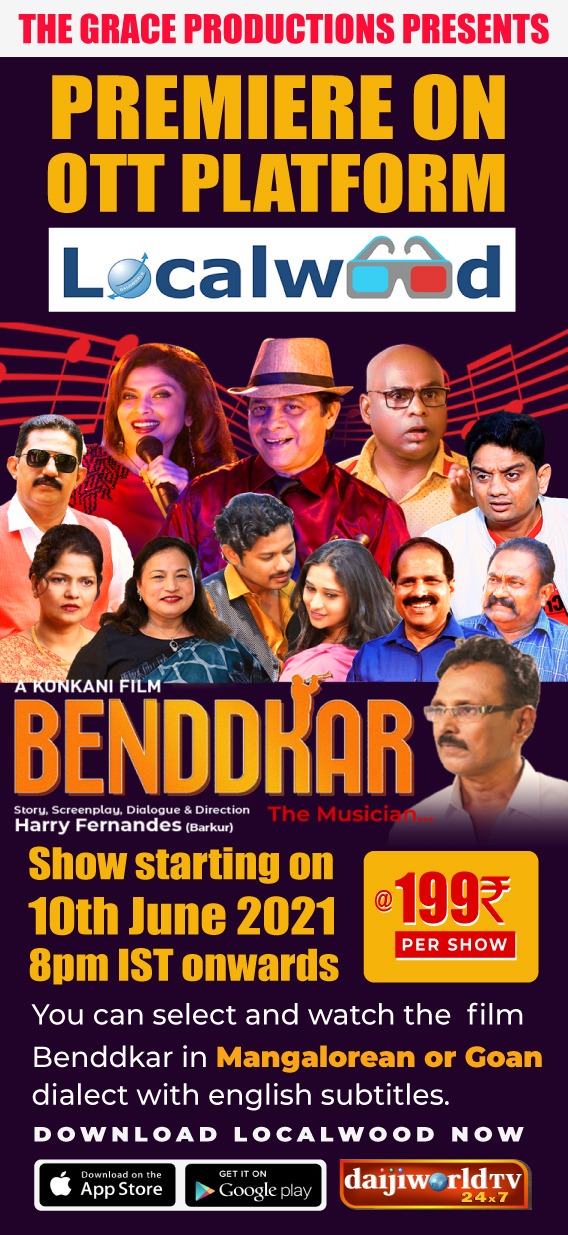 *Goan Superstars of Konkani Theatre / Cinema, *Prince Jacob & John Dsilva*  Speaks on "Benddkar" worldwide Premier on *Localwood* app from   *10th June, 8Pm* onwards.. 
A  *Konkani* hit film directed by *Harry Fernandes*,  *"Benddkar"*  will be streamed  on Localwood app in *Manglorean* & *Goan* Dialects.... 
Click below link to see audiance reaction of Silver screen Premier.. .. 
*https://youtu.be/ERQ2se98duo* 
To watch movie on your fingertips, download *Localwood App*, follow below steps.   
*Android Users-* Samsung and similar 
https://play.google.com/store/apps/details?id=biz.atconline.localwood
 *iOS Users* - iPhone & Similar 
https://apps.apple.com/in/app/localwood-daijiworld/id1563895115
Web Users-
www.localwood.in 
*Please download Localwood app now.....*
Also, if you need to purchase tickets in bulks, please *call or Whatsapp* below numbers.
 *0091 - 7738305727* 
 *0091 - 9822179468*