From a Mechanic to be a manufacturer of Mechanics, Richard Charles Carvalho
AN OVERVIEW - From a Mechanic to be a manufacturer of Mechanics,
Richard Charles Carvalho
An untold story of an exemplary self-made Barkurian in Mumbai……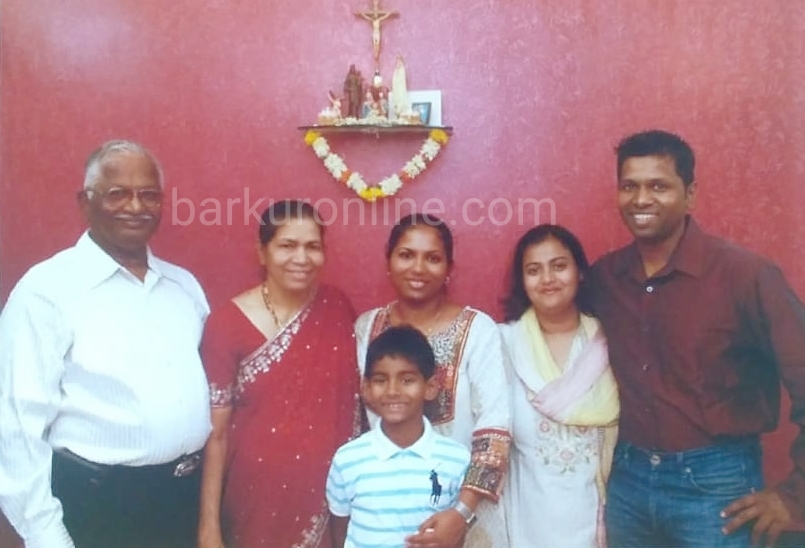 It is our repeated statement over the years, in our 'Barkuronline' pages, a proven fact as well, that the soil of historical Barkur is rightly holy and fertile, it has given birth to great men and women in every walks of life, you name it and we will provide you a list of such talented, hardworking and successful people, may it be Science & research, education, sports & games, cultural fields, literary activities….etc. etc. Here, in following pages, we would like to talk about a simple and humble man, who earned a name of reputation and goodwill, with sheer hard work and established a small but helpful world of Garage and Vehicle Service business in Mumbai….
Today hoardings in Mumbai suburbs in Andheri East, Marol, Military Road close on Mumbai – Ahmedabad Highway like:
Richard Garage, Bona's Auto Spare Parts Stores, Richard Devkiran Garage, in Sewree, Carvalho Boring & Lathe Works, Celine Garage, Serena Transport Services, Richard Garage Bus-body building works, Richards Fleet of Trucks……..will have its own struggle and sacrifice to reach to a stage of success… and feeding many mouths and a source of livelihood to scores of people and hundreds of their dependents, families, scattered all over…..Generally, less educated with no or zero knowledge of Diesel Mechanics work, who started their career here, at different times, since 52 long years,  now trained and grown to venture their own Garages in many parts of India and Gulf countries…..! 
The goodwill earned, quality service offered, modern testing facilities under one roof, attracted many branded Vehicle dealers to approach 'Richard Garage' to offer the status of Authorized Service Centers, a rare, singular and worthy recognition….Today, among others, Richard Garage Complex, in Marol,  are housing 'TATA MOTORS Passenger Car Service dealership office since 1998, which uses genuine spares and offers quality services. The complex also houses dealership and service of world famous 'Harley Davidson Motor Bikes', and the Authorized dealers for prestigious and very exclusive 'Maserati Cars'.
Richard Carvalho's expert advice has been well recognized, while the feedback for improved truck models were introduced in the market…He was offered to visit, Ludhiana, Chennai, Kolhapur, Amritsar, Ahmedabad, Pune, Delhi etc. over the years in their Factories and share his observations for the safety, durability and reliability of modern techniques and its effectiveness……Technical College students have on the job training, routine time-tested systems followed here, were also copied……!!! 
Nothing shaped overnight or a miracle took place but a dedicated, sincere and honest manual work blessed by Almighty Lord, Richard recalls his teenage years, in Bombay, a dreamer always wanted to have something of his own….
Boniface Carvalho and Sevrine Furtado, a devout and God-fearing family in Rayara Thota in Kachhur, Barkur, had five children and Richard was born on 25th October, 1940 as the third child after elder brother Stanly and Sister Molly, had two younger brothers viz. Sebastian and Francis.
After primary education till Grade V in Maryknoll School, Hosala Barkur, went to National Higher Secondary School for his VI to VIII…..Richard's father Boniface had a pan-beedi shop and wholesale tobacco business, employed about 20 plus laborers, was assisted by elder brother Stanly, who was in Bombay, extending an helping hand in business, day time and studying in the Dhobi Talab Night High School, took Richard with him to Bombay in 1960. His father noticed sons hunger for learning and admitted him to the High School studies climbed up to IX, continued in St. Anne's English Medium High School, Mazagaon, opted to English medium, to finish the course but couldn't pass and get a Certificate…Though bit disappointed, Youngman had passion for technical studies, watching the nearby Welding / Turners / Lathe workshop with sheer curiosity….Parents expected son to continue their business, but Richard politely refused….and then advised son to join then famed Bachoo's Garage in Agripada as Mechanical helper / Apprentice, in May, 1960, at the age of 19….
Journey of 'today's Mechanical Giant' was begun with small steps and Richard made 'Bachoo's Garage' a place of learning the maximum than earning…. Within three years, a favorite of all seniors, was able to learn and master the most complicated Engine building, Gear box Repair, clutch related works etc. Richard always gives credit to this Garage, for his technical knowhow and mastering the fundamentals of Diesel Engineering work….
While watching the owners of 'Bachoos's Garage', Richard resolved from day one that he will have his own Garage and was keen to learn the expertise to run a business…. Gradually, handling helpers and trainees, assigning them job as per individuals' capacity and interest, appraising the fault of the vehicle both to owners and customers, assisting them to make estimation for repair, calculating labor hours needed to carry out service, repair etc. was mastered in these crucial years from 1960 – 67.
With the help of people of goodwill, Richard managed to book a plot on rent in Sewree, Industrial Area, in busy Harbour lines and informed the owners of his plan of leaving, on 31st December, 1967 and invited Shet. William Carvalho & Shet John Rebello, for inauguration of the new enterprise on the 1st day of the year 1968. Interestingly, till this day, even the second-generation stalwarts in Garage business enjoy very good rapport, understanding and co-operation….! Richard respects his then manager, John Rebello at high esteem and reverence as a friend, guide and philosopher and interestingly now at his 90's share wonderful moments, in Bachoos Garage…...!
At the age of just 27, Richard took a loan of Rs. 500/- from his maternal Uncle, to buy necessary tools and engage 2-3 helpers, since the very first day of the new enterprise 'Richard Garage', an invisible hand of St. Jude was working and within 2 months, was able to earn from the Garage and settled the loan and till today, its Richard's priority to repay, anything due to others and Financiers & Bankers first, not waiting till due date….This sense of responsibility and credibility had helped him, in  a big way  in his success story to expand and grow…..! In trade circle, people used to swear by Richard a man of words….!
Service with integrity, using only genuine spares, checking the vehicle by Richard himself, before releasing it from the Garage, whether it's just an oil service, or a major work involving  total re-haul  the Engine / Gear boxes, done religiously as it belongs to him, will be a special feature…..There were times, he recollects, about 50 trucks were parked, waiting for repair / service and literally, everyday an Engine was built, checked and set rolling….long hours of working, many a times spent night in the garage sharing the simple food with his team and helpers in even sleeping in their hutment or zopadi nearby……….Richards enterprise in Sewree progressed more faster than expected, rightly each truck repaired brought a new customer, in these 7 odd years, 1968 to 1975 – A spares parts Division was opened, Body Building Works, Lathe, Welding and minor Boring works were there in the same compound.
With his hard earnings and savings Richard first took a room in a nearby Naghdi Chawl, in 1968 opposite to Fathima Church, Sewree, and within a year, able to buy a small flat in Parel Village, in the year 1970. As Richard, had imposed his own pre-conditions prior to his plan of getting married were taken care. In January, 1970, his elder brother Stanly's wedding took place in Barkur. Within next five months i.e. May, 1970, Richard got married to a charming lady from Matpady, Celine, on Tuesday, 26th May, in 1970 in the Church of St. Peter, the Apostle, Barkur.
Newly married couple made a happy beginning of a family life in May 1970 in Parel Village and in December, 1973, happily moved to Mahim, in an owned Apartment, 1BHK, a dream come true for Celine and Richard, a home standing as a witness for many triumphs and of course few bitter moments, that is life… Their children Kiran, Kevin and Serena were born and brought up over here. Had their Schoolings in the adjacent prestigious Catholic Institutions and involved actively in the Church of St. Michael in its Choir, other pious organizations…
In the year 1975, on 27th April, Richard was able to set up a new Richard Garage in Military Road, Marol, near Borosil Glass Factory. Those early years were challenging one for him, continued benevolence of St. Jude, Pakshikere and Mother of Perpetual Succour were the stella dues for building todays Richard Garage Complex, brick by brick, 45 Great years passed and today this workshop is rated one of the best for TATA Brands in Mumbai and rated at par with any modern garages.
First few years, 1975 – 1990, were marked with lot of work and on an average 40 people and thereafter changed approach by the Govt. a free and fair economy, liberal import of worlds known brands, use and throw culture, etc. had an impact on 'repair and use policy'. Richard too moved with the flow and his goodwill; quality of service held him firmly in business and earned him his daily bread comfortably.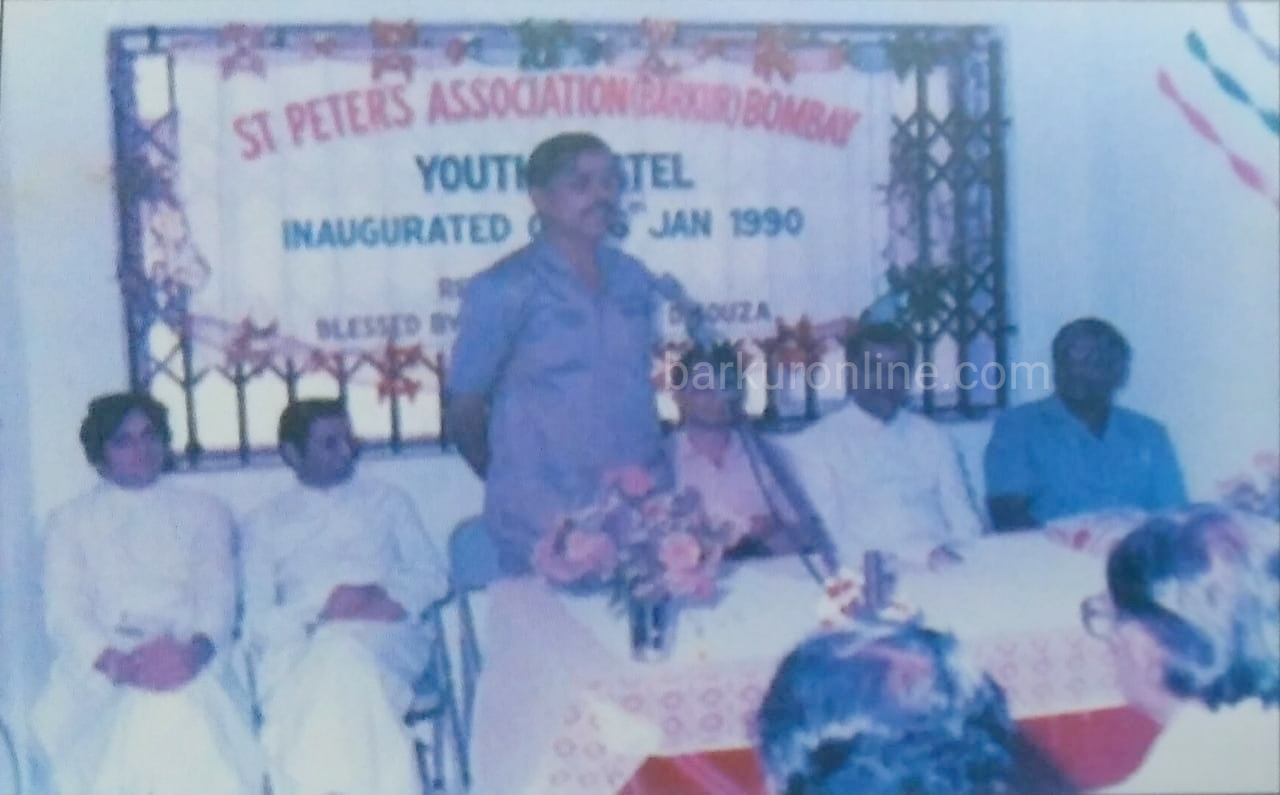 We the Barkurians must be privileged to get in contact with Richard at a crucial time, when youngsters were promoting to start an Association in Mumbai in 1985. SPCYA took birth on 15th August, 1985 and officially got inaugurated on 1st December, 1985 in Gloria Church Hall, Byculla. To cut the long story short, three years gone by and in 1987 – 88, a plan to form a larger platform by amalgamating historical 'St Peters Barkurian Association of 1937' which was dormant since 1970 or so and vibrant St. Peter's Catholic Youth Association of 1985 into a new set up called 'St. Peters Association Barkur – Mumbai', in February, which officially inaugurated on 17th April, 1988, in Victoria Church Hall, Mahim, during a great and historical Get together of three generations of Barkurians in the dream city of Bombay….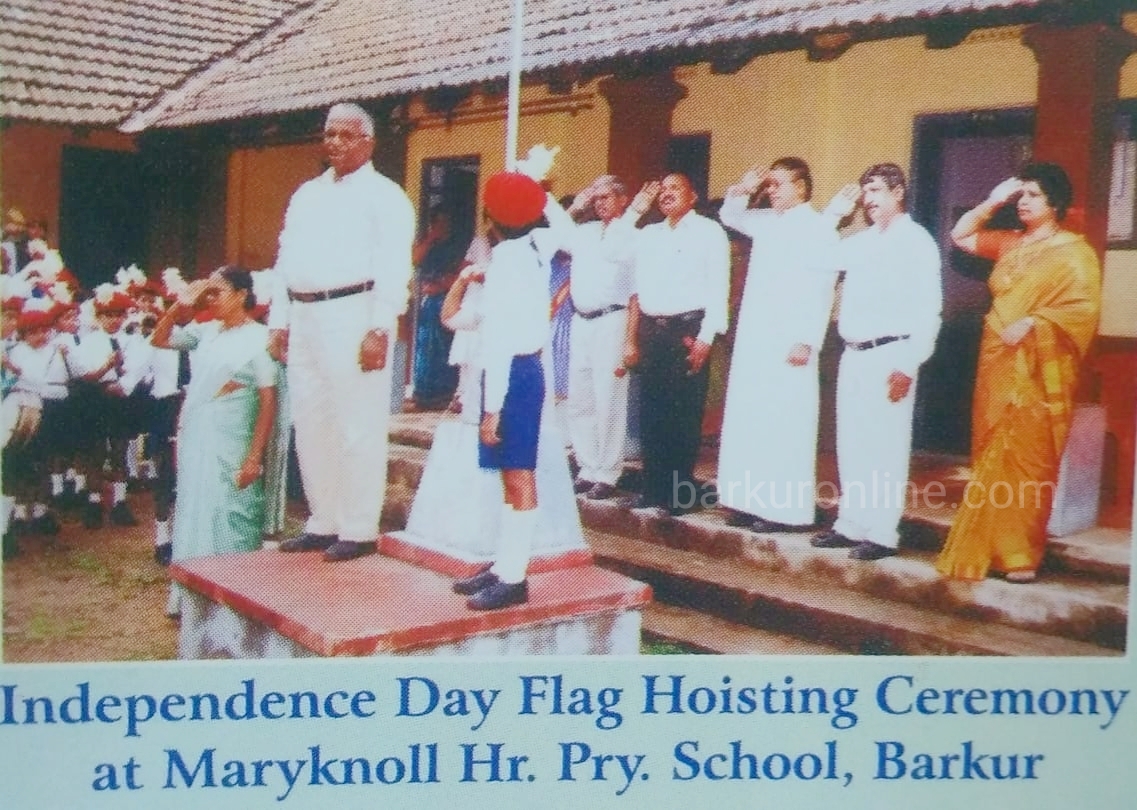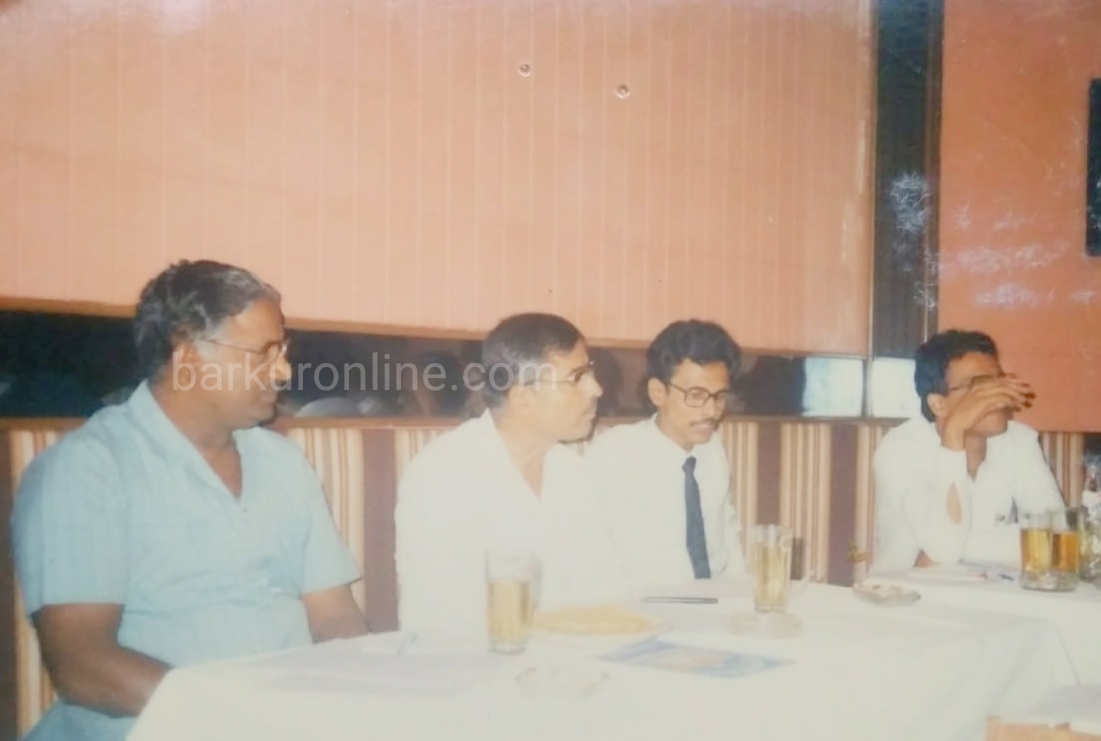 Visible hand of leadership of Richard was there in its promotion and formation years and continued in its continuance as its Founder Vice President for a record number of tenures and deservedly shouldering the responsibility of President for 6 long years, continuous two terms of three years each in a row. Lot many good things, social work, support to mother Church, Barkur, educational Scholarships to poor and deserving students, etc. were under taken by the SPA are still fresh in the memories and records.
The life story of Richard Carvalho, is a lesson to our contemporary society, especially for youth. Hard work never goes in vain, honesty is the best policy, customer is always right, trust and keep your faith in Almighty Lords plans for him a distinct person from the lot. His faith on his own shoulders and eyesight, precision and perfect decision in assessing the status of a vehicle coming into his Garage, just by listening to the sound and a gifted memory power, lifted him to a glorious height to be a genius, but remained away to be in the limelight….
Today, Richard is a contended man, leaving any bitter experiences if any to the back burner. Interestingly, his family, friends and relatives call back his humble nature – taking the first step to call, contact, meet people, hardly found with most of us. His competitors and collaborators in the line of business respect the hardworking nature, who literally practiced work is worship, always remember with a proud feeling – not one like us, but a noble-man in today's world.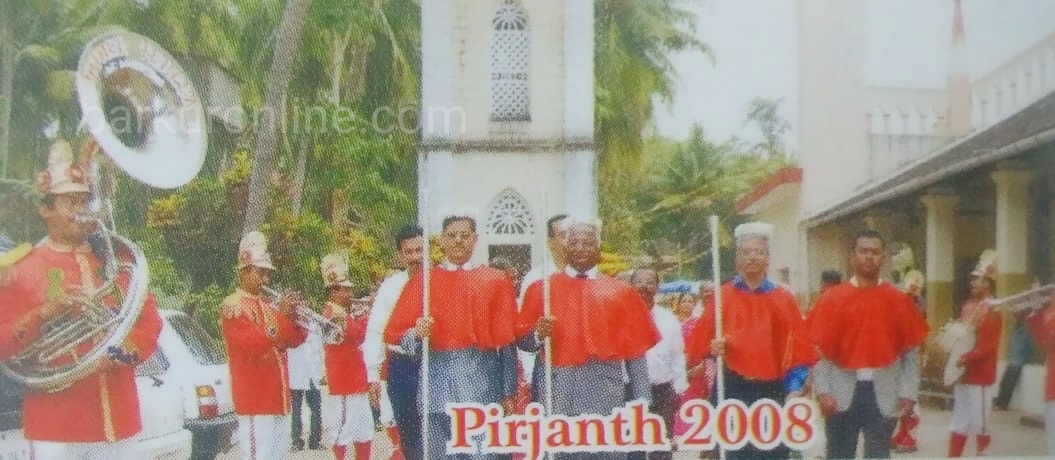 This must be the motivation for SPA, to plan their former President's 80th Birthday, by accumulating few details, brief life story into a book and present Richard as a Birthday gift…...!! Few of his contemporaries, admirers and friends happily shared their nostalgic moments, and we remain indebted to all of them in a very special way.
In the following 25 odd chapters, you will read fairly in little detail and it's not an all-inclusive Biography. Our effort and intentions are to portray a living legend from our Barkur, in real perspective of genuine facts and figures. On 25th October, Richard Carvalho will be 80 years, who has seen life in Mumbai at very close, and loved the place dearly and contributed for its growth, in his own small way.
Before concluding this 'Overview', of this Biography, let me thank the towering, colorful personality and the respected family of RICHARD CHARLES CARVALHO, from the bottom of my heart, for allowing us to attempt to write this tiny book. All hard-work, credit, achievements, belongs to our beloved Richard Uncle…. Long live the legend and celebrating you to be a Centenarian, be ours….!
WISHING YOU A VERY HAPPY 80TH BIRTHDAY, DEAR RICHARD UNCLE….!!
Wish all of you, admirers of Carvalho a happy and enjoyable reading….!
You are always welcome with your feedback, comments on the Book, any time any day….!!
P. Archibald Furtado, MA, MCom, MBA
archibarkur@gmail.com, 98457 42750
Succour Shade, 
Gopalapura, First Cross, First Main, 
Santhekatte Kallianpura – 576 105.
Udupi Taluk & District, Karnataka, India.