MANY HAPPY RETURNS OF THE DAY REV. FATHER………..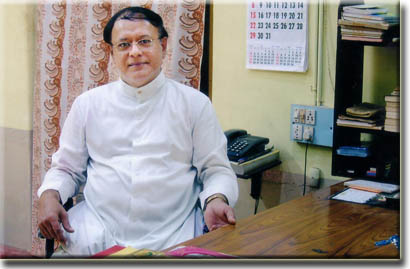 60th Birthday Celebration of a devout Priest itself a milestone and we Barkurians are privileged to join Rev. Fr. Remigius Aranaha on this special occasion, while he concelebrates a high mass to thank Almighty on 1st October 2006.
Though we heard of him in the social circles regularly and read about him in local daily Udayavani, occasionally in the diocesan weekly Raknno, during our days at natives, it was only in Dec 2004 first acquaintance took place while on my annual vacation. Tall and handsome Rev. Fr. Aranha's is a pleasing personality – European looks, choosing words even during private conversations, matured wisdom and most importantly innate spirituality attracted us a lot.
For us Muscat bound Barkurians, it was an opportunity to sponsor 'Pedruchi Chavi' June 2004 issue at the request of then Vicar Rev. Fr. Sylvester D'Souza and book got released while the reins of the Church administration was just taken over by Rev. Fr. Aranha on 23rd May 2004. Few may be remembering the brief but colorful background of new Parish priest, given therein, in various Churches he served earlier – beginning from Puttur till Kanajar. We noticed that almost all parishes he served were large and full of activities both religious and social. (Few extracts are given at the later part of this write-up)
One of the 'famous and elite batch of talented young priests of 1973', come out from St. Joseph's Seminary – just to remind our readers among others, handsome Rev .Fr. Stany Lobo of Hosala and talented Rev. Fr.Stany Tauro who served as Asst. parish Priest in 1973 – 76 at Barkur are of same batch - Rev Fr. Aranha got ordained on 11th May, 1973.
Being the eldest son of Late John Francis Aranha and Mrs. Elizabeth Aranaha who were blessed with three children, a God fearing family of Mulky Parish, young Remigious had his early Schooling at Mulky i.e. up to PUC.
A glimpse of pastoral work:
Once motivated and accepted the call by Almighty to serve his flock, after ordination he was posted to Puttur Mai Devos Church as Assistant Parish Priest.
While acknowledging the abilities with-in a short period of One and a half years he was given the full charge of Vicar of Ukkinadka Church, dedicated to Sacred Heart of Jesus. Young priest full of energy had keen interest in social work as he was made member of 'Taluk Welfare Committee' and appointed as Member of 'District Development Council of Cannanore, Kerala', for three years by the State Government.

After some five years, he was asked to take over Kati-palla Infant Mary Church and here his services as the Chairman of 'Katipalla Re-habilitation Social Service Society' was acclaimed by all and sundries. Moreover he also involved in the Lions Club of Suratkal as Secretary and Vice President as well and endeared himself in needs of general public.

There after it was the turn of large St. Philip Neri Church of historical Basrur – his role in developing Kerekatte shrine dedicated to St. Anthony and cemetery at Kandlur sub-station is still fresh to the memories. He was here for almost seven long years.

Mogarnad Church also fortunate have Fr Aranha for next seven years – new church School, converting old Church as parish hall etc are just few things among his manifold activities.

Just before marching towards Barkur, Rev Fr. Aranha was in Kanajar our lady of  Lourdes Church – he was instrumental in building 35 bed modern and well equipped  'Lourdes Hospital' over here. Apart from that he renewed the Church structure and lot many welfare activities for the betterment of parish family for almost six years.

Also served at New  Roshelle Parish in New York for six months as a substitute Parish Priest and visited places like England, Amsterdam, Shrilanka etc on various projects.

In Barkur for the last 2 and half years:
On 23rd May, 2004 Rev Fr. Aranha took the charge of our Church as Parish Priest and already made an impression which can not erased. Celebration of Parish Family Day last May, being an admirer of music, his efforts in re-activating the Choir, presenting meaningful liturgy service on Sundays, strengthening and filling new energy into the ward small community, special concern for aged and elderly, catechism for children, discipline and cleanliness both inside and outside the Church and cemetery are just few we observed externally. His sermons are short and to the point and simple to understand.
Few expectations:
1.      The Parish Hall will be a reality very soon in the hands of Rev. Fr. Aranha as the preliminary work started.
2.      Mary knoll Higher Primary School is doing well under his direct supervision but it should stand above to the present day requirement to start English Medium classes side by side.
3.      There are two pieces of land viz. one donated by Mr. V.L. Roche at Heardi and the other by Mr. Sequeira's at Dharmasale to be developed as substations.
4.      Can put pressure to execute much needed ring road via Kachhur fields, and wipe away the brand cornered Church.
5.      Youth of the Church are attracted into the mainstream to be given little more importance as they are the next generation leaders.
6.      Parish bulletin Pedruchi Chavi is not only attractive but well informative, now published twice in a year, can be expected little more frequent as it was earlier.
Yes Rev. Father, is it too much, surely we are not wrong to expect few better things from a person of your caliber and great things yet to come in the interest of community. It is our earnest wish and prayer to Lord Jesus to bless you abundantly with good health to serve society in coming days and years.
On behalf of Host, and Barkur on line Team, Muscat based Barkurian's, and ICYM Barkur Ex-Members Association, we congratulate you on this Diamond Jubilee Celebration and say 'Many Happy Returns of the Day' and many many more to come… No doubt your past a Glorious chapter, future yet more glorious in the service men and God.
P. Archibald Furtado, Muscat, 30th September, 2006.