Electrical Point and Vinod Sequeira
A brief life story of a wonderful Businessman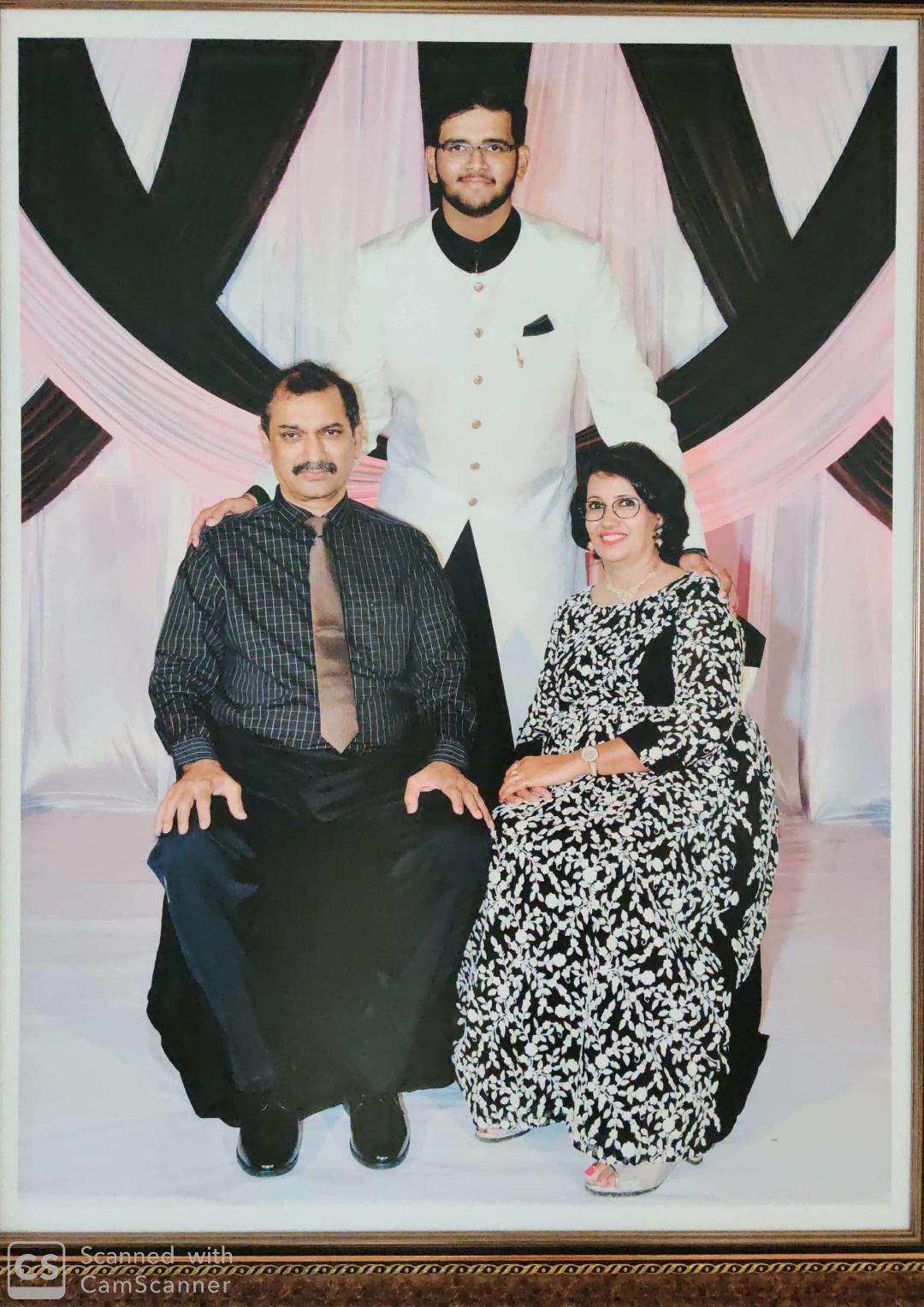 We always used to say that, Barkur has given birth to great, smart and hardworking people and it is true. There are hundreds of them and it's impossible to make a list of such individuals at one place, however our web pages Barkuronline, periodically picked few of them, since its inception year back in 2000, and tried to introduce them to our readers, so that they will encourage and motivate younger generations to excel them in their respective chosen field.
Today, we are not only happy but also proud to talk about our own contemporary during the great CYM days of the late 70s and early 80s, in Barkur, VINOD SEQUEIRA, then an introvert, hesitant to be in the limelight, but known to be a man doing his assigned job meticulously, and as the treasurer of the CYM, we found him very sincere and systematic….He is tall and handsome, acted in great plays of the time, 'Tisri Chit' by Wilfy Remimbus, 'Ekachh Rookachin Pholan' by Denis Peris, 'Shirapachi Shirant'by Johny Mariabhoomi, Udyavar etc. Moreover he was a versatile dancer of the time, so also a good badminton player. We also heard of him to be active while studying at KPT Mangalore and one of the blue eyed boys of then Director of CCC & Sandesha, Rev. Fr. Henry D'Souza (Now the Bishop of Bellary Diocese), who earlier in Barkur as Assistant Priest and was instrumental to lay the solid foundation for CYM in 1976. He aslo headed "Young Technicians Movement" YTM, an association of students of Karnataka Polytechnic (Men and Women) brainchild of Mr.H.R.Alva and Rev Fr. Henry D'Souza as its  President for the year 1983-84.
After his Diploma in Electrical Engineering, Vinod went to Bombay to find a suitable job. In 1985 – 87, he was actively associated in the SPCYA Barkur – Mumbai. While analyzing the rough and tough life as a salaried employee, the Entrepreneur in him was reminding him of his gifted talents, the skill  to supervise, lead and get the works done. Being a qualified Electrical Engineer, he was inspired by his cousin brothers, Late Lawrence and Herald Sequeira's business in Decorative Lights. To the best of our understanding, he was a keen observer of their activities, for many days, in their factory at Majiwada, Thane. This experience and  creativity involved prompted him to start something of his own, in due course of time….
Early life, Education & Family Background: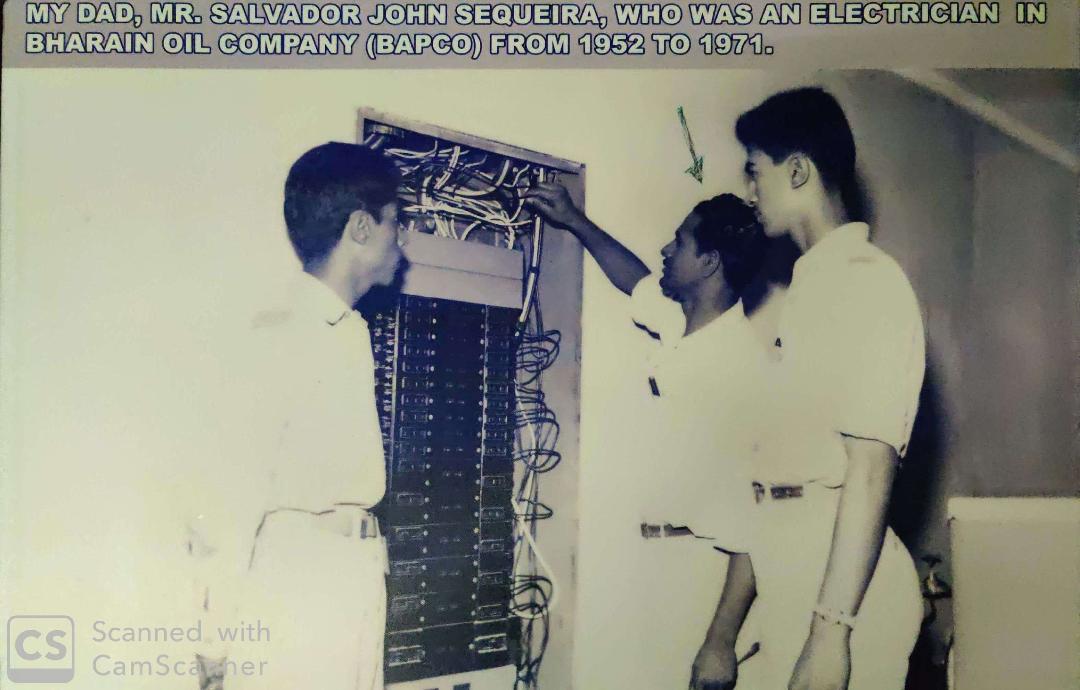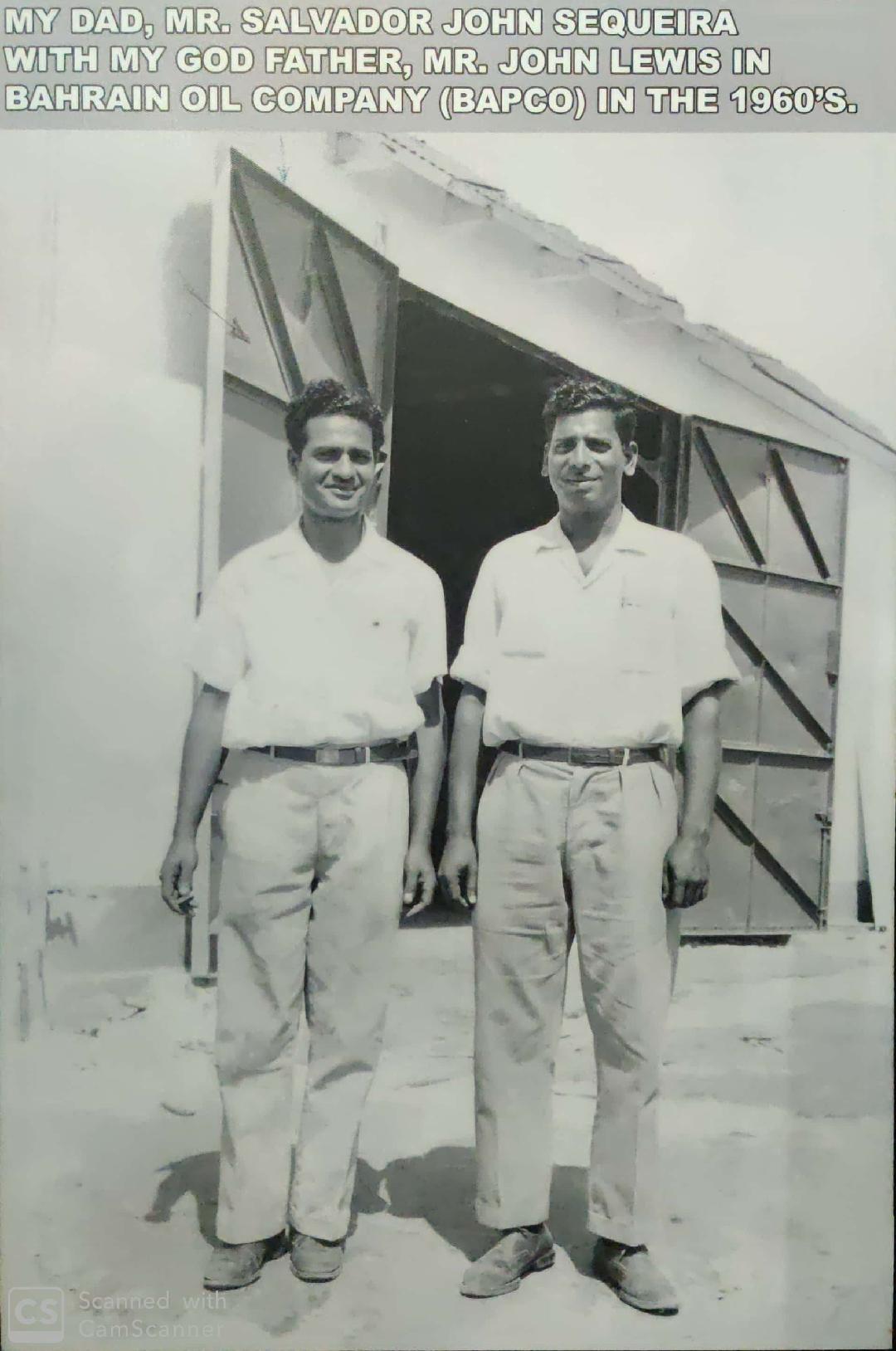 'The Sequeira clan' is a well-known and well to do household in Kachhur and Hosala. Balgarbail and especially Japklikudru was explored and developed by their ancestors these  were the places they settled first, almost by the second half of 18th century. The patriarch, Late Peter Sequeira (popularly known Pedru Siker) was the grandfather of Vinod, he had 5 children. Salvador was the third son and was fortunate to have basic education in Barkur. He married to Margaret Fernandes on 27-04-1962, who was in Barkur to pursue her studies. She was a qualified Teacher who taught in the local National Higher Secondary School, (now Junior College)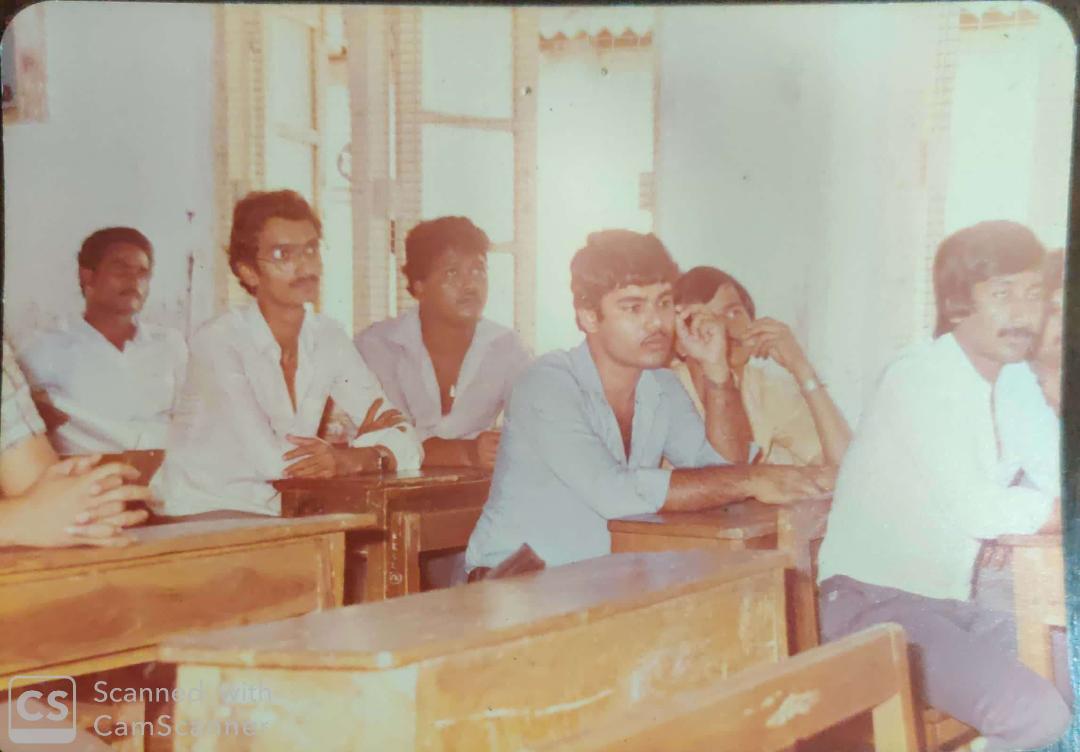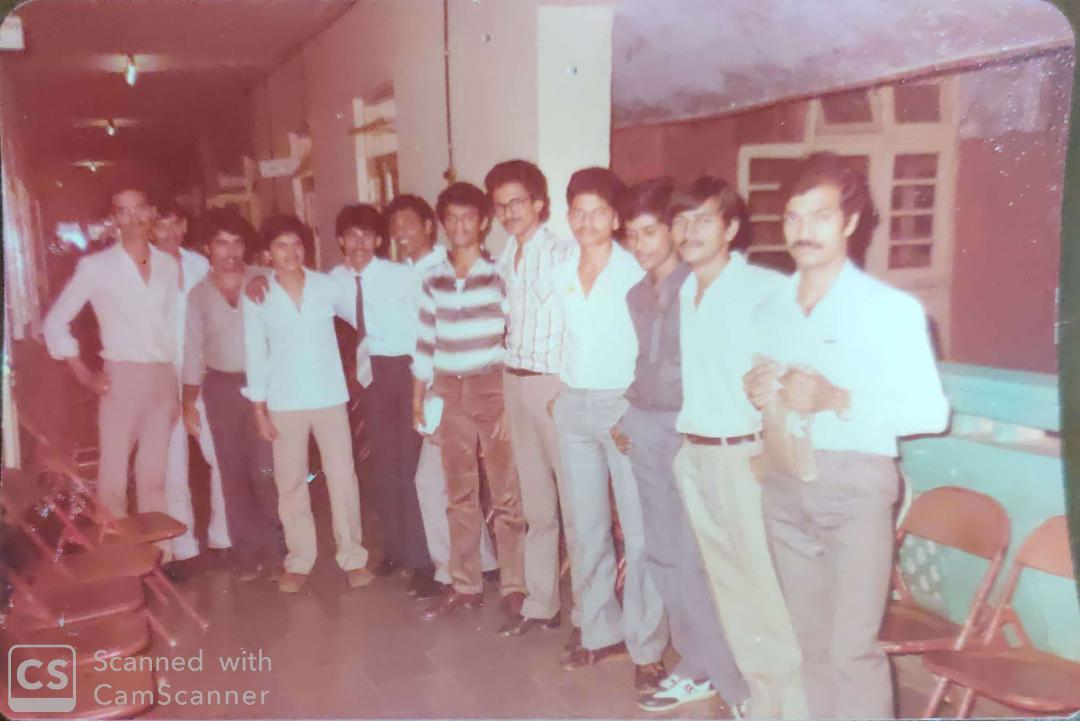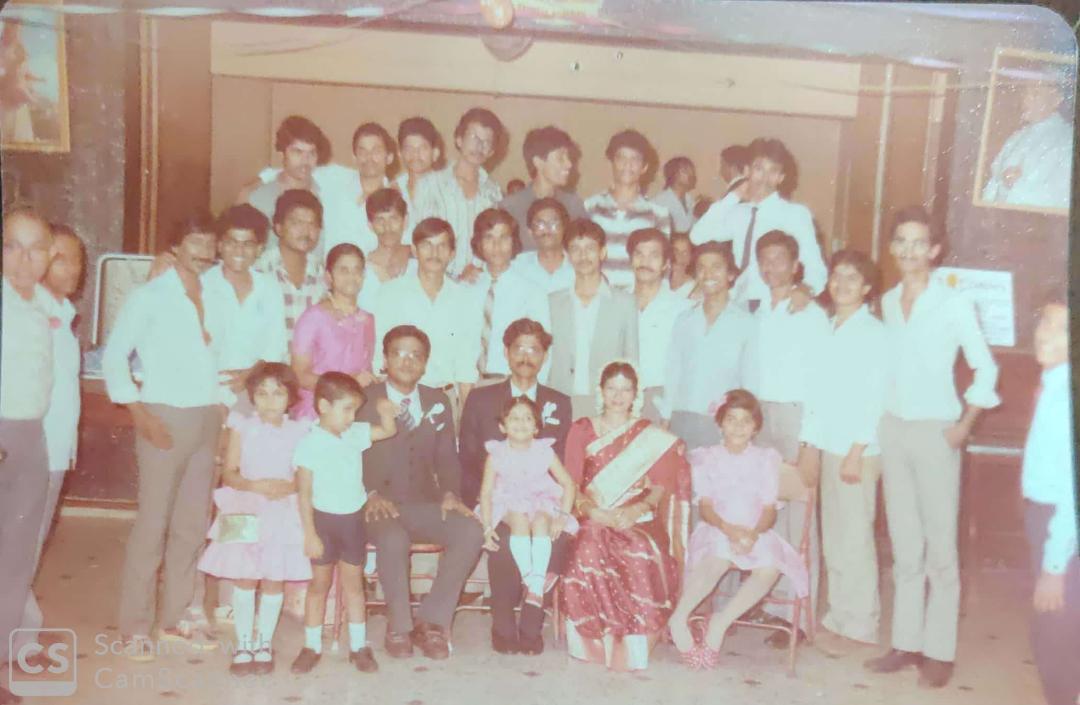 Vinod was the second son, who was born on the 29th of November in 1962, in Barkur. His elder brother Late Ravi, had to leave the world at a early age. The third one Shaila is the lone and lovely sister….Manoj has a  well established business in South Africa and Ashok is looking after his ailing mother and is  living with his family in Barkur. Vinod had his primary education in Barkur, in Maryknoll Higher Primary School and High School and PUC from National Junior College.He has a Diploma in Electrical Engineering from the Karnataka Poly Technique Institute, Mangalore.
Beginning of Electrical Point: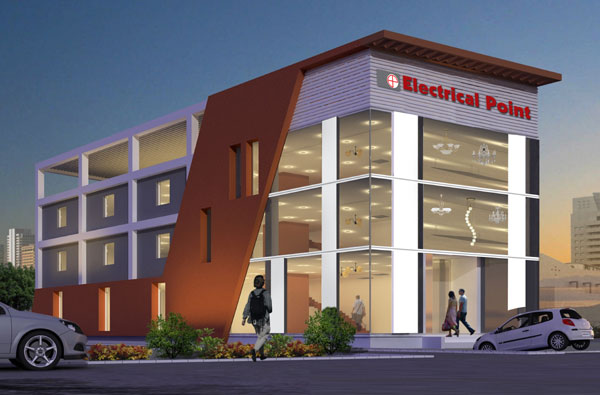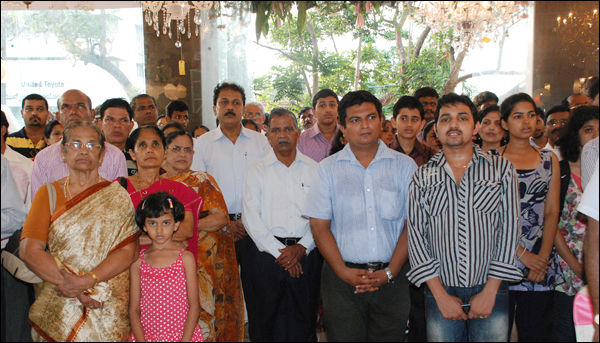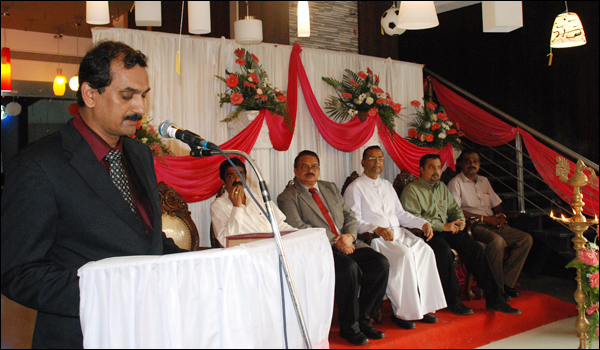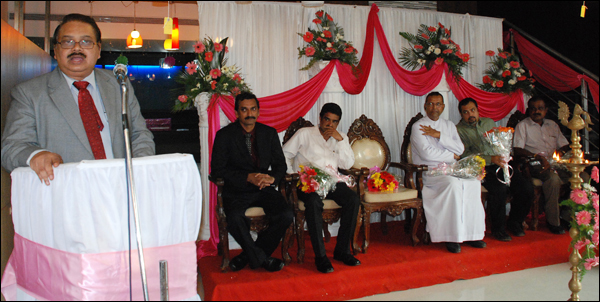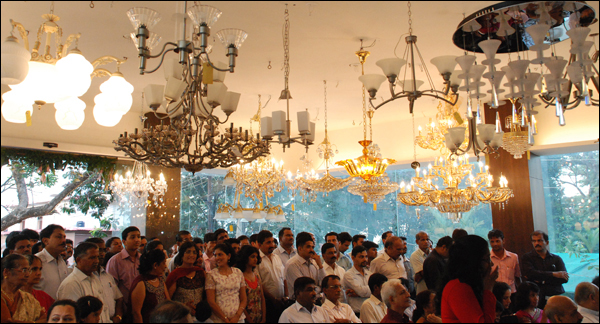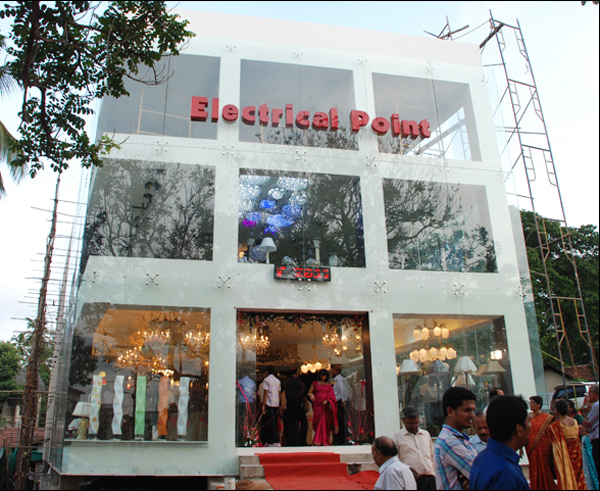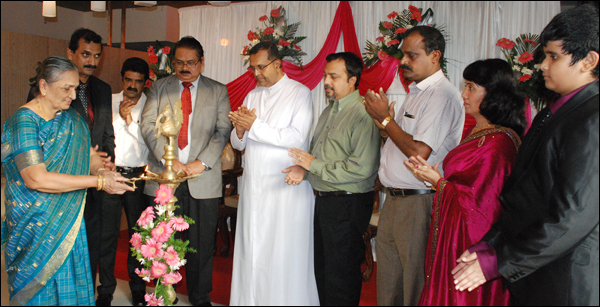 Immediately after his studies at KPT, Vinod moved to Bombay in search of a career. He has worked here and there, with known Electrical Contractors, most probably he utilized these opportunities to enrich his practical experience at the in and out of Construction Industry, rather than earning money. Vinod gratefully recalls back to his working day with Mr. Rosario Furtado of Kalina, Bombay, and a well-known Civil & Electrical Contractor of the time. Eventually he took the courage to execute electrical contracts on his own, which he continued till 2015. Every journey starts with  small steps, and Vinod, had his homework ready by accessing the scope for decorative lights and accessories in the the flourishing construction industry, in Mangalore, as urbanization was on the fast track of progression searched for a shop and took the bold step by renting a tiny outlet in the Shivali Arcade Falnir, measuring just about 300 Square feet,he then gave birth  to 'Electrical Point'. From then he never looked back, year after year, new customers and existing customers, supported him to expand his business.
Decorative lights play an important role in all types of buildings, irrespective of whether they are residential, commercial, worship places or auditoriums. They add to the appearance and vibrancy of the buildings, both internally and externally. These lights attract a lot of attention from the people, besides making them happy and improving their moods.
In the year 2010, Electrical Point celebrated a successful decade. At this point of time Vinod's showroom was well established and then he  shifted to Karanglapady into a much spacious showroom. His clientele came from far and near, from Goa to Kasargod , Chickmagalore, Hassan, Shimogga etc.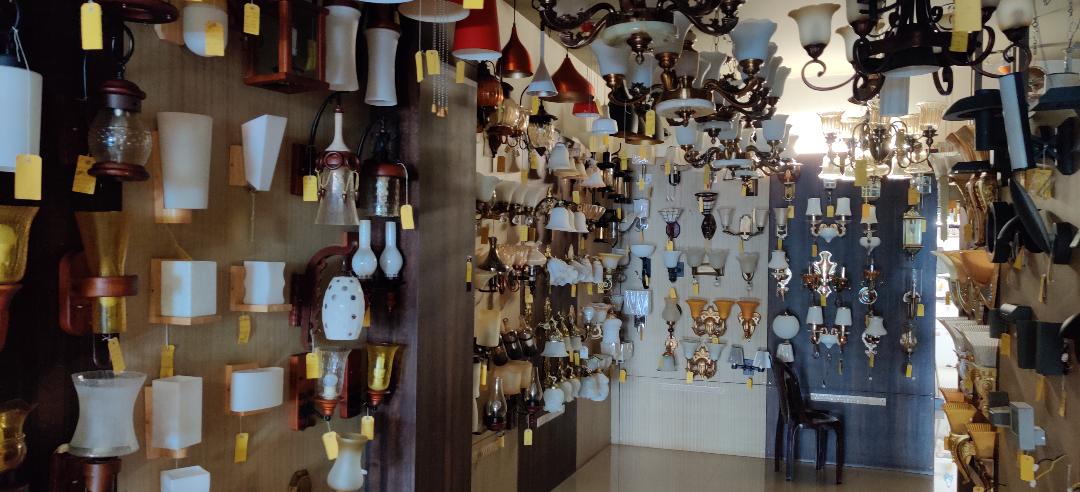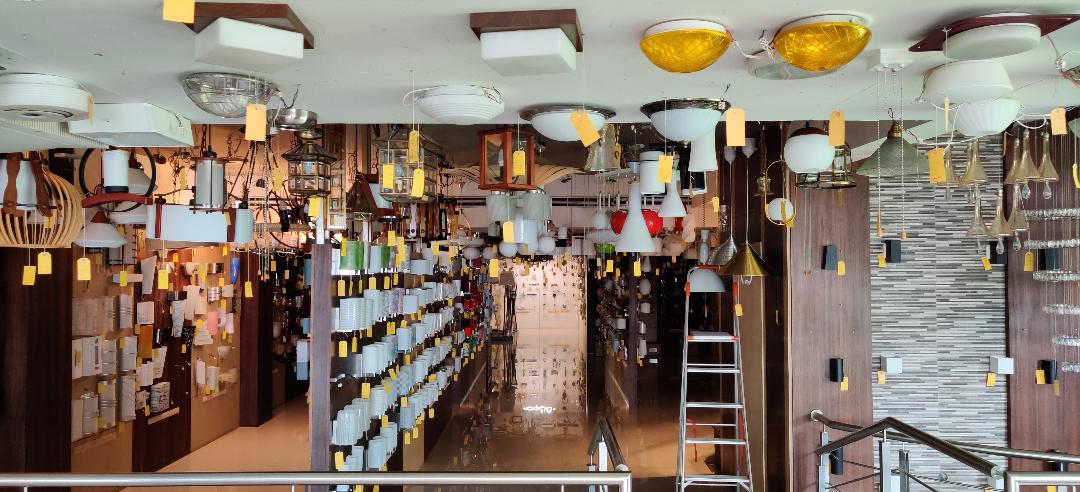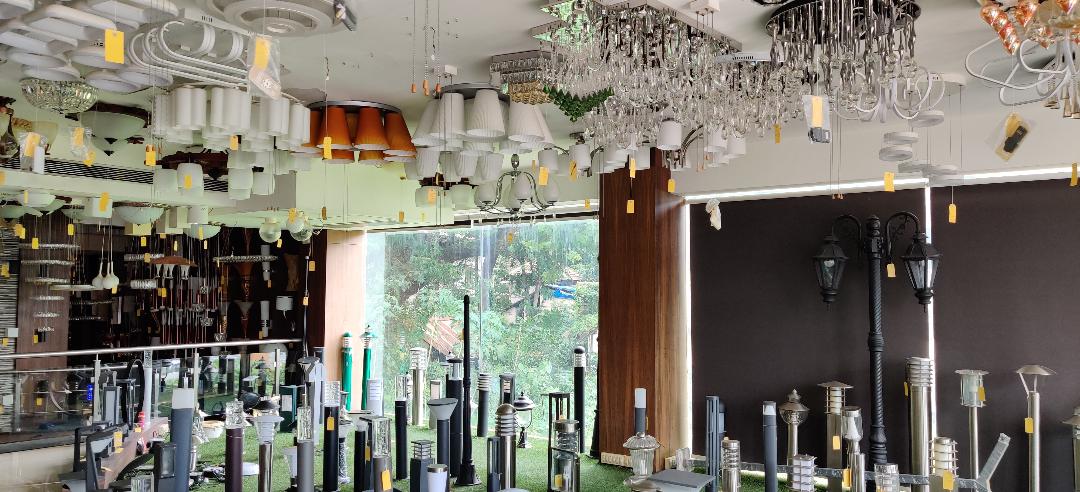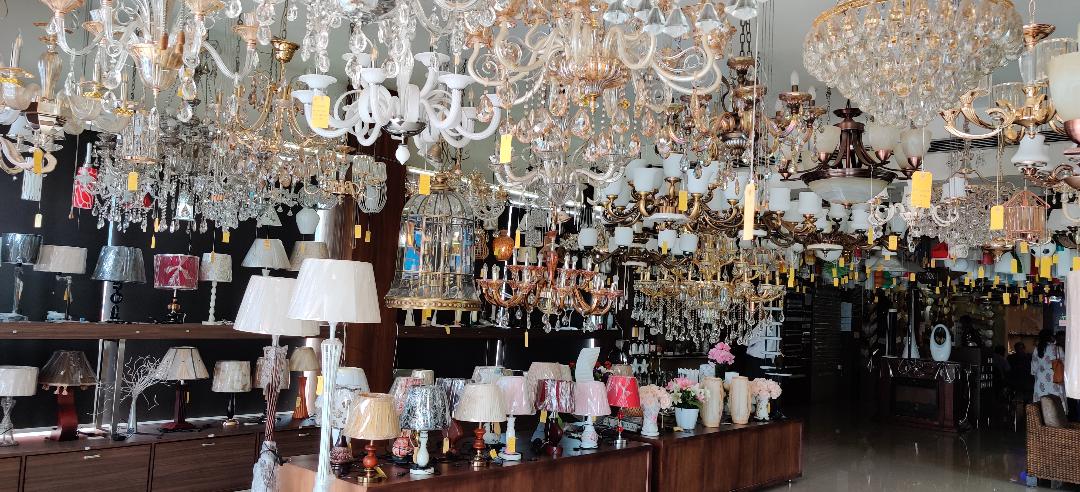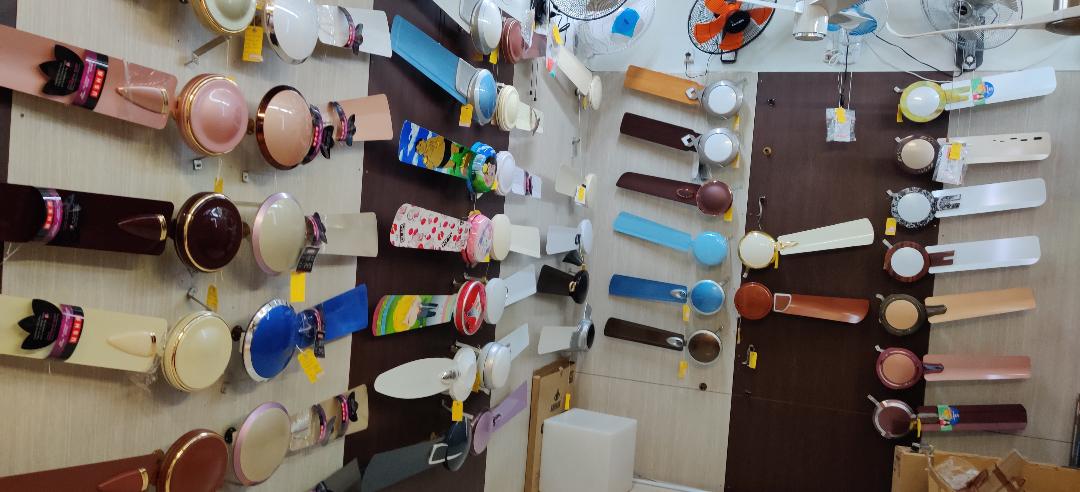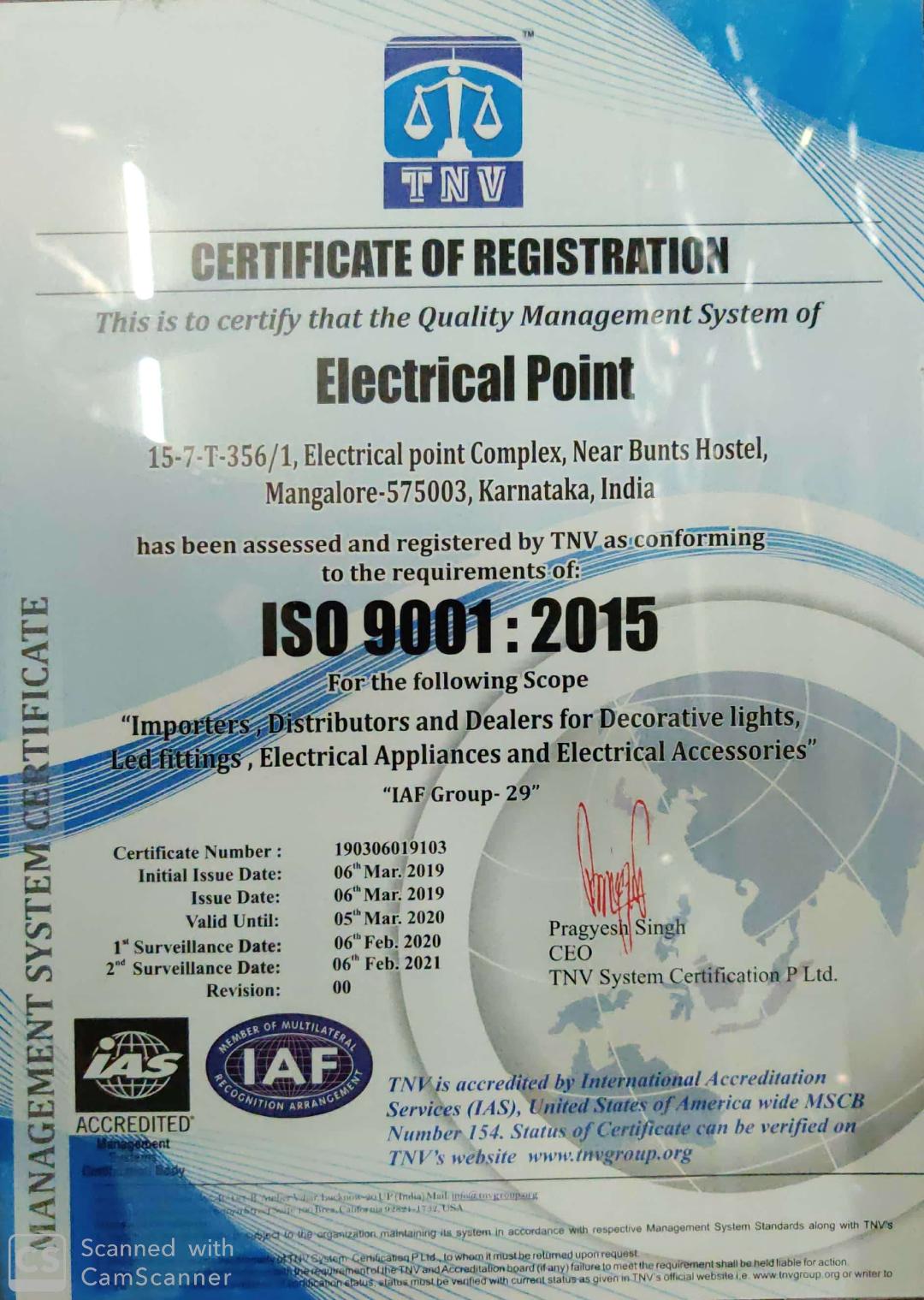 Due to the increasing response and demand we had to shift our showroom to a bigger location in order to provide better facilities to our clients' said Vinod, during the inaugural of the newly-built showroom at Bunts Hostel in the city. The exclusive showroom for decorative lights and electrical accessories has shifted to the new location from Karangalpady Cross Road to Kadri Road, Near Bunts Hostel, to its own independent building due to the rise in demand and lack of space in the previous showroom.
Popular brands of chandeliers, decorative lights and fans, both from India and abroad, are available in large quantities in the  Electrical Point showrooms in Mangalore. They have both indoor and outdoor decorations, at reasonable rates. Electrical Point always extends a cordial invitation to anyone who constructs his/her dream house or building anywhere to visit their showrooms and have a glance at the huge collection of decorative lights before making a decision and get satisfied by  the wide variety and reasonability of rates on offer.
Vinod also tried to expand his business in Udupi by opening a huge showroom near the Karavali Junction. It is said a wrong decision can double your experience and a correct decision can double ones confidence.  Yes Vinod could not concentrate at both the places hence he decided to close the Udupi showroom and focused with his  business in Mangalore.
Brief information about the family:
Vinod Married Priscilla who is  a charming and talented lady hailing from Katpady on the 11th of July 1999, is the woman behind his success who earlier served in Kannada Daily, Janavahini and the pair was blessed with one tall and handsome son, Viraj, who is currently  studying in St. Aloysius College, Mangalore.
A simple philosophy works in the family. 'Nothing is nicer than having someone who appreciates you even in the smallest of things. Someone accepts you in times of hardships and is comforting during the hard times , but loves unconditionally, let what may come and that must be the secret of Vinod and his life partner. They are a rightly simple happy and contented pair. We witnessed their wonderful hospitality and affection  in a palacious house in Mangalore.
ELECTRICAL POINT– One destination, under one roof, a prominent name in Decorative and Electrical lights, household appliances and other accessories in Mangalore.
People say success knocks your door only once. But achievers like Vinod rightly state knock the door of success until success opens for you. Fulfilling  the needs, requirements and aspirations of customers in mind Vinod continuously attempted to offer them the best service, choice and quality products. Most of us spend our days waiting for the ideal path to appear in front of us, but what we normally forget is that these ways and paths are made by walking, not waiting. His vision is  'customer satisfaction'. I read somewhere that, hard work beats talent when talent doesn't work hard and Vinod knows for sure, there is reward waiting for sincerity and he immensely reaped it.
'
Philanthropic and Social works:
Electrical Point showroom employs almost 25 to 30 people directly or indirectly and the Proprietor Vinod established a place of reverence in the hearts of his staff, who strive and work hard for the growth of the business while retaining the enormous goodwill in the market intact. In return for their welfare, needs, recognition, social security and promotion are well taken care of. That is the real strength of being successful at this point of time, where competition, labor unions, unwanted interferences by various authorities, trying to put barriers at every step.
Vinod is always a cheerful donor. Various social organizations and institutions are benefitted both in kindness and cash over the years. They also sponsor cultural, selected social events and come out with seasonal discount offers during festivals.
An inspiration to youngsters:
Vinod, as we mentioned earlier always is happy to cherish his days in Barkur and in CYM too which are lovely times of life as youth which will not return but the lovely relation and memories of lovely people and friends  of those great years, will stay in the heart forever which he  proudly and cheerfully shares with us.
He was always an active and sincere supporter of the ICYM Ex-Members Association in Barkur and having plans for its continuation as well as contribution to the society. When we had a get together a couple of years back, Vinod insisted that such a gatherings must be a regular affair and offered himself to cooperate. There is no doubt that his company is  always moving with success one has to notice the hard work, sacrifice, and dedication behind it.
Conclusion: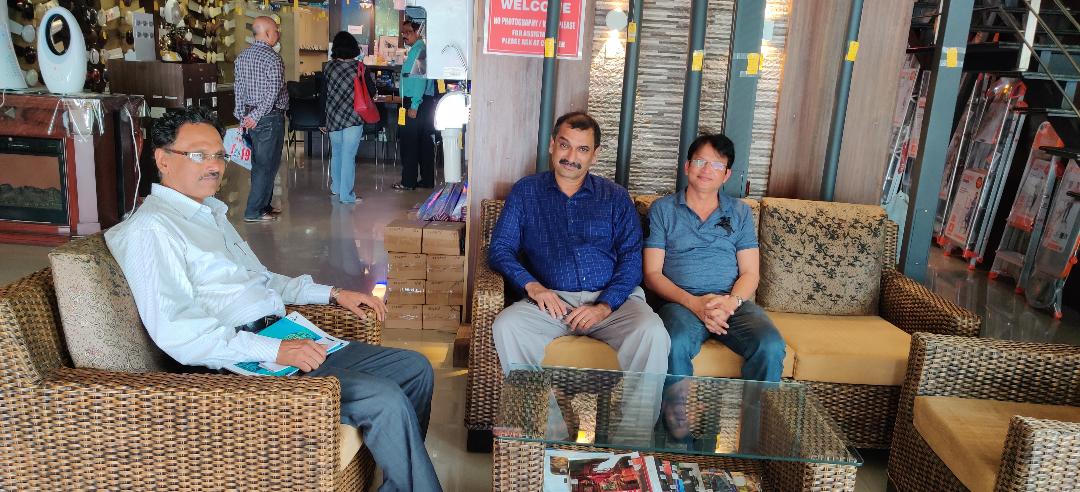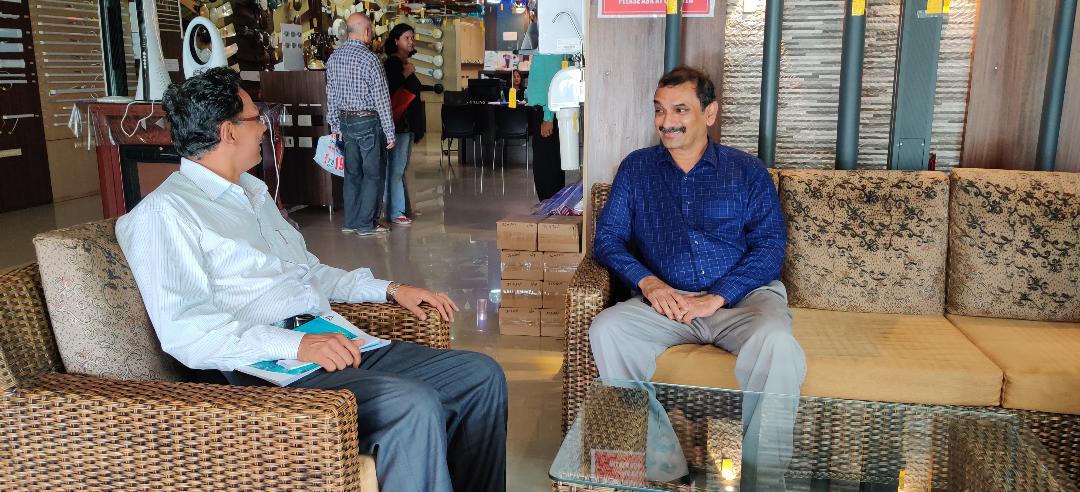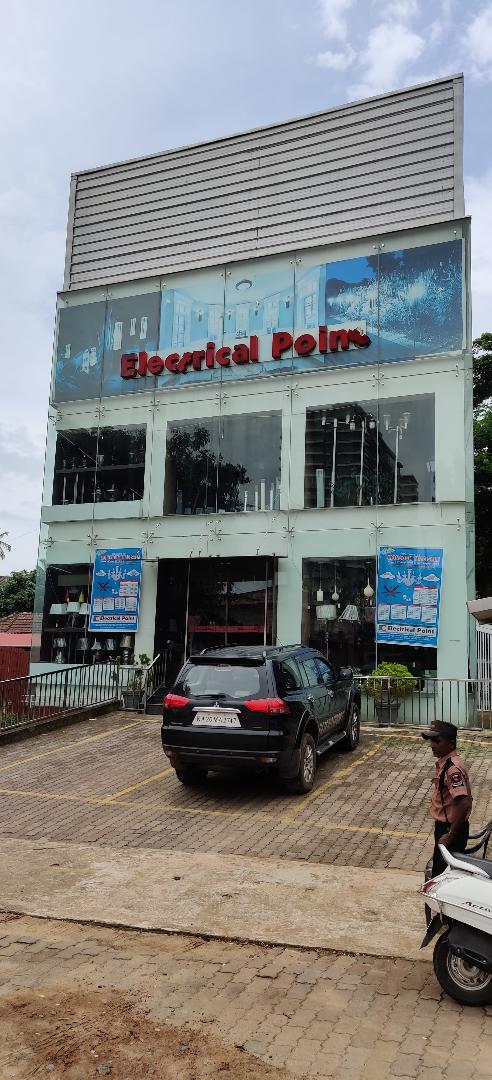 We at Barkuronline, feel proud to honor Vinod Sequeira as Personality of the Month. Business is in his blood. He still remembers the days when he carried coconuts in his cycle to sell in Barkur Friday Market.The humbleness, ready to share the burden of his subordinates is still seen in him, while owning a fairly large and successful business today. Success is neither magical nor mysterious. It is the n consequence of good habits which are  inbuilt and developed in him over the years. Let Almighty Lord Bless him and his family with good health and help them flourish further to be helpful to our society of course when our actions are based on good intentions, our soul has no regrets at all.
With best wishes,
On behalf of Barkuronline team
P.Archibald Furtao, 6th August 2019