Konnee Samanaanth, Staging at Kundapur
The Expressions, a group of like mided people promoting talents is all set to stage the Konkani Comedy on 27th November. The konkani drama written by the multitalented Alwyn Andrade, Barkur, staging at Kundapur as its 'fourth show' in the time span of an year. The show is being organised I.C.Y.M, Holy Rosary Church, Kundapur for the occasion of its annual celebrations during the evening of the Parish Feast of the church.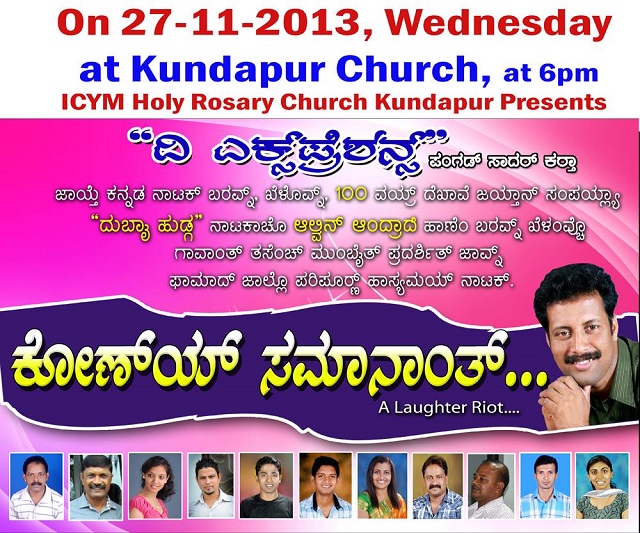 Alwyn Andarde has written and directed many Kannada Comdey plays and his most popular show is "Dubai Huduga" which has completed 99 shows and on the brink of hitting 100. This is his first stint at Konkani Drama. Enacted by talented actors like Sujatha Andrade, Raviprakash Gonsalves,  Franklin Fernandes, Stenita Andrade Franco, Delvin D'Sa, Stephen Rodrigues, Wilma Fernandes, Cyprian Pinto, Steve D'souza , Eric Lewis, Austin Almeida and Kishore Gonsalves, this play is a laughter riot. Veteran comedian and star attraction in all the earlier  "The Expressions" ventures, Prakash Shetty Sasthan is apperaing in special role tailor made for him  will be added attarction.
After successfully performing three shows at Sasthan, Mumbai and Brahmavar respectively, the group is all set to serve a rib tickling comedy to the audience at Kundapur.