Mangalorean Catholic Assoication -East Coast,USA annual Picnic.
The Mangalorean Catholic Association-East Coast, USA celebrated its 4th anniversary at its annual picnic in Piscataway,New Jersey-USA on June 8. Heavy downpour a day before the picnic forced the MCA-EC board arrange an alternative venue on short notice.
Thanks to Bob and Olivia Vaz of Babco Foods located in Piscataway, New Jersey, the picnic went on as scheduled . This lovely couple generously offered their indoor and outdoor business location and made everyone's day.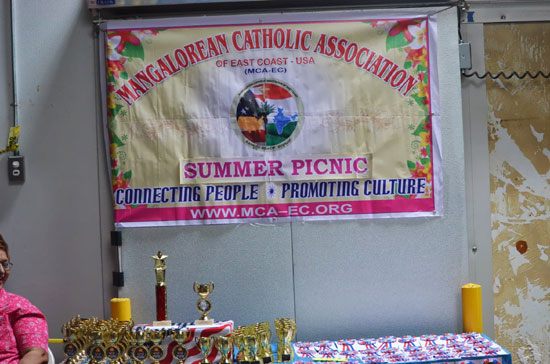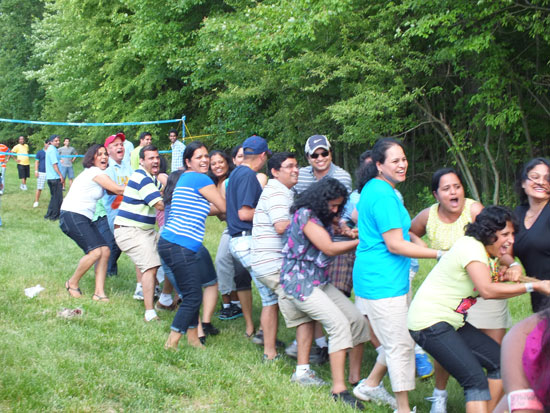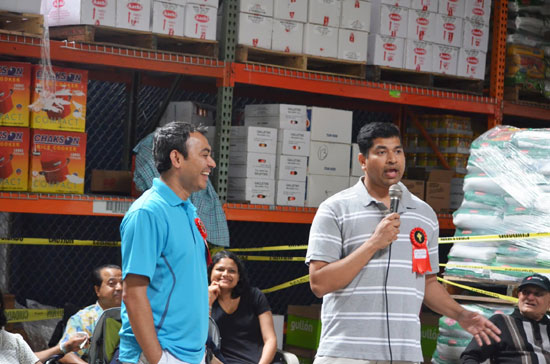 The annual picnic saw a record attendance of 260 people which is a testimony to MCA-EC' members resilience. They all came out in full support of their organization despite the challenges with weather and shift in venue. Kids, Adults and Seniors of all ages came with a smile on their face , interacted with each other, participated in games and made new friends and enjoyed a fun filled day under the sun.
 
The picnic was huge success due to volunteers, members and non-members support to the MCA-EC Board. Everyone got together and helped each other to make this event a grand success and its speaks volumes of the togetherness in this association.
 The MCA-EC Board conducted its annual elections, Steven Aranha-president, John D'Souza-VP treasury and Merlin Mendonca- VP programs stepped down after completing their tenure. Their contribution to the association has been immense and the organization scaled to new heights under the current board.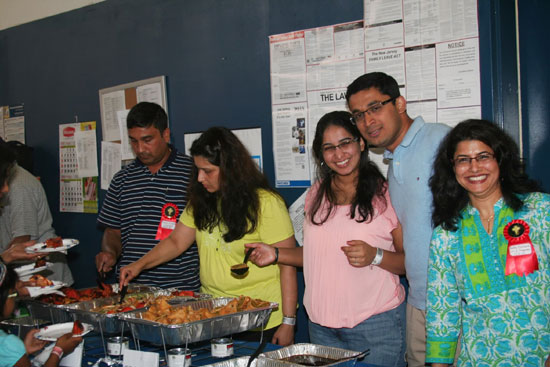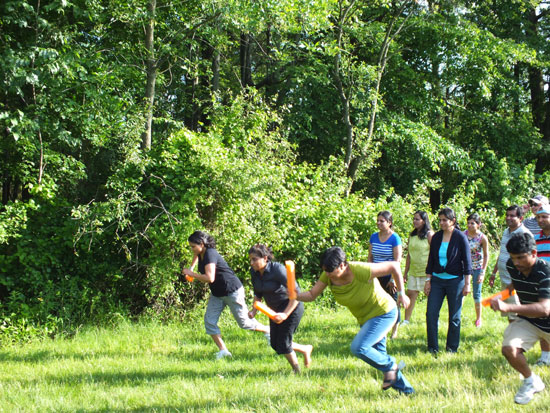 The new board will now comprise of Arun Menezes-President , Roshan D'Mello-VP Public Relations, Michele D'Souza-VP Programs, Neeta Mascharenhas VP-Membership and Eric Fernandes- Secretary and VP-Treasury.
MCA-EC's Spiritual Director, Fr Arun Lobo was felicitated at the picnic for his immense contribution to the organization for his teachings that underscored Mangalorean culture, Catholic faith and prayer to keep God closer. Fr Arun returns back to India after successfully completing his Masters in Social Work from Fordham University. Fr Arun has been down to earth, humble and for his simplicity he will be truly missed by the association .
 
Overall the MCA-EC 2013 picnic was a huge success. It was a great day with amazing weather and one saw young and old coming together bringing out their best, competing in true sportsman spirit and having fun.
 
The next big MCA-EC Event will be Monti-Fest celebration in Brooklyn, NY on September 7. The association will also support a few retreats by joining hands with OITS prayer group of NY/NJ/CT where preachers like Colin Calmiano will conduct a full day retreat for adults and a leadership program for the kids of MCA-EC.
 
Below is the list of picnic contests and game winners and runners up details.
 
Mangalorean Appetizer contest:
1st Prize: Arun Menezes (potato Bondas)
2nd prize: Jaison Banji [galmbi (dried shrimp) pakoda]
 
Games:
Age Group : Baby - 4 years
Passing the teddy:
  1st prize: Jiya Doss
  2nd prize :Joshua Lewis
 
Age Group :  5-7 years
Musical arms:
 1st prize: Luke Menezes
 2nd prize: Melodie Pinto
 
Passing the Hula hoop:
1st Prize : Jaden D'Souza
2nd prize: Xhaiden D'Souza
 
Throwing balls in the bucket:
1st prize: Shresta Rai
2nd prize: Shanessa Aranha
 
Age Group : 8-12 years                                         
Hula Hoop workout:
1st prize: Abigail D'mello
2nd prize: Sheryl D'mello
 
Candelier :
1st prize: Venora Furtado
2nd prize: Clarissa
 
Tweeze me:
1st prize: Daniel D'mello
2nd prize: Michelle D'Souza
 
Age group : 13 --17 years
Sack race:
1st prize: Leann Rego
2nd prize: Nathan Duarte
 
Marble and spoon race:
1st prize:Nathan Duarte
2nd prize: Leann Rego
 
"Name that country" quiz:
1st prize: Juanita Pinto
2nd prize : Vinuth Furtado
 
Play it by ear:
1st prize: Clayton Monis
2nd prize: Orran Mendonca
 
Age group : 18- Adults
Water Balloon toss :
1st prize: Aldrin and Manasa Rego
2nd prize: Eugene Colaco and Lavina Sequeira
 
Number game :
1st prize: Pramila Mendonca
2nd prize: Violet Monis
 
Relay race: 8 winners lead by Merlin Mendonca
 
Family quiz
1st Prize: Dylon D'Souza and family
2nd Prize: Manesh Aranha, Arine Aranha and Samson Sequeira
 
 Age group : 55 years and over
Musical arms for men :
1st prize:Pantalaeo Baretto                                  
2nd prize: Francis Joe Martis
 
Musical arms for ladies:
1st prize: Eva Pinto
2nd prize : Rehanna Rodrigues
 
If any Mangalorean Catholics are interested in joining MCA-EC, they can email the board at mca.eastcoast@gmail.com