MCA-EC Monthi Festh celebrations (USA)
Over 280 Catholics from the United States East coast states of New Jersey, New York, Pennsylvania, Delaware, and Connecticut gathered together on Saturday September 7th, 2013 at Our Lady of Angels RC Church in Brooklyn, NY to celebrate the feast of of Nativity of Mother Mary (Monthi Festh). This event was hosted by the Mangalorean Catholic Association of the East Coast (MCA-EC).The weather was great, people's spirits were high and it was a perfect setting for a feast to remember.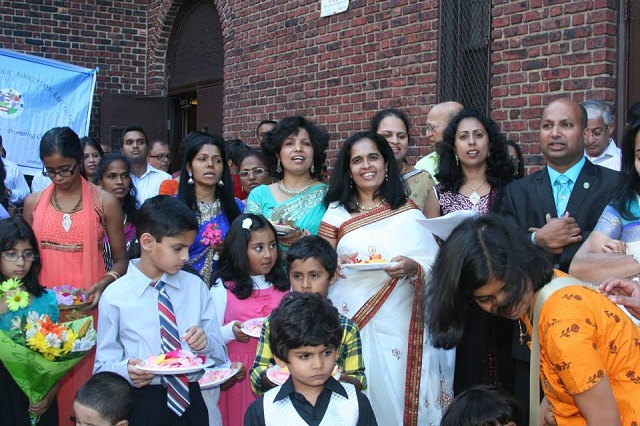 The event was kicked off by MCA-EC's President Arun Menezes' welcome speech followed by  by a traditional Konkani mass which was presided over by Fr. Augustine Claude D'Souza who is now MCA-EC's 2013-2014 Spiritual Director. Fr. Augustine kept the congregation's attention with an awesome Konkani mass that reminded most members of the traditional mass experience back in the Mangalore.The choir was led by Vijai Furtado from Edison,NJ and the entire choir of all age groups did a splendid job of singing the hymns in melody.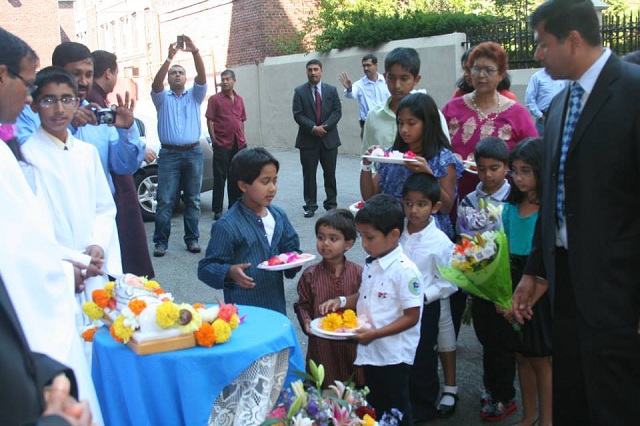 After the Konkani mass around 90 children lined up in a procession to shower flowers on infant Mother Mary's statue. The board members and volunteers did an extraordinary job in ensuring every child got an opportunity to shower the flowers as the choir sang Sokkodd Sangatha Melleam..Moriek Hogolsia.The colorful array of petals looked beautiful in the hands of adorable children. It was a delight to watch children enjoy and stay connected to their Mangalorean roots through this ceremony. The statue of Infant Mother Mary was showered with petals of roses, marigolds and lilies and that scene reminded many as if they were all in Mangalore at that moment.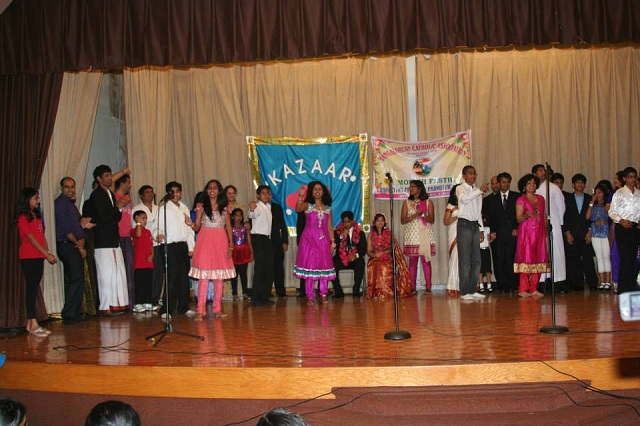 Fr. Augustine then blessed the kernels of rice imported by Harry Pinto of DTDC couriers from Man galore. Everyone drank  'Novein' which is a drink made by mixing together the blessed and pounded "new paddy" from Mangalore with milk. Roshan D'Mello -VP Public relations from the board gave the vote of thanks to all volunteers, mass celebrants and attendees of the day The showering of flowers was followed by some mouth watering delicious authentic Mangalorean style vegetarian lunch of Idli,Vada,Sambar,Chutney,
Pothrade,Kuvalo,Tendli Sono,Alsande Sukkhe,Veg Pulao,Payasam and for snacks Masala wada,Plantain Pakora and Sheera for snacks. To emphasize the level of tradition, everyone was served on banana leaves, as is the custom within the villages in and around Mangalore.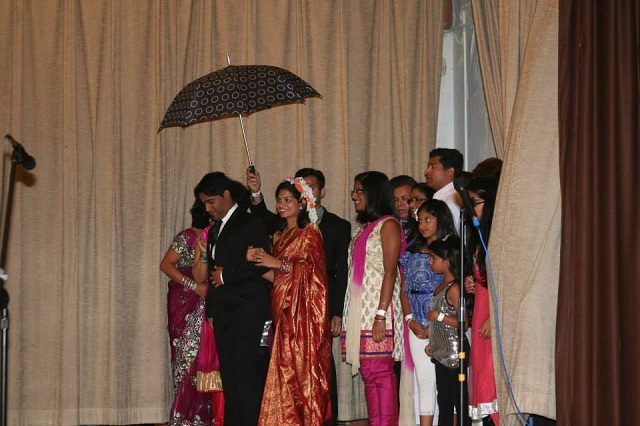 The afternoon saw several MCA-EC members of all age groups who had practiced hours and weeks put up one fabulous cultural show for all attendees. The  Advertise improvisation competition had several entries and the audience was amazed by the creativity and stage skills of all participants. The drama, comedy, dance and music that followed kept the audience at the edge of their seats as they were cheering and clapping all day. MC's Mark Mendonca and Jessie Fernandes did a great job keeping the audiences enthralled all afternoon. The MCA-EC board did a mind blowing job by putting in all their hard for to make this event a great success . They comprise of Arun Menezes- President, Roshan D'Mello- VP Public relations, Michelle D'Souza-VP Programs, Neeta Macharenhas -VP Membership and Eric Fernandes- VP Treasury and Secretary.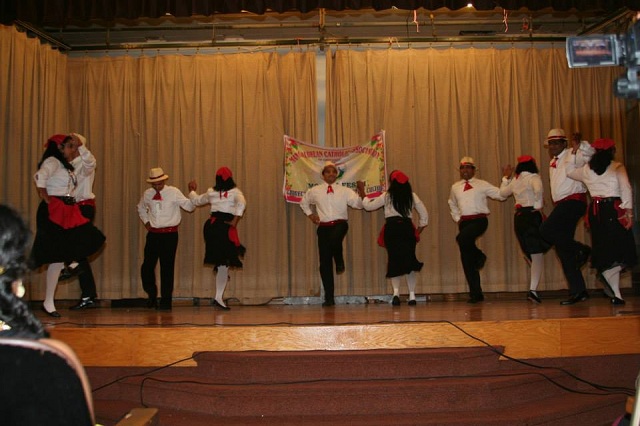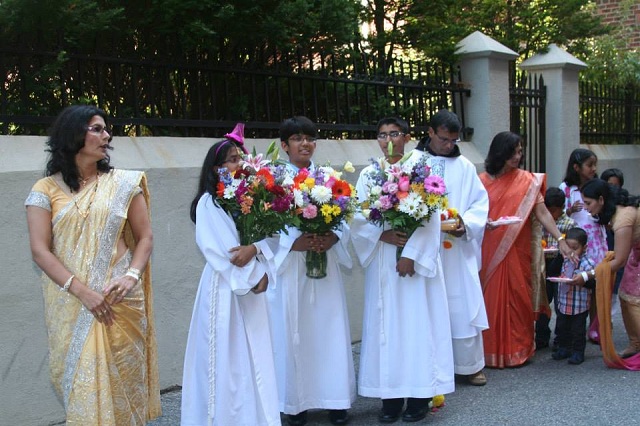 Below are the details of all participants in their respective song, dance and skit.The next event of MCA-EC will be on
December 21st, 2013
for Christmas Gala in North Brunswick, New Jersey.
Dance: Gangnam Style (Fatima Vado)
Saharika, Joshua, Jordan, Jiya, Amelia , Melody, Matthew, Ethan, Aaron, and Venora
Musical skit: AMCHO GANV AMCHI SANSKRUTI (Moriye Vado)
Aab ani Vodlimai dance:
Nathan, Shawn D'Mello, Mia, Joel, Megan, Adam, Sean Misquit, Jaden, Jennifer 
Manglureachea xerant dance:
Melanie, Venora, Cleon, Jerard, Sheryl, Nikki, Giselle, Carolyn
Khushi zata dance:
Kevin – friya / Sheldon – Movin / Kenneth – Vandana / Vincy – Violet / Gladson – Zeeta / Harry and Anita / Don and Diana / Ron - Marietta
Baila dance:
Vinuth, Jonathan, Meldon, Darrel, Annlyn, Juanita, Pammy, Vanitha
Skit performers: 
Lancy, Merlin, Clayton, Orran, Annika, Michelle, Agnes, Joe, Anthony, Jyothi, Aldrin, Manasa, Samson, Melvin, Ron, Naveen, Roshan, Smitha, Sharlet, Lorna, Wesly, Eva Aunty, Santhan and Benedict.
Dance : Bollywood Medley (Fatima Vado)
Leann, Susanna, Nikita, Caroline, Sahanah, Stacey
Skit : Pullaso Babulo (Kursa Vado)
Ashok Pinto, Steven Aranha, Arun Menezes, Monti Quadras & NY Kursa Vado Kids
Dance: Maria Pitache (Bhagevonthkutam Vado)
Kiyasha Mascarenhas & Joy Fernandes.
Skit: Gayk Guleoo  (Kursa Vado)
Stanislaus Lobo, Paul Quadras
Dance : Corridinho  (Fatima Vado)
Anita, Savio, Sahay, Sherrin, Jaison, Sharlet, Carmeline, Martin, John and Michelle.
Dance: Yego Baye Yo (Kursa Vado)
Monti Quadras, Shyna Quadras, Janice Seravo, Lavina Aranha, Reena Menezes, Saritha Lobo, Sujatha Periera, Seina Lobo
Song: Kerak Mog Peraso (Kursa Vado)
Luke Menezes, Sanya Aranha
Dance: Kehta Hi and Aaja Nachle Bollywood dance mix
Maria, Monica, Michelle and Melanie
Song: Let it Be by Beatles (Bhagevonthkutam Vado)
Miguel Mascarenhas, Rohit Lobo and Aaron Lewis
Prize distribution by board member's Neeta Mascharenhas and Michelle Fernandes
You can learn more about MCA-EC on our Facebook page or by visiting our website at
www.mca-ec.org
for more information on the association.
Article by Roshan D'Mello- VP public relations MCA-EC Board.