CALLED TO SERVE AND HE SERVES WITH LOVE.
Introducing Most Rev. Dr. Aloysius Paul D'Souza Bishop of Mangalore (India)
According to the great jubilee 2000 edition of the Catholic Directory of India, published in 1998 by the C.B.C.I. (Catholic Bishop's Conference of India), there are 140 diocese in India and the Diocese of Mangalore is one among them. The Diocese of Mangalore is located in the southern part of India on the west coast and covers 9,425.01 sq. km. Total population is 3,957,071 and the Catholic population is 254,600. There are 154 parishes in the Mangalore Diocese, a number of convents, religious institutions, schools, colleges, medical schools, and various charitable institutions. The diocese has a mission station called "BIDAR" mission started by the late Bishop Basil S. D'Souza. Presently under the excellent leadership of Bishop Aloysius Paul D'Souza all of the institutions run smoothly following the motto "called to love and to serve one another."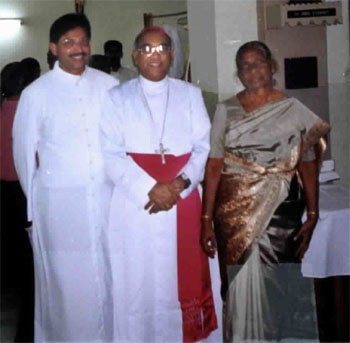 Bishop Rev. Dr. Aloysius Paul D'Souza with Fr. Tony and his mother Mrs. Benedicta Andrade
Most Rev. Dr. Aloysius Paul D'Souza is the 13th. bishop of Mangalore. He was born on June 21,1941 and ordained a priest for the diocese of Mangalore on December 3, 1966. He has served the diocese in various capacities. When he was the rector of St. Joseph's Seminary, which is the diocesan seminary for educating future priests, he was appointed auxiliary Bishop of Mangalore by Pope John Paul II in 1996. His Episcopal ordination was held on May 15, 1996.
After the unexpected death of Bishop Basil Salvador D'Souza, who had served as Bishop of Mangalor for many years, the diocesan seat was left vacant for a time.
Bishop Aloysius Paul D'Souza was formally appointed by Rome and installed as its 13th. Bishop on December 27, 1996 at Our Lady of the Rosary Cathedral, in the Diocese of Mangalore.
I met Bishop Aloysius personally 2 years ago when I visited the Raknno office, located in the bishop's house. My first visit was very pleasant and I felt very comfortable speaking with him. I admired his simplicity and kindness. He has a great gift for listening. He listens attentively to others in what they have to say before he responds. He loves the church and the faithful people of his diocese.
I believe we are truly blessed to have him as our bishop. I celebrated Holy Mass with him in Karkala when I went there for the feast of St. Lawrence, patron saint of the Karkala parish. He is a very good preacher and he celebrates the Holy Eucharist with great devotion and reverence.
Bishop Aloysius has a great love for the Bidar mission in the Mangalore Diocese.It is my pleasure to introduce our good and enthusiastic shepherd Bishop Aloysius Paul D'Souza to our web site viewers. I wish him the very best in his ministry and assure him of my humble prayers and support.
Fr. Tony Andrade.