AUGUST 15th...INDEPENDENCE DAY AND THE FEAST OF THE ASSUMPTION OF THE BLESSED VIRGIN MARY, OUR HEAVENLY MOTHER.
On the 15th of August we will celebrate our Independence Day. This year is the 57th anniversary of India's independence. Also, Catholics around the world celebrate the feast of the Assumption of the Blessed Virgin Mary. It is a coincidence that our nation's independence day falls on the same day of an important feast of our heavenly mother, Mary.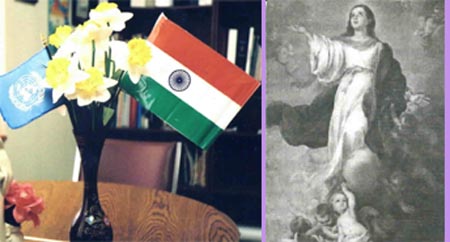 Every year as we celebrate this Independence Day we recall and remember all those brave people who sacrificed their precious lives for the cause of freedom. Because of their efforts and determination, today we enjoy freedom in our country. We remember some of the prominent figures who led our people to fight for freedom through non-violence. One of the prominent figures being Mahatma Gandhi. It is not enough that we only think of the leaders, rather we should also remember those thousands and thousands of brave Indian citizens who gave the ultimate sacrifice for the cause of freedom.
On August 15, 1947 India became completely independent. On this historic date Jawaharial Nehru, the first Prime Minister, unfurled the Indian tricolor flag on the ramparts of the magnificent Red Fort symbolically marking the end of British colonial rule. Some parts of India, however, still remained under the colonial power of Portugal such as: Goa, Daman, Diu, and Nagar-Haveli. These colonies were liberated on December 19, 1962. Pondicherry, under the colonial power of France, was also liberated in 1962. Since 1962 our country has been totally free from foreign rule. Goa became a state in 1987. The rest of the colonies still remain Union Territories. I have had the opportunity to visit all of these places in India.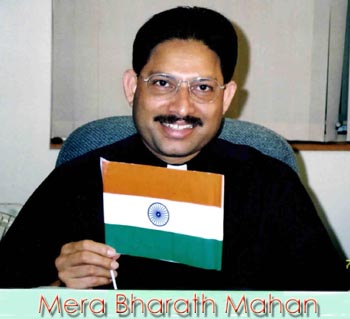 The rectangular flag of India is made up of three horizontal color: saffron, white, and green. Saffron, represents courage and sacrifice, white is for purity, and green is for fertility. There is a wheel with 24 spokes in the middle of the white section, representing the Dharma Chakra.
If we make this a day of remembrance and prayer, we can return to the path of Mahatma Gandhi, a path toward Swadeshi and Ram Rajya. As we continue to enjoy religious freedom and as we celebrate our own faith let us, on this day, remember to pray for our nation and continue to support our nation.
In conclusion let me write the beautiful hymn sung by the father of our nation, Mahatma Gandhi, which inspires me everyday. I hope it will inspire the viewers of web site Barkuronline.com. Here it is.....
"RAGHUPATI RAGAVA RAJARAM, PATITHA PAVANA SHEETHARAM,
ISHWAR ALLAH TERE NAAM SUBKO SANMATHI DE BGAVAN..."
Long live my beautiful Mother India and "JAI HIND."
FEAST OF THE ASSUMPTION OF THE BLESSED VIRGIN MARY.
Every year on the 15th of August the Catholic Church celebrates Mary's welcome into heaven. Though Mary's assumption is not mentioned in scripture, Christians since the time of the apostles have believed in this truth.
The church presents this teaching as follows: "The Most Blessed Virgin Mary, when the course of her earthly life was completed, was taken up body and soul into the glory of heaven, where she already shared in the glory of her son's resurrection, anticipating the resurrection of all members of his Body."
We make a distinction between Jesus' entry into glory and Mary's entry into heaven. We call Jesus leaving this world his ascension into heaven, since he was raised by his own power. Mary was taken into heaven, not by her own power but by the power of God. This is why we call Mary's leaving this world assumption rather than ascension into heaven. Pope Pius XII declared the bodily assumption of Mary into heaven as a dogma in 1950.
Fr. Tony Andrade.