Reported by Prof Alfred Furtado, SMS College Brahmmavar. Pics : Ashish Andrade, Mayura Digitals. 
Stalwarts of CYM Barkur, joined together at Sauhardha Community Hall on Monday, 23rd December 2019 at 7.00 pm, it was a nostalgic moment to meet, recollect and enjoy a great evening marked with lot of fun, frolic and contentment.
No report is essential for those who participated in it, however, CYM family is huge with 400 plus Members scattered over the entire globe, here almost 125 past and present Members gathered under one roof, no doubt a record on its own.
The concept conceived, planned and executed so meticulously by Vincent D'Almeida and his team created wonders and at one voice the CYM shouted in union, to endorse, yes we need such get together once in every two years…!
Unlike other programmes, here it will be difficult to join down everything in detail; still following is an overview of few highlights….
6.00. PM – Sauhrdha Community Hall was ready with theme Christmas – Praveen Carvalho, Divyananda Gonsalves & Sylvan D'Almeida, making necessary arrangements for sitting, backdrop, flex etc….
6.15 PM – Christmas stars, Bouquets with fresh flowers with Barkurian fragrance ready and arranged by Sylvan D'Almeida
6.30 PM – Ophelia Gonsalves and Usha Rodrigues, made all preliminaries in place to welcome, registration of all respected Guests and participants…
6.45 pm – Patrick D'Silva fully ready with sound system, Lighting and decoration, in line with Christmas theme….
7.00 PM. – Rodrigues Caterers ready with welcome drink and Refreshments….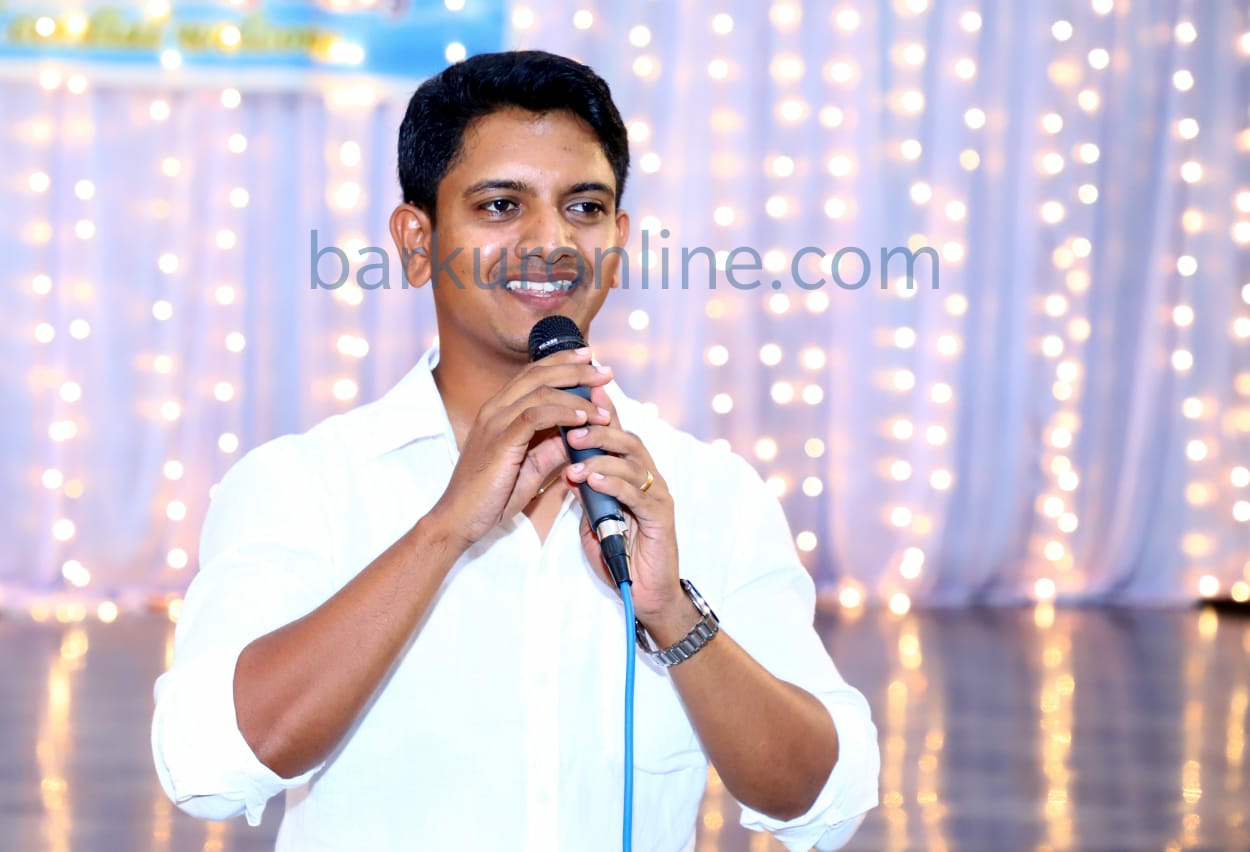 7.15 PM – MC for the historical evening Franklyn Fernandes took charge of the proceedings, with prayer Haryek Ghadi Tuka Somya…..followed with a brief Introduction and Purpose of this coming together…
7.20 PM – Dolphy Mascarenhas and Team set the suitable Music / DJ for the evening….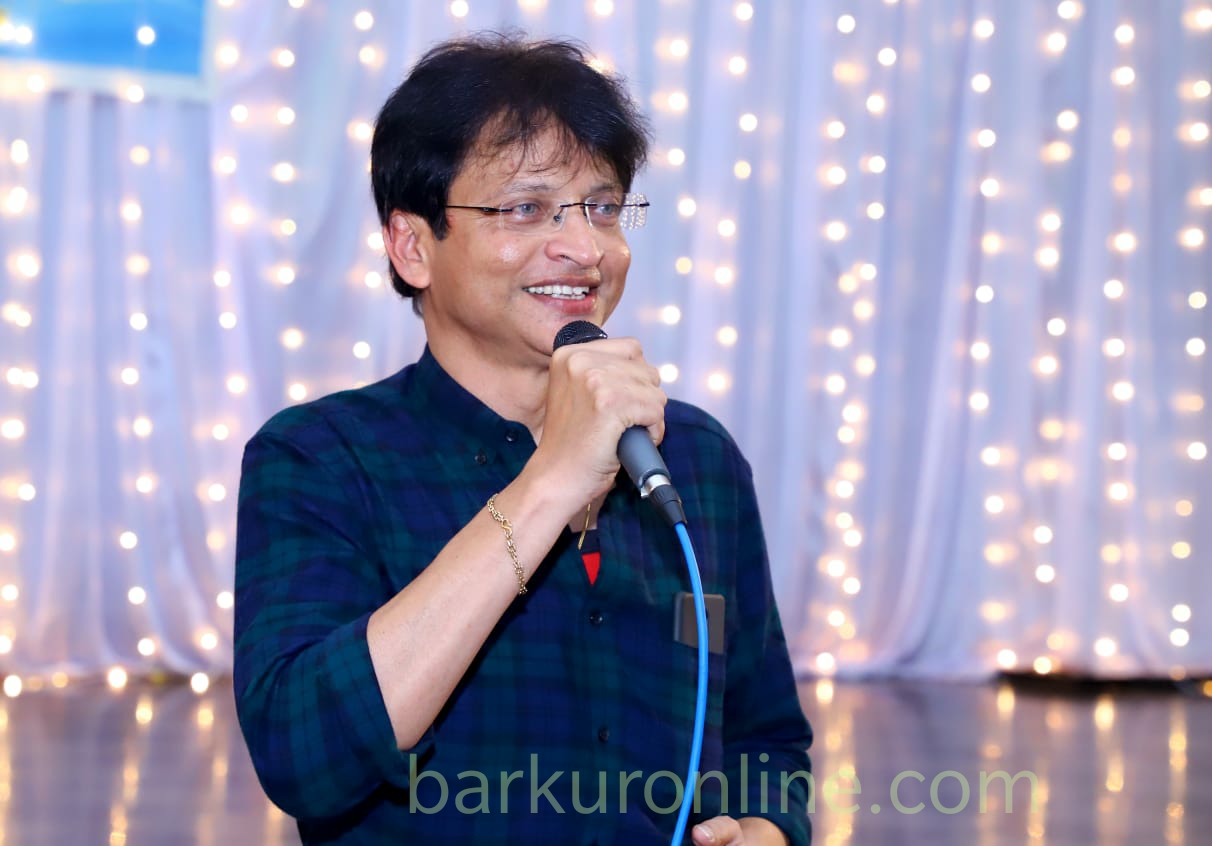 7.25 PM – On behalf of the Organizing team, Kishore Gonsalves, extended a warm and hearty welcome to the Guests, Priests and past and present members of CYM Barkur….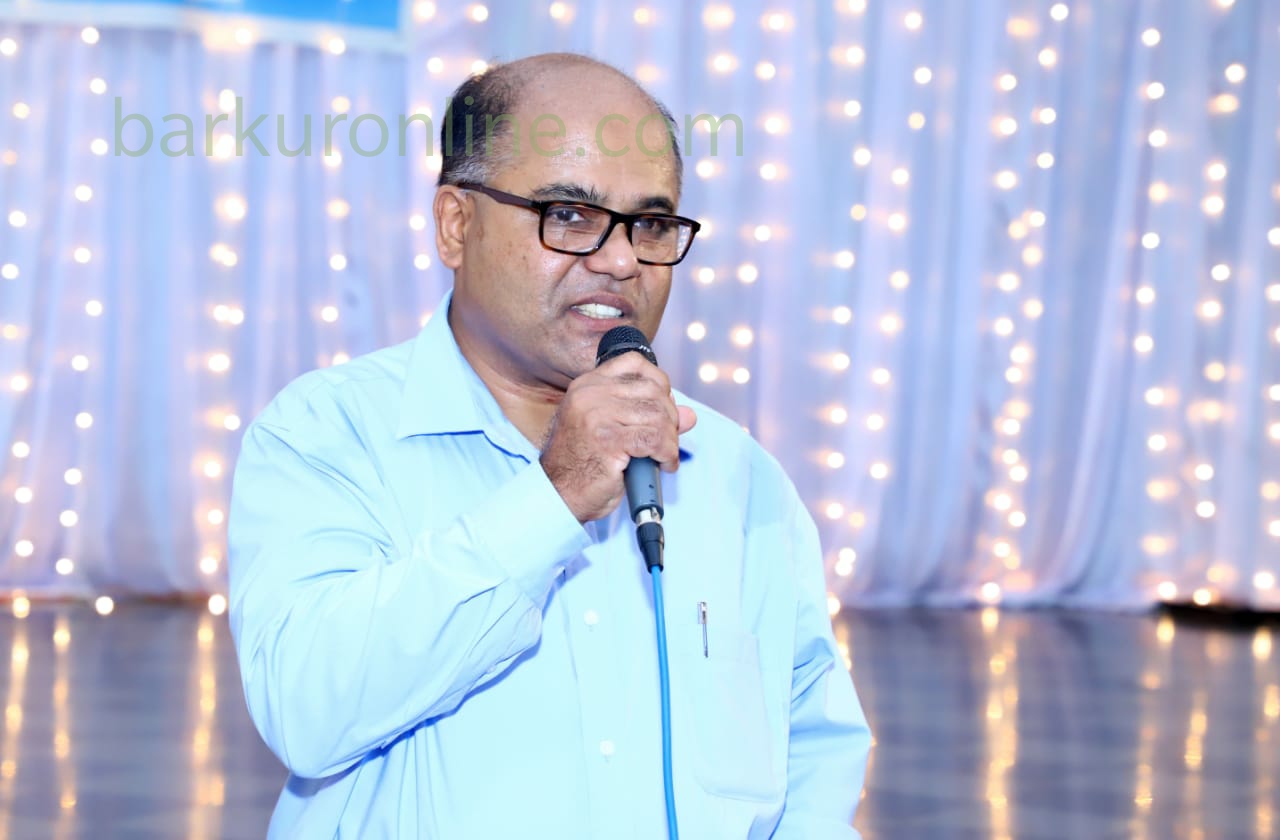 7.30 PM – Vincent D'Almeida,  the brain behind this historic Get together, gave an overview of the life of 43 year old CYM – 1976 – 2019, its contribution to the Church, society most importantly how CYM moulded all of us assembled here….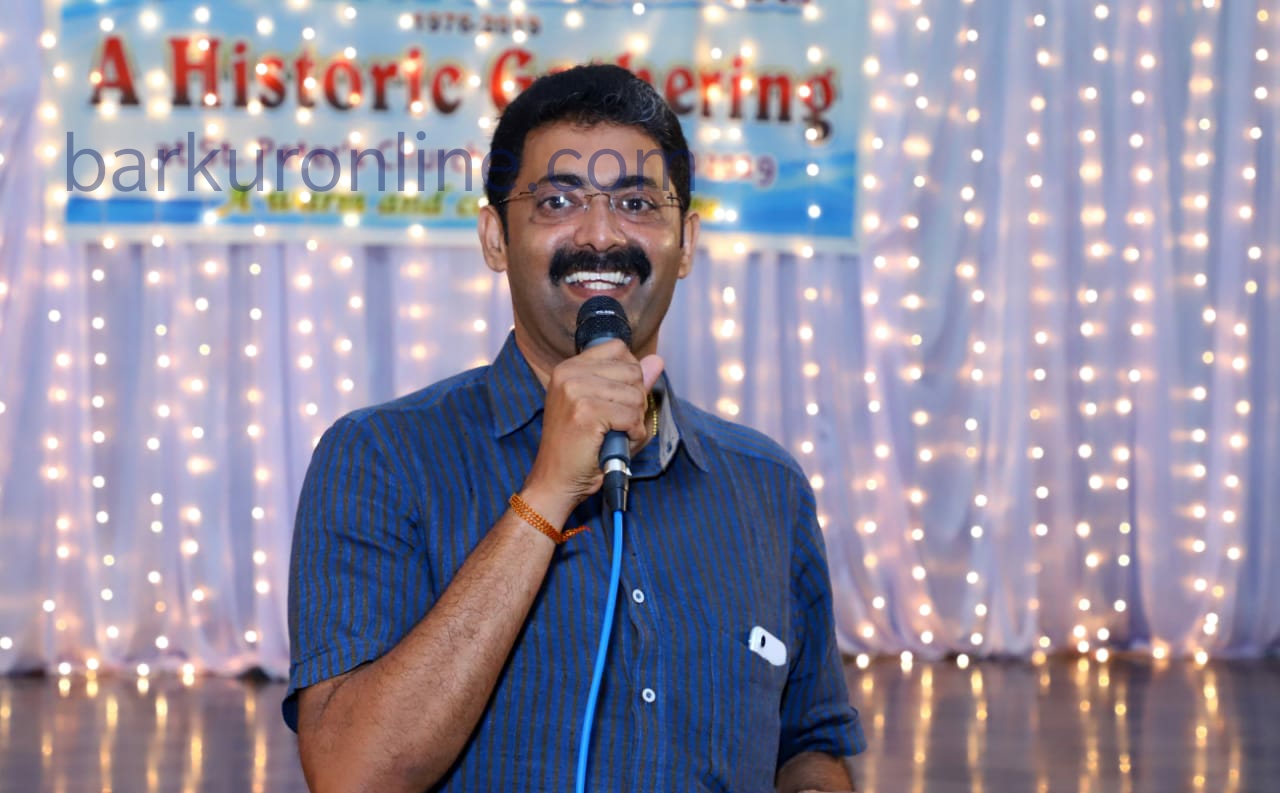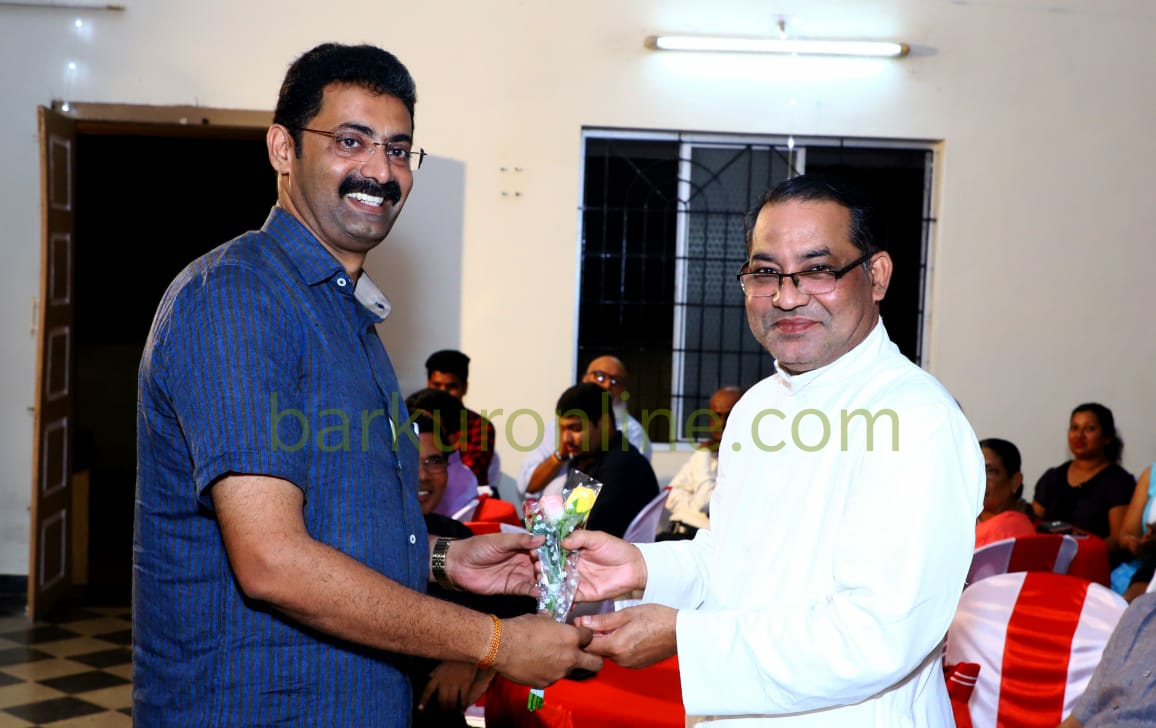 7.45 PM – Recognition of Present Director and Vicar – Rev. Fr. Philip Neri Aranha, Past Director Fr. Reginald Pinto, as the former was introduced by Praveen Carvalho and the latter by Herald D'Souza and Our own son of Barkur Soil, Fr. Cyprian Henry D'Souza with the presentation of Bouquets.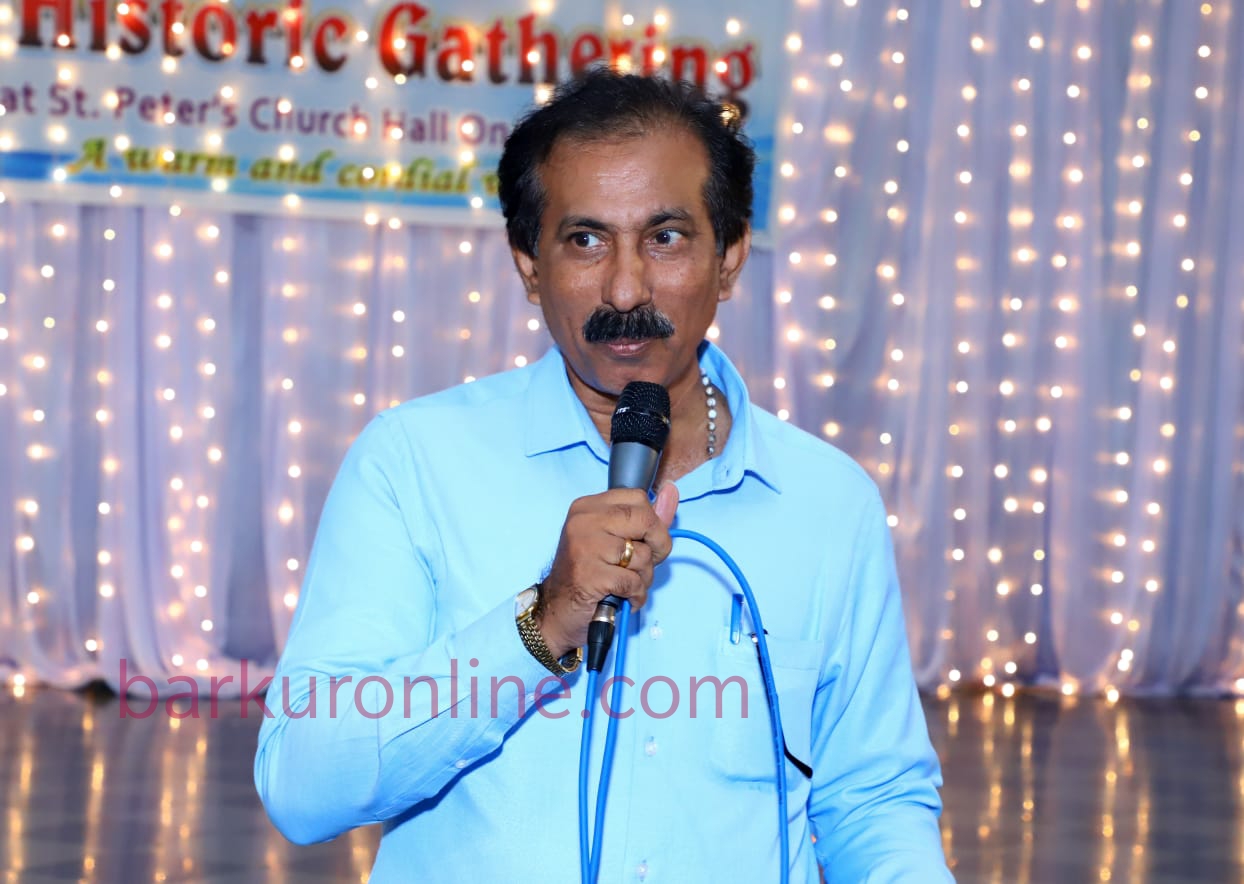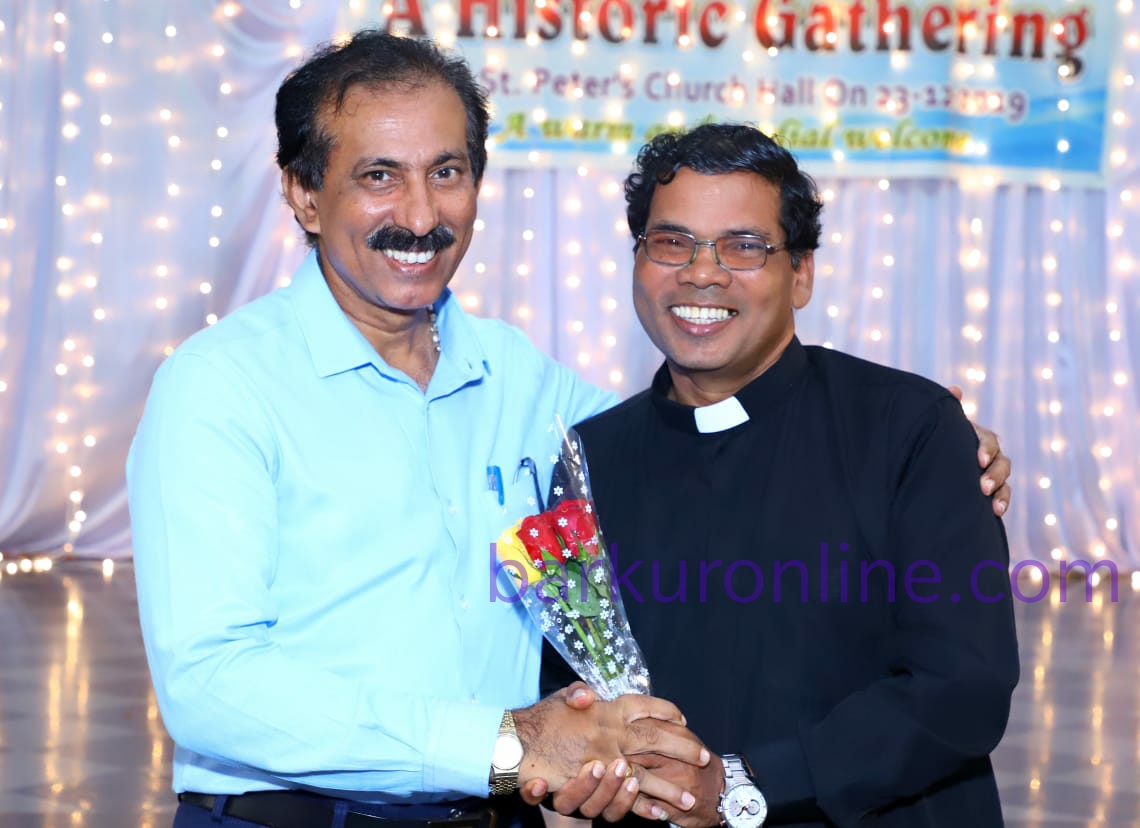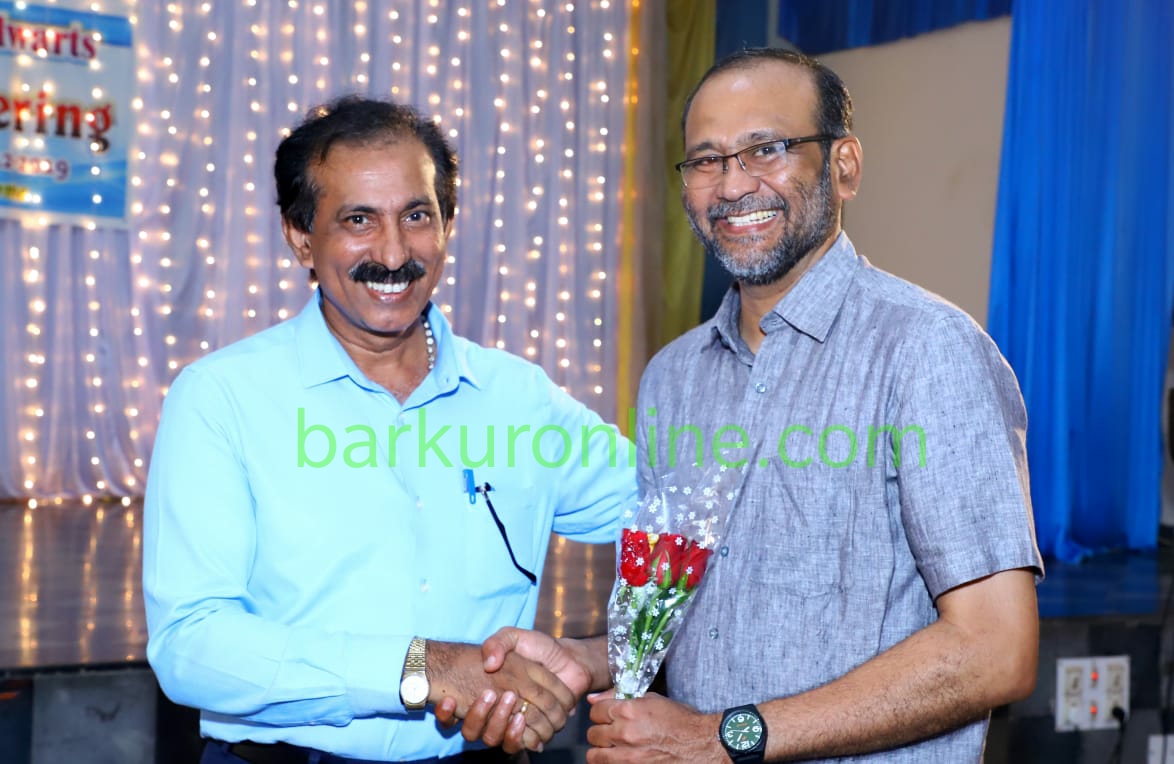 7.50 – PM The parish Priest Fr. Philip Neri spoke from his heart to declare, such a Get Together is First of its kind in his Priestly life, and present CYM needs the guidance from elders to groom and train them in coming days…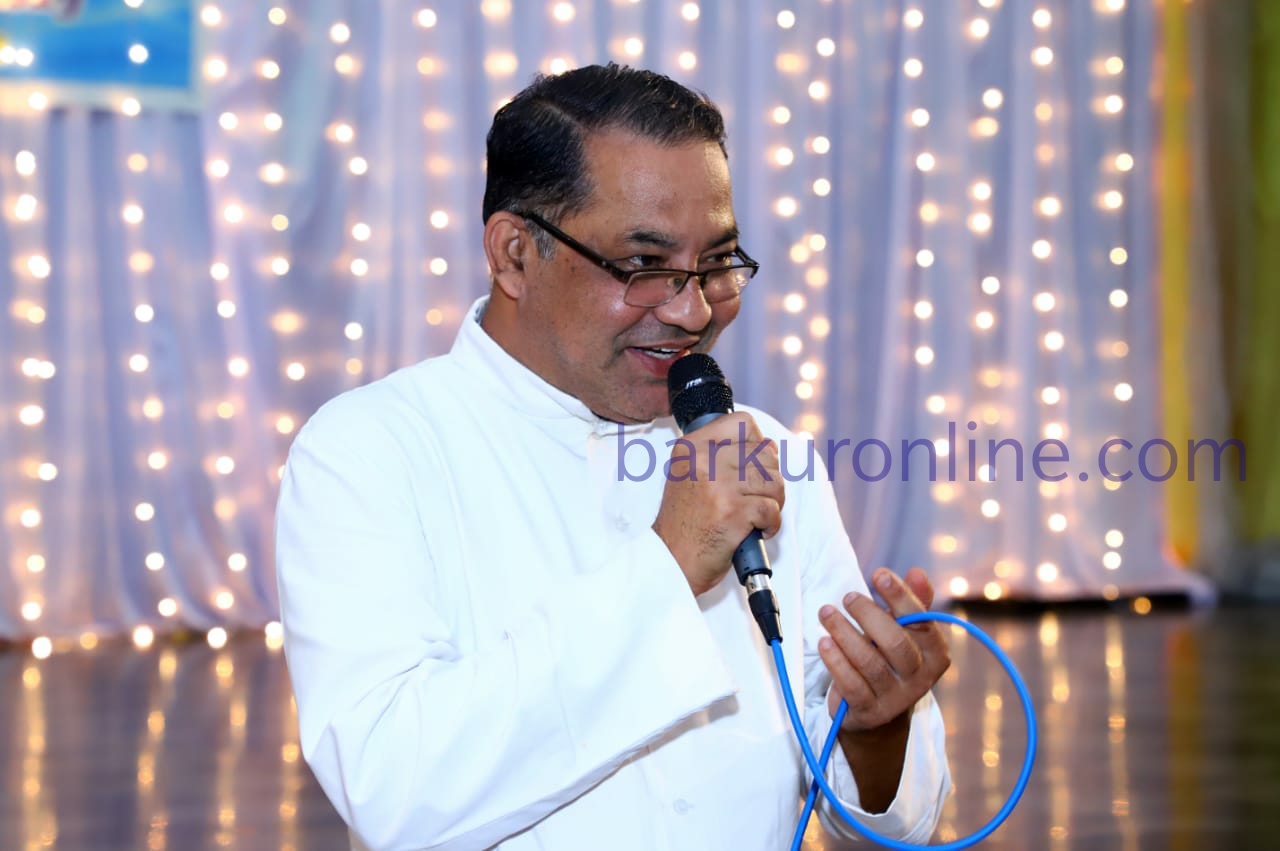 8.00 PM – Rev. Fr. Reginald Pinto, called back his memories associated with Barkur and CYM youth of those golden years, the love and affectionate members….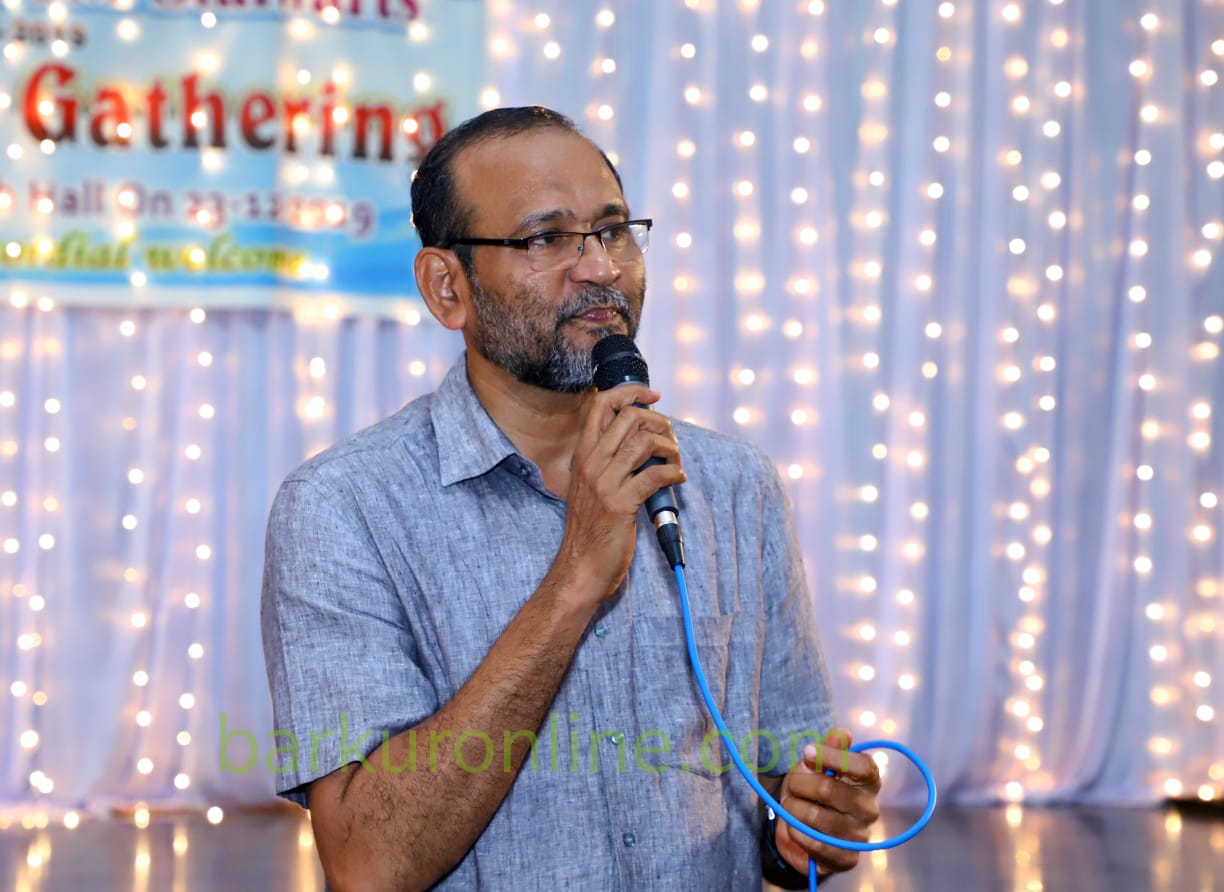 8.10 V. Rev. Fr. Valerian Mendonca who was here in Barkur for five years, informed that CYM and youth of Barkur are unique and always have a very special place in his heart, wherever they are in Mumbai, Bangalore, Arabian Gulf or Europe, USA rather anywhere in this world…..first they are Barkurgar….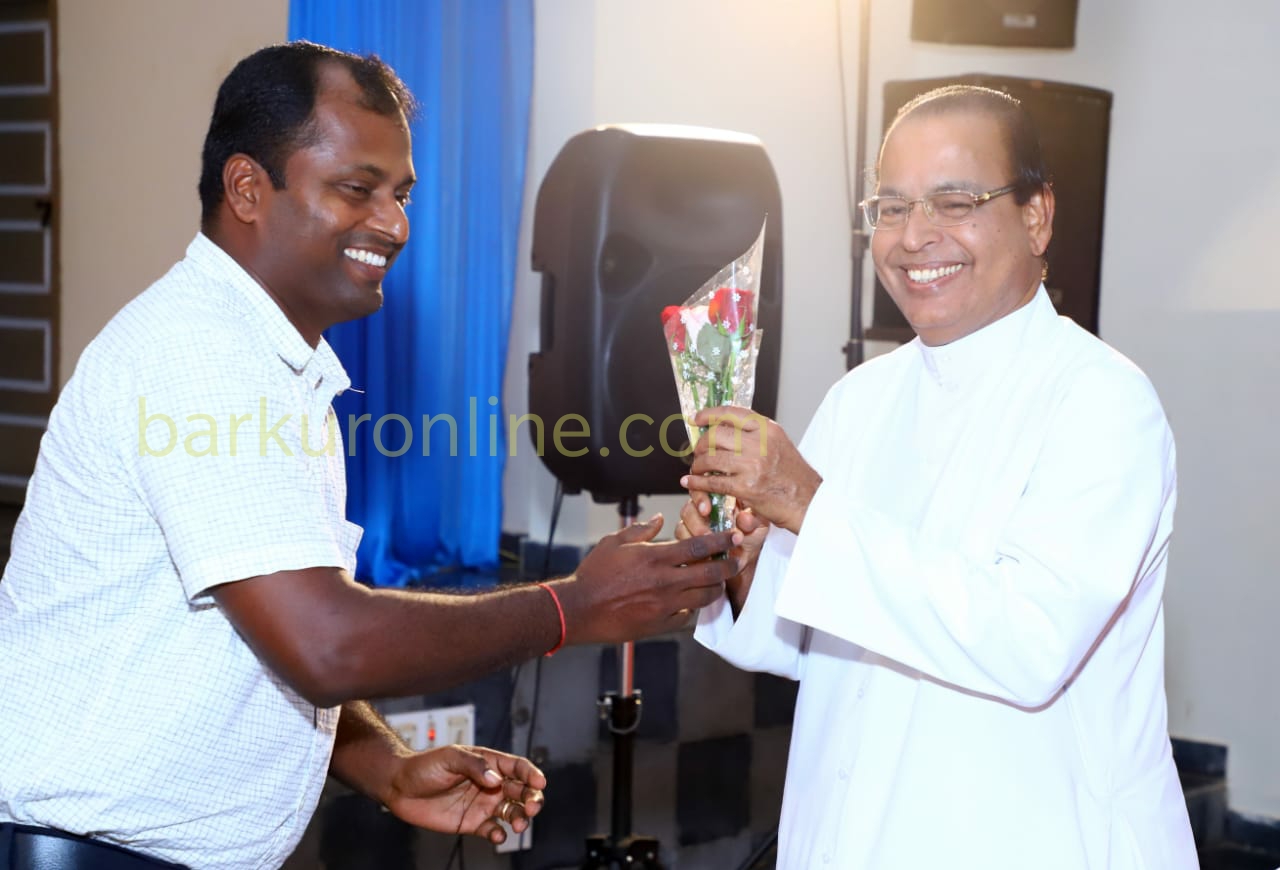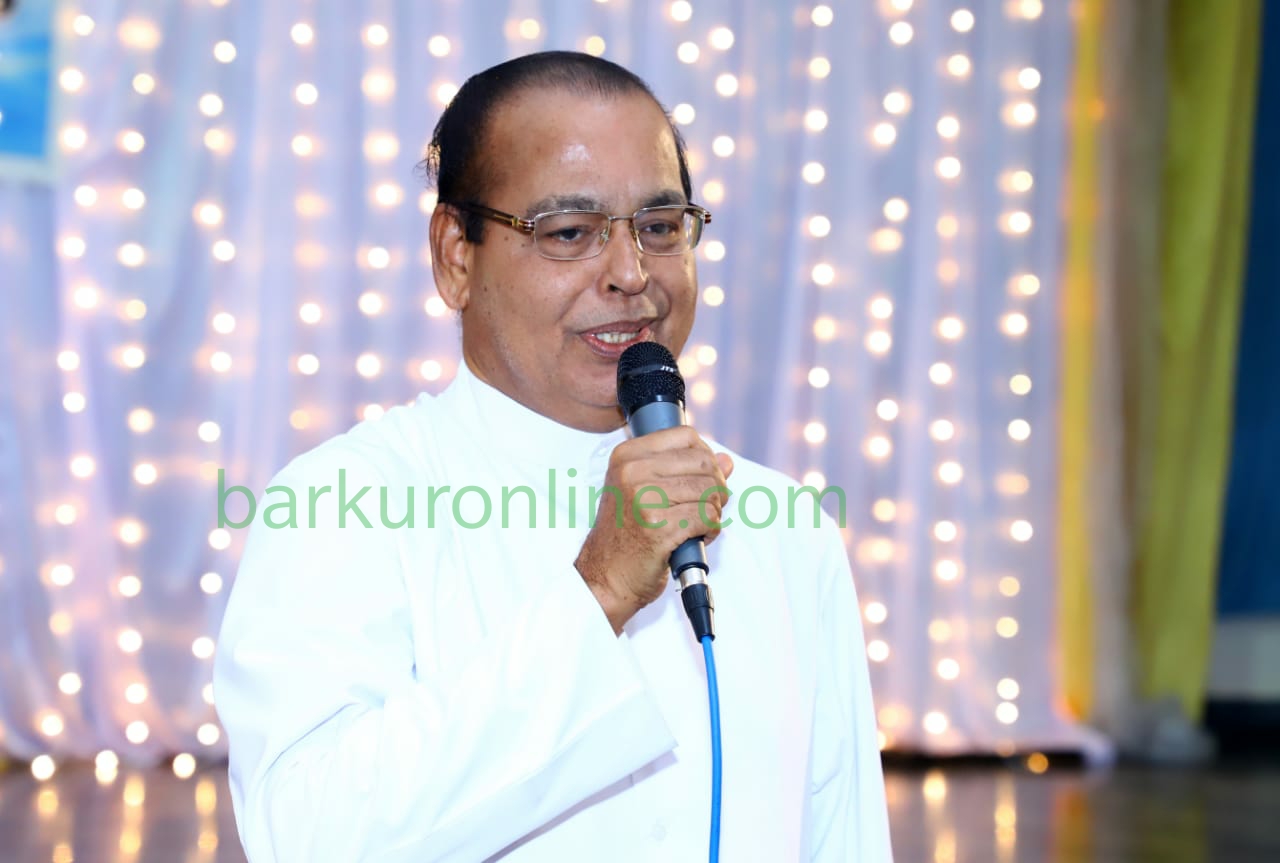 8.15 PM – Services of former Directors was specially remembered - Rev Fathers – Joseph D'Souza, Fr. Patrick Rodrigues, Fr. JN. Lobo, Fr. Mark D'Sa and Fr. Sylvester D'Souza by Archibald Furtado and founder Director Bishop Henry D'Souza, Fr. Apolinaris Crasta, Fr. James D'Souza, Fr. Benjamin D'Souza, Fr. Alban D'Souza, Fr. Valerian Mendonca, Fr. Philip Neri Aranha also thanked for their great concern, love and encouragement at all times…….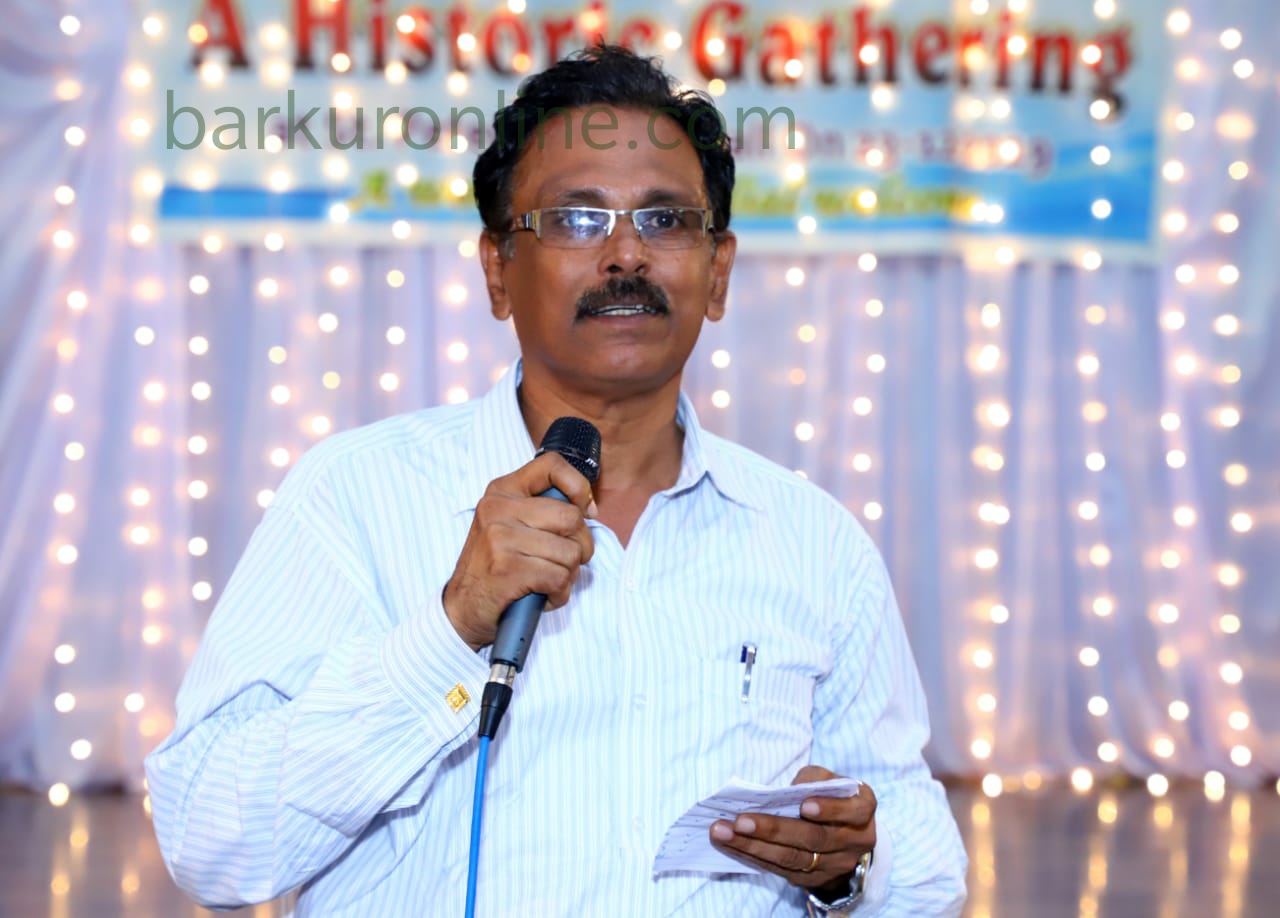 8.20 PM – Dr. Manoj D'Lima took time share his nostalgic moments in CYM and fondly remembered the departed Ex Members – Lawrie & Harry Sequeira,  Peter Alva, Norman Furtado, Richard, Sumana, Marceline, Ivan Quadrus, Alwyn D'Souza, Josie Picardo etc. on this historic occasion and prayed for souls to rest in peace…..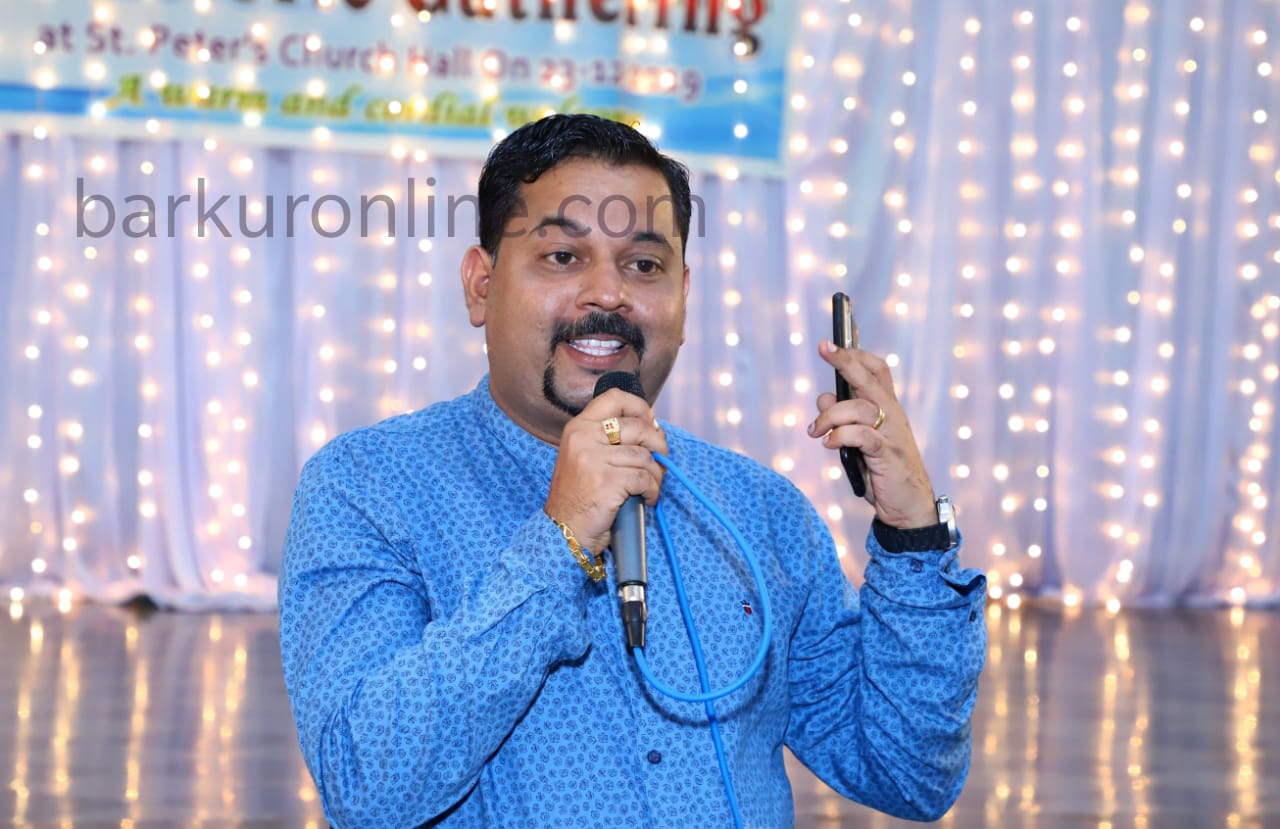 8.25 PM – Honor to Anthony Prakash D'Souza, with traditional shawl, garlands and memento, who won prestigious Karnataka State award for his first published book Kaat Tutcho Vell, a collection of his poems. Kishore Gonsalves, briefed about, Anthony's  Massan – the new Book of Great Stories and the same was released for public….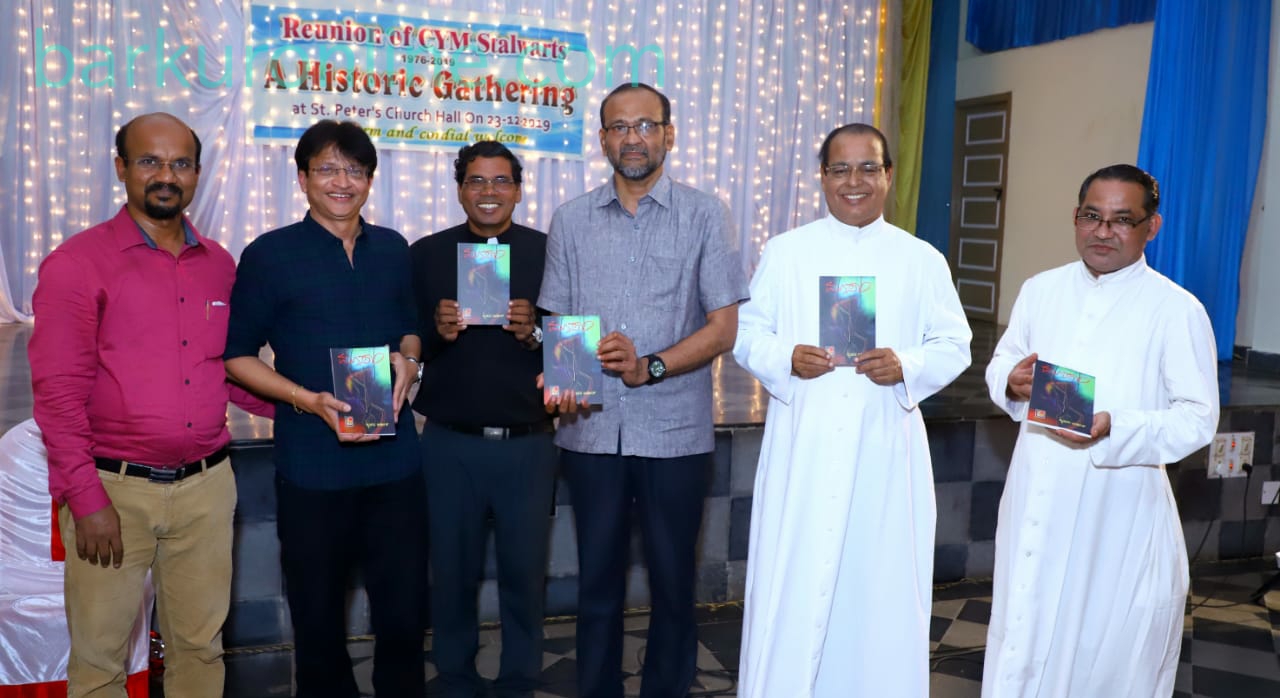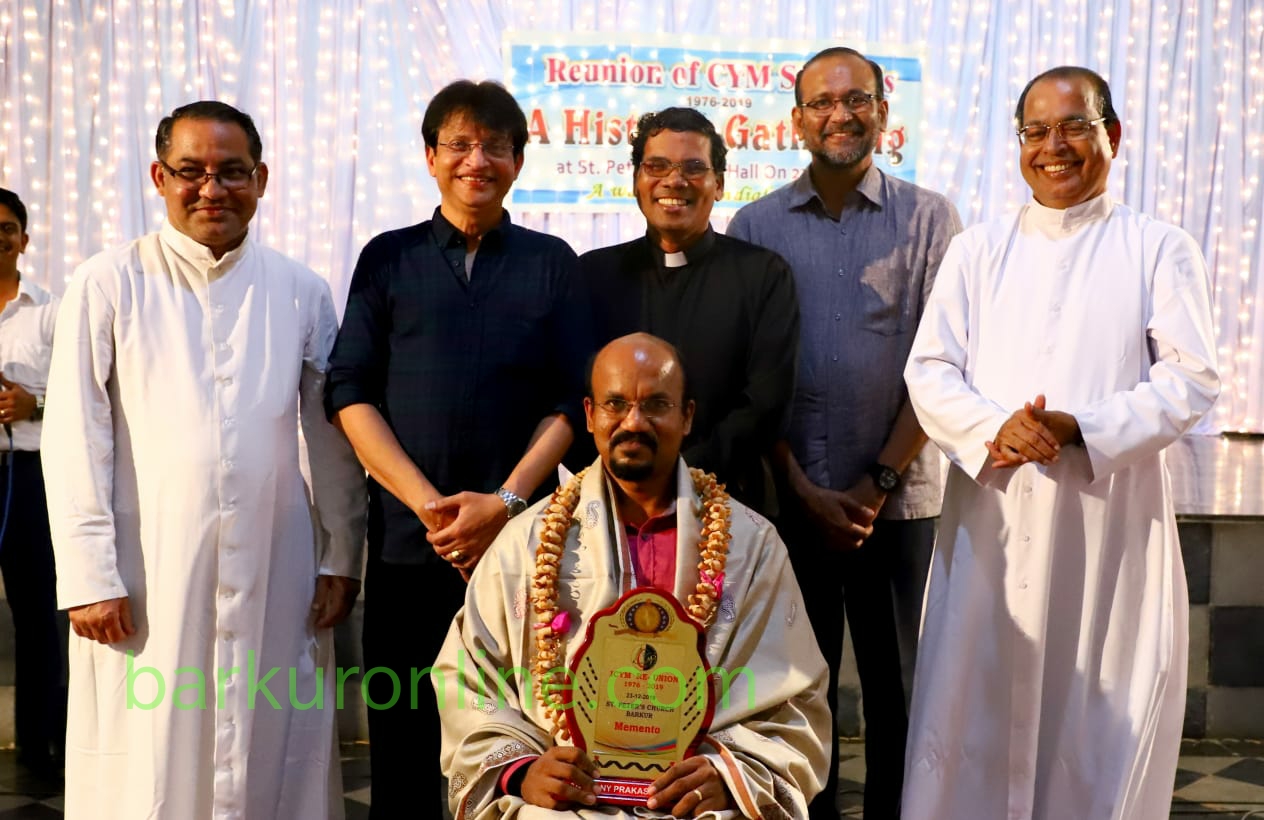 8.35 PM – Veteran Film maker ' Konkani Cine Kala Samrat Harry Fernandes Barkur was honored on this occasion. Vincent D'Almeida introduced him highlighting his manifold services to filmdom….In his reply, he declared Barkur is very dear to his heart and thanked CYM…In the event of getting the money invested in Benddkar back, ready to produce a new film with Kishoo Barkur penning the story and acknowledged Vicar sense of humor…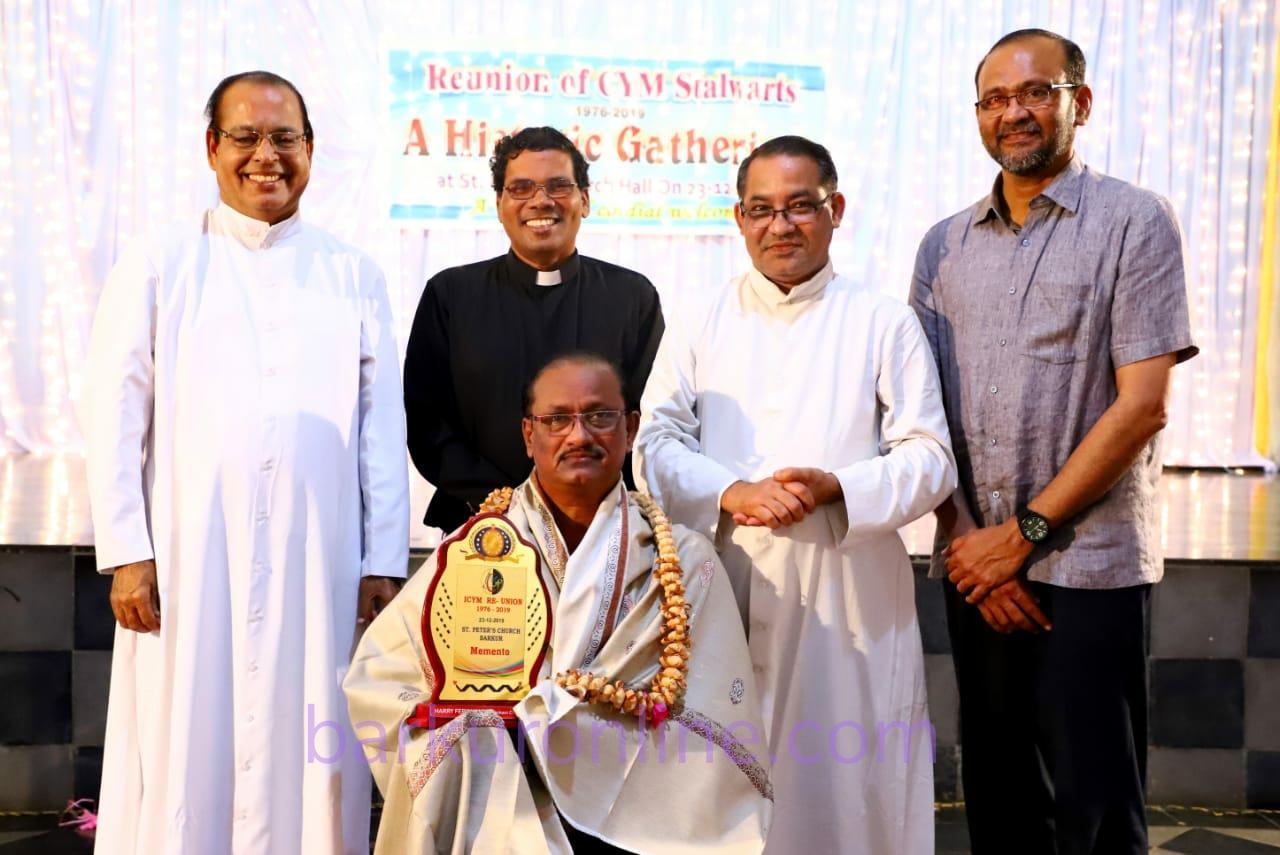 8.45 PM – Snacks and Cocktail table was ready to serve – Simon Lobo and Divyananda Gonsalves supervising the arrangements and service…
8.50 PM – On this occasion Archibald Furtado, a regular column writer in Barkuronline.com was introduced to the audience by veteran former President of MKCC Muscat and was honored with shawl, garlanding and a memento….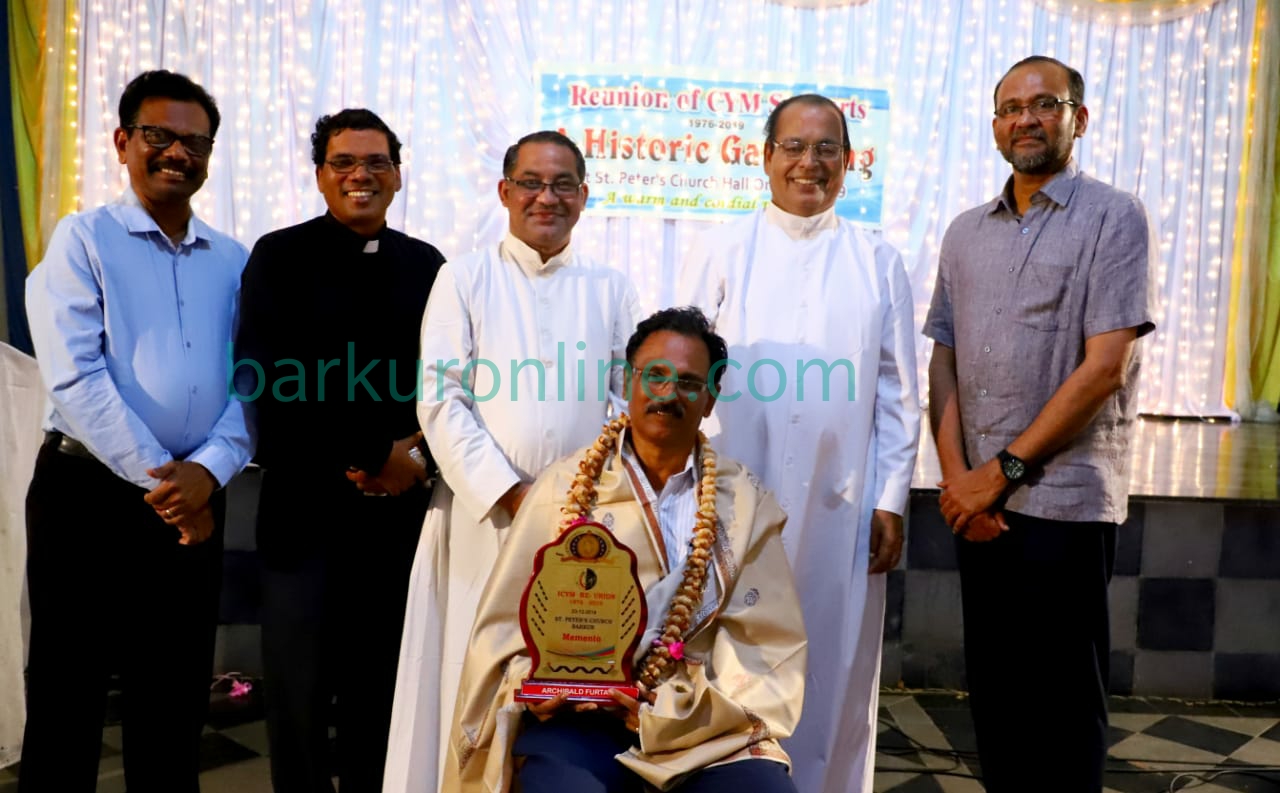 8.55 PM Barkur Grama Panchayat President Shaila D'Souza was recognized for her leadership by Franklyn Fernandes and offered shawl, garland and Memento….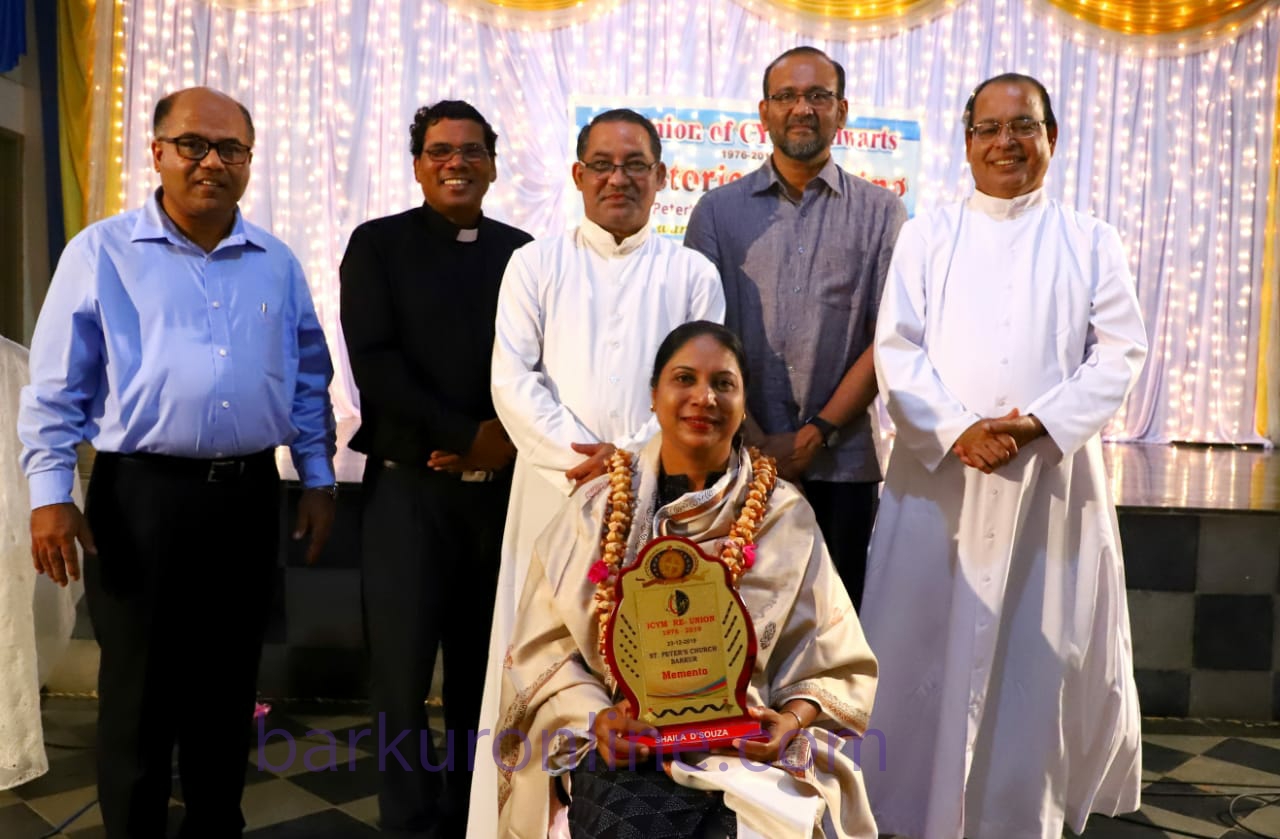 9.00 PM – Kishoo Barkur a multi-talented personality was introduced very briefly to the gathering by Anthony Barkur and called back his distinct quality of encouraging budding artists, writers and his service to Daijiworld.com, Kavitha Trust etc, and deservedly felicitated on this historic occasion with shawl, garlands and memento….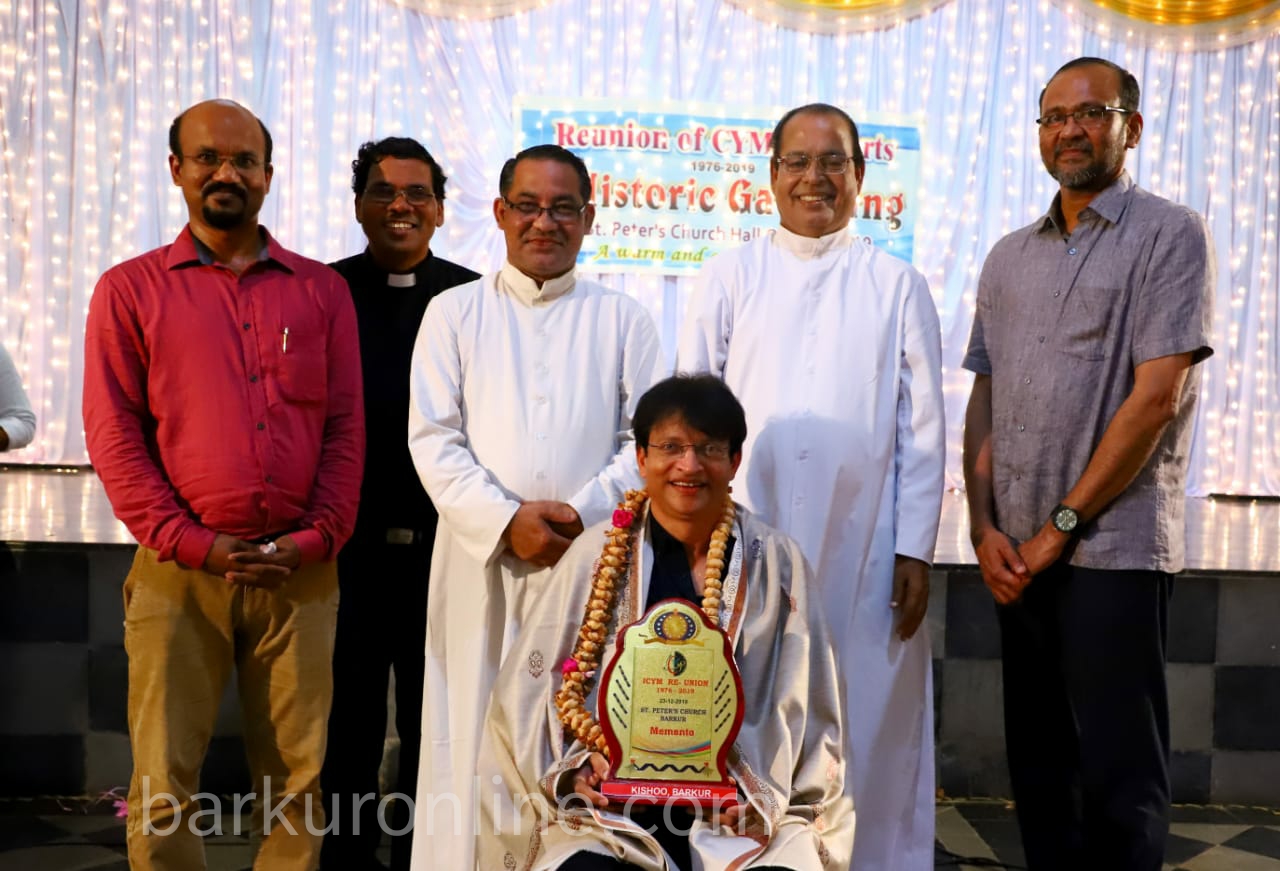 9.10 PM – Former and present animators of CYM – Noreen Lobo, Herald D'Souza, Sabitha Fernandes, Dolphy D'Souza, Vivet Fernandes were recognized for their services.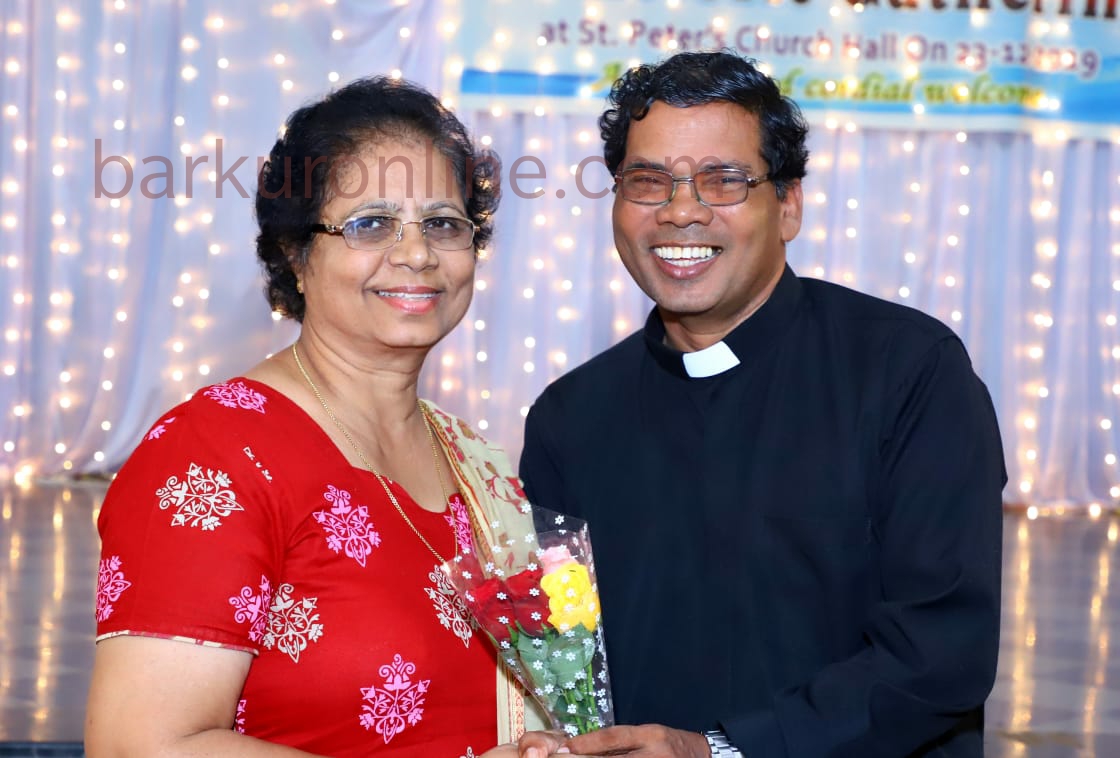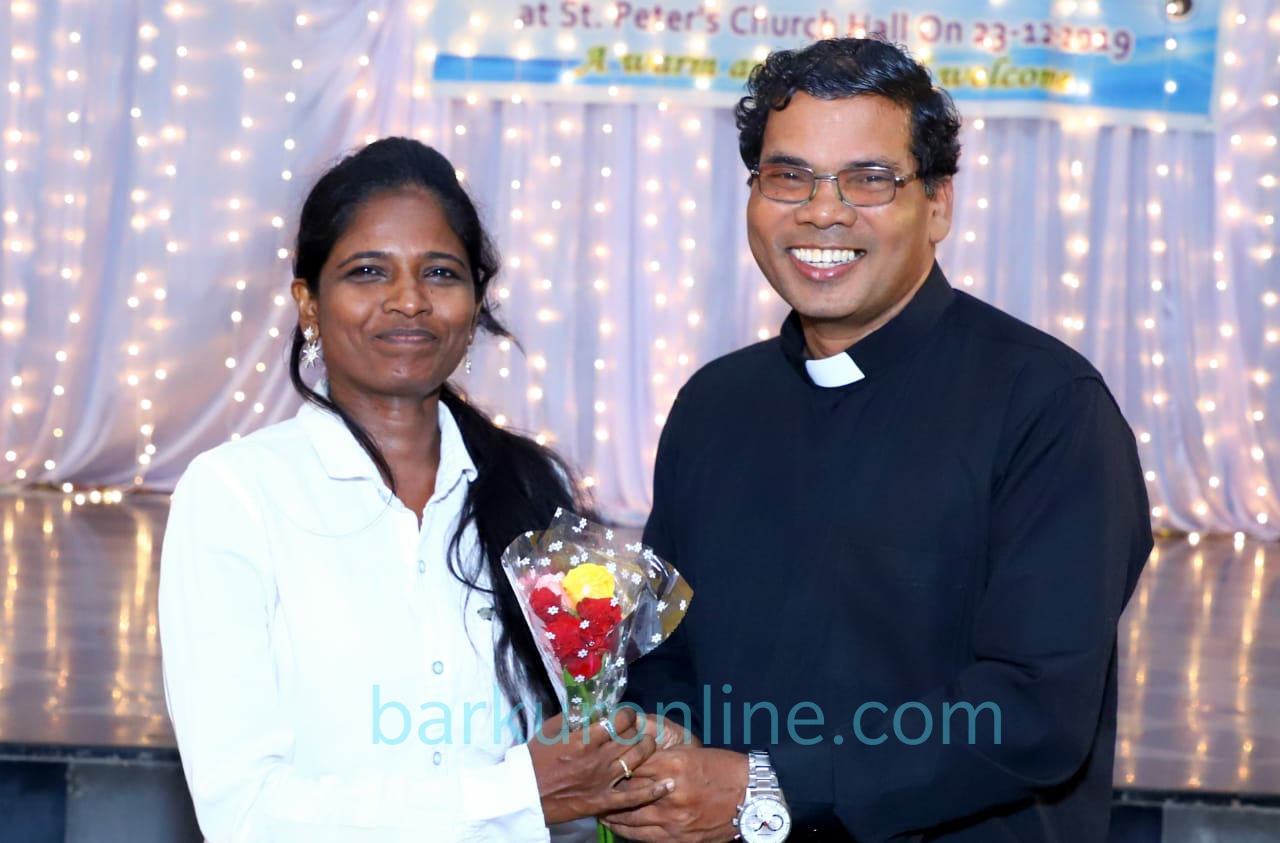 9.15  PM – Distinguished guests for this Get Together – Jerald Gonsalves, VP Pastoral Council, Edgar Fernandes Catholic Sabha President, Ivan Suaris SPA Barkur – Mumbai, Dolphy Muscarenhus, Udupi and others were invited to receive the roses from the Parish Priest….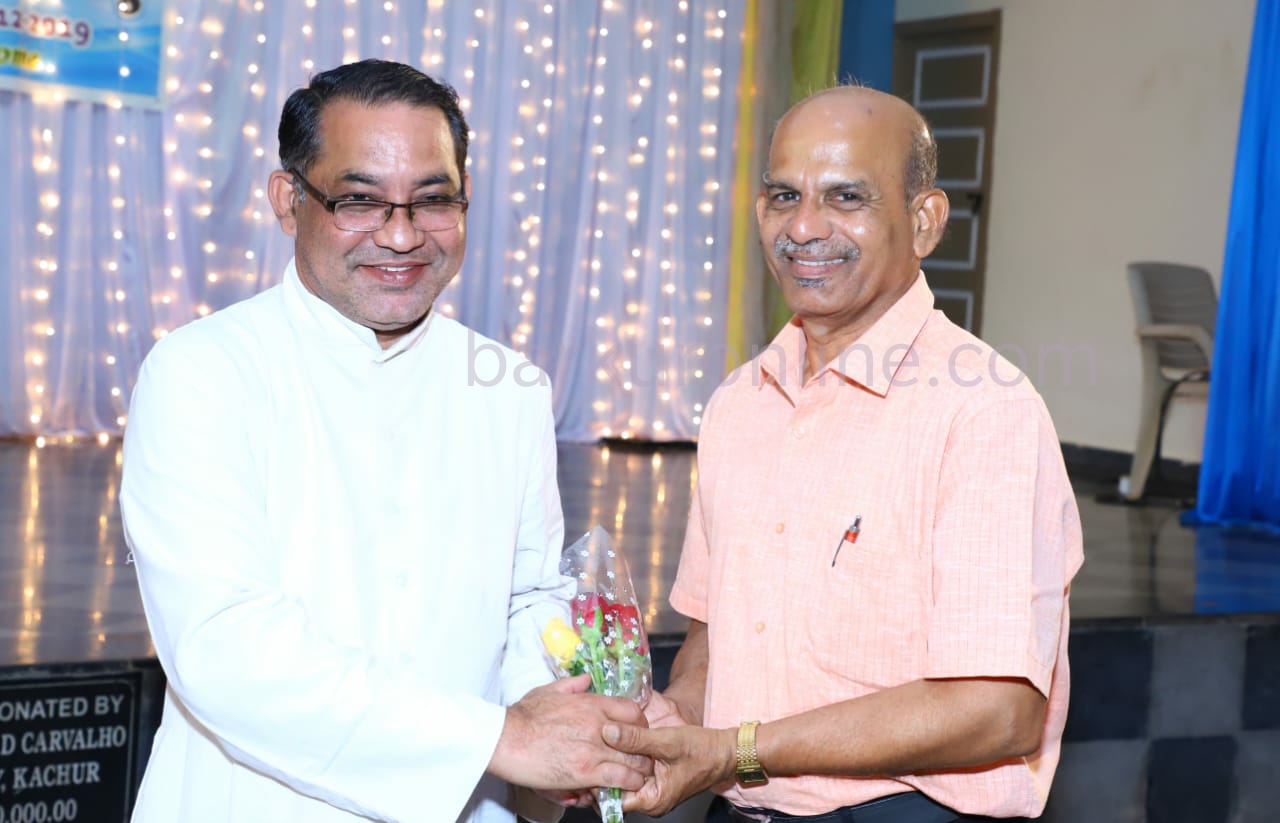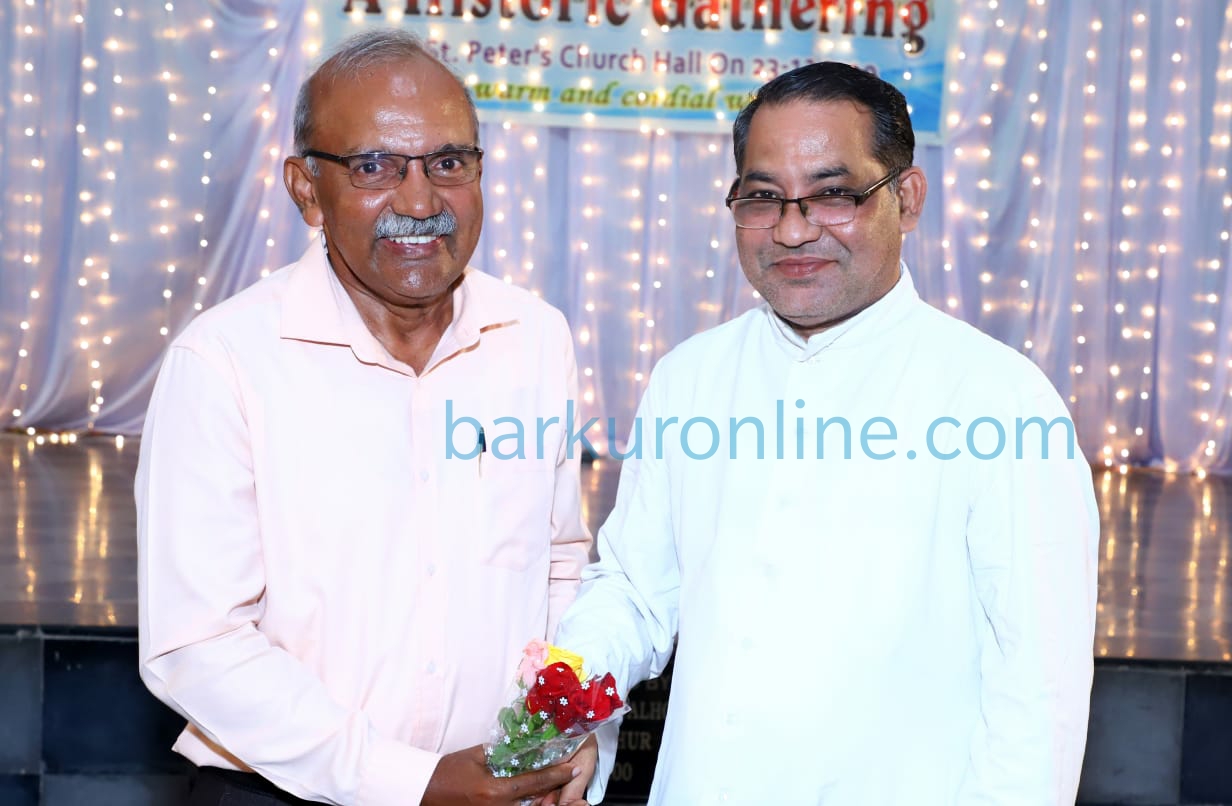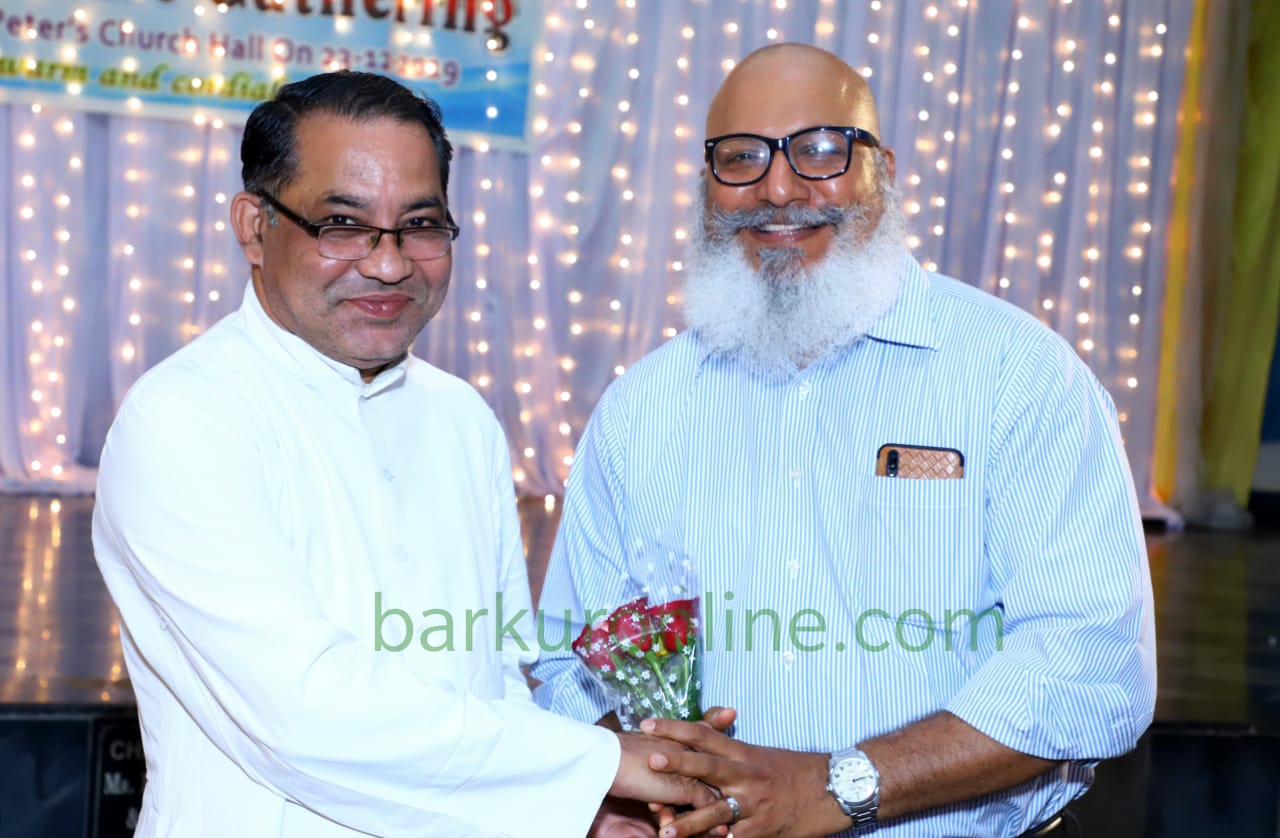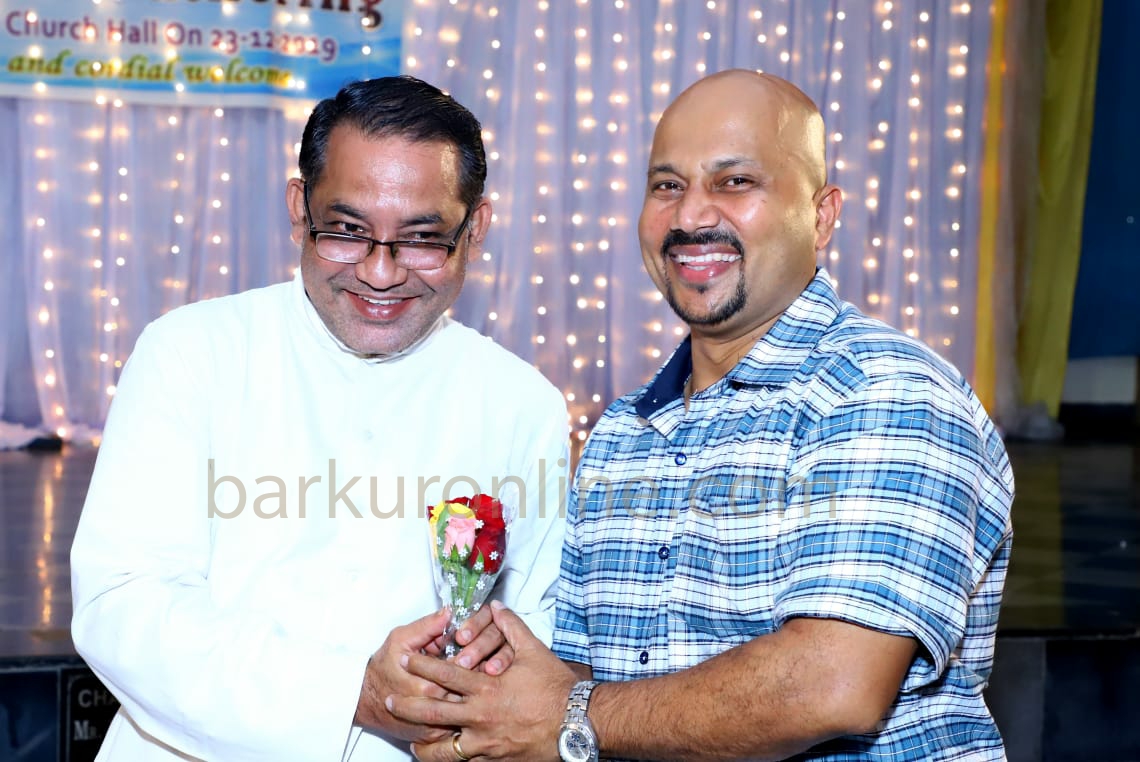 9.20 PM – Vincent D'Almeida proposed emotionally blended vote of thanks to all who helped, cooperated, contributed for the success of this Re-Union of ICYM Family….He also declared a small contribution to Snehalya Mangalore amounting 25K for less fortunate ones to celebrate Christmas….
9.30 PM Raffle Draw was conducted and the Prizes in the form of Titan Watches were sponsored by Pius D'Costa won by three former Presidents of CYM viz, Alwyn D'Almeida, Franklyn Fernandes and Joseph D'Souza….
9.40 PM – Melvia Fernandes recollected good olden days in CYM and expressed her gratitude's to CYM who has played an important role in making her what she and her friends today…
9.45 PM – Varity Entertainments like songs by Sylvan D'Almeida, Vincent D'Almeida, Jokes by Alwyn Andrade, Rev Fr. Philip Neri, Kishore Gonsalves etc. were continued….
10.00 PM –The man of the moment, Vincent D'Almeida, who conceived, planned and executed such a wonderful Re-union of CYM Stalwarts was specially felicitated with Three Bouquets by Archibald Furtado on behalf of 125 - 150 strong team, to express their gratitude's and appreciation….
The glittering function had a special Dinner, variety of sweets, Ice Cream etc. as the Auditorium with Red color witnessed nonstop dance session till 11.30 PM.