Dr. Gabriel Fernandes passed away on 13/01/2023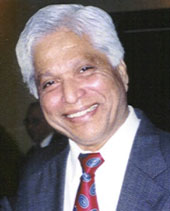 Dr. Gabriel Fernandes passed away on 13/01/2023. Wife Clara, Son Ashuthosh and Daughter Anjie Fernandes. He is the 3rd son of the late Mr Jerome D. Fernandes and the late Mrs. Assumpta Fernandes.
Dr Gabriel Fernandes a famed Research Scientist breathed his last at wee hours today in USA.
One of the proud son of soil Barkur who had innumerable credits as a research scientist, philanthropist, educationist and a donor for public utility projects both in native Moodahadu - Barkur and in the surrounding as well as in USA, was born March 25, 1936 and had his early education in St Anthony Primary school Moodahadu and Airody Sastan. He passed SSLC from National High school Barkur and moved to Bombay where he secured his BSc degree.
Gabriel Fernandes moved to USA as an assistant to research scientist and returned to Bombay to get his MSc followed by Ph.D. a right and rare recognition for his invention and furtherance and development of Biological fields which he started in Pune & Mumbai 
Rightly he was invited to US to continue his research work in recognised Universities and granted grants and encouragement to continue.
Dr Gabriel Fernandes also served as President of Indian born Scientists Federation in US and in many other positions of respect and responsibilities.
After settling in US he never forget his native town Barkur and always counted among few who generously offered help and support to needs of less privileged.
Barkur Government First Grade College had an Auditorium named after him and Village to College Scholarship extended economic support to deserving students who continued their higher studies.
The gentleman will be remembered with respect not only by the beneficiaries but also public at large...May the departed soul rest in eternal peace.
More details will follow
Click here to read 'Village to College', biography of scientist Dr Gabriel Fernandes
Click here to read about Dr Gabriel Fernandes
Click here to read earlier news about Dr Gabriel Fernandes