Grand Makkala Sahithya Sammelana at Barkur
News Anand Kumar Barkur, Pics Suresh M. Subhanu Barkur
Udupi District Level Children's Literary Convention, Makkala Sahithya Sammelana, jointly organized by Shanthivana Trust, Dharmasthala, Udupi Jilla Panchayath Education Department, barkuronline.com, Shri Ramakrishna Ashram,  Belagavi and Mangalore, Swami Purushotthamanandaji Huttoora Samskrithika Parishath,  Barkur, Swami Vivekananda Samskrithika Kendra, Barkur and Kannada Sahithya Parishath,  Brahmavara Barkur, was held on 8th February 2020,  at Shrimathi Rukmini Shedthi Memorial National Government First Grade College, Barkur.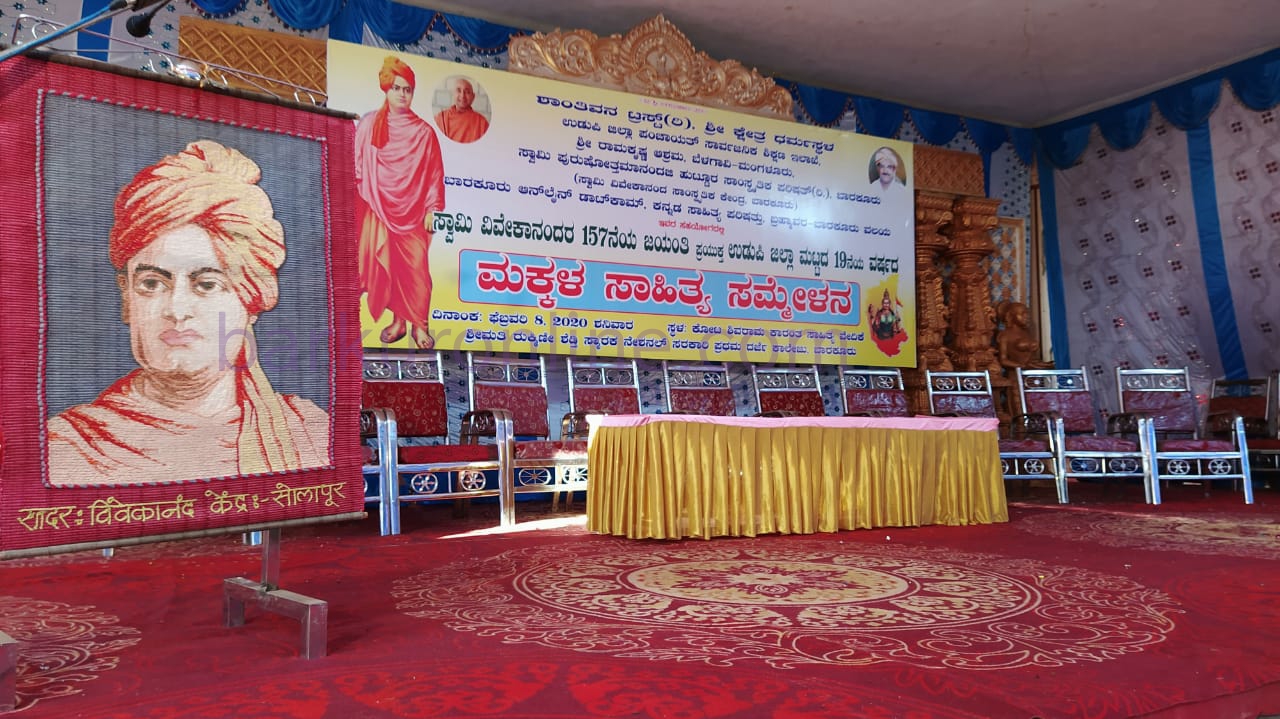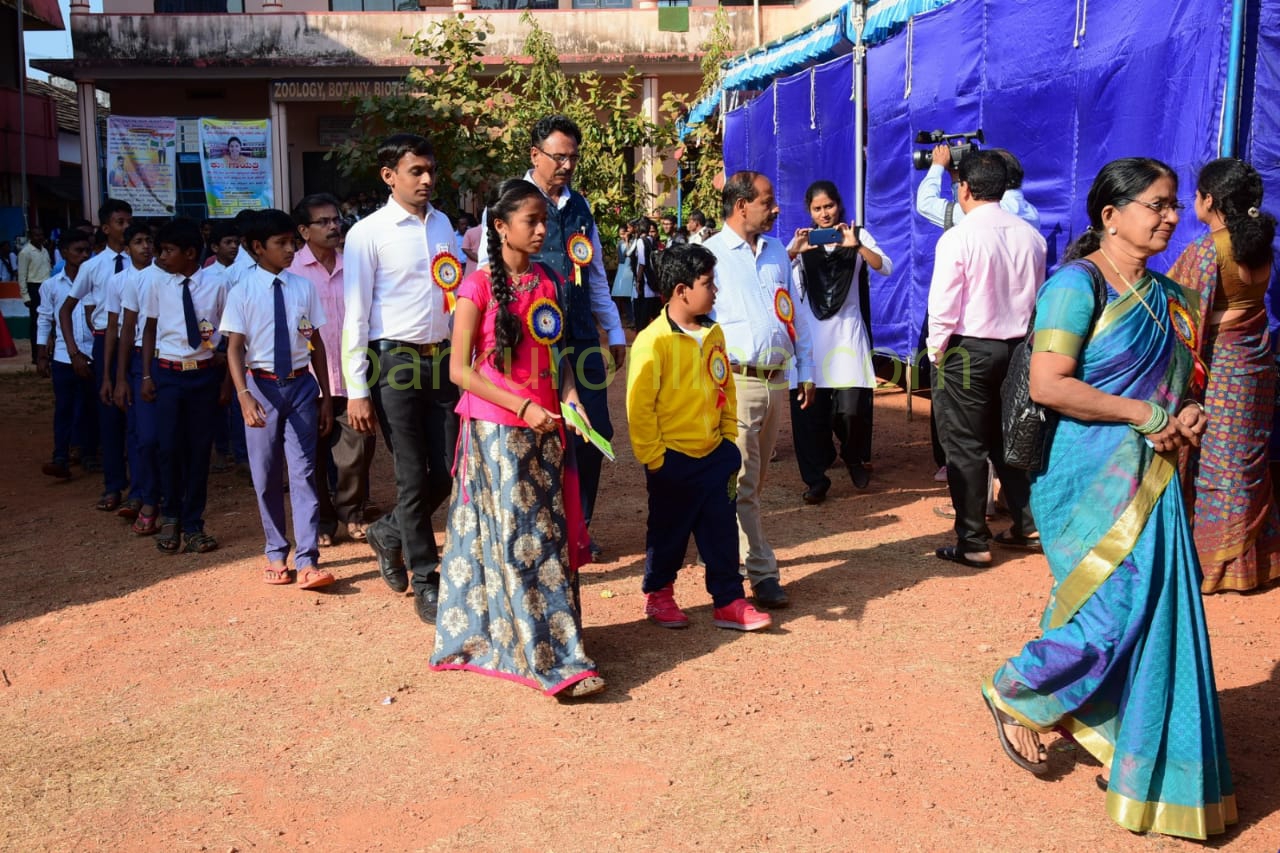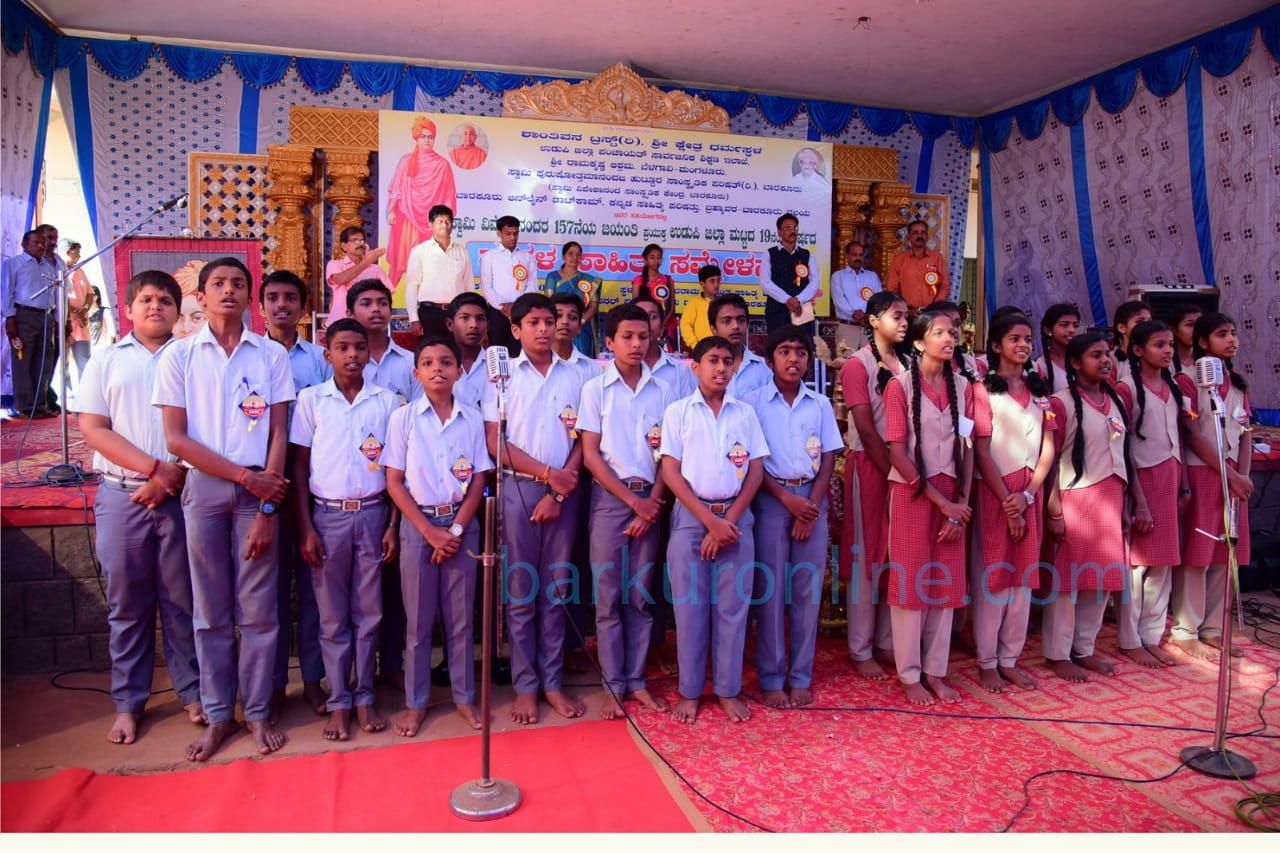 The  brain child of Shri Ramabhat Sajangadde,  this unique  Lit-Fest, probably one of its kind in and  around Udupi District is stepping into its 19th year.
The stage program set to roll with prayer hymn, followed by Nada Geethe. A beautiful dance was performed to honor mother Kannadambe.
Kumari Varsha, a 9th standard student Government Junior College Brahmavar presided over the function.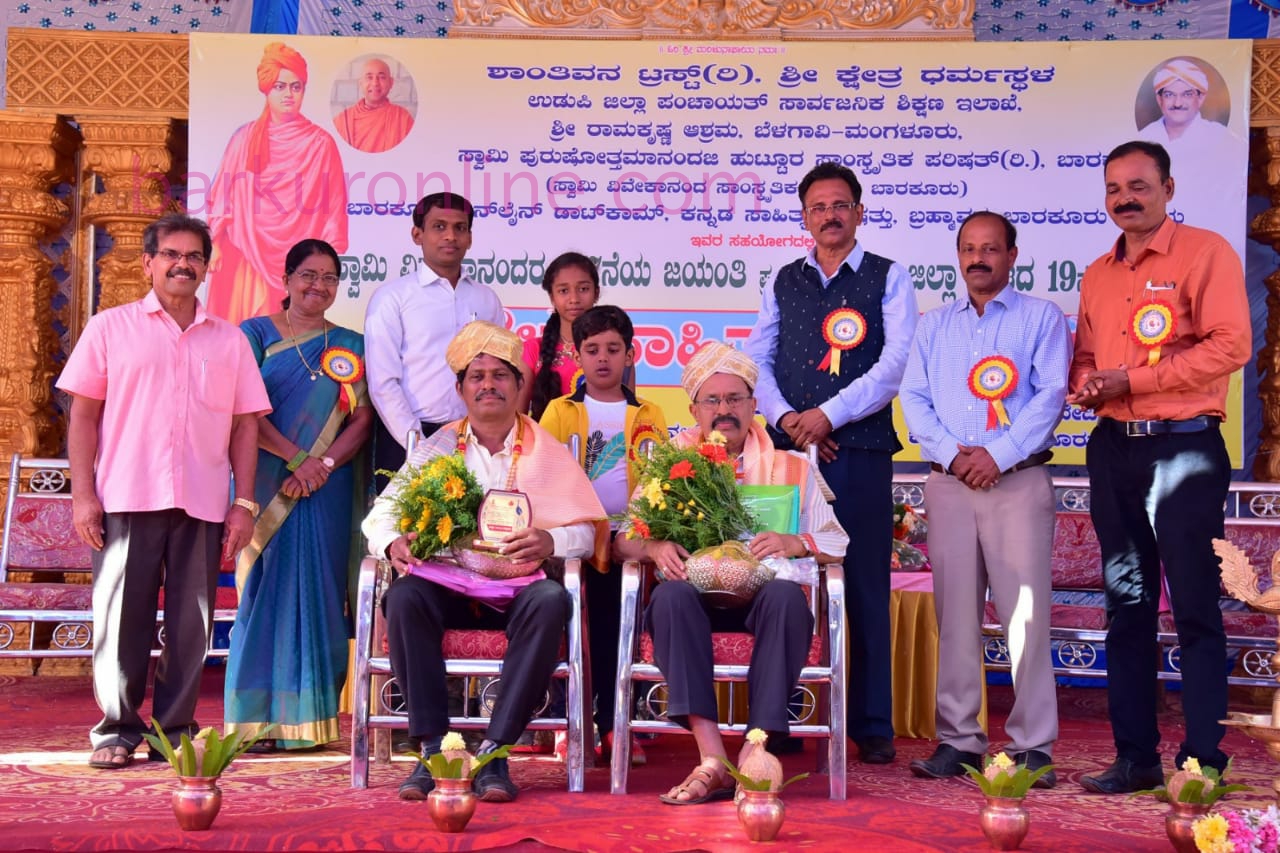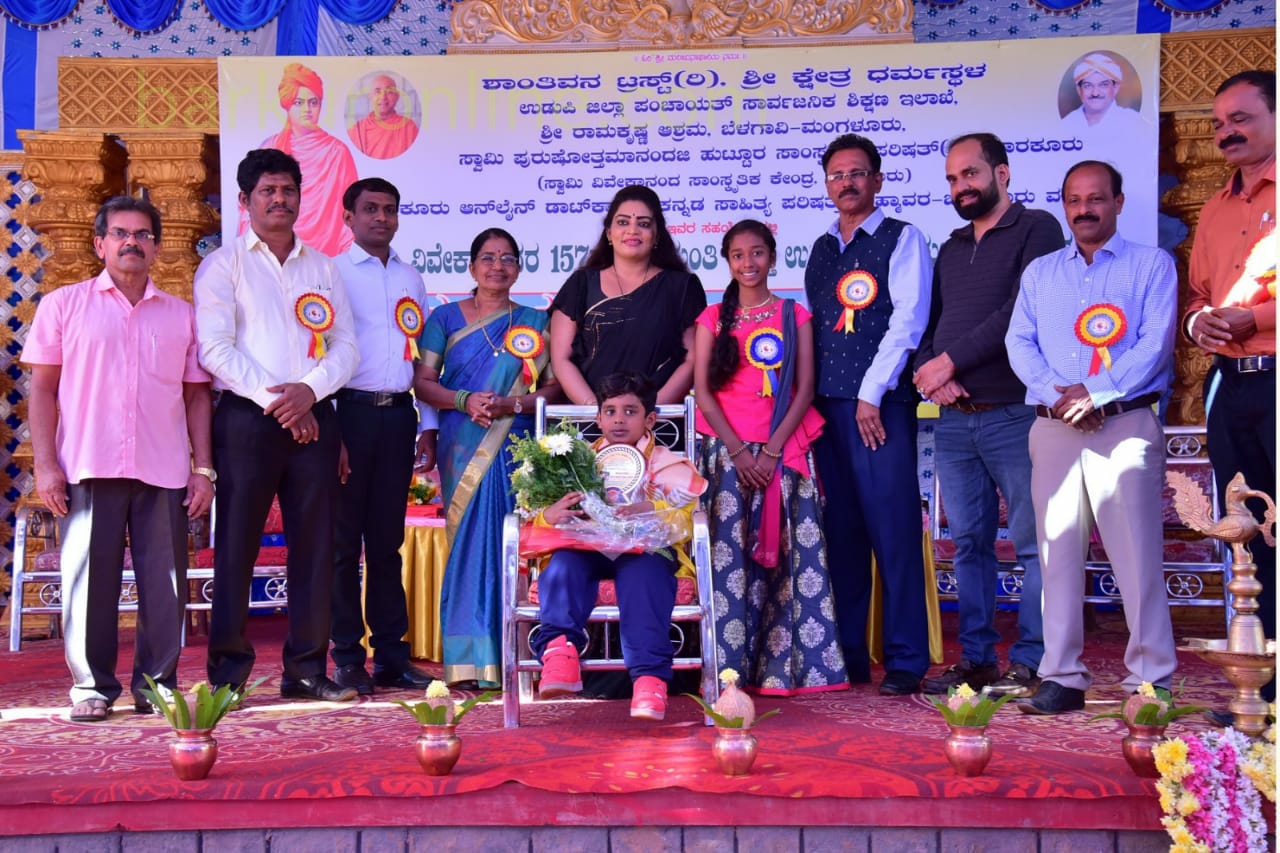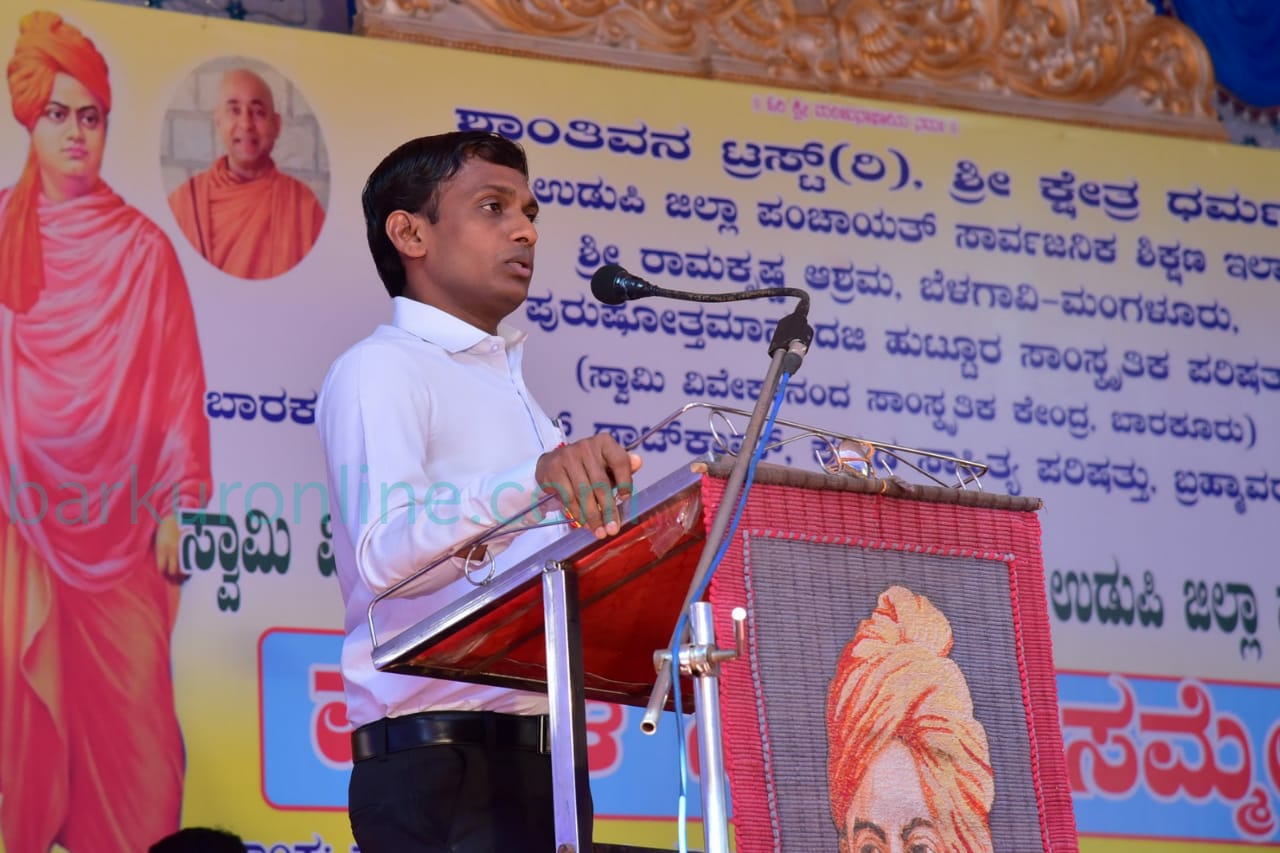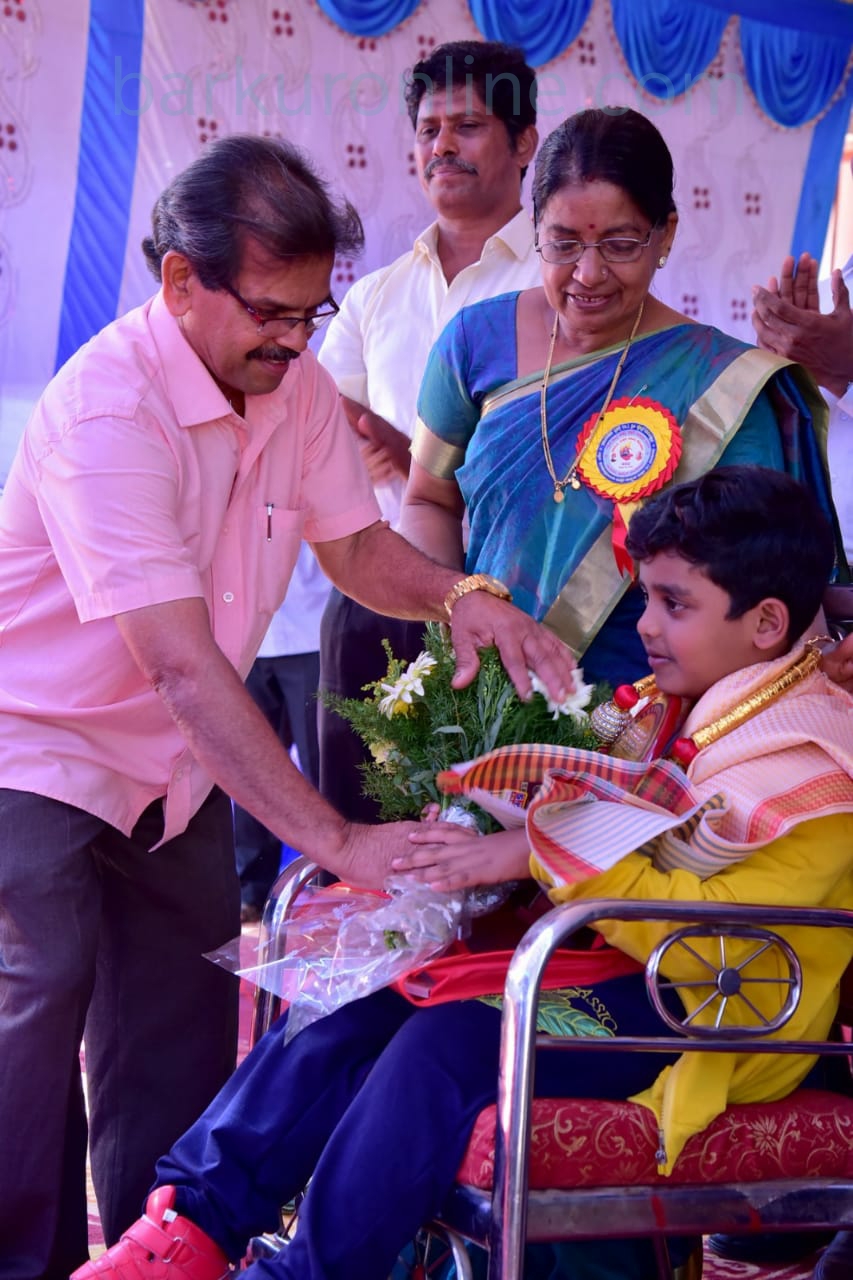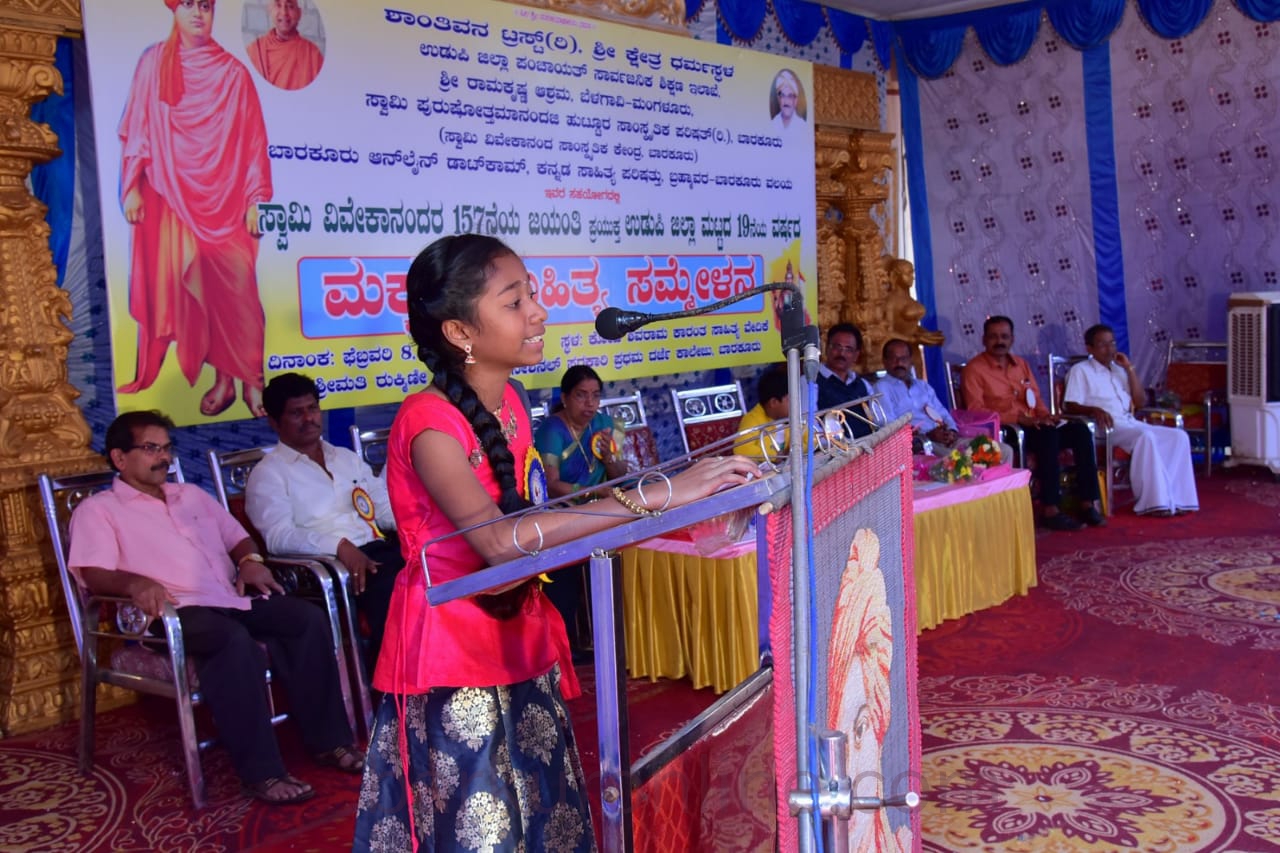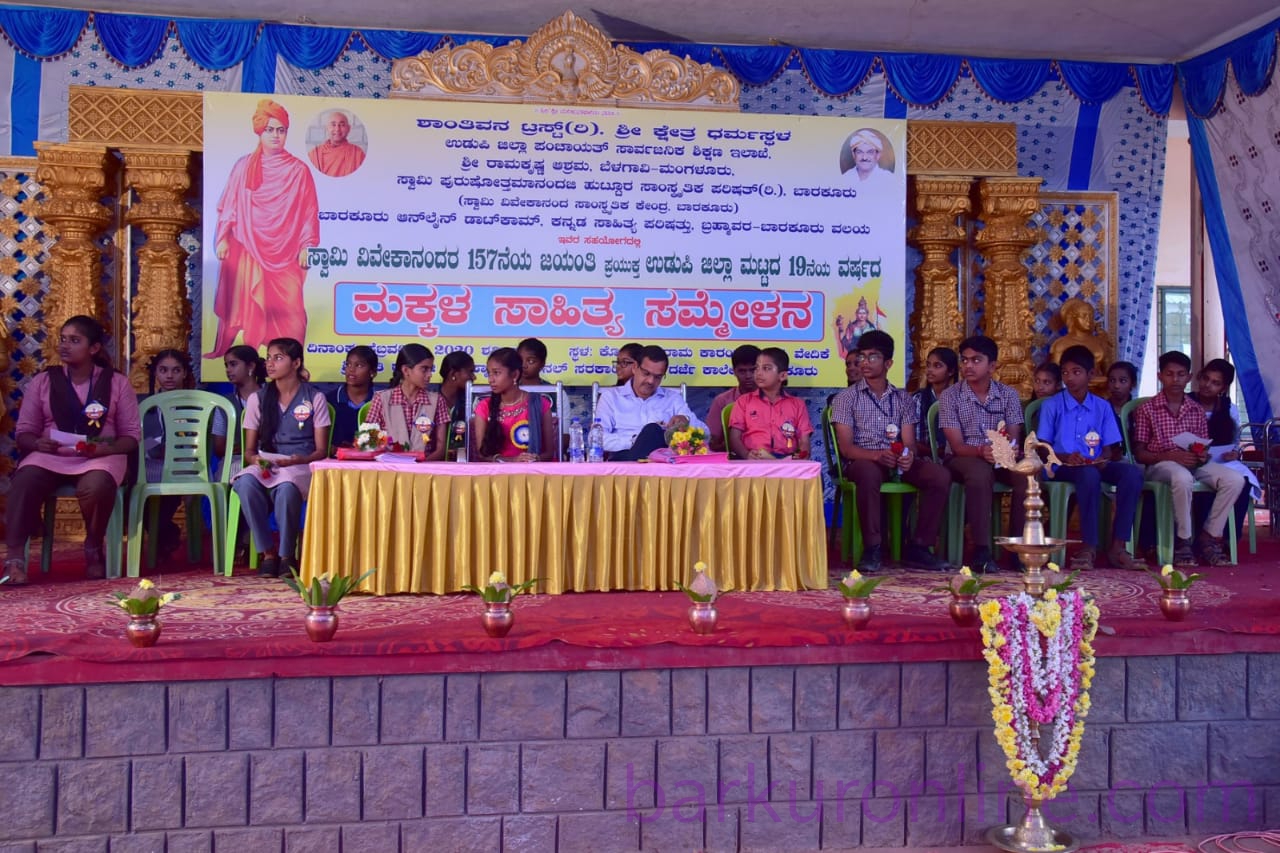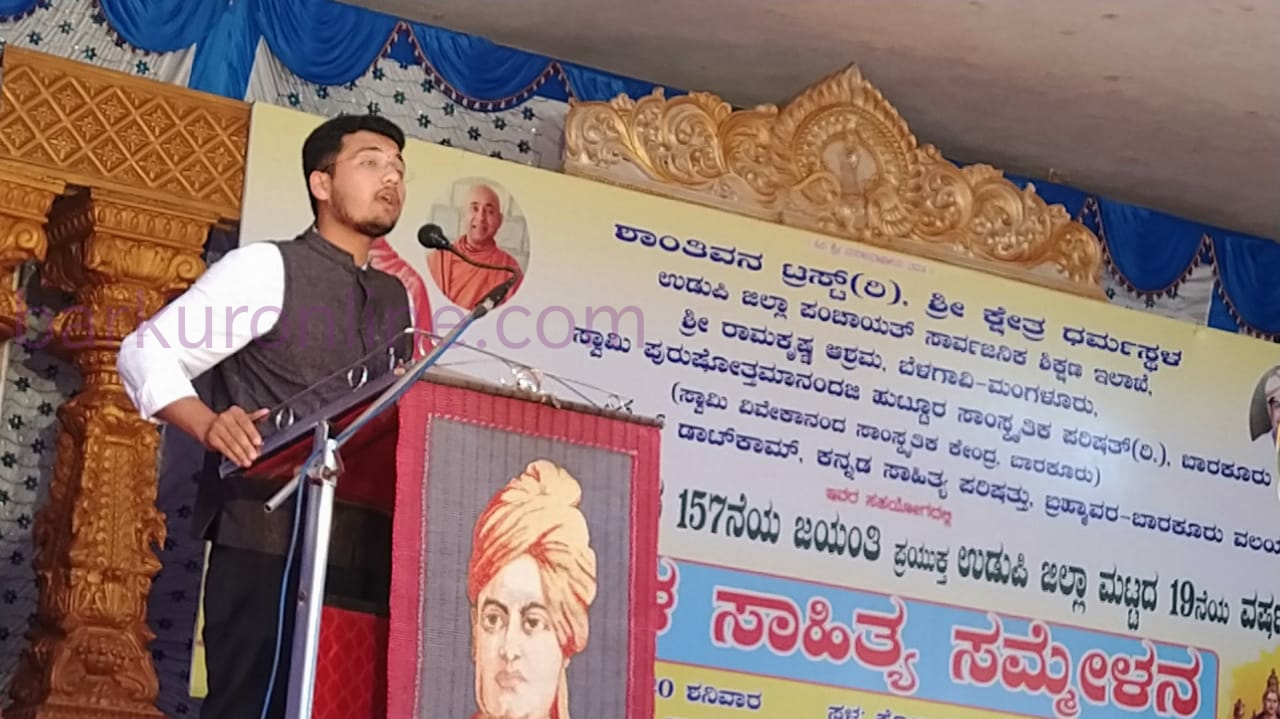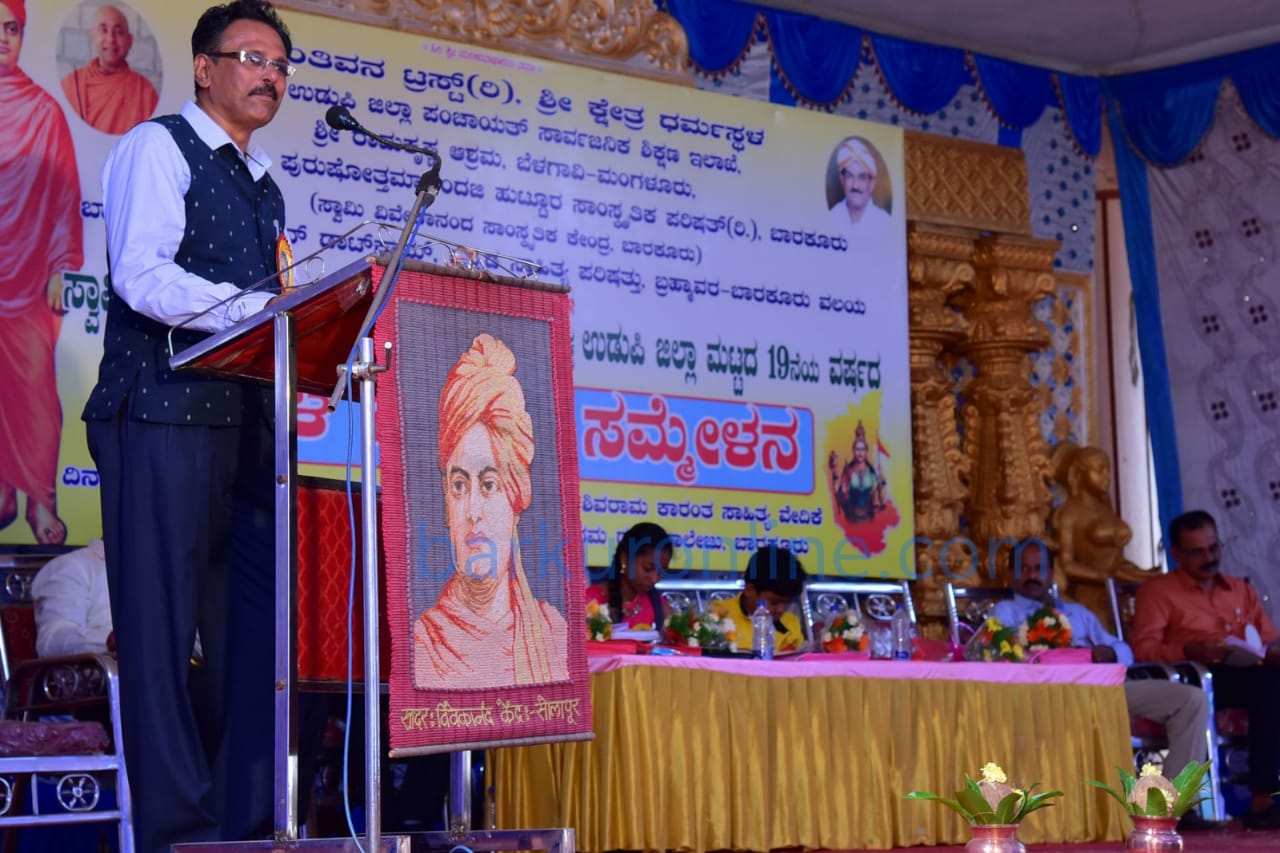 Dr. Parvati G Aithal, Dept of English Bhandarkars College Kundapur, lighted the lamps with other guests on dais.In her address, she appreciated the incentive of organisers and untiring efforts of Prof Rama Bhat, S. with like minded people and pious socially concerned organizations.
In her encouraging words, she advised the budding writers and poets just to take a first step of writing down the both original feeling with imagenary coating  as the beginning of a long road. She asked them to cultivate habit of reading, exchange with peer group and discuss with seniors.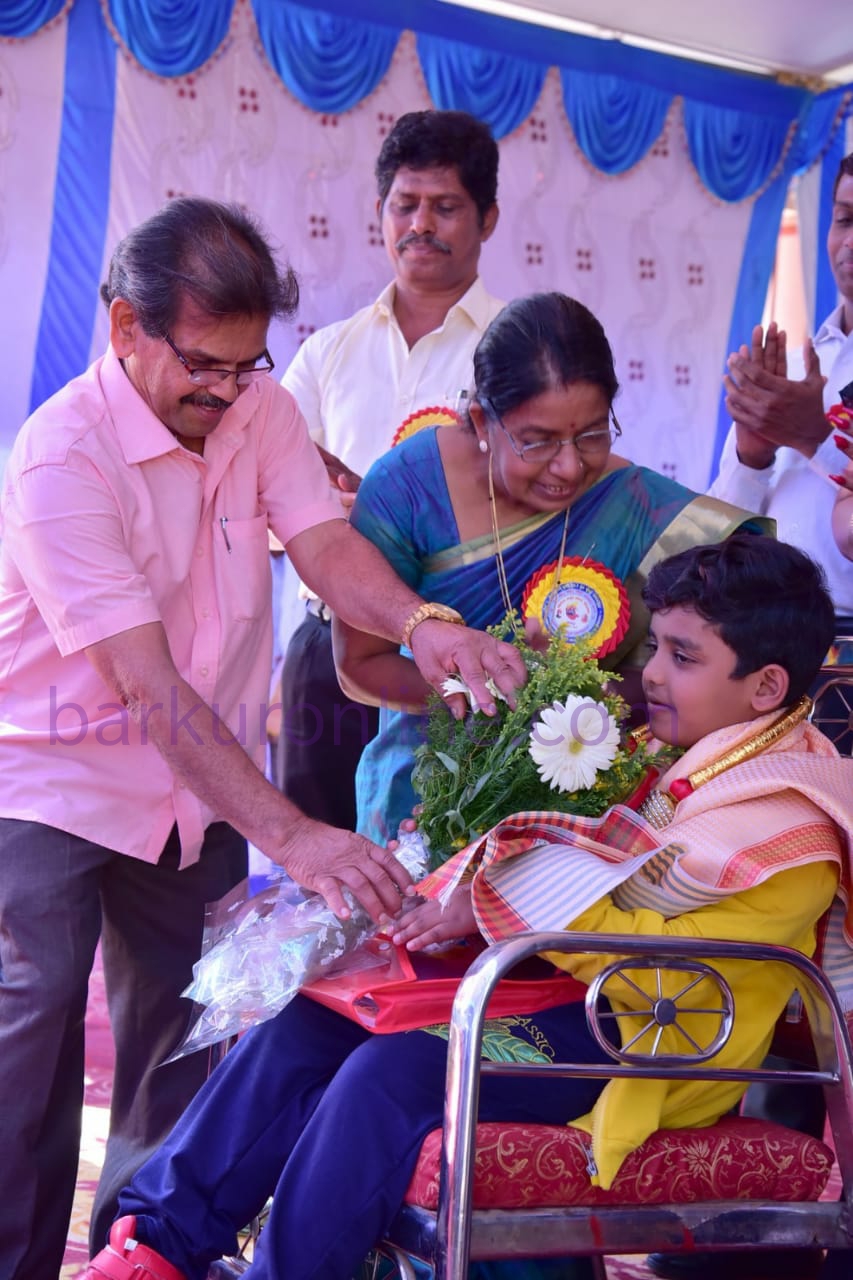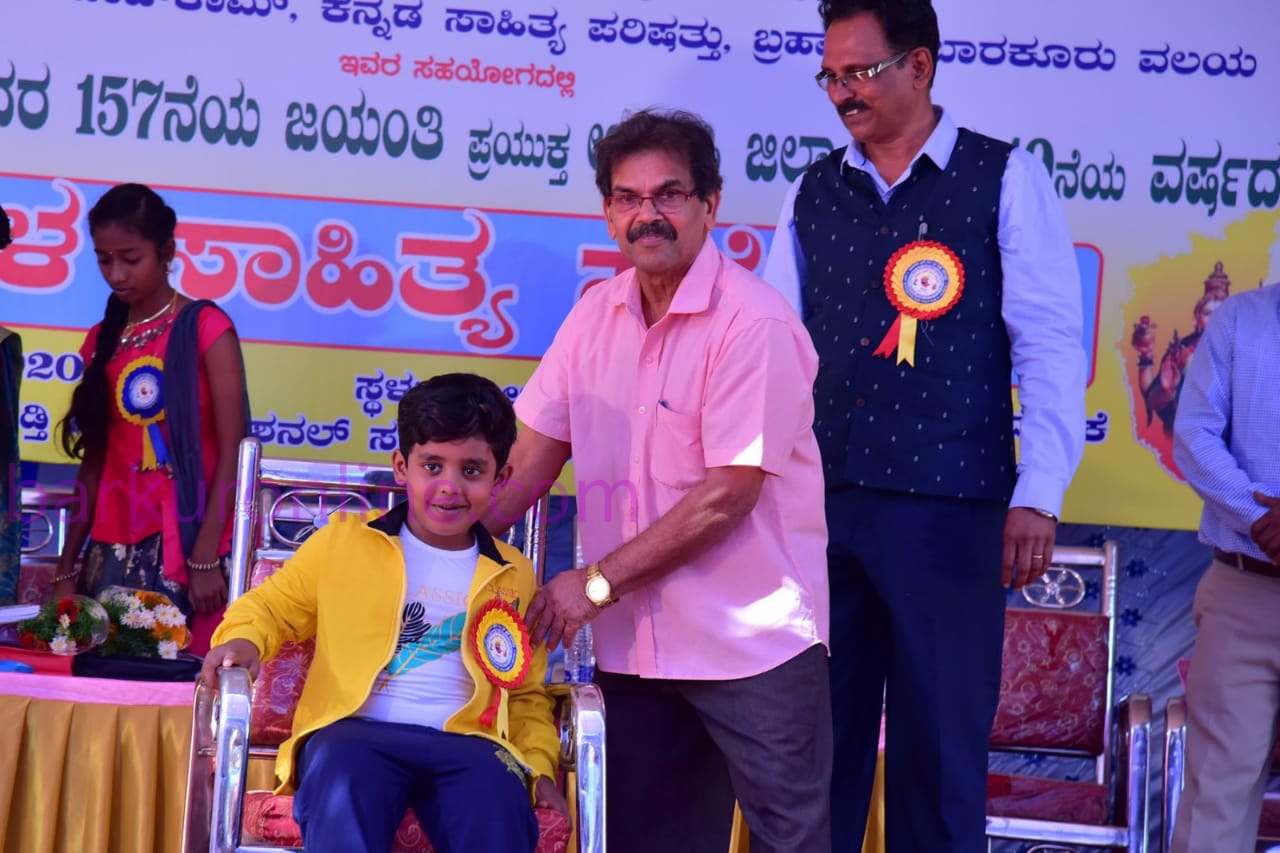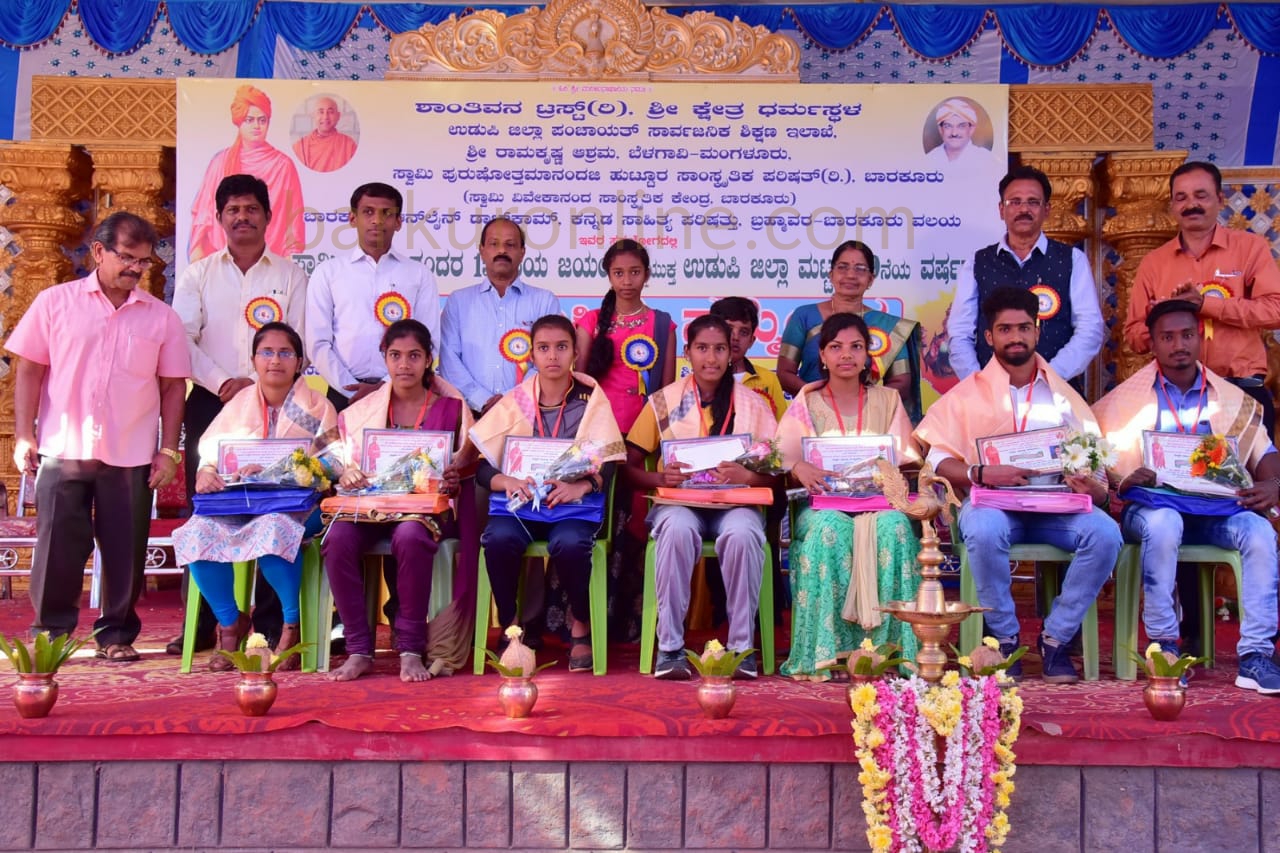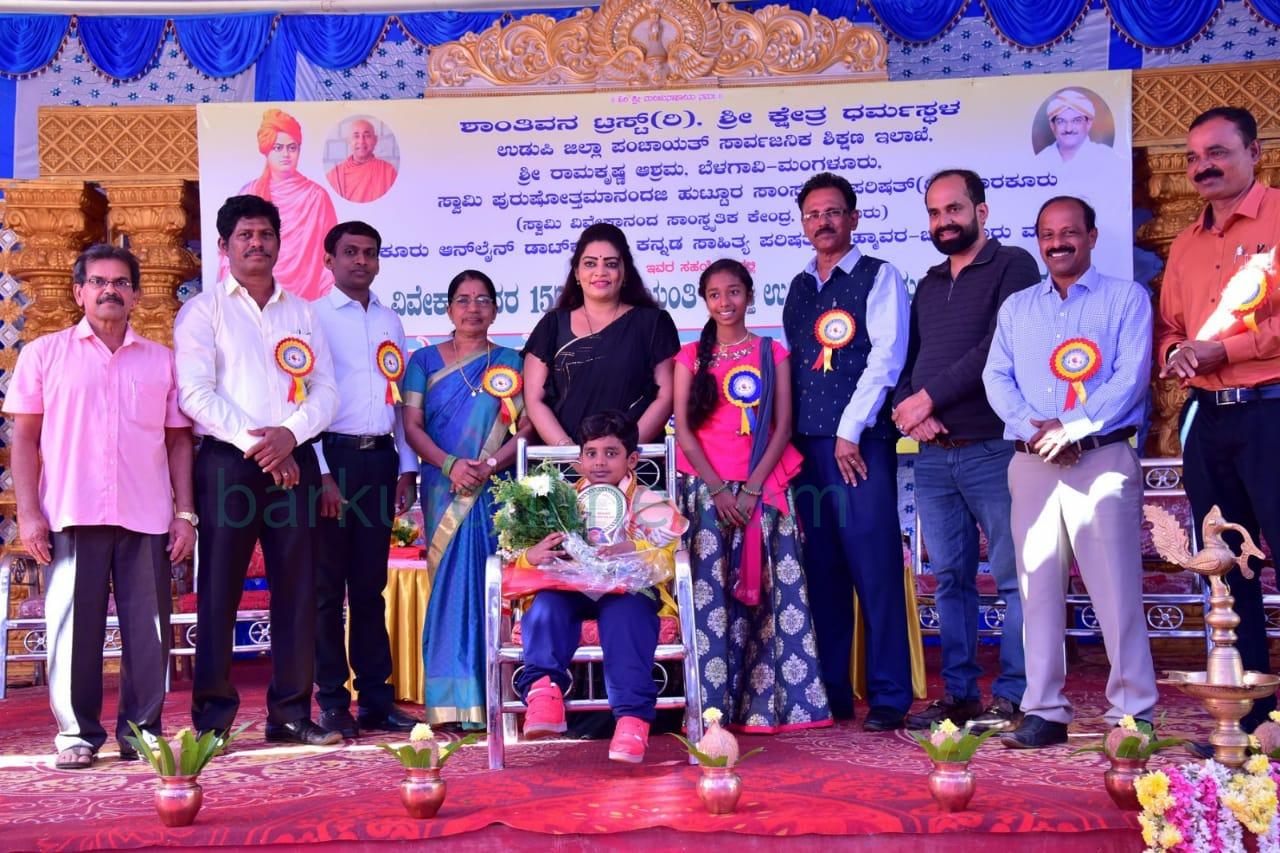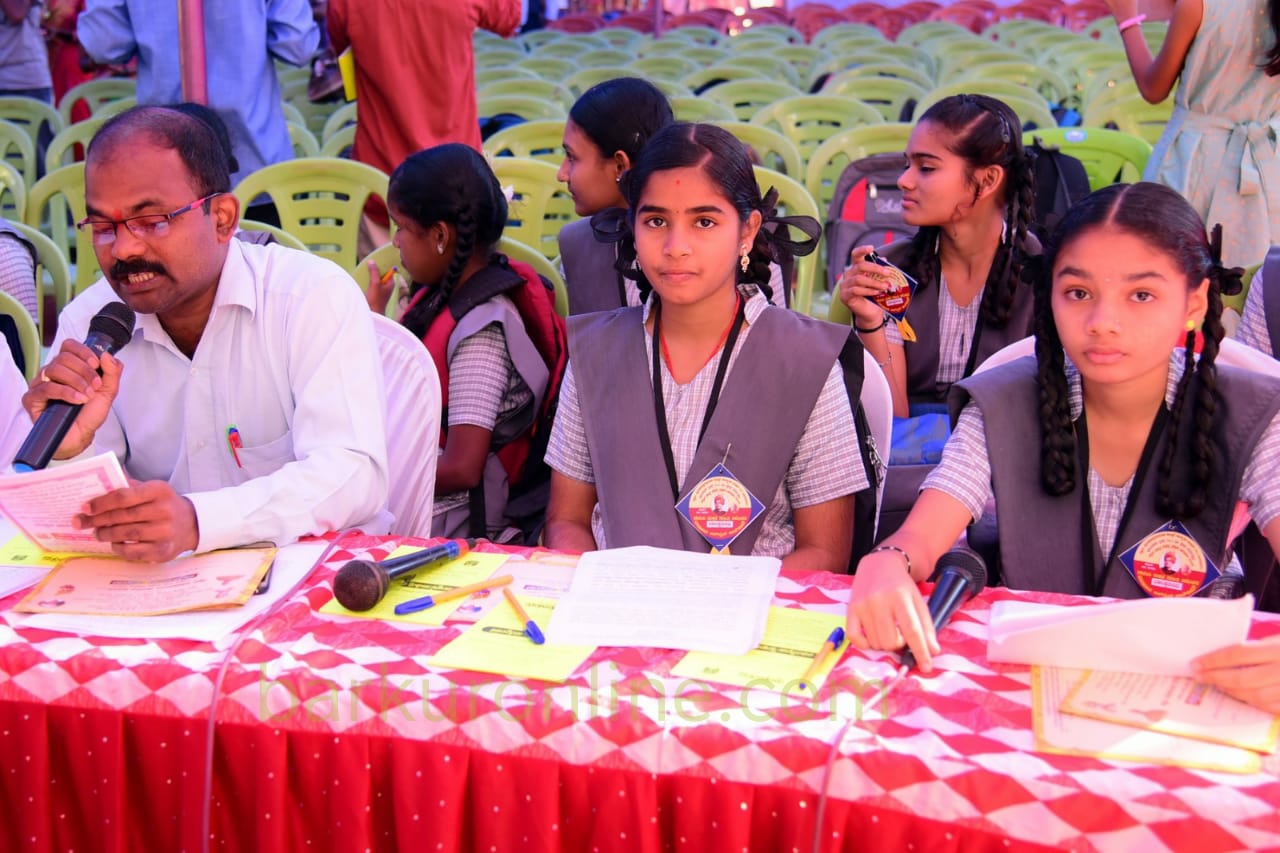 On this occasion a book titled Helade Hoada Magalige written by Narendra S Gangolli was released.
In his brief message, called out his experiences as a small time writer and how he reached to the present status in the society.
Karnataka State awards winning Child Artist of recently released movie, Ramana Savaari  Aaron Mathew Pais, Barkur,was honored on this occasion.
Some of the Student Achievers in various fields were introduced to the gathering with their respective achievement in studies, sports  other co curricular activities and felicitated.
On behalf of the Team barkuronline.com , Archibald Furtado spoke and  congratulated organisers, sponsors and participants.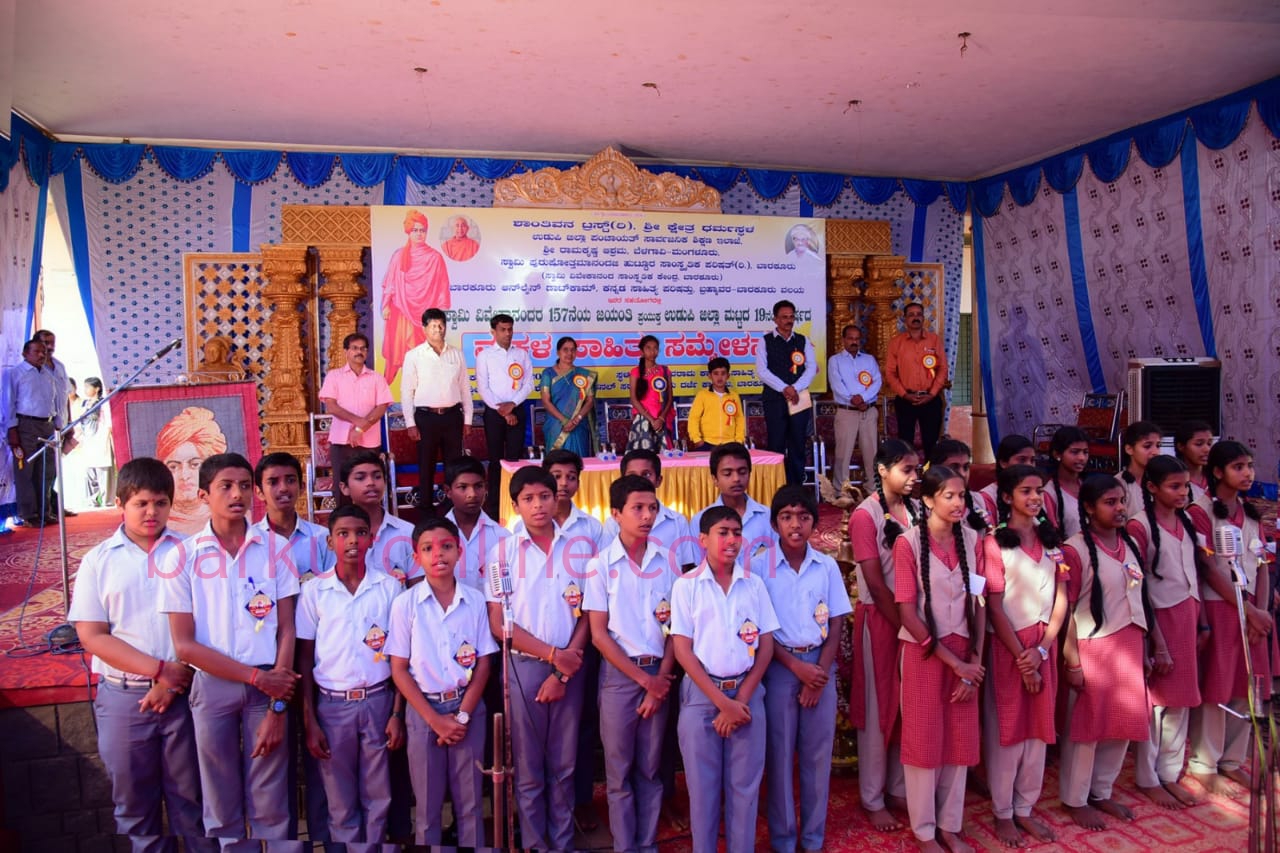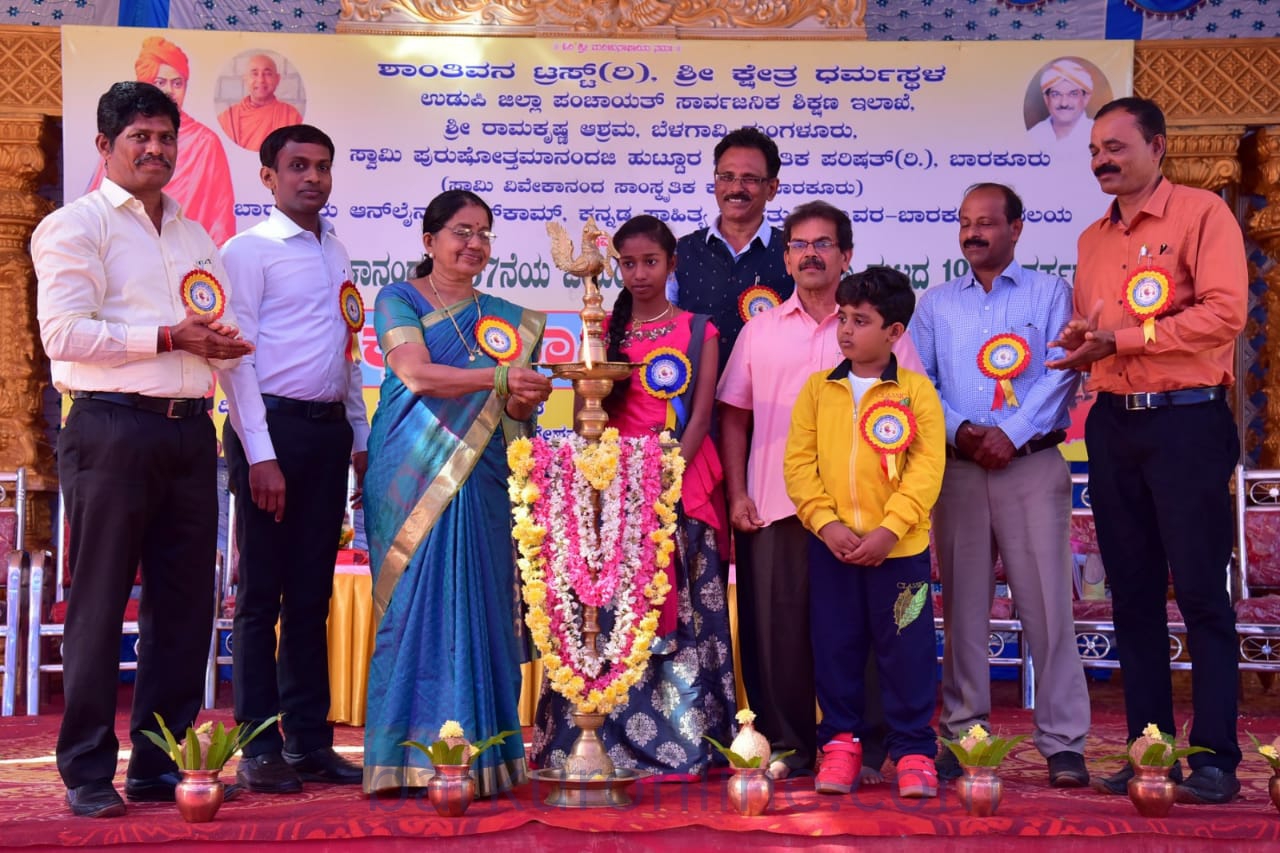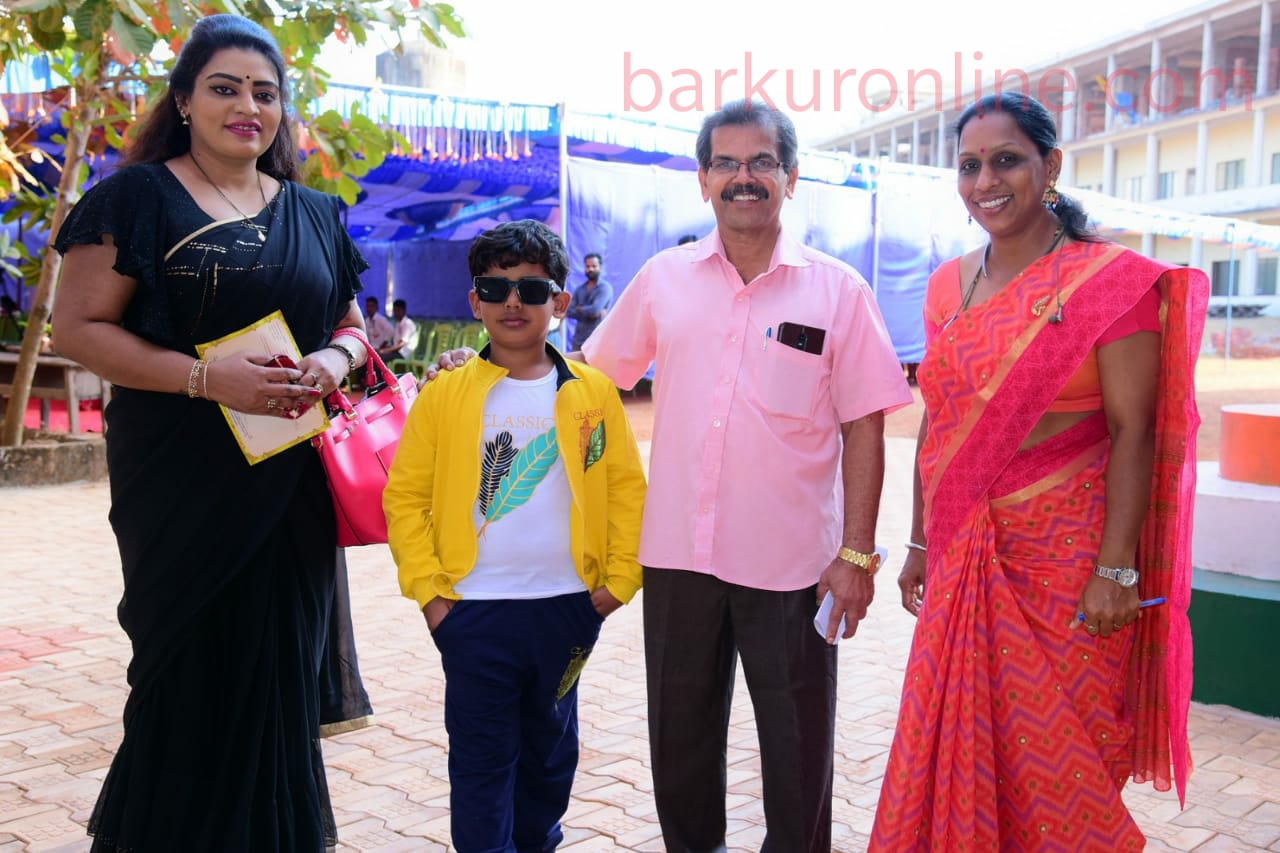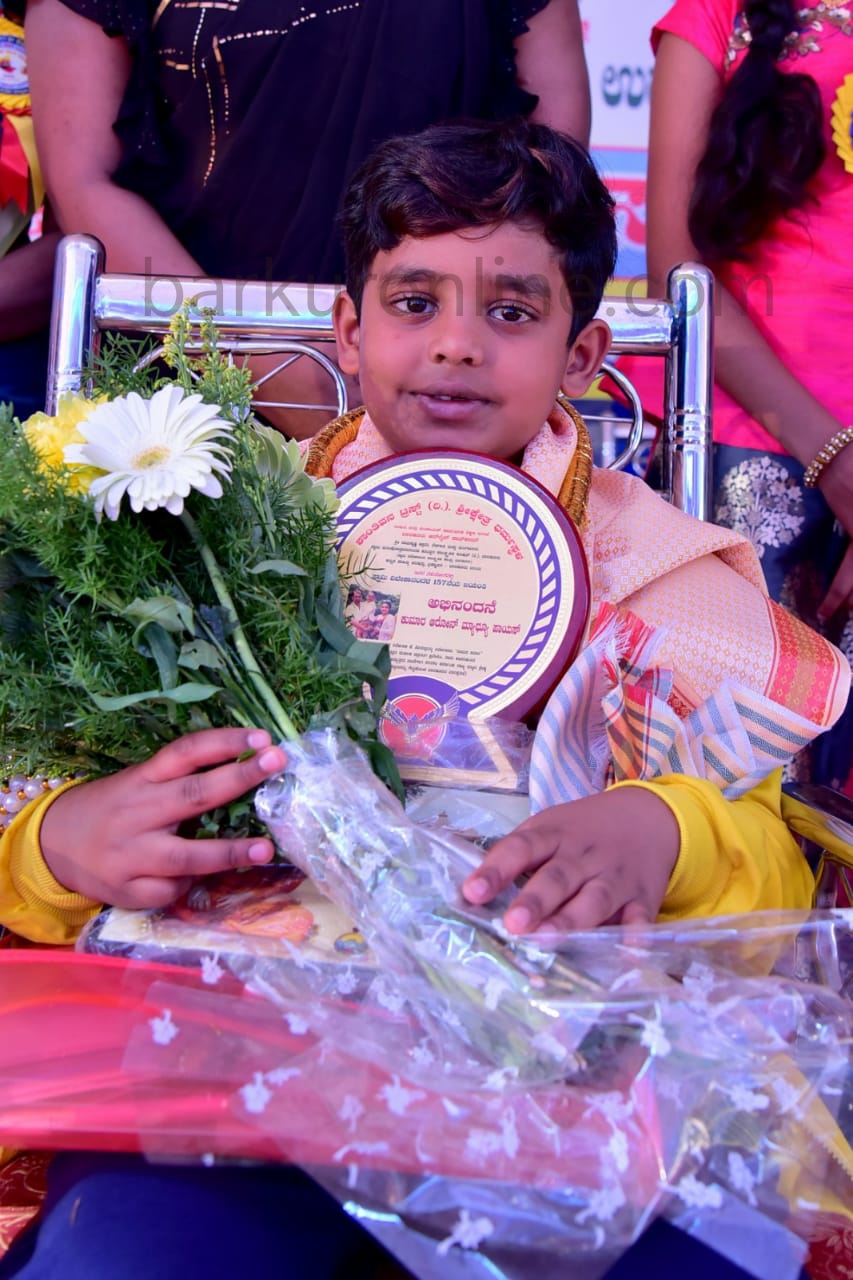 Mr Bhujanga Shetty, was eloquent to appreciate the enthusiastic convenors to have such a    great literary feast for 19th year in succession.
Mr Madukar S, District Physical Education Officer, & B Sudhakar Rao, Retired Head Master were specially honored on this special day for their yeomen service to literature, social work and education,with traditional Peta, garlands and bouquet. Mr Rao thanked all the organisers on behalf of both of them.
An hand book of literary works of students of Chethana High School , titled Chiguru was released.
In the Children's Poetry session as many as 22 young poets presented their poems.Ms Pranamya G presided and Prof Raviraj Shetty animated the proceedings.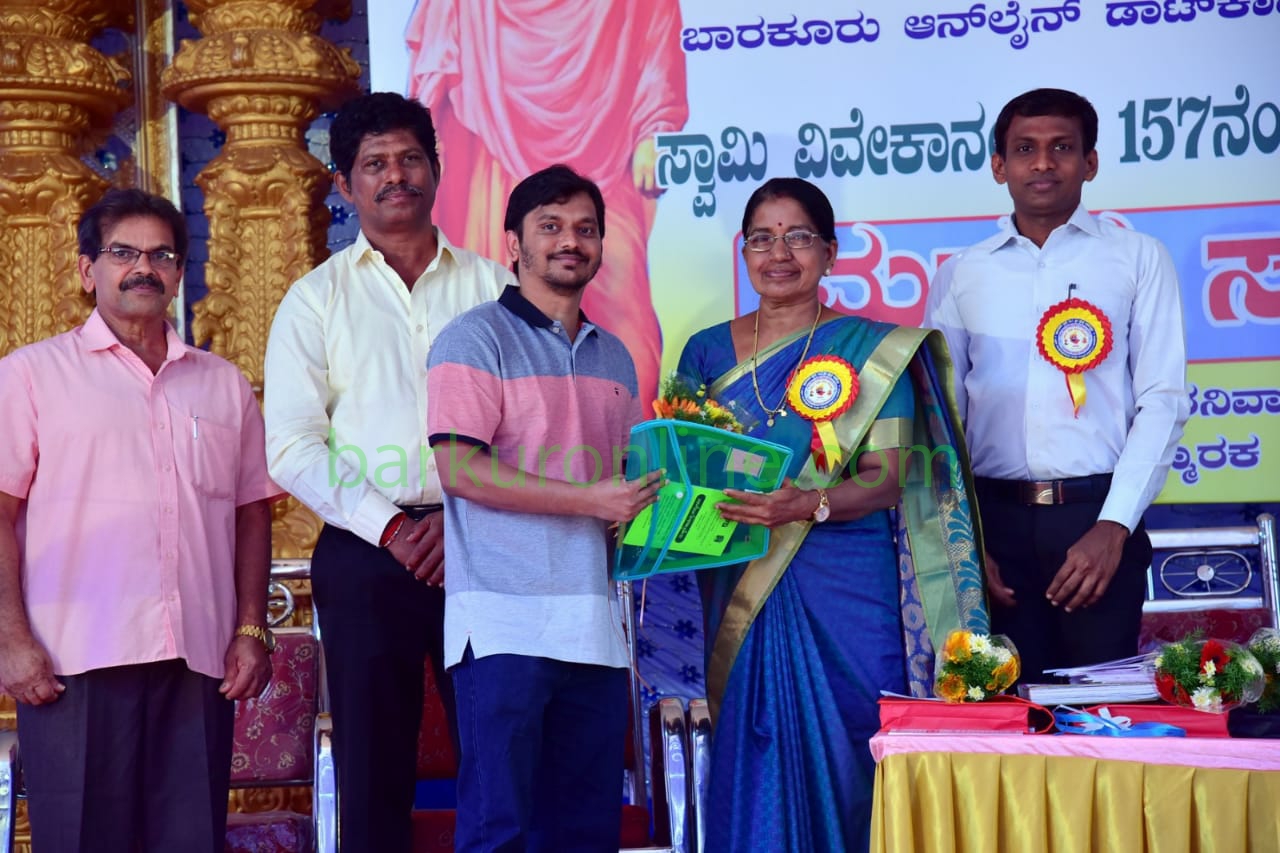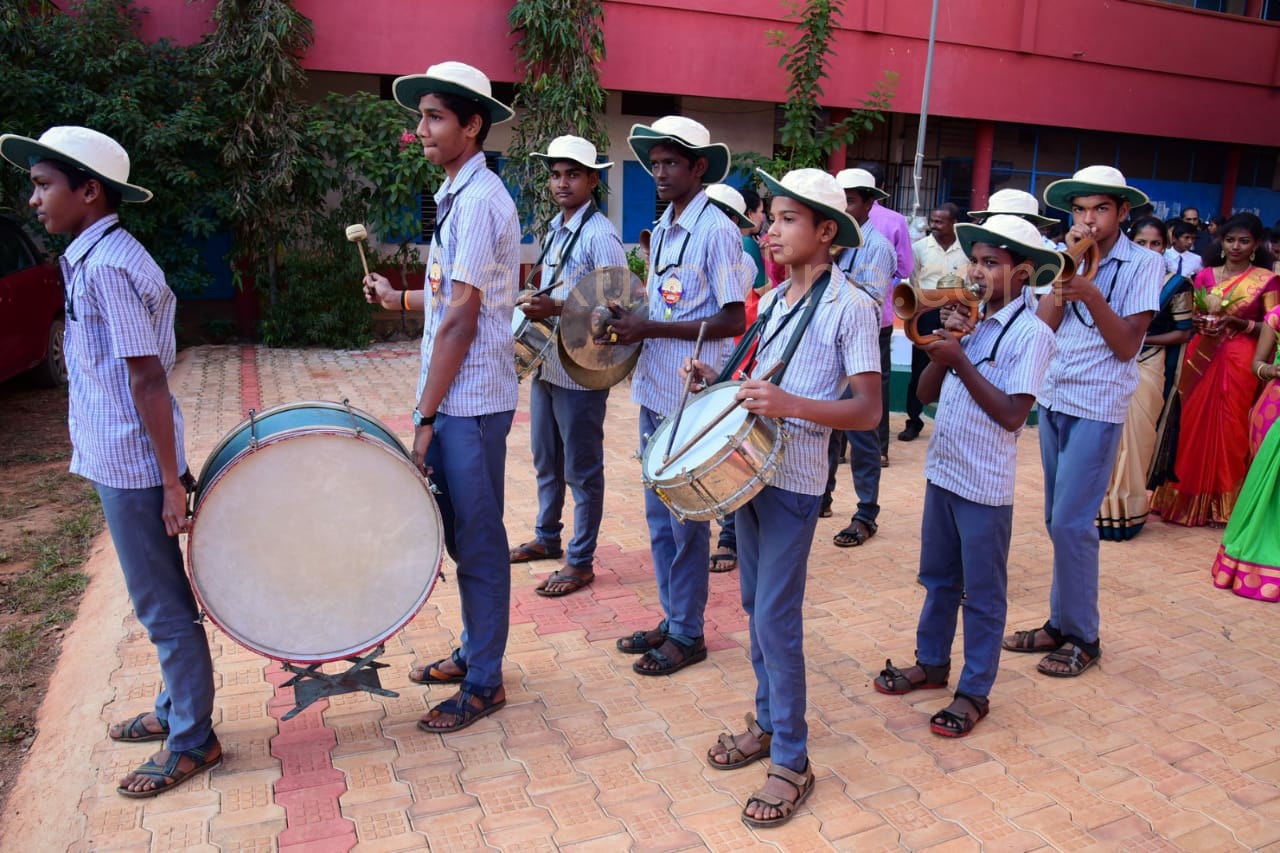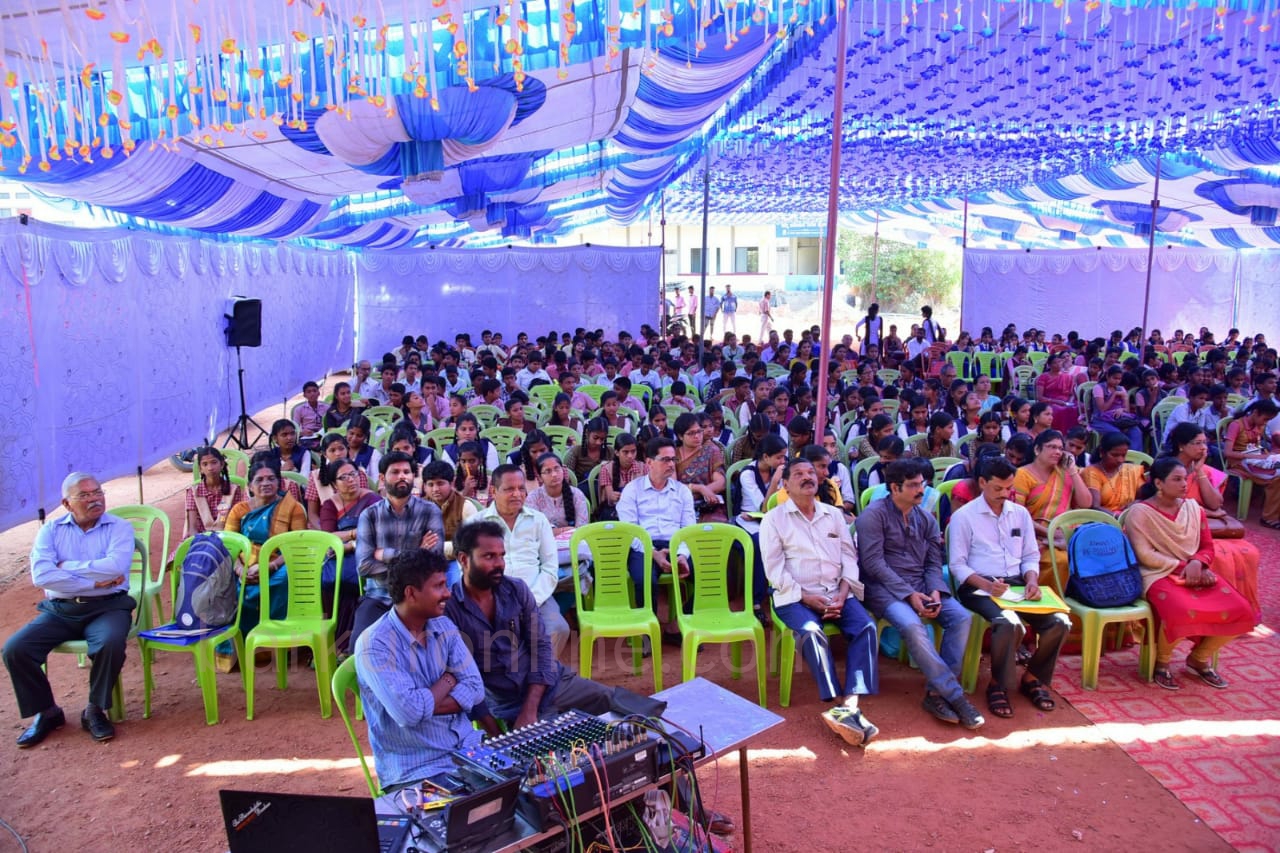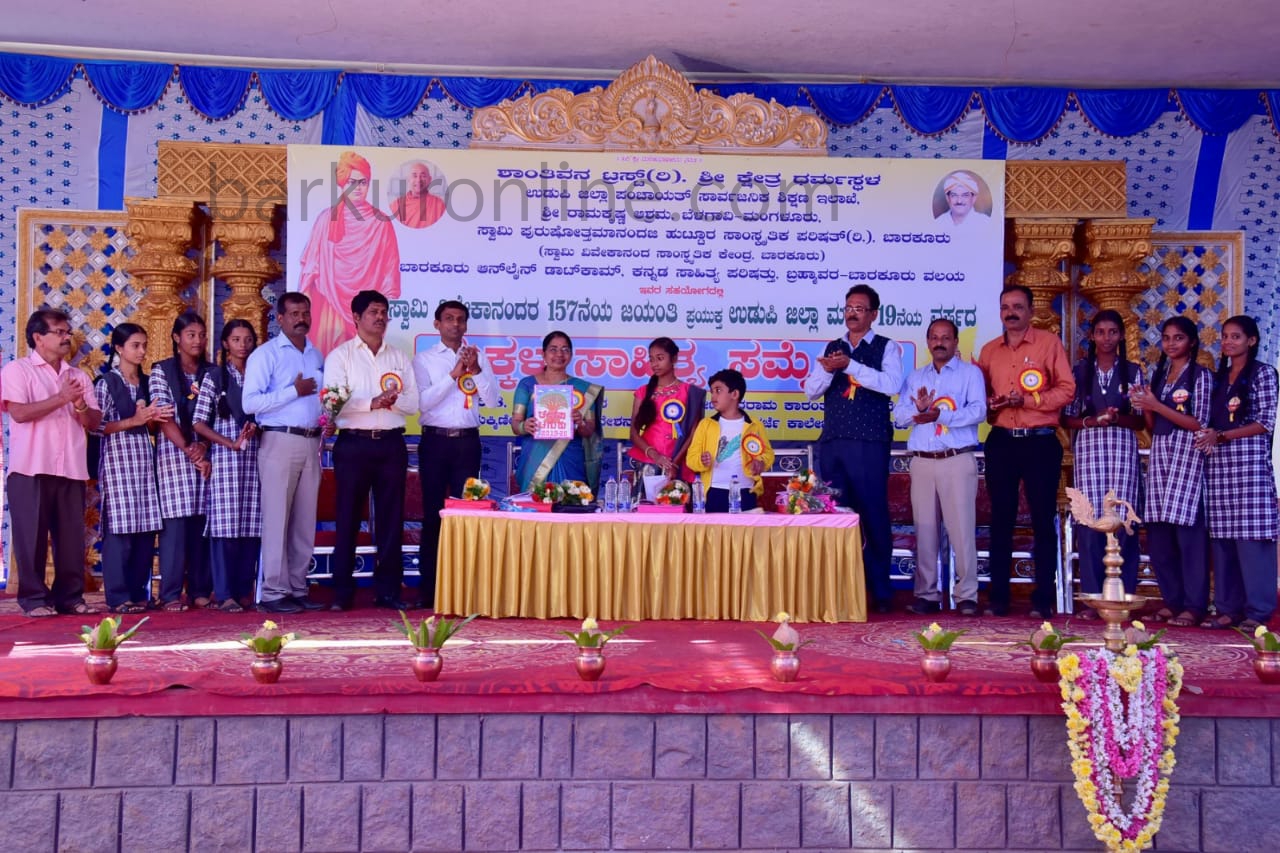 Mr Ajith Nadig, spoke about Swami Vivekananda his literary work and values of life.
In her presidential address, Ms. Varsha, expressed her satisfaction and contentment in witnessing active participation and involvement of students in the day long proceeding, in the valedictory function held in the evening.
Prof.M. Balakrishna Shetty, Principal Ramakrishna First Grade College Mangalore, had all praises for organising such a meaningful and worthy program. Mr.N Surendra Adiga President- Udupi District Kannada Sahithya Parishath was the Chief guest, expected such events to be held regularly for the all round development of teenagers and high school students.