Team SPA Mumbai meets at National Junior College……
-P. Archibald Furtado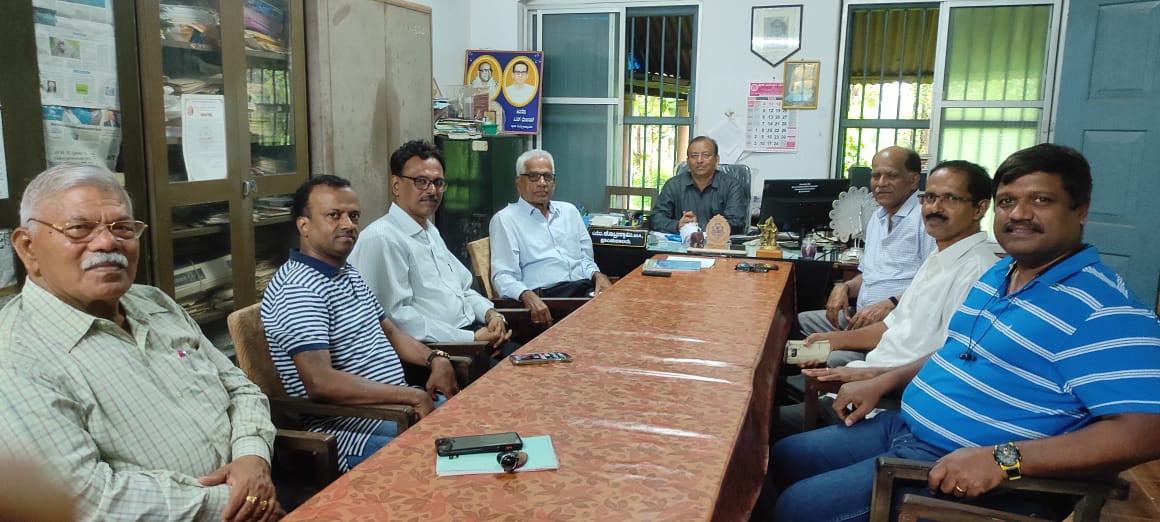 National High School, the present Junior College rightly had a tremendous significance in the latter half of the 20th century, in the life of Barkurians and the surroundings in general and Catholic youth in particular. There were many less fortunate boys, who couldn't make it to step in the corridors of high school as the economic conditions of poor and middle class so precarious as they didn't had enough to feed and pay the fees. The value of education was felt only when these youngsters deprived of opportunities for want of a SSLC / PUC Certificate. The year 1946 opened a golden chapter, rightly a revolution  in Barkur, when the Barkur Educational Society gave birth to National High School, in 1946, much before a High school established in Brahmmavar(SMS), Mabukal,(Chethana) Kokkarne or Kota (Viveka… )
Of course today there are more than half a dozen High Schools in places like Brahmmavar. Thanks to visionaries and farsighted educationists of yester years, including Late JP Sequeira, who was the pioneer with his contemporaries, the founder Secretary of Barkur Educational Society, which is truly his brain child.
As most of the old students of NJC claims that they are the products of this alma mater, SPA Barkur Mumbai (St Peters Association), representatives were quick to acknowledge the role of this High School. Reciprocating on the Invitation by tee most respected former Principal Shri B. Seetharama Shetty, a delegation led by its Gen Secretary Mr Arthur Mendonca, Mr Johnson Martis, Mr John Picardo and the local representative in the SPA Executive Board Mr Archibald Furtado met the President of Platinum Jubilee Celebrations Committee, Mr Nagaraj Shetty, on 9th September, 2022, in the Principal Shri Kotraswamy's Office, in the august presence of other office bearers.
They offered Invitation to visit Mumbai, and SPA, during the second week of October, 2022, and promised whatever cooperation and contribution possible in the execution of much needed Platinum Jubilee memorial projects. They also ensured that though SPA comprise a small portion of a big chunk of old students, we can very well reach and meet hundreds of others who are settled in Mumbai, once studied in NJC. Principal BS Shetty recalled his visit to Mumbai in 1971 with Head master Shri PN Bhoja Rao, as at that time he was President of Old Students Association and the hospitality, concern and contribution is still a fresh in his memory. 
After the formal meeting the team was invited to visit his home for a chat over tea and snacks as the nostalgic memories were rolled back to refresh the good olden days in NJC.