Interact Club Installation at SVVN School, Barkur
News: Sabitha Fernandes, Pics :  Suresh Shetty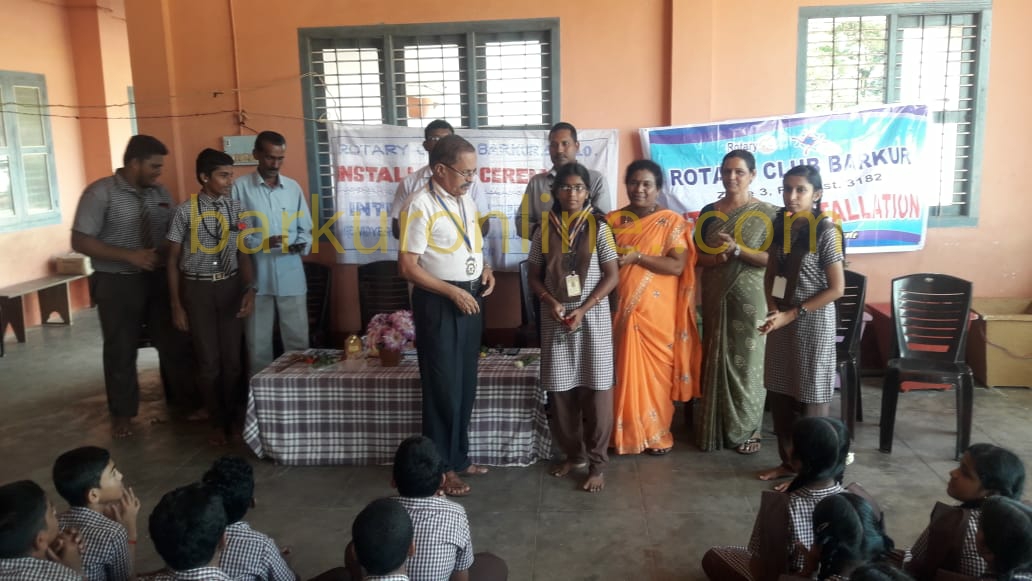 SVVN English Medium School , Herady, Barkur organized Interact Club Installation Ceremony. Mr. Sudhakar Rao, President  Rotaract club,  Mr Satish Amin, secretary Rotaract club were the guests. Mr Jayanand Poojary Interact Club President, Mrs Preethirekha, Headmistress of the school, Mr Bhaskar Poojary, Mr. Ganesh Poojary were on the stage. 
Headmistress welcomed everyone. Sergeants were given their collars and responsibilities by the Ex sergeant Shridhar Shettigar. Interact club girls sang prayer song. Mr Satish Amin, gave a beautiful introduction on Interact club. Mr Sudhakar Rao,  and Mr Jayanand Poojary conducted the Installation ceremony. The student leaders on the stage were Shridhar Shettigar (Ex Sergeant ) Janardhan Udupa(Ex President )  Shivdatt (Present Sergeant)  Lavanya (Present President)  Ramyashree (Present Secretary) Mr Sudhakar Rao wished all the students best. Mr Jayanand Poojary, said all the children to be active, courageous and smart. 
Mr Satish Amin, conducted quiz for the students and gave away the prizes. Mrs.Sujatha Rai, Co ordinator guided the students. Mr.Ganesh Poojary, parent of Dhanvitha and Anish sponsored sweets to all the students. Amisha anchored the program and proposed the vote of thanks. Interact club Meeting was adjourned after the vote of thanks.