Dr. N. C. Kalkur, L.I.M (Madras)
To be a Practicing Physician in Barkur, one has/had to be a godly man or a man of charity, because, in the 50s or 60's obtaining even the cost of pills from the patients was a challenge indeed, forget about any fee for medical services such as diagnosis, consultancy, prescriptions or for home visits. Dr. N.C. Kalkur was one of such godly men of Barkur. Barkuronline is proud to present this humble doctor, as POM, who not only saved lives, but touched the lives of many a Barkurians for better.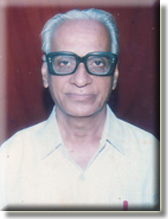 Dr. Kalkur was born on 23rd November 1931 in Neelavar. He completed his primary/secondary education at National High school, Barkur. Later he completed his medical education at the College of Integrated Medicine, Kilpaul, Madras, as L.I.M, passing in May 1956. He completed his House Surgeon requirement at the Government Wenlock Hospital, Mangalore till July 1957. He was appointed as Rural Medical Practitioner at Saibarkatte from 9th Sept. 1957 to Jan. 1964. He was promoted as Medical Officer of Primary Health Unit and served as Medical officer at various places like Malpe, Kolalgiri, Barkur, Saiberakatte, Sastan, etc. From 1978 to 1989 till his retirement he served as Medical Officer of Primary Health Centre at Barkur. He was a Medical Examiner of L.I.C of India till attaining 65 years. (until 1996). He served as the Vice President of Barkur Education Society for 18 years. He was one of the correspondents at The National P. U. College, Barkur for 15 years. He married Mrs. P. Anasooya in the year 1958, who is the daughter of Shri Yajnappa, M.T.R, Bangalore. Their married life brought them three sons. Mr. N. Sathish Kalkur, B.Sc, A.C.A, Chartered Accountant, Bangalore. Their second son N. Shrikanth Kalkur, B.E., (Mechanical), is working as a Manager of cold foods manufacturing unit of M.T.R foods, Bangalore. Third son is Dr. N. Shashibhooshan Kalkur, B.A.M.S, Medical Practitioner at Saiberakatte.
Dr. Kalkur is retired from service since Nov, 1989 and is doing Private Practice at a Maternity clinic attached till today.
Barkuronline.com team managed to get hold of one of Dr. Kalkur's son (Satish Kalkur), to write about his famous and beloved father, well known in Barkur and its vicinity. This is what Satish has to say about his father and family along with some memorable incidents:
DR. N. C. KALKUR
When I was asked by Kishore to write about my father, I was bit excited as well as quite a bit hesitant. Excited because I got the first ever opportunity to write about him. Hesitant because, I may not be able to give full justice to the job I have agreed to do.
I am not having a clear picture of his upbringing, but I am sure that he went through many hurdles and ordeals before he could establish himself as a doctor. Born to Late Srinivas Kalkur and Smt. Sharada, at Neelavara, about 11 Kms away from Barkur, he had to travel to Barkur and Hangarkatta 15 Kms to pursue his primary and higher secondary education. His father was a music teacher in Barkur High School with just hand to mouth existence/income. Unfortunately his childhood was not a pleasant and memorable one, as his father lost the job, since the music classes were taken off from study syllabi.
To pursue higher studies, he went to Madras, now known as Chennai. There he pursued Medical Education. I remember him and my mother telling that he had completed education by taking recourse to "Vaaraanna", which means having food one day in a week in each of the houses of seven Dakshina Kannada District based locally settled families. Probably all of us owe a lot to those kind-hearted families for what we are today. I bow to them reverentially.
On being qualified he was appointed as the Medical Officer by Taluk Administration and he had settled in Saibarakatte, 7 kms. away from Barkur. Later on he got married but didn't have a happy and contended married life because of the measly salary he was getting. Remember, my grandfather (mother's father) was very rich and famous person. It was he who established the famous and legendary "Mavalli Tiffin Rooms" (MTR), but a firm believer of earning through hard work, never financially assisted his son-in-law, unless absolutely called for. One such occasion was when the couple had to walk the distance of 12 Kms. from Saligrama to Saibarakatte and my mother was pregnant. It was then my grand father gave a two wheeler to my father. To supplement his salary he had started a clinic at Saibarakatte.
He rose to prominence as a practitioner, as he was a committed doctor for patient's care, and was never after money. There were many an occasions, he was not able to collect his charges. Some people used to dupe him by promising to pay later, which they never paid. Sometimes he had given up his fees on request by the patients that they didn't have enough cash in hand. Sometimes he was hesitant to ask fees on such occasions when patient died and came back empty handed. Doctors were called mostly at deathbed situations anyway, at the last minute. I still remember one occasion where one affluent Christian lady, migrated from Western India, came for a regular check-up, asked about consultation fee for which doctor had asked only "Rs.2/-'' as his Consulting Fee! My father and R. U. Sheshagiri Rao were the two earliest of professionals who set up their practices in Barkur. Even today they are popularly called as "Kalkur Doctor" and "Sheshagiri Doctor". You can imagine a period 35 years back, when only handful of Public Conveyance Systems were available, my father used to visit his patients situated in distant places ranging from 6 kms. to 15 kms. Either traveling by bicycles or ferrying by boat or by walk or a combination of all these, be it early morning or hot mid afternoon or dead of the midnight. I still remember my mother waiting in the hall anxiously hurdling all the three kids, frequently peeping outside the window, when the doctor had gone on visit in the night and failing to turn up within the reasonable time. His single minded devotion to the profession had made him an absent minded fellow which trait sometimes gave rise to hilarious moments. Let me elaborate just two such occasions. When he was serving in Sasthan PHU, on one rainy day, one of our relatives came to the hospital to invite him for a function, flabbergasted to see the doctor in a peculiar dress. Doctor was wearing a raincoat on the top and normal trouser. In his hurry to reach the hospital in time, doctor had forgotten to wear a shirt! Once my mother was admitted at KMC Manipal, for some minor operation. I was to leave for Mangalore to take my CA exams and I would be back only after 10 days. So, I told doctor that I want to see mother at the hospital and seek her blessings, for which he readily agreed. That evening I was dressed up and was waiting for doctor to start up his Bajaj Chetak Scooter. He kick started it and zoomed off without even checking whether I was seated in the pillion! My youngest brother, realizing the situation, started laughing. Within minutes, he had returned back frowning and scolding me for not sitting in the pillion. Finally, we had reached KMC only to discover that my mother was already discharged by my uncle, which fact was made known to the doctor, however my father completely forgotten! Doctor was so fond of driving two wheelers and had driven almost all kinds of two wheelers. Even at this ripe age of 73, he still drives a two wheeler! Never developed a liking for 4 wheeler, even though he has one at home. He met with accidents umpteen numbers of times that it had almost acquired legendary proportions. Once, when I met with an accident, my uncle quipped that it's nothing but a " hereditary disease"! Once he was knocked down out of his motorbike by wild bores and fortunately he was saved by a patient who was coming in a lorry, picked the doctor up and admitted him to KMC Manipal.
He has three sons, myself -Sathish, younger one Shrikanth and the youngest one is Shashibhooshan. Now the doctor's family has 10 members, my wife Sujatha and 10 year old son Sharath, Shrikanth's wife Poornima and their 9 year old daughter Kausalya and Shashibhooshan's wife Archana and their 2 ½ year old daughter Shreya making up the remaining team. I have settled down in Bangalore and am a practicing Chartered Accountant for the past 15 years with Kirlosker Electric Co. Ltd., at Bangalore. Shrikanth is now serving as General Manager (Admn.) in MTR Foods Ltd., Bangalore and Shashibhooshan is doctor and practicing as Registered Medical Practitioner in Saibarakatte for the past 12 years. All the ladies are very good home-makers.
Doctor has been a thorough gentleman with respect to his children's aspirations and he neither interfered nor became an impediment nor was he overbearing in nature with regard to our academic pursuits or with regard to any of our extra curricular activities. In fact he was a silent supporter and encouraged us to pursue our field of interest. Otherwise do you think, it was possible for me to learn the famous dance drama folk art of Coastal Karnataka "Yakshagana" at Kota High School at the time when it was considered a taboo for upper caste people to participate in it. In spite of the stiff resistance from my grandmother, it was the very strong parental support which enabled me to learn the art. Imagine, if the said support was not forthcoming, I would not have been able to have a go at it, would not have been selected as a member of the troop popularly known as "Saligrama Makkala Mela", which had been selected by the Govt. of India to represent India in the Children's Festival to be held at San-Jose, California, USA, to mark the 'International Year of Children' in 1978. Thanks to the parental support, I had a wonderful tour to different parts of USA and London for 32 days! Now doctor is 73 years old and still going strong. His will power and control on many aspects of life is still perplexing. He is still practicing, at least in a leisurely manner. He is leading a contended life with his highly supportive wife, my dearest mother, Anasooya who stood behind him through thick and thin.
Let me personally thank Kishore and Barkuronline.com for providing me an opportunity to write about my dearest Papa, Dr. N. C. Kalkur. Due to paucity of time, I might have omitted many a facts as well as some might have slipped my mind unfortunately. This request of Kishore had come at a time, when we were all busy with my son Sharath's "Brahmopadesha Ceremony". Had it been any other time, a more detailed account could have been provided. I sincerely apologize for any shortcomings or deficiencies in this write-up and any possible omissions or commissions.
I thank everybody once again and wishing everybody all the best.
Sincerely yours,
N. SATHISH KALKUR
12/1, Vanivilas Road, Lalbagh West Gate, BANGALORE, 560 004.
Barkuronline.com team wishes Dr. Kalkur many more years of retired and relaxed life. May he continue his medical profession, and may he be blessed for his sacrifices, especially for helping the poor patients by charging very little or nothing, and for his services to Barkur. We wish him and his family, health, wealth and happiness.