Pragathi S., shines at Malaysia
ಮಲೇಷ್ಯಾದಲ್ಲಿ ಮಿಂಚಿದ ಬಾರಕೂರಿನ ಪ್ರತಿಭೆ
News n Pics Anand Kumar Barkur

ಬಾರಕೂರಿನ ಶ್ರೀಮತಿ ಗೀತಾ ಹಾಗೂ ದಿ. ಸುಂದರ್ ದಂಪತಿಗಳ ಅವಳಿ ಪುತ್ರಿಯರಲ್ಲಿ ಒಬ್ಬರಾದ ಪ್ರಗತಿ ಎಸ್.,  ಮಲೇಷ್ಯಾದ ಕೌಲಾಲಂಪುರದಲ್ಲಿರುವ ಎಸ್.ಜಿ.ಎಸ್.ಇನ್ಸ್ಟಿಟ್ಯೂಟ್ ಆಫ್ ಯೋಗ ಪೌಂಡೇಷನ್ ಕಾಲೇಜ್ & ರಿಸರ್ಚ್ ಸೆಂಟರ್ ನಲ್ಲಿ ಅಕ್ಟೋಬರ್ 12 ಹಾಗೂ 13 ರಂದು ನಡೆದ ಅಂತರಾಷ್ಟ್ರೀಯ ಯೋಗೋತ್ಸವದ ಆರ್ಟಿಸ್ಟಿಕ್ ಹಾಗೂ ಅಥ್ಲೆಟಿಕ ಯೋಗದಲ್ಲಿ ಕ್ರಮವಾಗಿ ಚಿನ್ನ ಹಾಗೂ ಕಂಚಿನ ಪದಕ ಗೆದ್ದಿರುವುದು ಬಾರಕೂರಿನ ಜನತೆಗೆ ಒಂದು ಹೆಮ್ಮೆಯ ವಿಷಯ.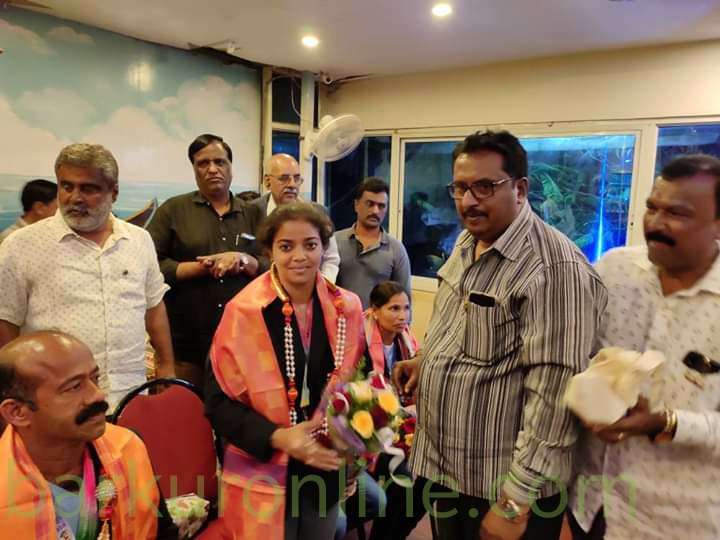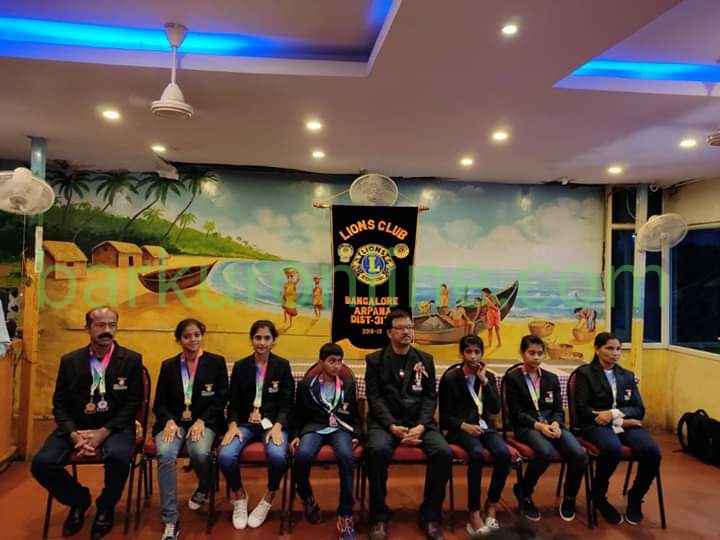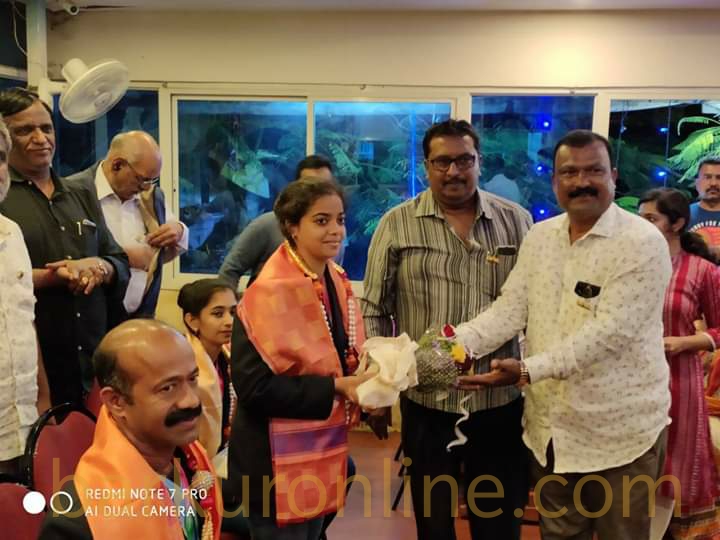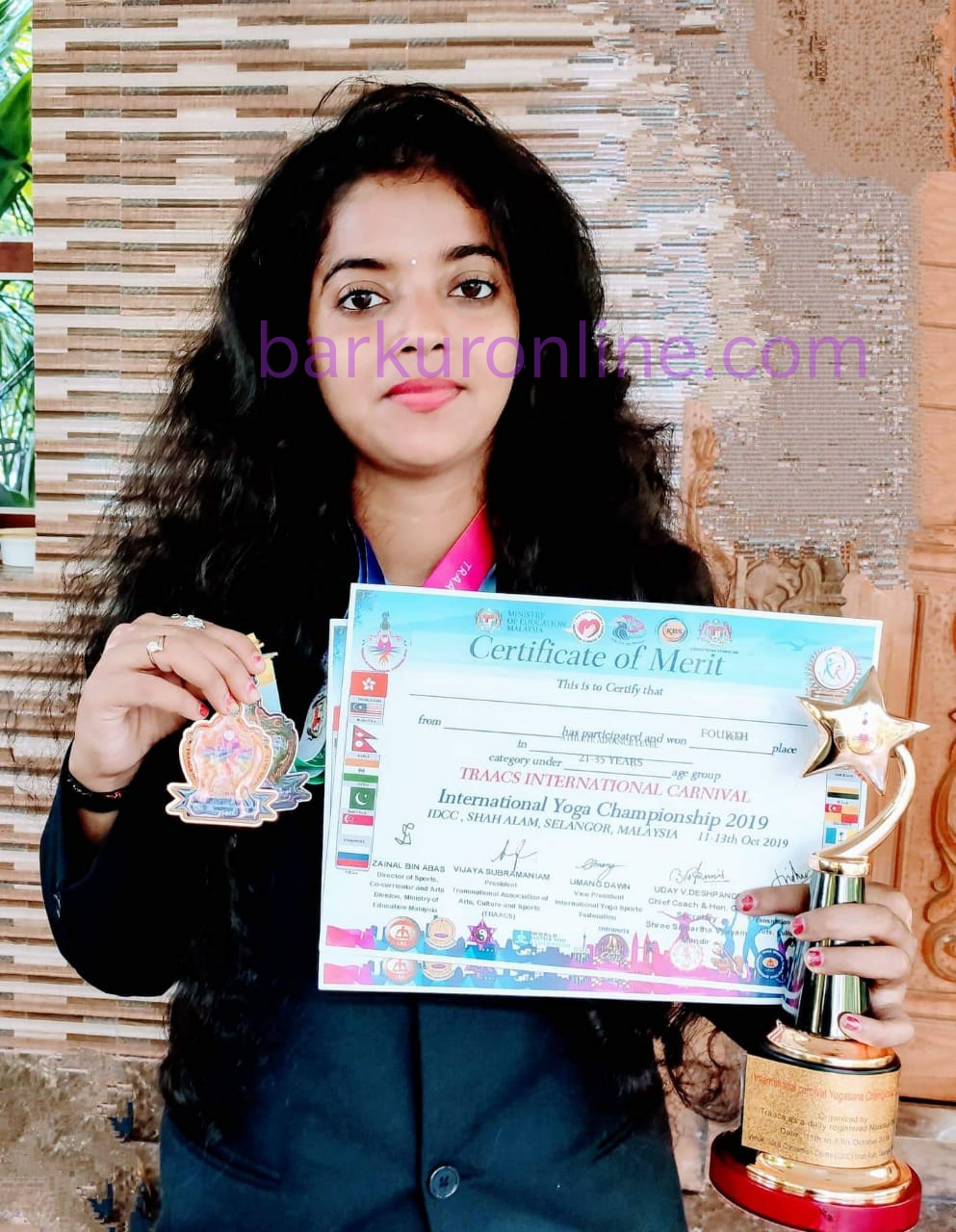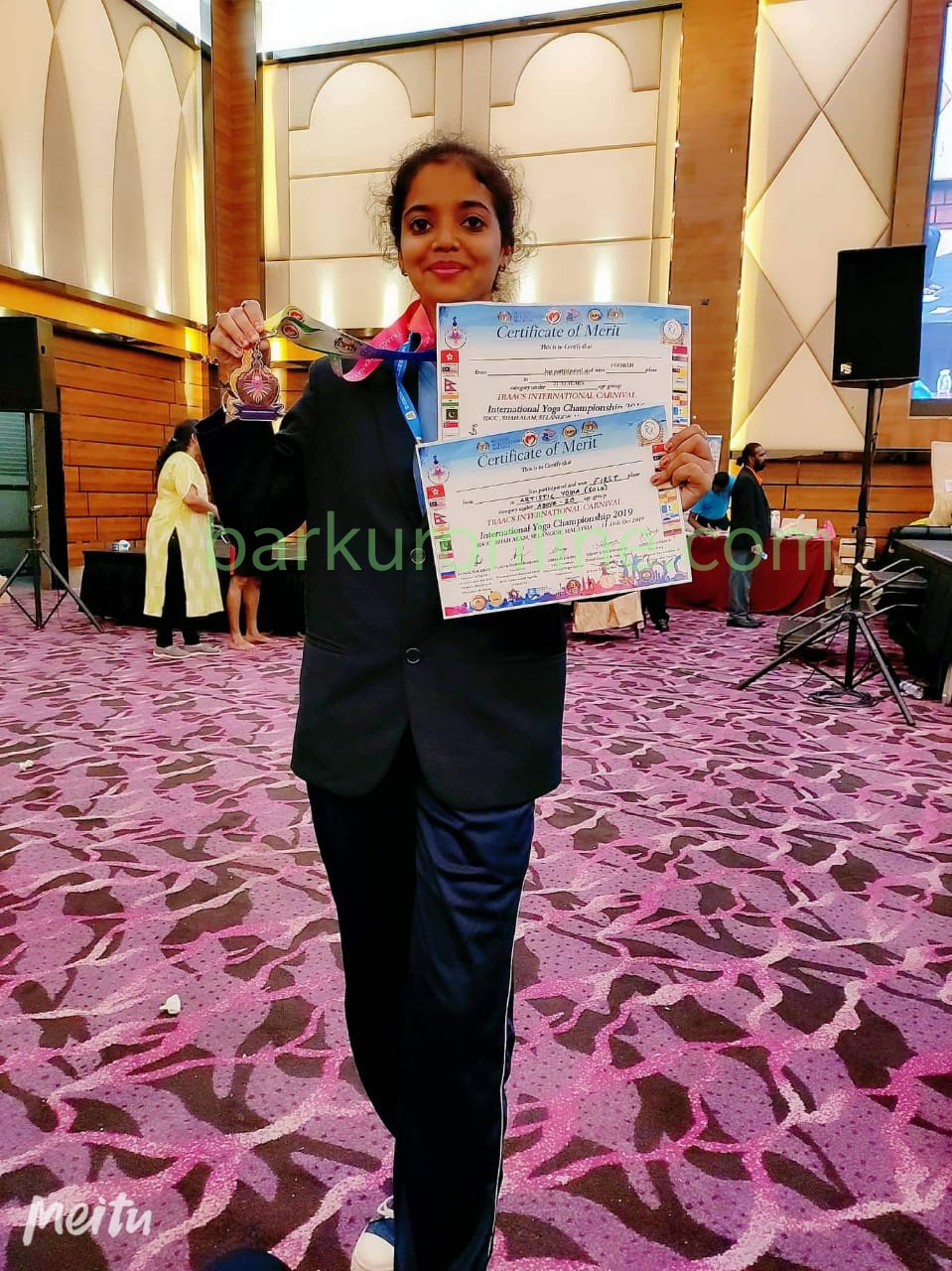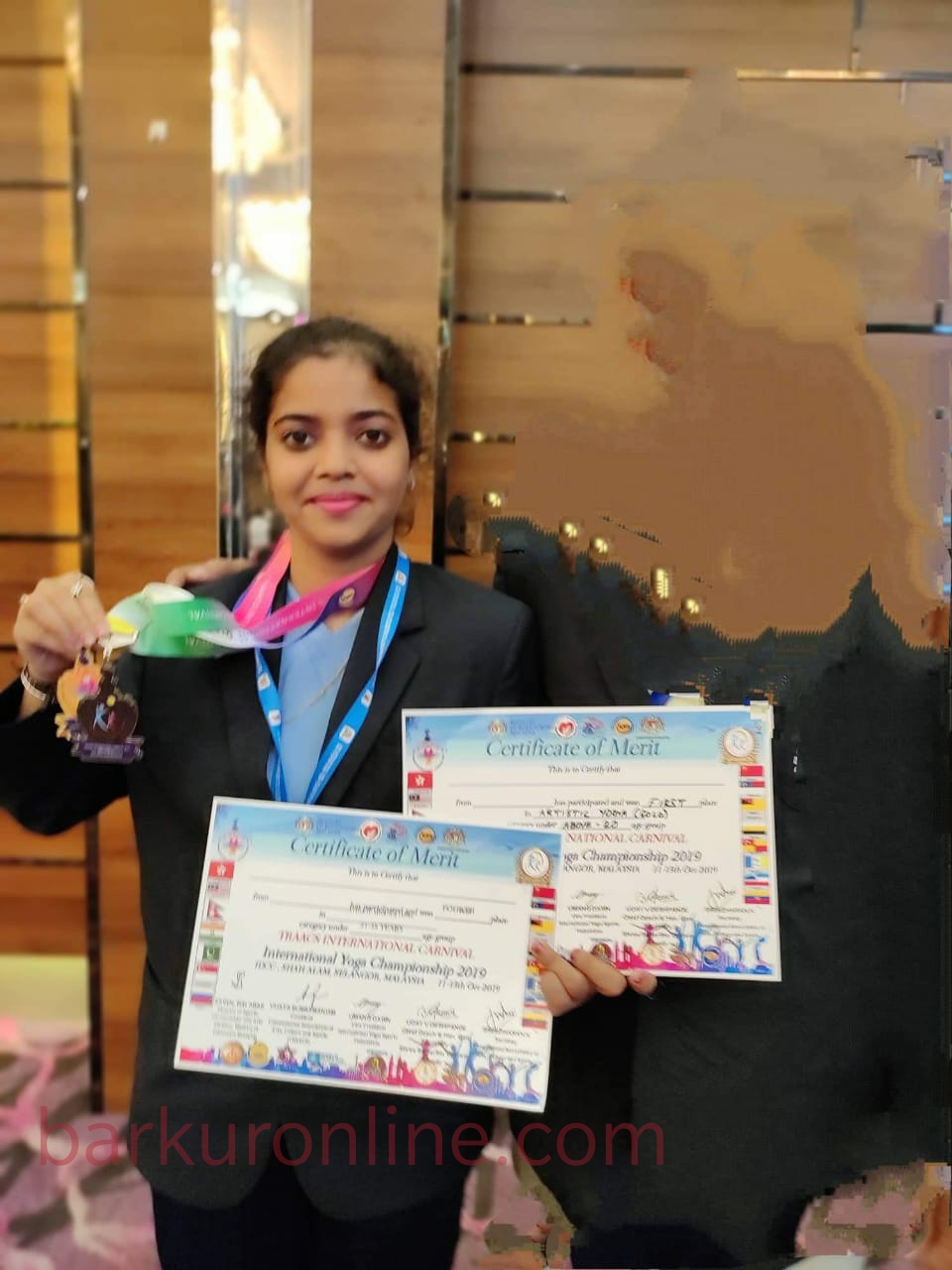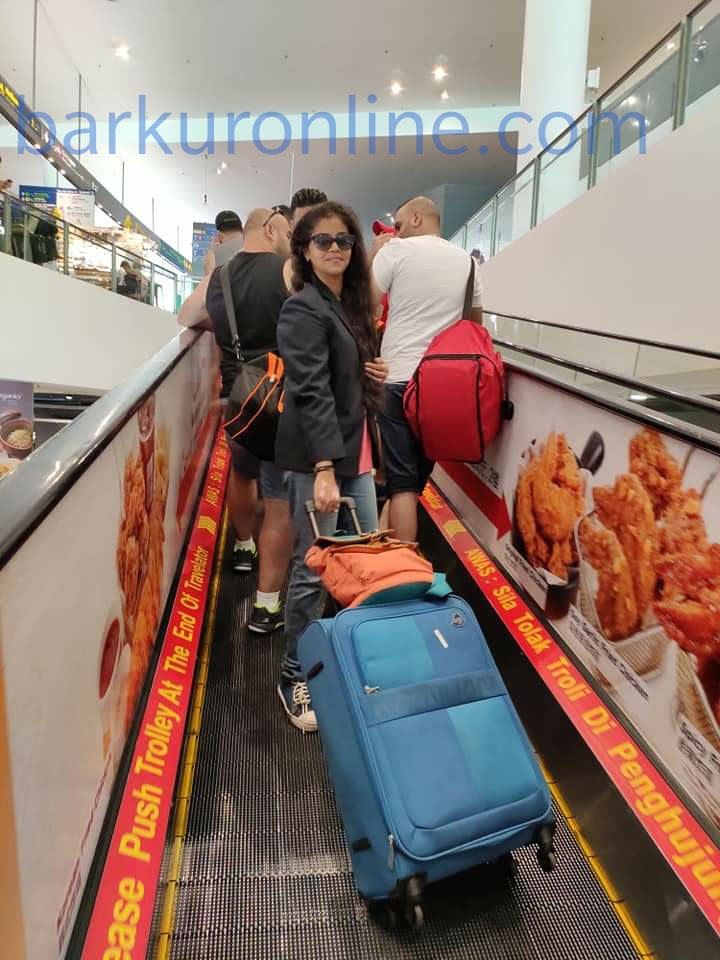 ಚಿಕ್ಕಂದಿನಲ್ಲಿಯೇ ಯೋಗದತ್ತ ಒಲವು ಮುಡಿಸಿಕೊಂಡಿರುವ ಪ್ರಗತಿ ಎಸ್ ಅವರು ನಿರಂತರ ಕಠಿಣ ಅಭ್ಯಾಸದಲ್ಲಿ ತೊಡಗಿಸಿಕೊಂಡು ಇಂದು ಈ ಮಟ್ಟದ ಸಾಧನೆಗೈದಿರುತ್ತಾರೆ.
ಅಭಿನಂದನೆಗಳು ಪ್ರಗತಿ ಎಸ್. ಮುಂದಿನದಿನಗಳಲ್ಲಿ ಯೋಗದಲ್ಲಿ ತಮಗೆ ಇನ್ನಷ್ಟು ಯಶಸ್ಸು, ಕೀರ್ತಿ ಲಭಿಸಲಿ ಎಂದು ಹಾರೈಸುತ್ತೇವೆ.
Pragathi S. one of the twin daughters of Geetha S. Barkur and Late Sundar  participated in the International Yoga Competition  held in Malaysia and bagged Gold medal in Artistic Yoga and secured Bronze medal in Athletic Yoga.
Her twin sister's name is Prakrathi S., and  even she is equally talented and was selected and went up to the semi final level in the Rangoli Competitions held by  U Channel. She also  participated in University level Shuttle Badminton.
Pragathi started learning Yoga at a very young age when she was studying in 5th standard just by observing and participated Prathibakaranji, two  a cluster level Talents competition of schools, twice and bagged  runer up title both the times. When she was in PUC she got selected for State level competition held at Bidar.
During this trip to  to Bidar she was noticed by one of the judges of the competition, Mr Narendra Kamath, hailing from Karkala. He noticed her flexibility in her Yoga positions and guided her as she learnt Yoga on her own through books. So the Bidar journey was a journey of opportunity which grabbed to prove herself.
She is a good dancer too, but did not get into any formal trainings due to the financial constraints. 
These talented twins duo are the granddaughters of Late Mrs.Girija and Late Mr. K.Srinivasa and nephews of Late Gokuldas,  former President of Barkur Grama Panchayath, from Hosala.
Team barkuronline.com congratulate Pragathi S., for her remarkable achievement and wishes her all the best in all her future endeavors.