FORGIVENESS IS A GIFT FROM GOD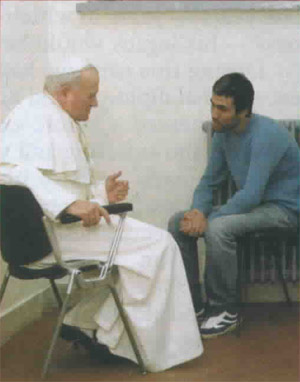 The would-be killer of pope John Paul II, Ahmed Ali Agca, a Turkish man,
meets the Holy Father at Rome's Rebibbia jail 2 years after the assassination
attempt.

Centuries of religious teaching extol forgiveness as a virtue. Now there's even increasing evidence that when we forgive, we help ourselves to greater health and a happier life. When we hold back, that God given gift of forgiveness, we continue to suffer within ourselves and we are unable to experience inner peace in our mind and heart.
It is true that humanly speaking it is hard to forgive those who have caused us enormous amounts of pain and suffering with their harsh words and bad actions. Often in our own families our bonded relationships are broken leaving hurt feelings, anger and resentment. When this occurs each person should seriously reflect what they can do to bring peace, harmony and joy to their family members and it is possible this will only happen through the gift of forgiveness. One must be able to forgive from the bottom of their heart, without any expectations. According to Dr. Edward Hallowell, in his book Dare to Forgive; "forgiveness is a gift you give to yourself, and to the people who love you."
So then, what prevents us from coming forward to receive the gift of forgiveness from our loving God and forgive each other as God forgives us all the time?
At times we seem to be locked behind closed doors and fail to experience the newness of life. We long for the freedom to reach out, but we are fearful. We may want to go and make peace with someone we have seriously offended, but we are afraid our pride will be hurt. We may want to forgive someone who has deeply hurt us, but we are afraid the person will take us for granted and exploit our generous gesture.
How do we overcome these obstacles to forgive and to be forgiven?
For the Christian community the Cross is a symbol of forgiveness so we look at the cross where the Savior of the world, Jesus Christ, suffered and died for us. From the cross Jesus forgave his accusers saying; "Father, forgive them they do not know what they are doing." The entire Bible speaks of forgiveness from beginning to end. In all four Gospels we read how Jesus teaches the importance of forgiveness through parables and miracles. When his disciples asked him; "Lord, teach us to pray," he taught them to pray a simple prayer, The Our Father. We all say that prayer often. In The Our Father Jesus includes the important gift of forgiveness.
In other religions such as Hinduism, Islam, Buddhism and many other religions of the world also speaks about Forgiveness in their Holy Books because it is such an important aspect of our human life.
If we look around the world there are prominent figures and world leaders who gave great importance to the gift of forgiveness. One among them was our beloved Holy Father John Paul II, whom we continue to mourn. He willingly forgave the Turkish man, Ahmed Ali Agca, who made an attempt to assassinate him at St. Peter's Square in 1980. I am including a picture in this article that shows our Holy Father's loving gesture to be with this man who needed his gift of forgiveness to be at peace.
Our Holy Father John Paul II shared that gift of forgiveness with others. Also, in the name of the entire Catholic Church he asked forgiveness for the wrong doings of the church in the past. What a role model he was for the whole world! He lived his entire life according to the Gospel teachings. May the Lord, who called him to Himself, grant him eternal rest in His presence forever.
Let me conclude with a short story. One rainy afternoon Mary and her seven year old son Matthew were driving along one of the main streets of town, taking extra precautions necessary when roads are wet and slick. Suddenly son Matthew spoke up from his relaxed position in the front seat. "Mom. I'm thinking of something." This announcement usually meant he had been pondering some fact for a while and was now ready to expound all that his seven year old mind had discovered. "What are you thinking?" Mary asked. "The rain," he began, "is like sin and the windshield wipers are like God, wiping our sins away." "That's really good Matthew," she replied. Then she became curious. How far would this little boy take this revelation? So she asked; "Do you notice how the rain keeps on coming? What does that tell you?" Matthew didn't hesitate one moment with his answer. "We keep on sinning, and God just keeps on forgiving us." What a beautiful lesson Mary learned from her little son!!!
So, let us remember, whenever we turn our wipers on that God forgives us unconditionally.
Let us pray everyday to the Lord our God for the gift of forgiveness in our lives and promise God, who is the giver of life, that we will forgive one another as he forgives us everyday….
Fr. Tony Andrade.