23rd December, 2019, - ICYM Barkur – A Re-union of a different kind….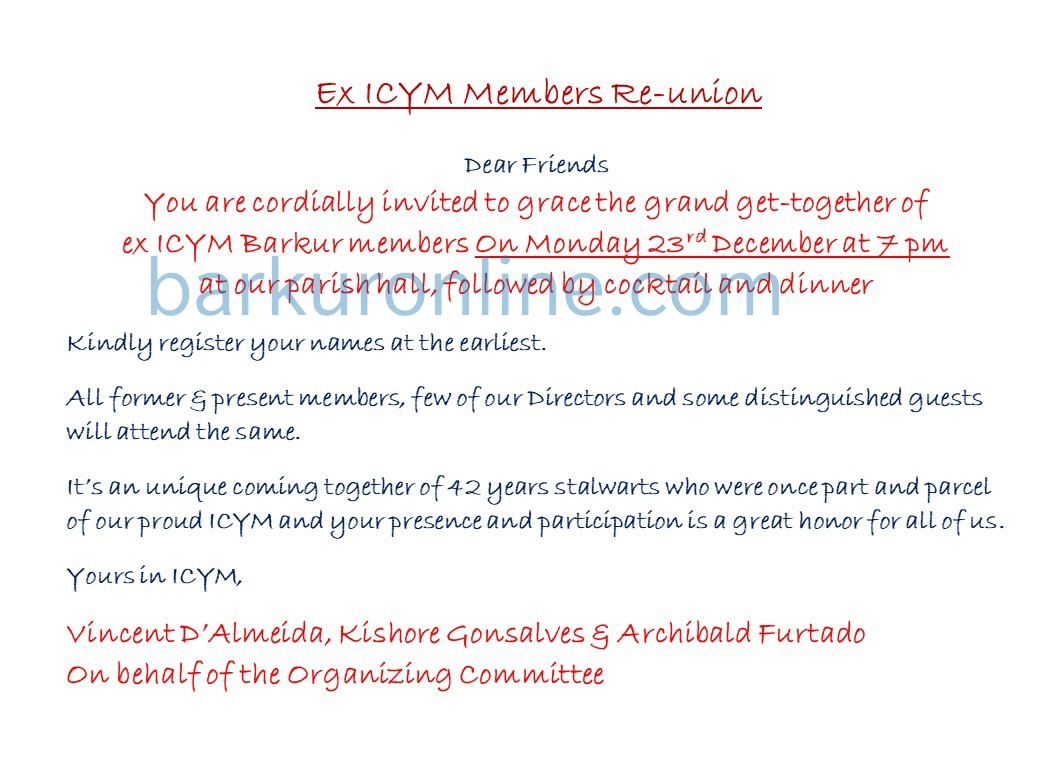 Many of our friends observed that, much of inputs in our Barkur-on-line portals, related either directly or ends with a reference to CYM of Barkur. They may be partially right, and me too hardly be able to deny this fact, because this particular platform played such an important role in the life of many of my contemporaries, my seniors and juniors as well, in moulding their life and career…. and most precisely, all of them acknowledge this fact, privately and many in their public life.
Many of them today, well recognized professionals, businessmen, entrepreneurs, professors, serving in healthcare and hospitals, made their impact as engineers, bankers, teachers, in technical fields etc. etc.…..There are popular and devout priests and nuns, once who were members of CYM, its also gives us great contentment that almost 100 of them serving (and few of them permanently settled abroad) and a big chunk in Arabian Gulf countries.
Coming to my personal experience, it so happened, while in SSLC IN 1976-77, I was not keen to be a Member in CYM, and we had a large group of like-minded youngsters, my classmates, almost 10 – 15 thinking like me….and not attending any such meetings…After SSLC, in PUC too I was not greatly attracted…as my priority was studies and partially engaged  with domestic agricultural work at home… but somehow attended couple of meetings while Fr. Henry was in Barkur as its Director….Many of my classmates missed the bus….though had a desire after listening to his sermons, but a decision would have changed something in their life, going bit further, determination of involving in the organization would have been a gamechanger for lifetime, a fact in almost each and everyone in CYM…..! 
CYM Family is like that, one might have been spent couple of years or exceptionally some of them five years as members, but those memories preserved for lifetime and the learning over there helped us in different ways. Today, CYM can claim to have almost 400 Ex and present members, is a record for itself in Barkur, in any Associations….43 years of binding and each other ready to help, recognize and rejoice together….!
There are various occasions in the past Ex Members shown their solidarity such as Decennial Celebrations in 1986, while tall leader Herald D'Souza was its President, Silver Jubilee Celebrations in 2001-2002, under the dynamic leadership of Divya Furtado, thereafter Ruby Jubilee in 2016 etc. More than that, almost all developmental work in the Church, Maryknoll Hr. Primary School, Maryknoll High School, had a visibly big and generous hand of CYM stalwarts….If one overturns the Pedruchi Chavi, the parish magazine, for that matter our own Barkuronline pages, it hardly needs me to repeat….and you will endorse what we stated…
Our hearts filled with gratitude's, and fondly remember the untiring efforts of Rev Frs, Patrick Rodrigues, Joseph D'Souza, JN Lobo, Mark D'Sa, Sylvester D'Souza, all of them nurtured it in different, passionate and unique ways….The Founder Bishop Henry D'Souza always occupied a place of high reverence and even today, recollects the names, events, incidents and life in Barkur and we personally heard him sharing these great moments and experiences elsewhere with a proud feeling…..Frs. Apollinaris Crasta, James D'Souza, Reginald Pinto, Valerian Lewis, Benjamin D'Souza, Remigius Aranha, Valerian Mendonca and present Director Fr. Philip Neri Aranha had and having  their own sacrifices, love, role and concern in CYM s growth and prosperity….There were few more assistant priests served here for short terms along with Assistant Directors in late Sr. Lucretia, always ready to help Sr. Paula, Sr. Ilaria, Sr. Mable and many more….In these years, we also acknowledge the role of animators in Herald D'Souza, highly talented Noreen Lobo, Dolphy D'Souza, Sabitha Muscarenhus and others, for their valuable time, guidance and encouragement in different ways and volumes…..
The youth trained under CYM made their presence felt wherever they are settled – the AYA (1980) SPCYA (1985), SPA Barkur – Mumbai, (1988), Emirates Barkurians, The Expressions….. are just few names directly influenced and motivated by CYM spirit….We can also identify, many leaders in Arabian Gulf countries, USA, UK, Africa and elsewhere made their impression as distinct and versatile….Locally in Barkur, Brahmmavar, Sastan, Kallianpur, Udupi, Mangalore, Bangalore, our one time CYM Members earned a place of repuatation in Church, LIONS, Rotary, Jaycees, Giants etc.….if we start calling their names there is no end for that….The contribution of many CYM Members in socio cultural activities such as drama, music, movies etc. too praiseworthy….In these days, some of our ex members noticed and climbing the ladder of success in Political arena, otherwise disliked by many….There are more than a dozen story writers, poets, dramatists, singers, sportsmen…..who were the winners of prestigious awards and citations…..
It's a mixed bag of varied talents, social workers, leaders and Vincent D'Almeida and his companions thought of a Re-union of all of them on 23rd DECEMBER, 2019, in Sauharda, Church community hall, at 7.00 pm. Already, it has created an euphoria of great coming together of 2 – 3 generations of youth under one roof, rightly graced by some of our past Directors, distinguished Guests and most importantly the EX-MEMBERS from 1976 till 2019, from far and near….At all stages, in 43 years there were challenges to face and that made life in CYM interesting, and of course overcoming those hardships made us tough and our life today meaningful….yes here is an opportunity to remind, remember and refresh those great moments in our life…..
Please treat this as personal INVITATION and enroll yourself to attend and participate, as CYM is about to create a history of its own on this day.
On behalf of Barkur-on-line and ICYM Barkur Ex-Members Association,
P. Archibald Furtado, 4th December, 2019.
.