The artistic Belfry of Barkur Church.
A Few words about:
The artistic Belfry of Barkur Church.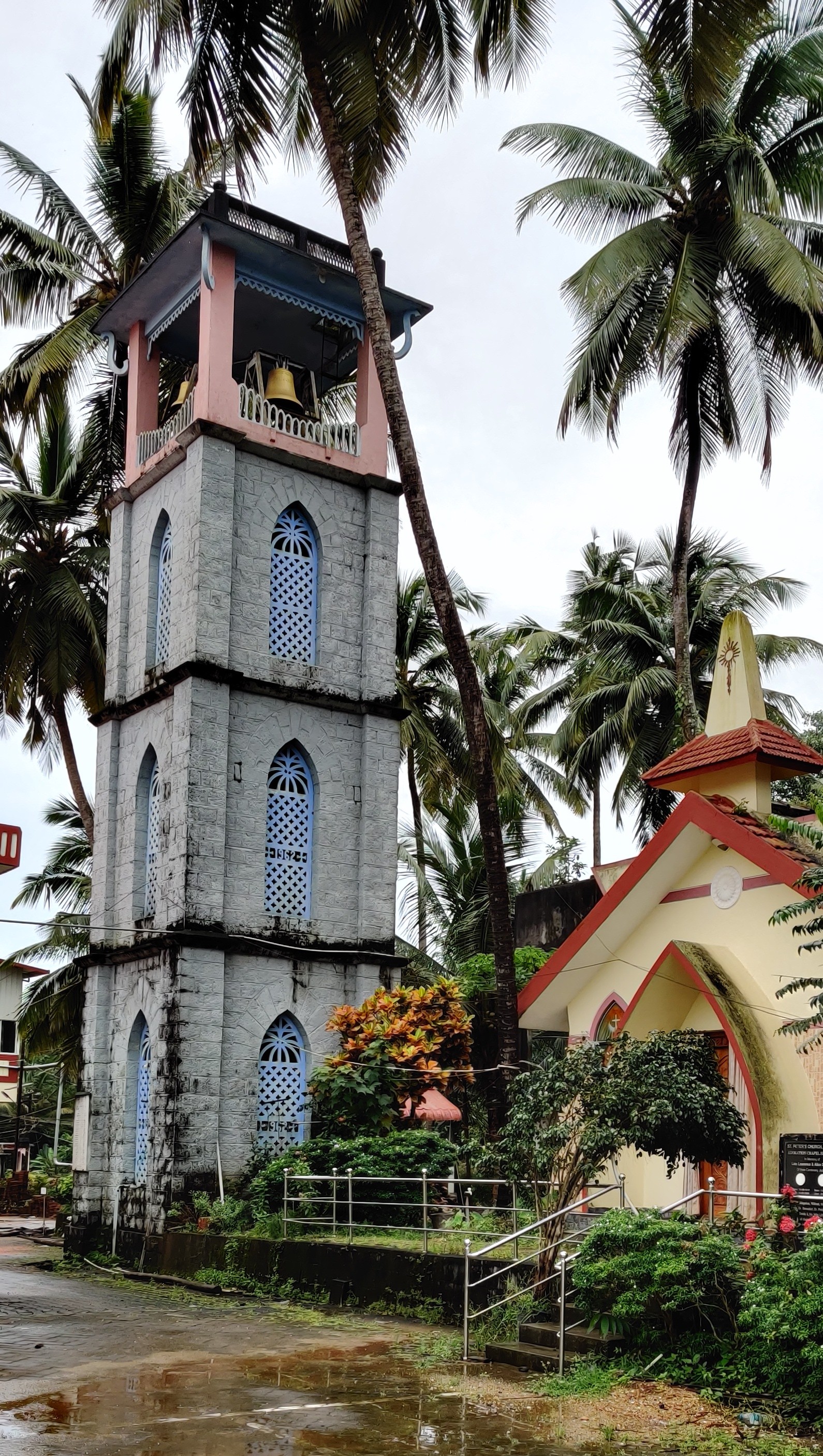 Barkurians are always proud of their glorious past and possessive of their worthy present especially when it comes to the faith matters. They claim that we inherit rare belongings and have our roots very deep, way back to Christ's time, as two of his apostles St. Thomas and Bartholomew who landed first in Barkur (as per sources available) and thus sowed the seeds of faith in India. There are authentic records of formers missionary work in Kerala and martyrdom in Mylapur, Tamil Nadu. However the latter left only legends and hearsay stories….or maybe we failed to preserve them….!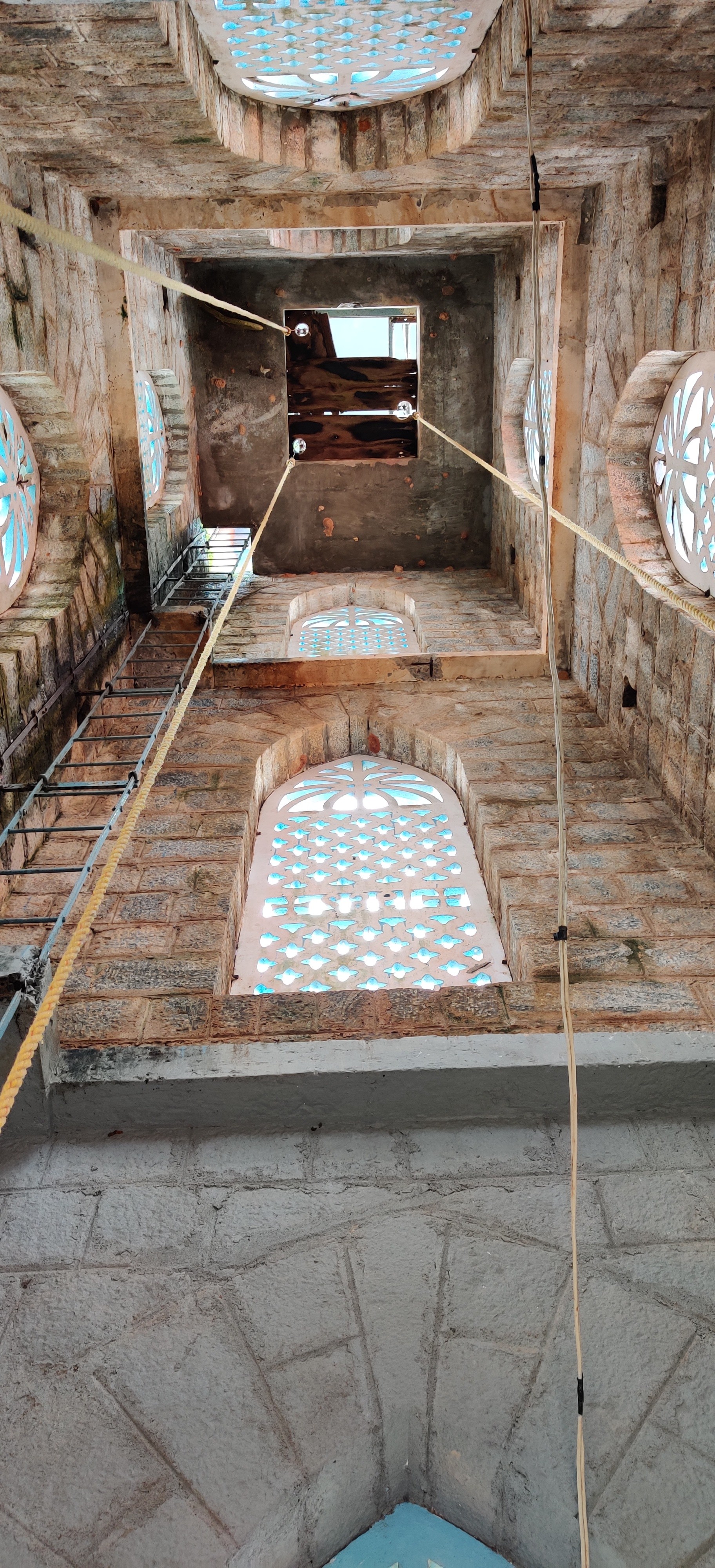 Prior to the Chapel on the location where our present artistic Gothic style St. Peter Church stands, there existed a church near Maryknoll High School (MHS), popularly the location known as 'Khuris'.  Here the reigning patroness was 'our lady of Holy Rosary'. It was said, even earlier one more Church, which was destroyed during the fateful and painful captivity of Christians in the hands of the soldiers of Tippu Sultan, in 1784. Here starts a painful ordeal of a Bell, supposed to be brought from Petre Church and handed over to a local temple in Barkur, by Tippu's forces. Interestingly, the authorities over here, politely refused to take that in their custody. Hence it was again moved to distant Shankar Narayana, though they too were reluctant to accept initially;forcibly thrust upon them as a royal order and one can see it even now, which is not in use, for more than two centuries. Time and again Vicars served in Barkur, tried their best to persuade the concerned, to get this emotional property back, either to keep it in use in Barkur or in Basrur or to its original location – Petre.
It's appropriate to remember couple of historical points here:
Rev. Fr. Aloysius Rosario was the Parish Priest of Basrur Church - prior to his appointment as Vicar in Barkur. When he did not succeed in getting the famed tolling bell, Fr. Rosario constructed a beautiful Belfry in Basrur way back in 1953 and a local person Mr. Joseph Cotha (D'Costa) was the architect of the tower. On 6th May, 1959, Fr. Rosario was appointed as Vicar to Barkur and we were given to understand that through mediation of some people, he approached again to get the hailing bell,at least to Barkur church. Any amount of attempts did not bear fruit. Ultimately in 1961, he decided to have an attractive Belfry in line with the existing Church. Three Bells of varied size were ordered, made out of superior quality copper and tin,and imported from Germany. Interestingly the man who built the Basrur Belfry was entrusted with Barkur Belfry work as well.That is why theParish Priest, Fr.Rosario and the Architect Mr. Joseph Cotha with rich experience gained in Basrur built this Belfry so artistically on a solid ground with superior quality granite stones. It's not an exaggeration those 58 years gone by, and the structure, the tall tower;the Bells are intact and if anyone listens to the recorded rhythm outside Barkur, rightly recognize its sound, its 'Barkur Bell'.It's my experience, that one wedding I could not  attend way back in 80s - while watching the video, hearing the Bell sound one elderly man from Udupi, swiftly told,'oh wedding nuptials in Barkur….!'.  Now-a-days, even there is no custom of Bell after the exchange of vows,that is a different story….!! On the lighter side, not only in Barkur but in the surrounding, parishioners of Sastan and Brahmmavar, where the elders used to tease people talking in solid voice, 'aaili Barkurchi Ghant…!
Few stories attached to the Bells of the Barkur Church:

As we mentioned above, Barkur though had chapel / Church long back, officially our parish was erected on 29th April, 1861. (Let us clarify one point, the Centenary Celebrations of the present Church in Barkur was held on 8th April, 1954, during the days of Rev. Fr. Charles Nazareth as Vicar. In other words, since 1854 to 1861 about seven years there was church building with regular Sunday Mass but not elevated to the grade of an independent parish, with a resident priest).There was a manner of tolling a single bell tied to a tree and this new Belfry was conceived as a 'Memorial of Centenary year, 1861 – 1961, of the Independent parish of Barkur'.Today both the Church building and belfry are the master piece monuments to architects and history students.
Some special features of Barkur Belfry:
The height of the tower divided in three platforms, each about 20 feet, and the total height is about32 meters from ground. The foundation is as deep as 18 feet, built on solid rock. A strong steel ladder is placed 90 degree to climb the top of the tower. Earlier bell was rung systematically and training was given to then Mr.Ignatius D'Souza who served as the sacristan for some years and then the new sacristan Late Aboundis Fernandes, and couple of other enthusiastic youngsters to control the rope, spring action to harmonize and timings, there was / is music in it, while the clapper strikes the cup and there would be a great feeling to the listener. Literally it served many purposes, and its sound was an integral part of our daily life in the latter half of the 20th Century. It summoned people for daily, weekly and occasional worship and prayers, Morning 5.30 am, 6.00 O'clock, 12.00 noon, ( now 12.30 p.m.) evening 7.00 p.m. and 8.00 p.m. Now-a-days, at times, it's just rude pulling of the ropes,by the man around,as there is no assigned attendant….!
During Festal celebrations, all the three Bells were rung. On a Sunday at High Mass while singing Gloria, exposition of holy Eucharist, Holy Hour of Adoration, peculiar way of joyful sound of all the bells, in union…!. For most of us it is a very special and divine experience to listen to the long bell on Corpus Christi procession, the bells tolled almost for an hour, likewise on the occasion of the feast of Nativity…etc. We were thrilled to see the three great Bells from outside….! Yes the holy little town of Barkur, witnessing something very special is happening around it and a beeline of people gathering either side of the road standing respectfully to watch the prayerful and colorful procession…..!
On the other side, these bells tolled reminded people to start their day with the angelus and morning prayers and it led them till 8 in the evening praying for the departed souls. It was a call bell for the workers to take a break in the afternoon as they would start their work in the morning by 8 or 8.30. If the 12.30 (earlier to 1980 it was at 12.00 noon) bell was to pray the angelus, for some it was lunch break. As the bell was audible to the entire community of Barkur, one would say, 'oh its 12.30 the church bell is rung'. Yes, occasionally the church bell tolled with a sad note announces the demise of parishioners… and then people would inquire with each other for further details about the dead. Anyway, today mobile phone does all these works at finger tips…! Thanks to the technology.
One of the most artistic and beautiful landmark Structure:
We have visited most of the popular Churches in the present diocese of Udupi, but nowhere we could find such a beautiful belfry with three gigantic Bells. Many churches rebuilt, and replaced the bells and towers, but not like the Barkur Bells. To the best of my understanding, for almost 30 years not even painting was felt necessary for these triune melodious sounding bells neither to its structure since its built of unique granite stones. Stone walls are untouched, steps and concrete window panes only painted once in a while as felt necessary.
Served as Clock tower when wrist watches were a luxury: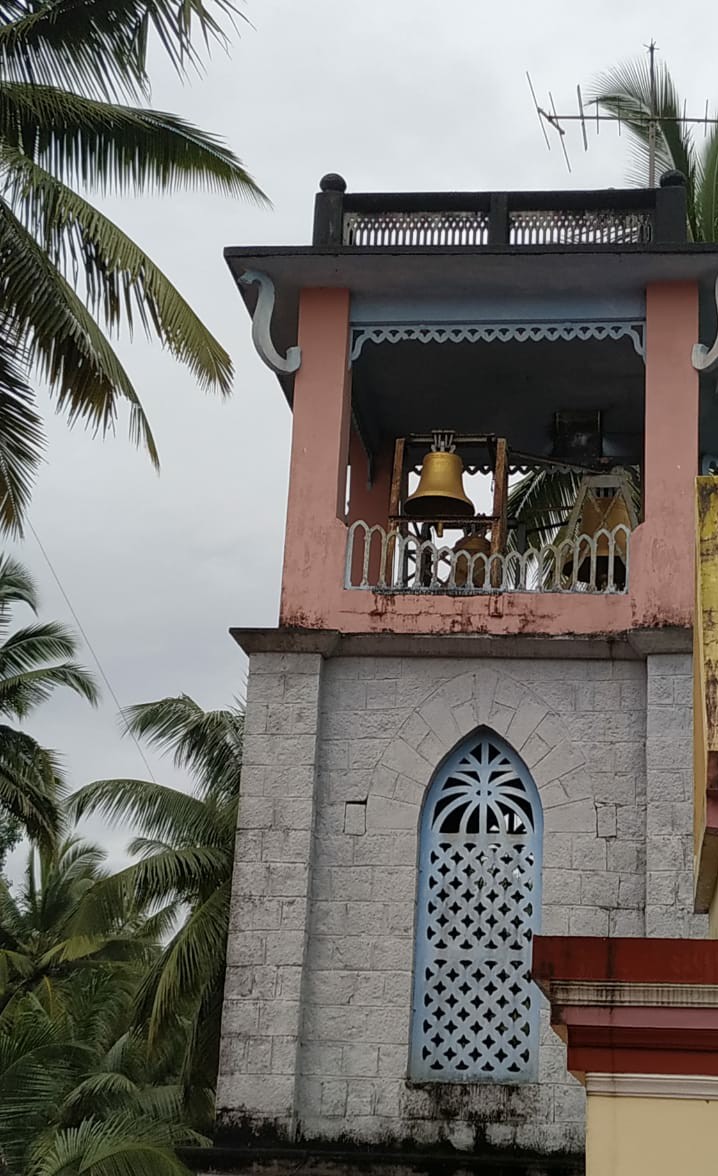 Unlike today, during our School days only elite and rich used to own watches and time piece or wall clock at home and for common man, positioning of sun or the sound of Church bell was the precise indication of time; nonetheless, stomach and hunger too were two best reminders…! There was a time, in a radius of more than 10 Km, poor and middle class people, the agrarian community, daily wage earners were solely dependent on church bell, both for wake up call and lunch break.Our elders used to  rise with the sound of Church bell, starting their day with prayer and expectations and ending with experience, and going to sleep remembering Almighty's favors and that was the simple life lead by them…!
Great sound of Music: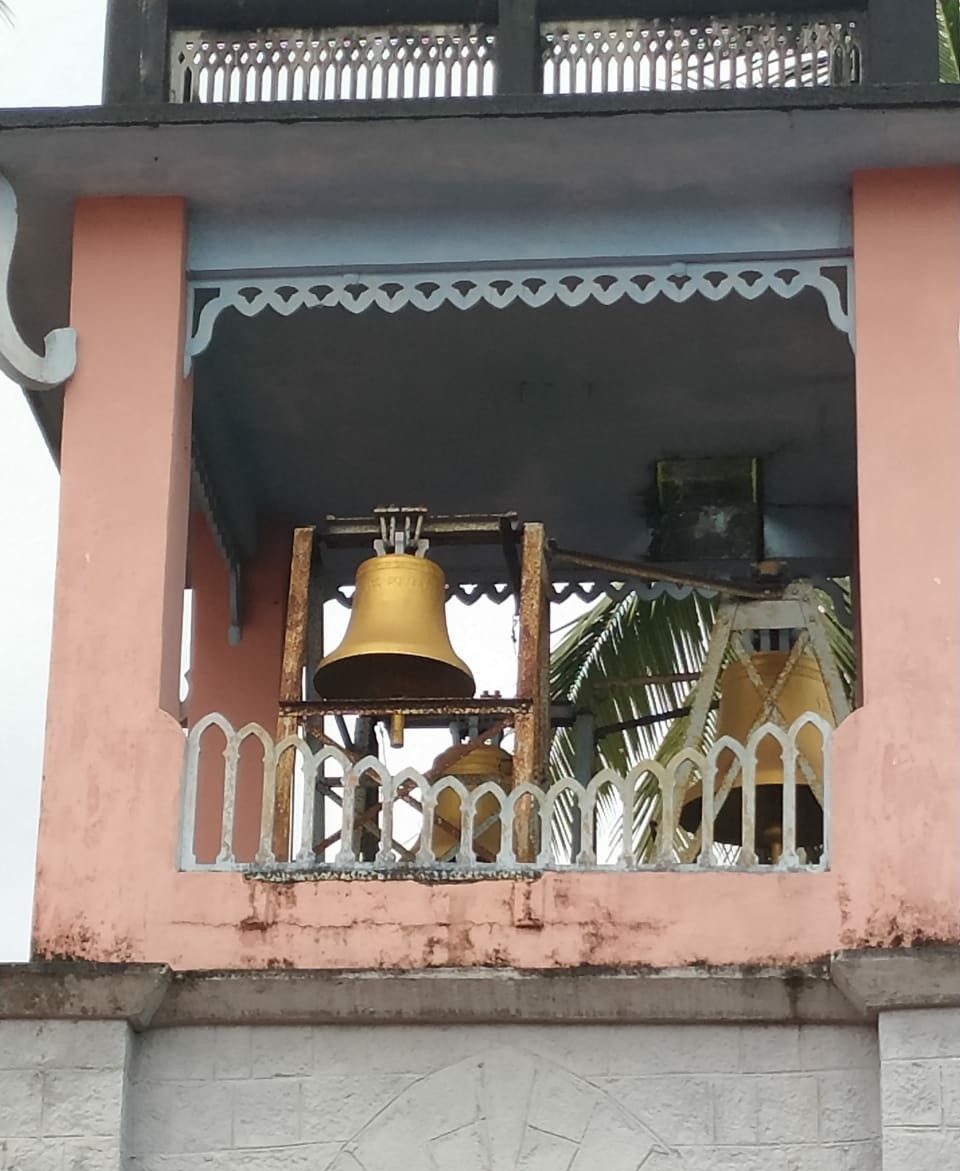 Let me quote V. Rev. Fr. Valerian Mendonca, our former Parish Priest, a renowned musician who said, "In Barkur, each of the three Bells has a different tone, to correspond to the tones of musical scale".  An expert only can extract melodies, while belling it systematically. He rates the family of three Barkur Church Bells as special and unique. There was a moment when then Vicar General of the Diocese of Mangalore and former Raknno editor V.Rev. Fr. Alexander F. D'Souza during a function exclaimed and compared them to the heavenly sound of Holy trinity.!! Many art film makers, especially Institutions and artists recorded the Barkur bell sound, to support their classical English plays, CDS, so on and so forth.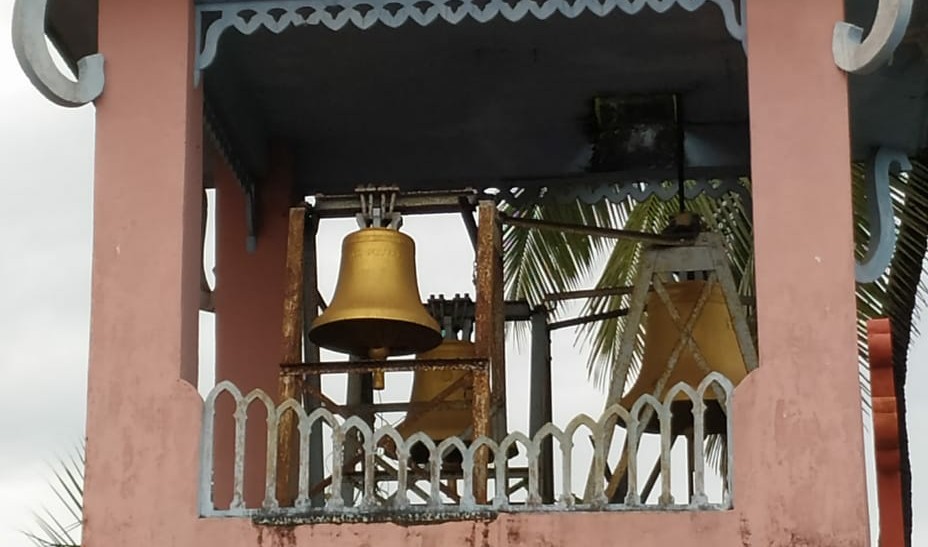 I wish to express the feelings of Mr. James Fernandes, Chicago, USA - in his younger days as a High School boy with his friends like, late Henry Roche and others,to cool down (curing) the drying concrete / cement masonry work, they pulled quite a few pots of water from the nearby church well, during the hot summer of 1961 – 62. He also recollects, one Mr. Louis D'Almeida from Brahmmavar was recommended by Fr. Alfred Roche, OFM Cap was entrusted with the cutting of hard stones and related masonry…… a quality work still remains as testimony….! Use of very small quantity of sand and cement and four cornered interlocking of large size stones, with a strong foundation of more than 8 feet deep on a rock….recollects the elders of the time….!
V. Rev. Fr. Rosario's brother, who was then settled in Germany, (his wife a German citizen) was instrumental to make arrangements to oversee the whole process of order, transport,shipment, customs clearances etc. Some Missionaries of Charity in Germany also bore the actual cost of the three bells, as a generous donation from them. We the Barkurian's remain indebted to them. The bells have the note sounding Do Mi Sol and it equals the startling sound like that of Rome and U. K. Cathedral, London.
The day the Belfry was blessed on 25th November, 1963, Fr.Aloysius Rosario, the most contented man, of the moment, rightly then on occupied a permanent place in the hearts of Barkurians, composed a meaningful hymn to thank Almighty Lord, through our Patron St. Peter, as a great monument stood up to awaken, unite, guide and guard all the Barkurians to be in His blessed arms…..!
Before we conclude these few lines…..
Couple of days back, met our Vicar Fr. Philip Neri Aranha, while exchanging some view points, on the side lines of ongoing Church restoration work, felt very happy to listen to his observations. As a priest, 'I have seen many belfry's both in the Diocese of Mangalore and Udupi, except handful of them, including the one locatedat Jeppu Seminary, Barkur Belfry is one of the best….'As a master builder, he knows, 'such towers made out of granite stones need not be painted to spoil its strength,pristine dignity and original beauty,both topreserve and keep it attractive….' At the moment he is searching for right Engineers and Experts to consult and remove the paint….as he rightly says, 'tomorrow for sure, this historical Barkur Church, this Belfry and its surrounding will be a tourist destination…'
On behalf of Barkuronline team,
P. Archibald Furtado, 27th August, 2019.
We wish to fondly remember and thank the generous donors who contributed to have this magnificent monument, an architectural marvel, along with all those who put in their sweat and labourand worked with V. Rev. Fr. Aloysius Rosario and the then Assistant Priest Rev. Fr. Bernard D'Souza and others, in those difficult days.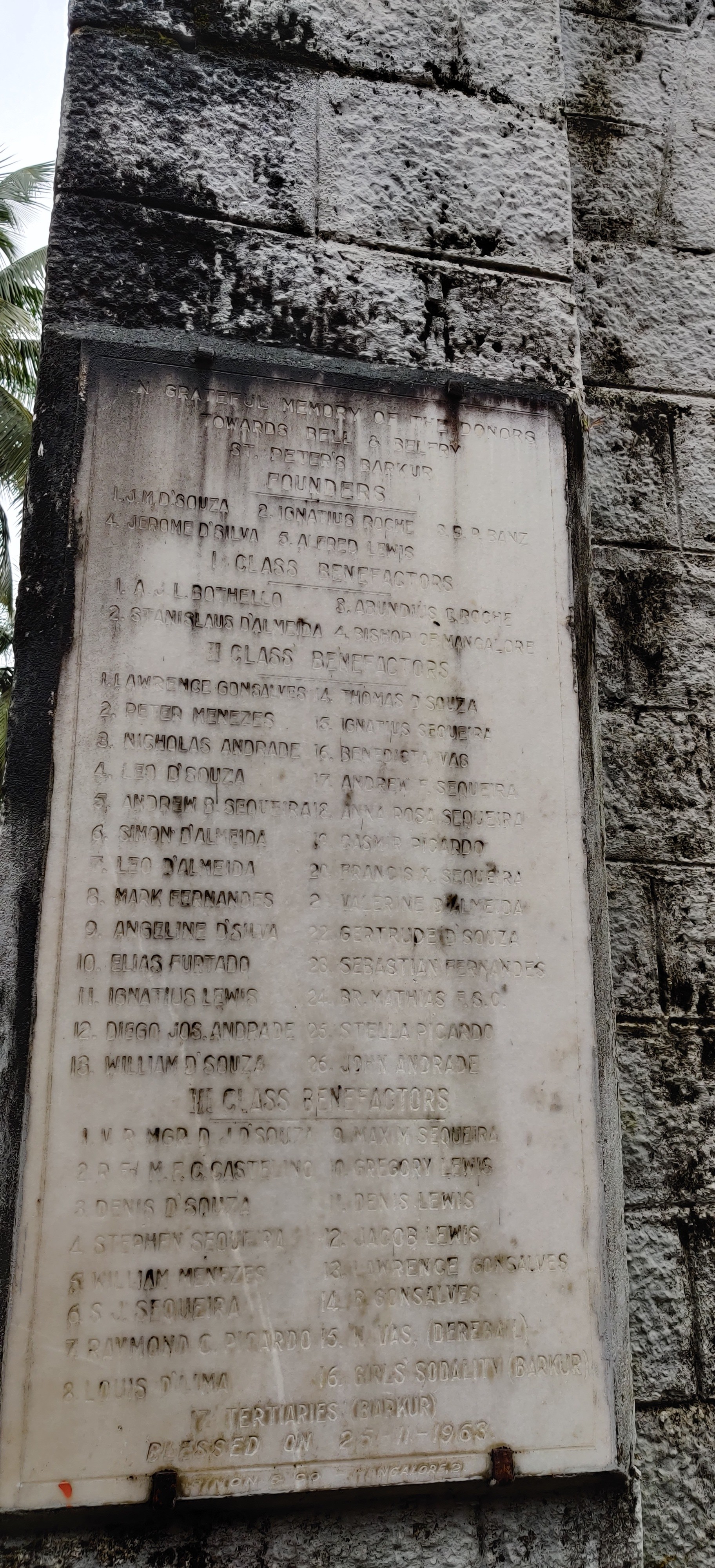 The main financial Donors of the Belfry:
SankadySanthan B.Banz - Founders
J.M.D'Souza
Ignatious Roche
Jerome D'Silva
Alfred Lewis
A.J.L. Buthello – Class I Benefactors
Stanislaus D'Almeida
Abundies Roche
Bishop of Mangalore
Lawrence Gonsalves – Class II Benefactors
Peter Menezes
Nicholas Andrade
Leo D'Souza
Andrew S. Sequeira
Simon D'Almeida
Leo D'Almeida
Mark Fernandes
Angeline D'Silva
Elias Furtado
Ignatius Lewis
Diego Andrade
William D'Souza
Thomas D'Souza
Ignatius Sequeira
Benedict Vaz
Andrew F. Sequeira
Anna Rosa Sequeira
Casmir Picardo
Francis Sequeira
Valerian D'Almeida
Gertrude D'Souza
Sebastian Fernandes
Br. Mathias – FSC
Stella Picardo
John Andrade
Msgr D.J.D'Souza -  Class III Benefactors
Fr. M.F.C Castelino
Fr. Denis D'Souza
Stephaney Sequeira
William Menezes
S.J. Sequeira
Raymond C. Picardo
Louis D'Lima
Maxim Sequeira
Gregory Lewis
Denis Lewis
Jacob Lewis
Lawrence Gonsalves
B. Gonsalves
N.Vas, Derebail.
Girls Sodality
Tertiaries.