Founding fathers of Barkur Church
St Peters Church, Barkur.
A few words in kind remembrance of founding fathers…
Barkur is best explained through its rich cultural heritage, now-a-days visibly demonstrated in dailyreligious celebrations…..Once renowned for royal recognition and for housing splendid monuments, built over the centuries, though many of them destroyedand disappeared, it's only these temples/ mosques and church, in Barkur, retained as well as maintained fairly well and sincere efforts from all communities are made to renovate, preserve them, in recent years….
Once a city of two forts, and opulent palaces, our church located at the centerin the midst of sprawling coconut groves, gracefully surrounded by schools, temples, convent, Friday market, almost got renovated and restructured (mainly the exteriors, keeping the basic structure as it is), is deservedly a fabulous treasure trove of architecture….now gearing up forinauguration on 15th December, 2019…….. Today's Barkur offers a plethora of places to visit and explore…. and about century old Gothic styled churchdedicated to St. Peter, the Apostle, will undoubtedly one of them….an ancient parish in the Diocese of Udupi and in Coastal Karnataka, overflowing with 160,even more yearsof colorful history….Rightly a witness to many landmark events……may it be personal, socio-cultural and religious…..!!
We heard from our forefathers and elders that the Church, an architectural marvel, took almost four long years to construct…. Mons. Denis Jerome D'Souza then Vicar of Barker had a tough and challenging time, not to compromise the quality and beauty….Once you enter this House of God, you will be filledwith indispensable feelings of the presence of the Creator, a holy and appropriate place to thank, pray and to rejoice for everything that is fine in one's life….
During those difficult years, it was teamwork of clergy, laymen and experts, contribution by way of donations in cash or in kind and labor… A witness for religious tolerance, and the generosity of the people of Barkur….At this juncture, we are duty bound to remember all greatmen and women, who sacrificed and toiled in different measures to leave this legacy behind….for all of us to adore, and bow down our heads with respects….We pray for these noble souls to rest in heavenly grace…..!
Kindly note the following list of Patrons, Benefactors / Donors who were just a small part of the long list of unsung heroes….Also its necessary to keep in our minds that, in the same location, there was a Chapel, since 1854 the same was upgraded to be a parish on 29th April, 1861, with a resident priest Rev. Fr. Cosmos Rebello, and served and nurtured by various priests and that continued till 1923, that is about 60 long years….Unfortunately, we were not able to trace or locate the authentic list of donors of the time, in way back in 1854.
The FOUNDERS of the Barkur Church.
HE Rt. Rev. Paul Perini – The Bishop of the Diocese of Mangalore
Rev. Fr. Denis J D'Souza – Vicar of the time
Rev. Fr. William Picardo, S.J. (First ordained Priest from Barkur)
Denis Picardo - Pandeshwar
St. Peters Association, Barkur - Mumbai
Juze Mingel Anthony D'Souza ( Donor of High Altar)
Monthi Mary Picardo
Eugene James Fernandes.
Nicholas, Ruzar and Kashmir Picardo ( in memory of their father)
First Class Benefactors
Rev. Fr. SBC D'Souza
Rev. Fr. S. D'Souza
Rev. Fr. A. Cornelio
Rev. Fr. Francis D'Souza – Former Vicar Barkur
Clement Fernandes
Paul B.  Lewis
Didwac Lobo
Juze Mingel D'Souza
Cosmos Mingel Lewis
Monthu Marian Sequeira
Francis Mendonca
Louis Buthello
AJ Fernandes
Anthony J. Fernandes S/O Leo Fernandes
Catharine Mary Fernandes
Salvador D'Souza – Bombay
Piad Mathias – Kodialbail
Phulkeria Fernandes
Lawrence D'Almeida
Francis, Laurent, Anselm & Lazarus Sequeira
Maurice Picardo – Ruzai
George Sequeira – Hosala
Sebastian D'Souza Hosal
Angeline D'Silva – Kachhur
Raymond Ignatius Sequeira – Kachhur
Maxim Sequeira
II Class Benefactors
Francis Augustine Rebello
Peter D'Souza - Udupi
Gaspar D'Mello – Bombay
Salvador D'Lima – Nagermutt
Santhan D'Lima – Nagermutt
Didwac Sequeira – Kachhur(Administrator of the Church of the time)
Gregory Mendonca – Kachhur
Simon D'Almeida Kachhur
B. Mahabaleshwar Shetty, Mabukala Tile Factory
Abdon Sequeira – Hosala
Jerome D'Silva
Ignatius Roche
Isaac Roche
Basil Furtado
Joachim D'Almeida..
Zacharias Lobo
Lawrence Pinto
Augustine Louis Sequeira – Hosala
Salvador Montheiro – Hosala
Rozario D'Almeida – Kachhur
Jacob Fernandes – Kachhur
Domingo Suaris – Kachhur
Anthony D'Almeida – Kachhur
John Francis Fernandes Kachhur
Jacob, Paul, Peter D'Lima S/O Lawrence D'Lima
Jethruz D'Souza - Kachhur
Salvador D'Silva
Benedict Mendonca - Kudru
Francis Crasta - Hosala
Baptist Picardo – Malpe
Celestine D'Souza
H. Ramanna Shetty
Nicholas Andrade – Nagermutt
William Menezes – Kudru – Bombay
D'Almeida Family
Telis Suaris Kachhur
Benefactors Electrical
Nicholas Picardo – Kudru
Balthazar D'Souza – Kudru
Julian D'Souza
Xavier Lobo – Hosala
Evezef Furtado – Hosala
Baptist D'Souza – Nagermutt
Gaspar Furtado – Nagermutt
Joseph Kashmir D'Lima – Nagermutt
Gregory Mendonca – Kachhur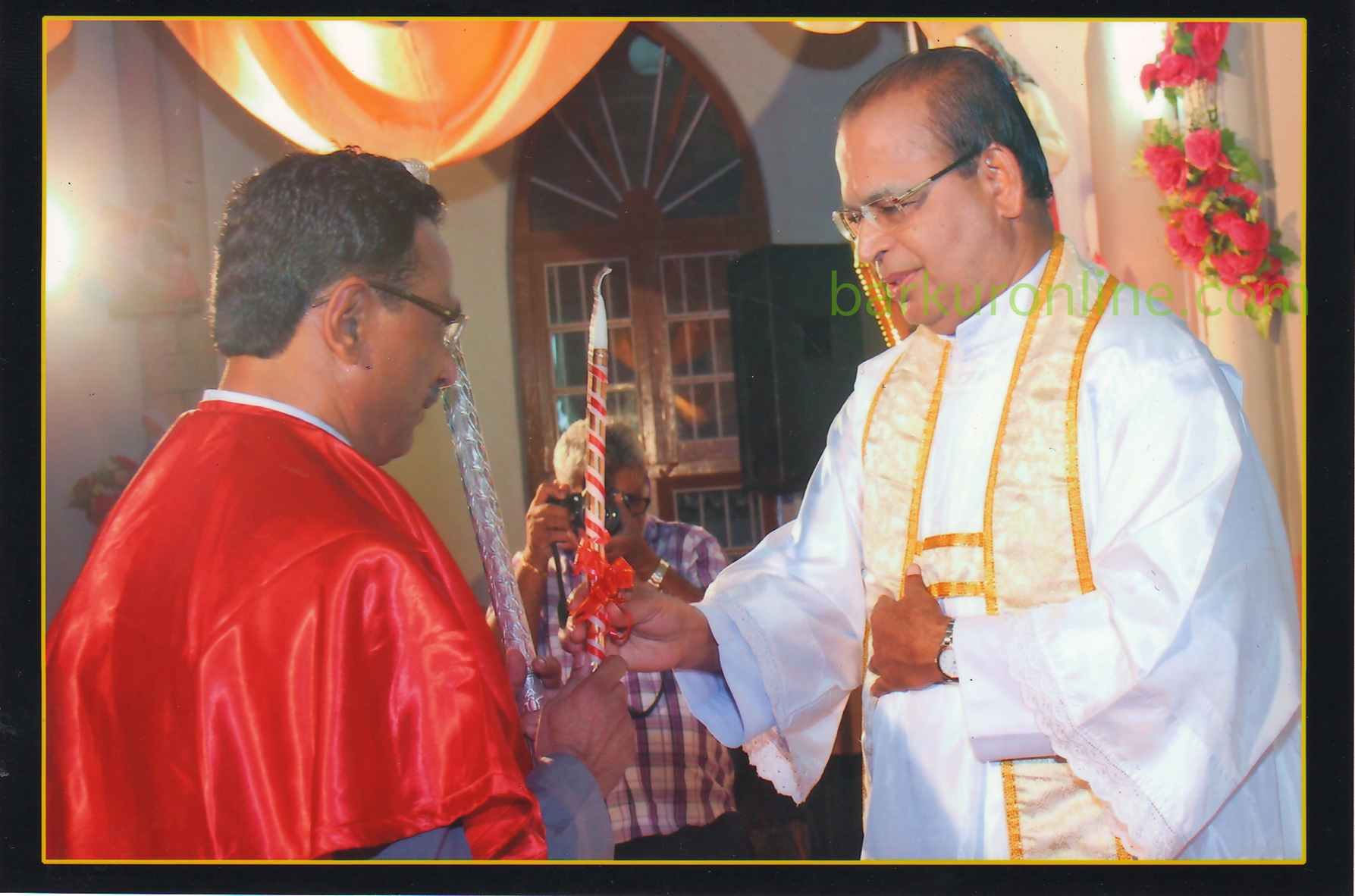 Every year during the Annual parish feast day, in December, the Vicar of the time, honor these Founders with gratitude's, symbolically presenting a Candle to them or their descendants….Most of them, rather all of them now in heavenly abode, and many of them migrated to other places and made great progress and marked their presence felt wherever they are……however we know it for sure, few of them not aware of this meaningful ceremony or ritual, preceding the Grand Mass of the Parish Feast….!
Barkur-on-line pages in these days have more than a thousand visitors every day, …and the big chunk of it residing away from Barkur, trust this fond remembrance or refreshing your memories of your ancestors,their goodwill and sacrifices willwe hope, rightly a proud moment to cherish…..…..
On behalf of Team Barkur-on-line & ICYM Barkur Ex-Members Association,
P. Archibald Furtado, 26th November, 2019.