The Open Air Stage of Barkur Church
The Open Air Stage of Barkur Church
14th May, 1978 was a red letter day in the history of Barkur Church, as on this day, the much needed open air stage was declared open for public use, in the blessed hands of then Bishop of Mangalore Rt. Rev. Dr. Basil S.D'Souza. It was the dream project of both Vicar Rev. Fr. Joseph D'Souza & Rev. Fr. Henry D'Souza, then Assistant Priest of our Church.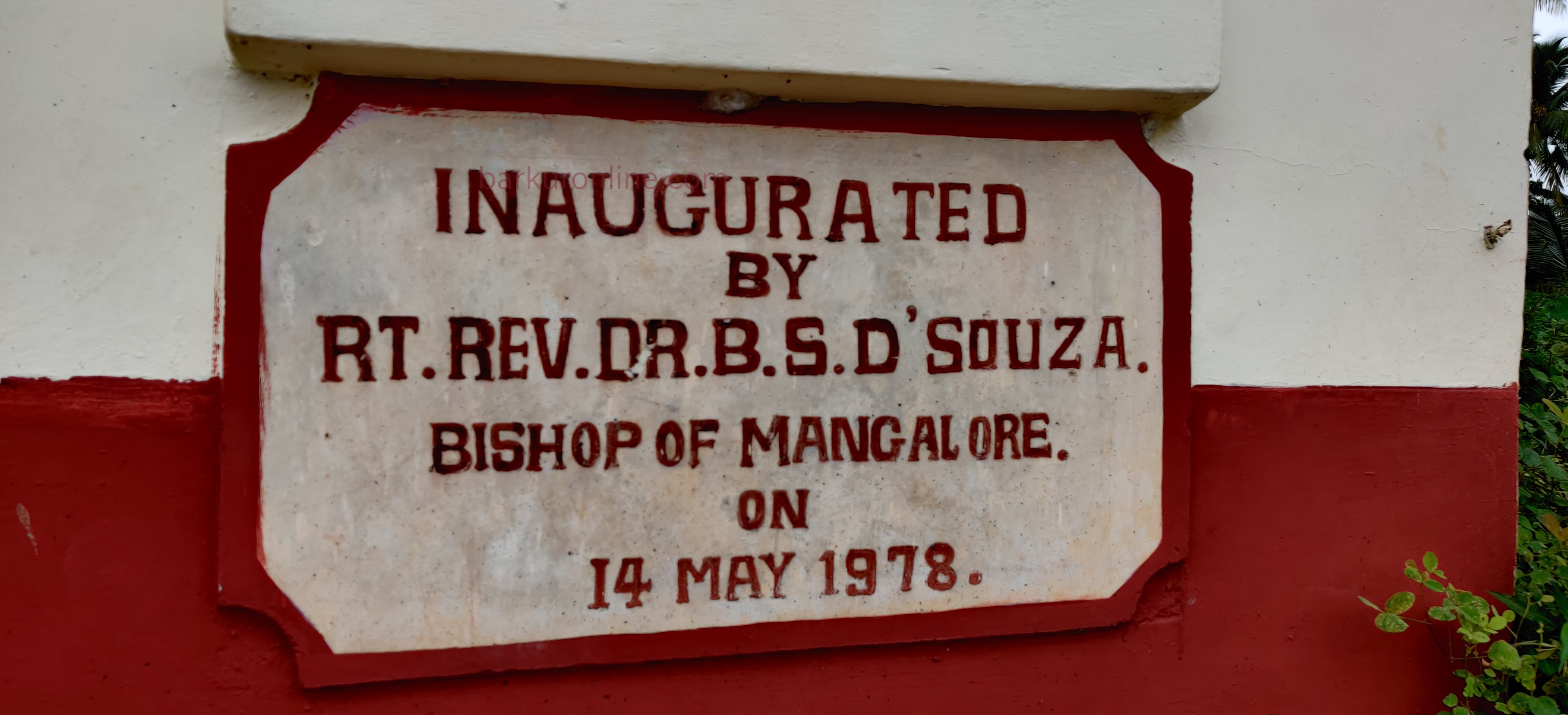 For years together, the Barkur parish was well known for organizing drama, cultural events, School days etc. and all these were held on a 'make shift temporary pendal' made out of coconut palm mats / leaves, bamboo tree, hired curtains etc. One can understand the labour involved to make it, inconvenience and insecurity of such temporary set up, especially during night events. It's impossible to imagine such arrangements in these days, as the rain is un-certain, thank God in earlier times everything was predetermined event, in  a particular time in the year – may it be the arrival of Monsoon rain, winter and Summer…. within reasonable tolerance….either a weeks early or late. There were days of continuous rain for days / weeks together, but people prepared for it, even in harmony with frequent floods. All external entertainments, family and social celebrations were to start from November and finish by May every year. 
Hardships to organize public events and a genuine need for an Open Air Stage in the heart of the town: 
Till the inception of CYM Barkur, in 1976, 'St. Peters Association' was organizing most of the public events pertaining to Church…. and Maryknoll Primary School occasionally their School day and more regularly the Maryknoll (Girl's) High School. There were fund raising dramas and other annual events by other platforms of the time, such as Yuvaka Mandala, Mahila Samaja etc. in the Church Compound. All were facing the same problems. It so happened, 'National Junior College' was fortunate to have an Open Stage donated by 'Old Students Association' as a Memorial of its Silver Jubilee Celebrations in the year 1972 and this was the first permanent public stage in Barkur. It had its own demerits of distant location from the town. All were aspiring to have something in the then heart of the town and this need was realized by our then Parish Priest, popularly known as 'Aab padryab Rev. Fr. Joseph D'Souza'. First he removed Mango and other trees and leveled the land and planted Coconut trees, to ensure some parallel income to the church treasury. While doing so, he carefully made provisions for space to have a public stage, the location where most of the public functions were held. Fr. Mark D'Sa was his first Assistant for a short period, followed by Rev. Fr. Stany  Tauro for three wonderful years, 1973 -76 and the period marked with lot of activities at and around the Church premises…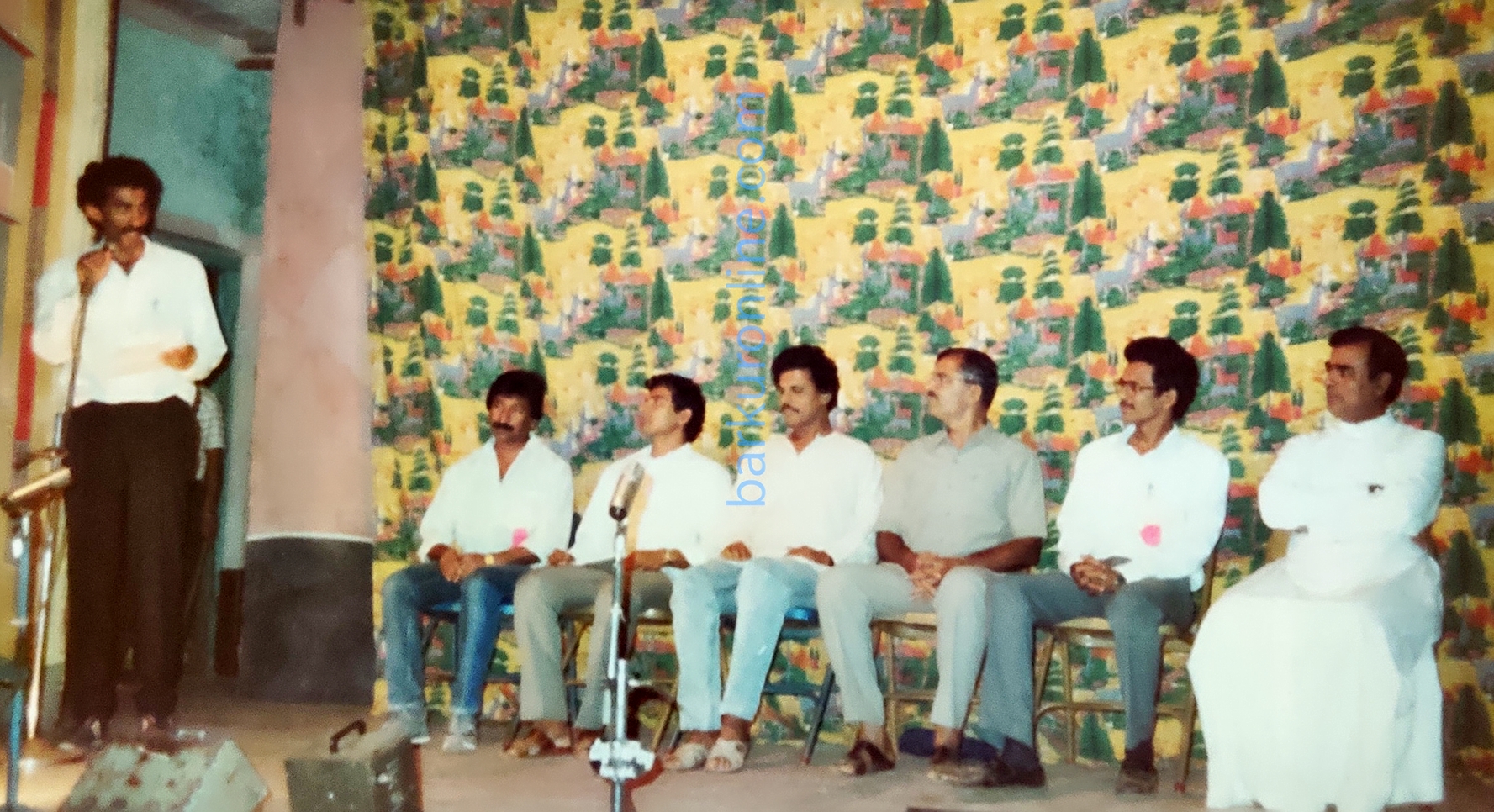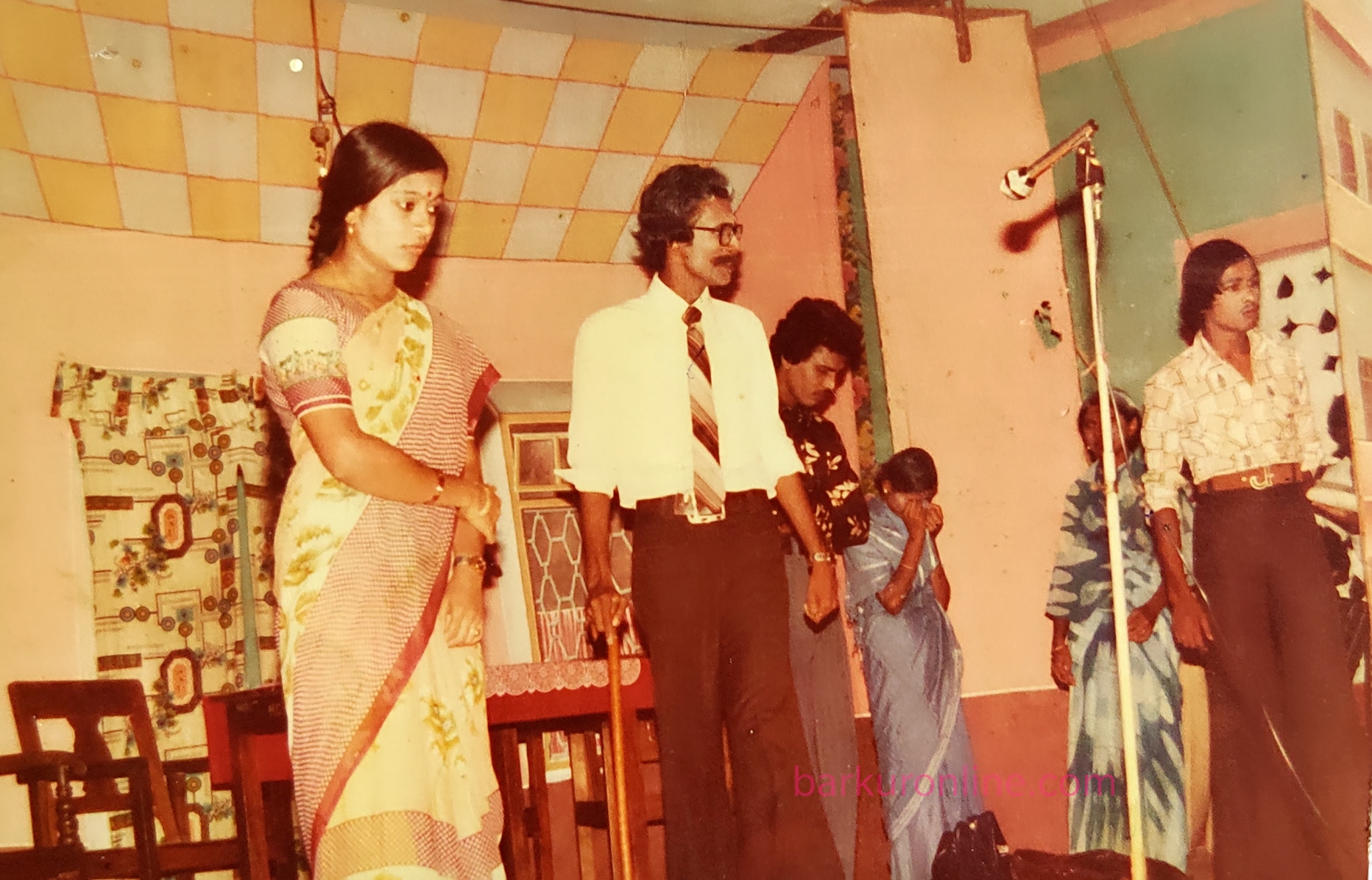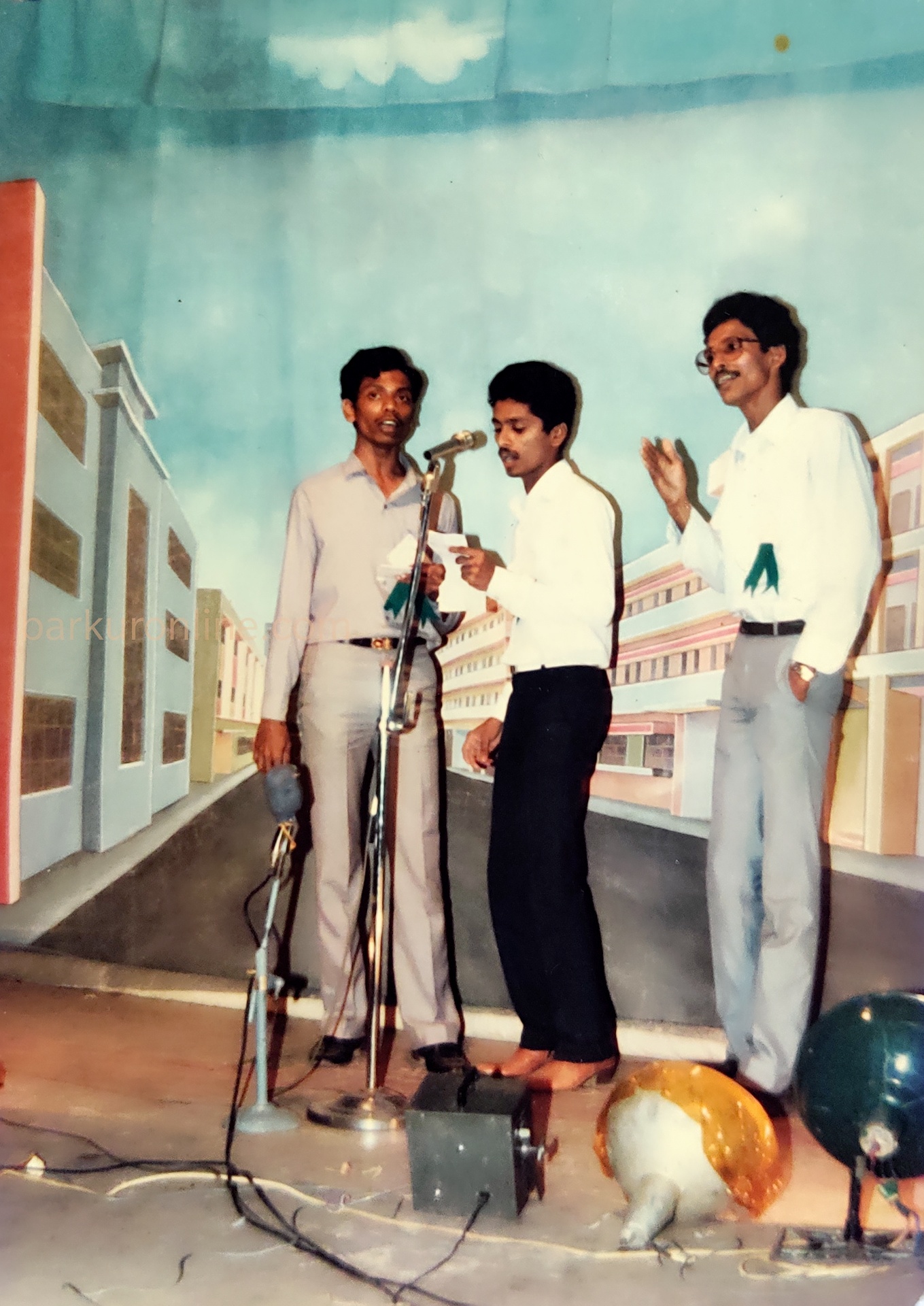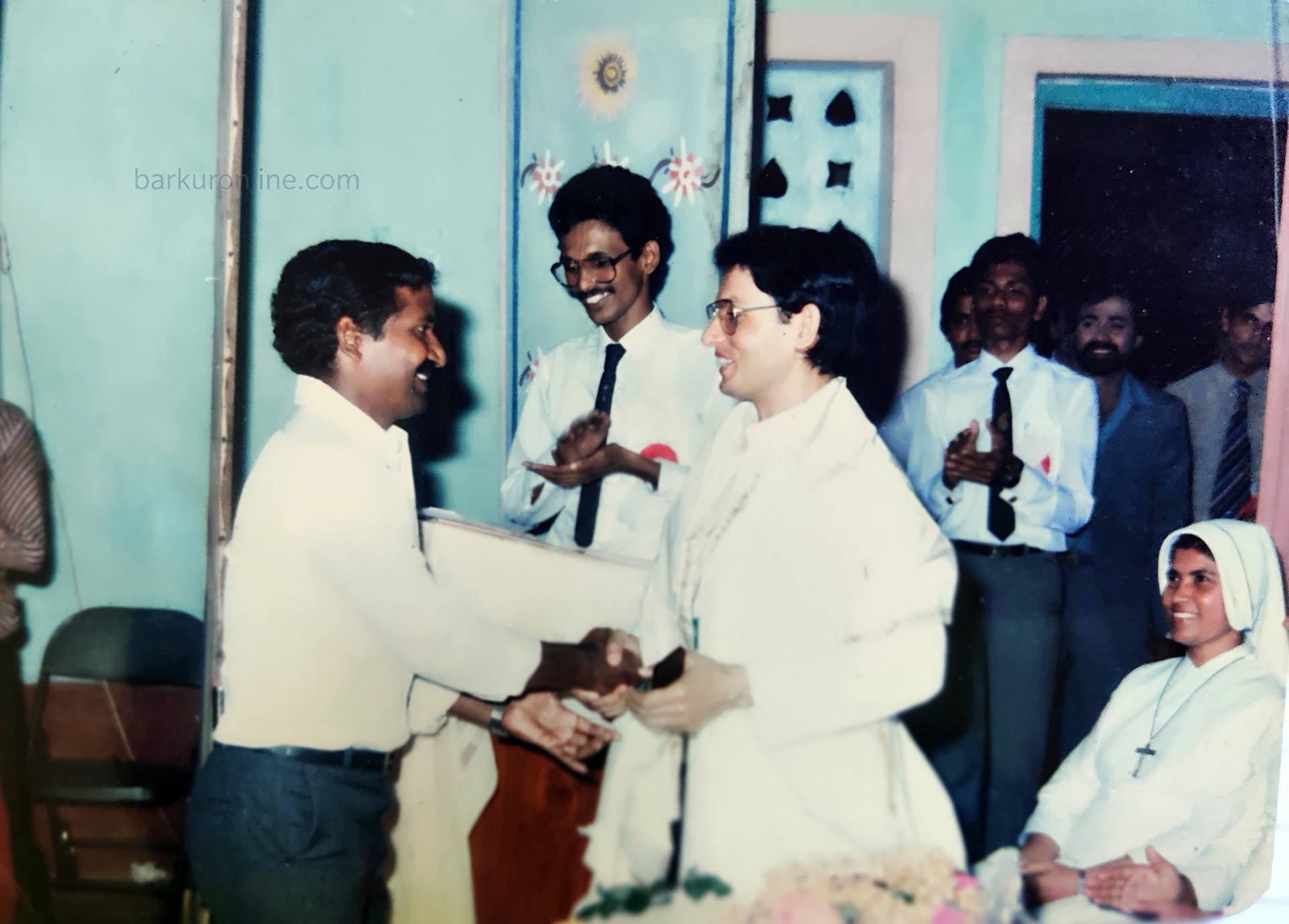 Arrival Rev. Fr. Henry D'Souza to Barkur in May 1976 & the Birth of CYM Sept 1976 and enhancement of the plan to construct new Open air Stage in Barkur:
To the best of my memory, I can recollect, proposal was making rounds during these years, 1972 - 75 and some funds also ear marked for this purpose. All these things got the required boost once Rev. Fr. Henry D'Souza arrived here to Barkur as Asst. Vicar, in May, 1976.
A courageous, straight forward, determined person injected the required energy into the aging hands of Aab Padryab and the Parish Council endorsed the plan to construct a modern stage in the year 1976. This year also gone into the record books as the 'Foundation year of CYM of Barkur on 10th September, 1976.'
Fr. Henry D'Souza was in forefront to motivate, mobilize and collect the required funds for this major Project of the time. As aware state of Emergency was in force in the country and a massive changeover in Political and economic scene in India, there was strict rules and regulations, however, its Gods plan and the work was carried on very smoothly. The generous parishioners locally and those working in cities and abroad contributed generously and within a record time the stage was getting ready for opening……
It's not only building, got ready but also basic needs of the stage such as Curtains, side screens, provision for green room and a make-up corridor. To facilitate ticket shows, huge tents were ordered. All new red colours, centre opening screen was the special attraction in those days… with other screens like the one nicely painted house, road and the multipurpose garden screens etc. In fact this one time investment saved lot of money, otherwise spent on frequently hiring them…..
Blessing and inauguration of the newly built stage:
Grand preparations were in place. Among others, the enthusiastic CYM youngsters with few elderly artists gearing up to stage a social drama written by veteran Konkani Dramatist Jo.Sa. Alvares titled 'Chedo Ek Chedvan Sadesaath', the inaugural play on new stage, ably directed by Fr. Henry. None other than the Bishop of Mangalore was the Chief Guest for the programme, who delivered a historic speech after Blessing of the new stage. I still remember, he had lavish praise for the Parishioners, the donors and the Barkurian youth, who worked tirelessly under young and energetic Director Fr. Henry and he continued 'in the event of having required / sufficient space, a hall would have made ready……'
Though Bishop had a larger plan and bigger role awaiting for Fr. Henry……. he didn't declare it on that day, seeing the popularity, reverence and involvement of Fr. Henry in the church and in the hearts of Barkurians, probably which he only enjoys even this day, after reaching to the great heights of popularity, and authority as Bishop of the Diocese of Bellary…..!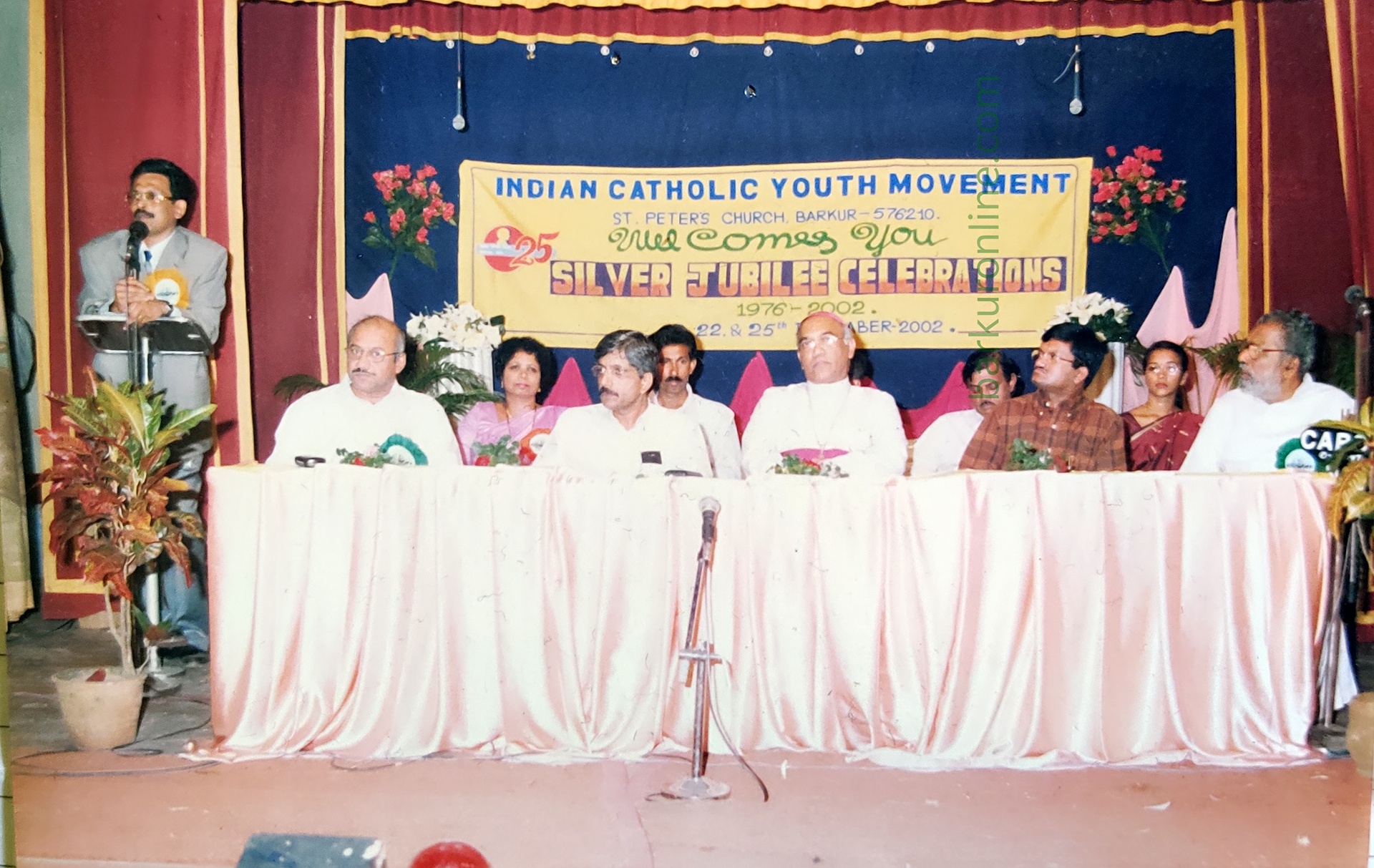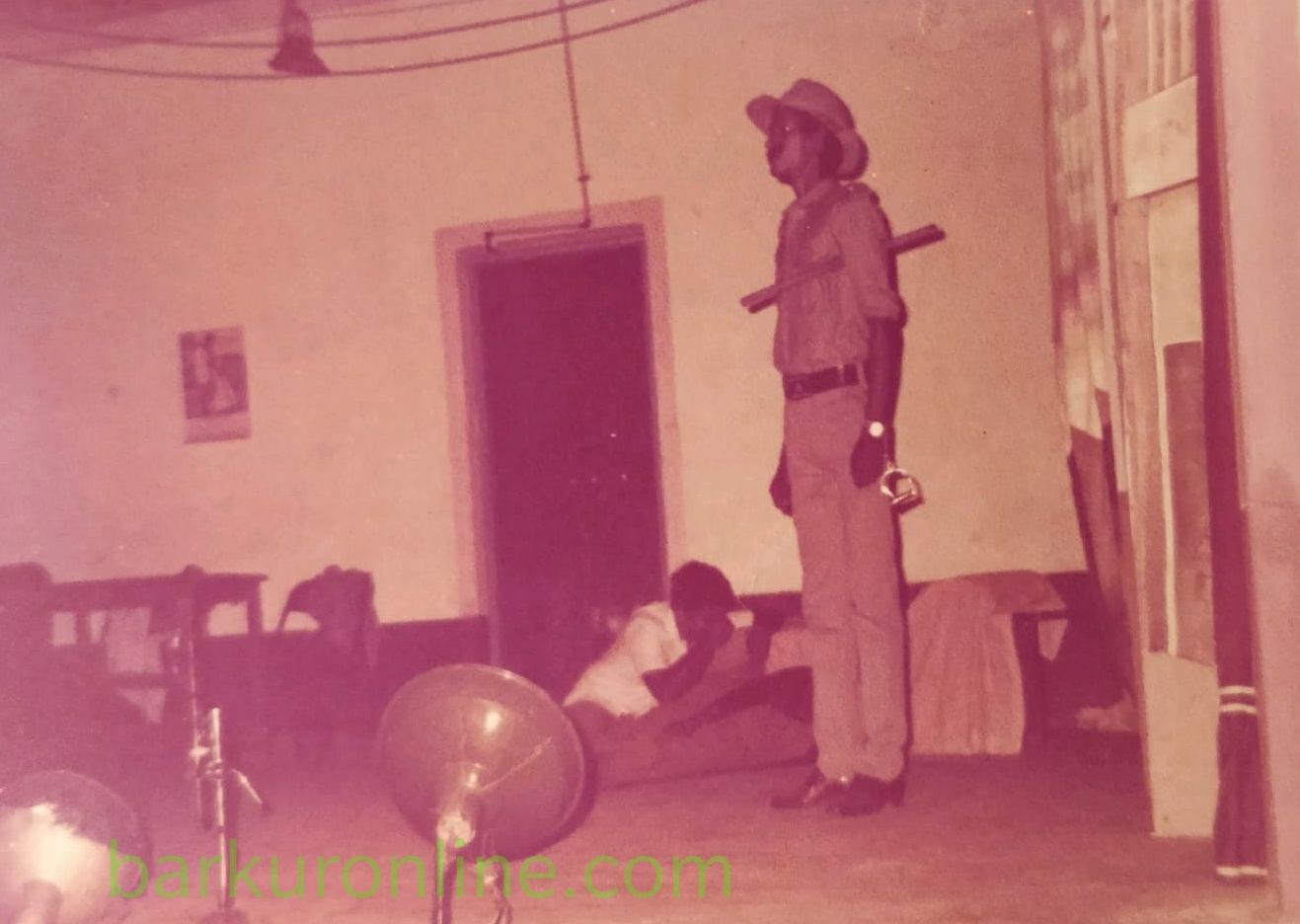 Rev. Fr. Patrick Rodrigues an innovative and creative personality to utilize the open air stage to the maximum:
Within a week the stage was inaugurated on 14th may, 1978, Fr. Henry received the transfer order with effect from 23.05.1978 as the Director of Centre for Christian Studies – Mangala Jyothi, Mangalore, of course a shocking news to all parishioners….! It is very interesting to note the concern of Fr. Henry for the continuance of infant CYM, and he was instrumental to hand-pick yet another great priest in, just ordained Fr. Patrick Rodrigues, who rightly replaced him and took the whole Church community to greater heights. He was an excellent speaker, writer, musician and an organizer par excellence, to herald an era of second phase of CYMs growth and its permanent establishment.
Rev. Fr. Patrick Rodrigues was the man who utilized the open stage to the maximum, as these years, especially 1978 – 81, recorded maximum number of events presented on this dais. Though the lion share rightly goes to the CYM, other organizations were not lagging behind, as the readymade platform encouraged everyone to come out and exhibit their talents. We must not be wrong to go into records to state, that the Church Stage become the centre of all cultural activities in Barkur during this time and something or the other was there in each month from October to May every year. 
Today there may be more than a dozen open stages in Barkur and few may not have even a single function to its credit in the whole year…..! However, this place, our stage, retained its glory with a minimum of three / four events in a calendar year.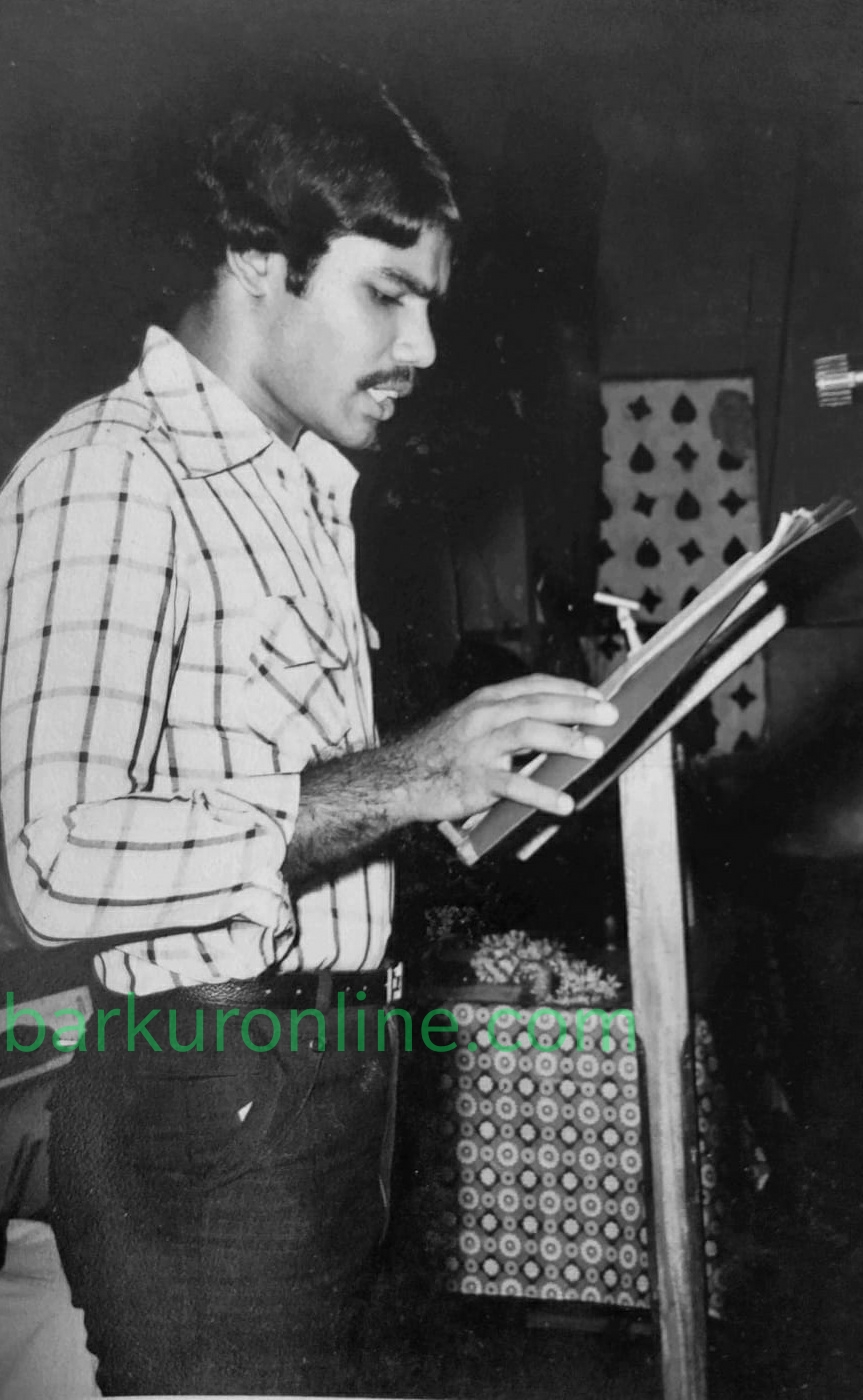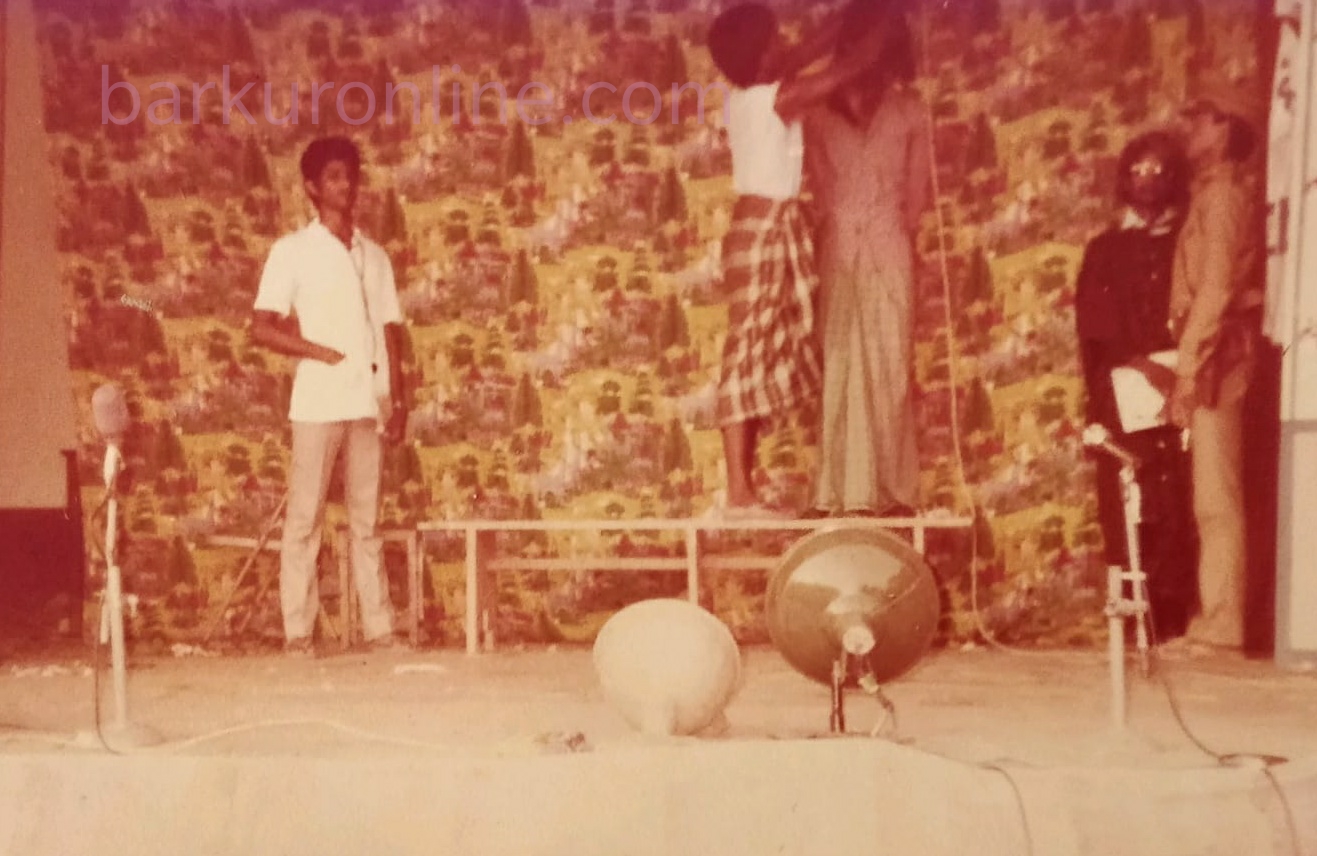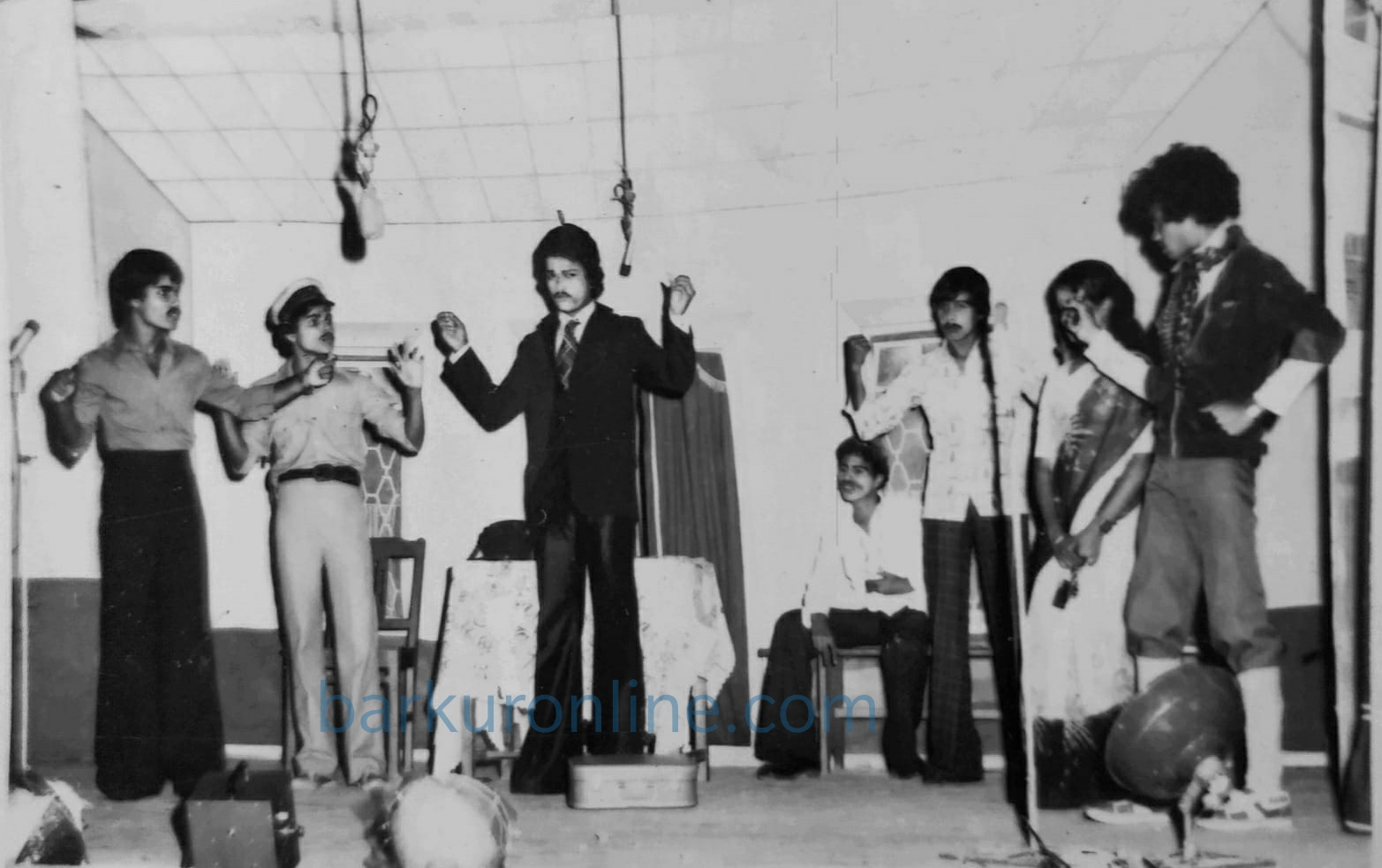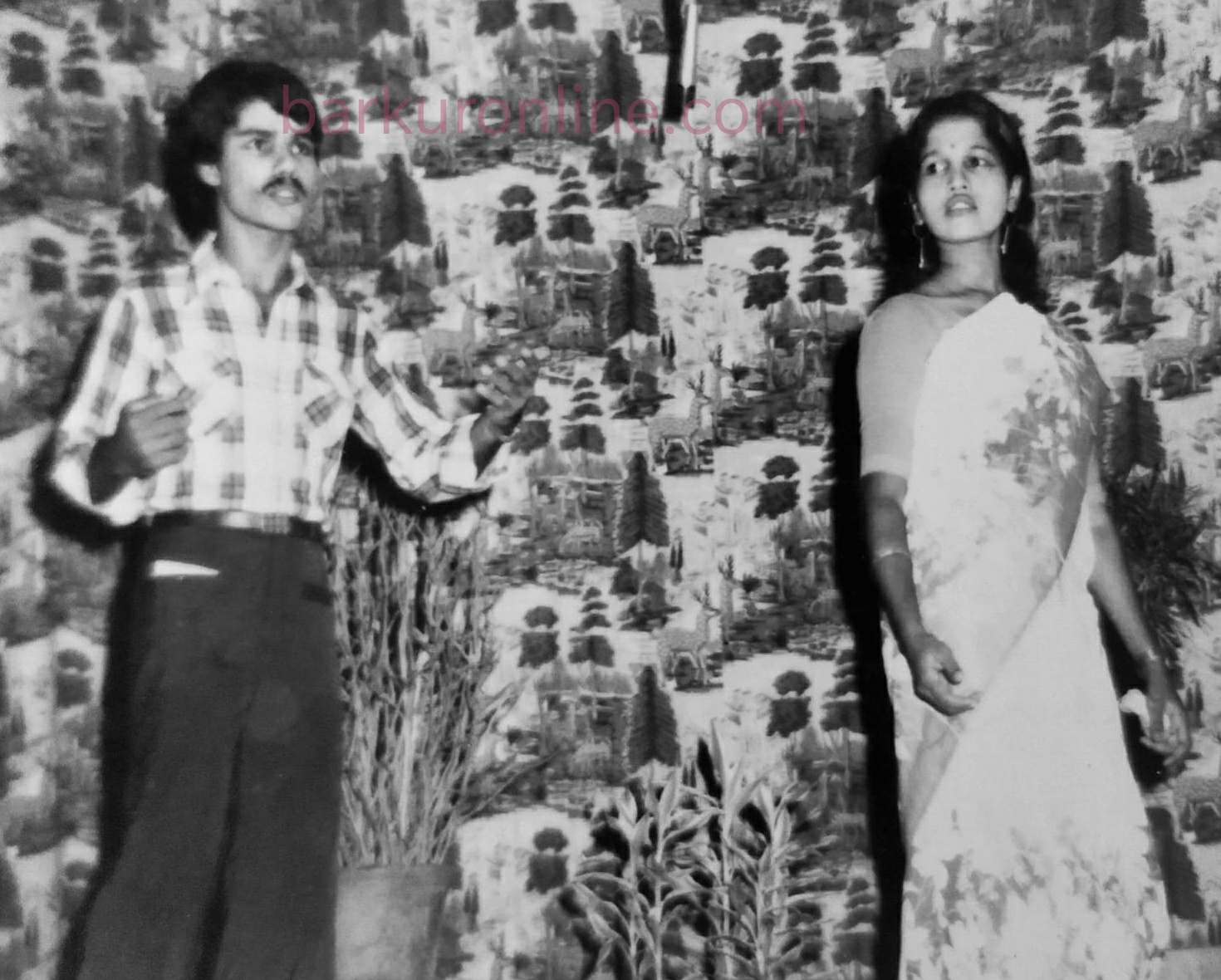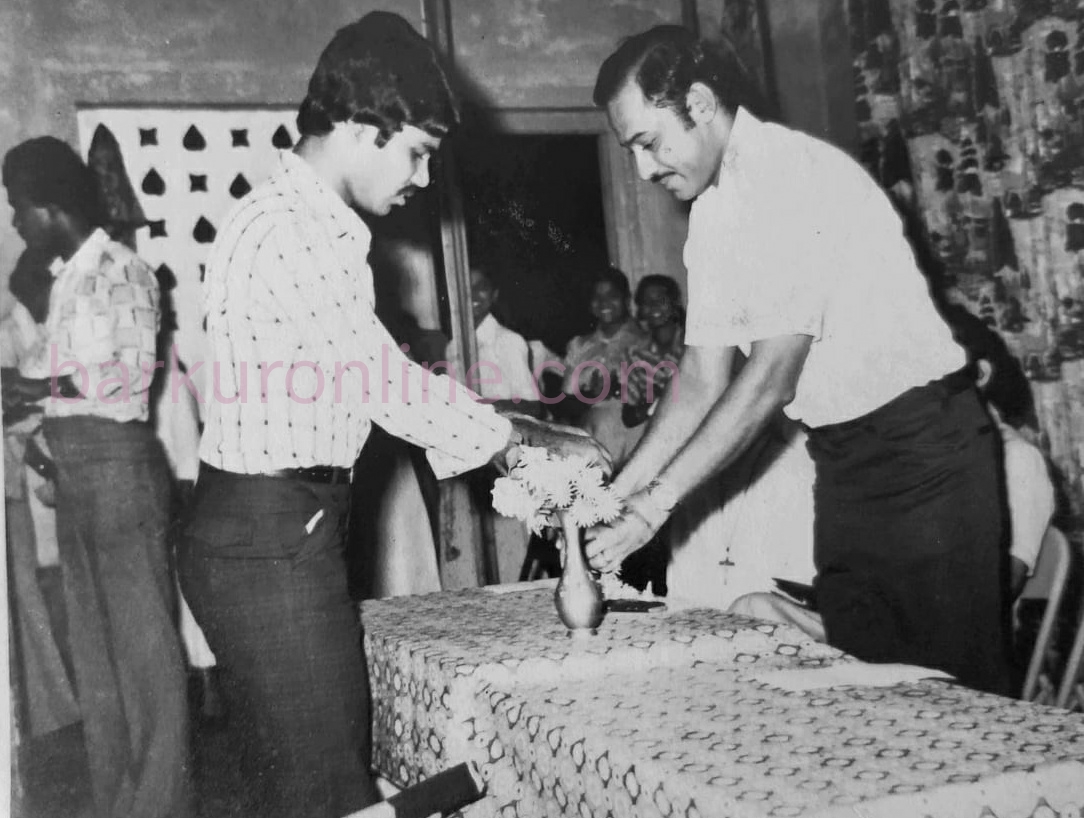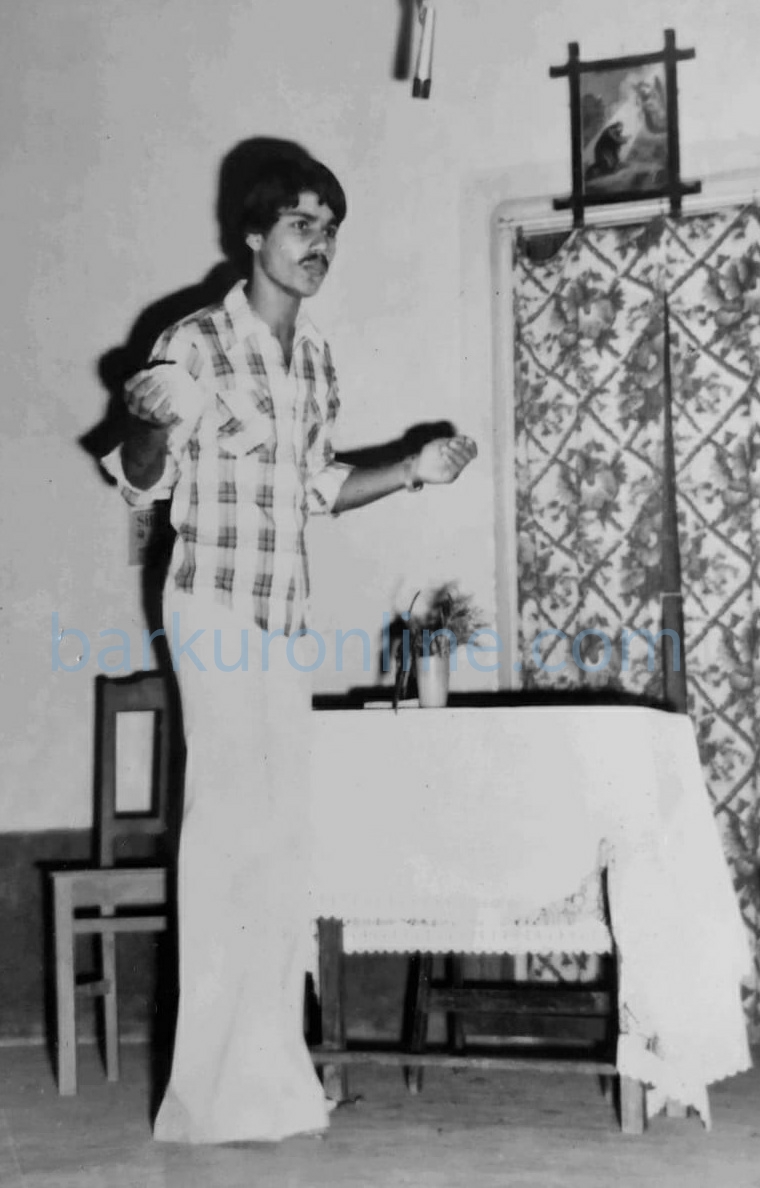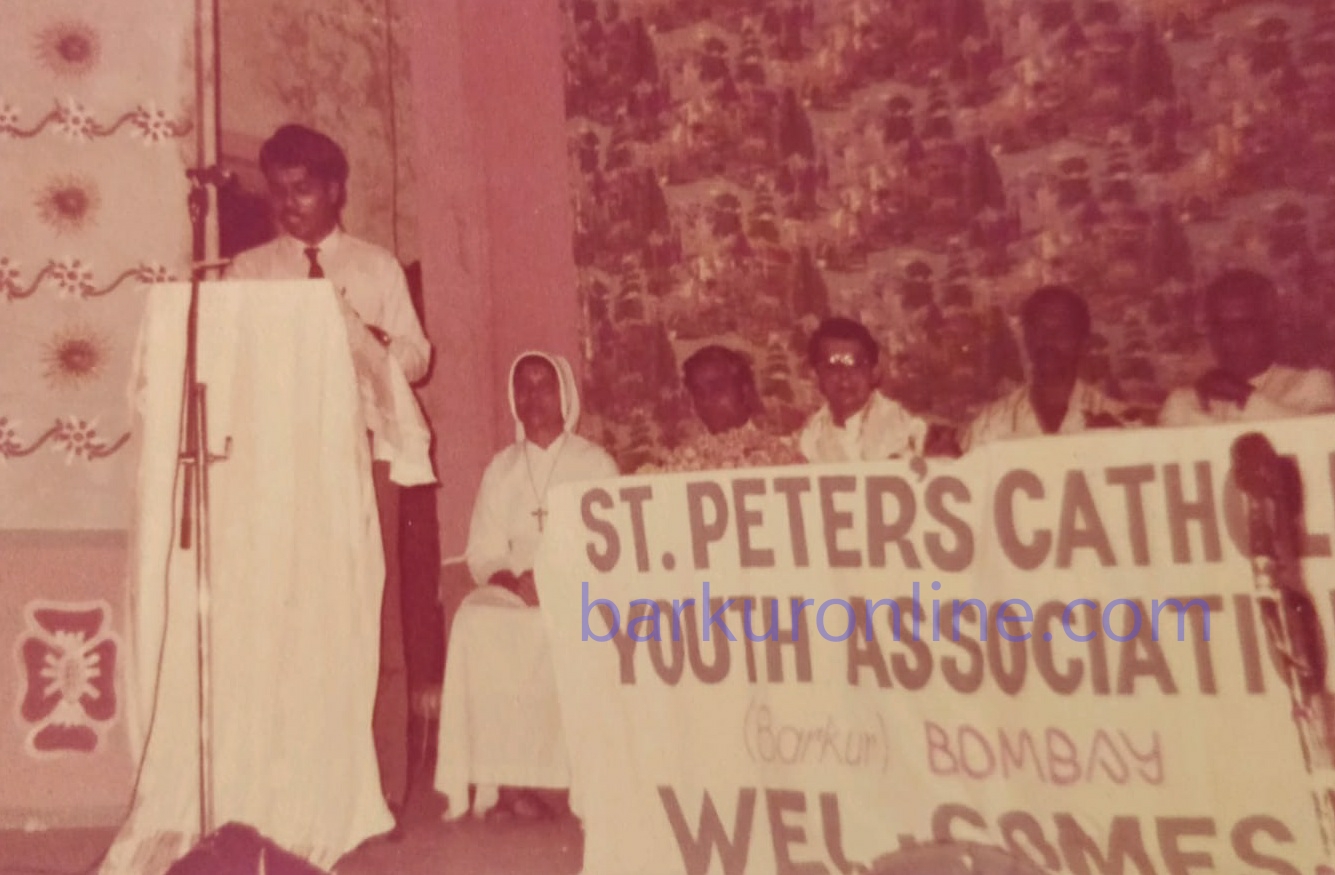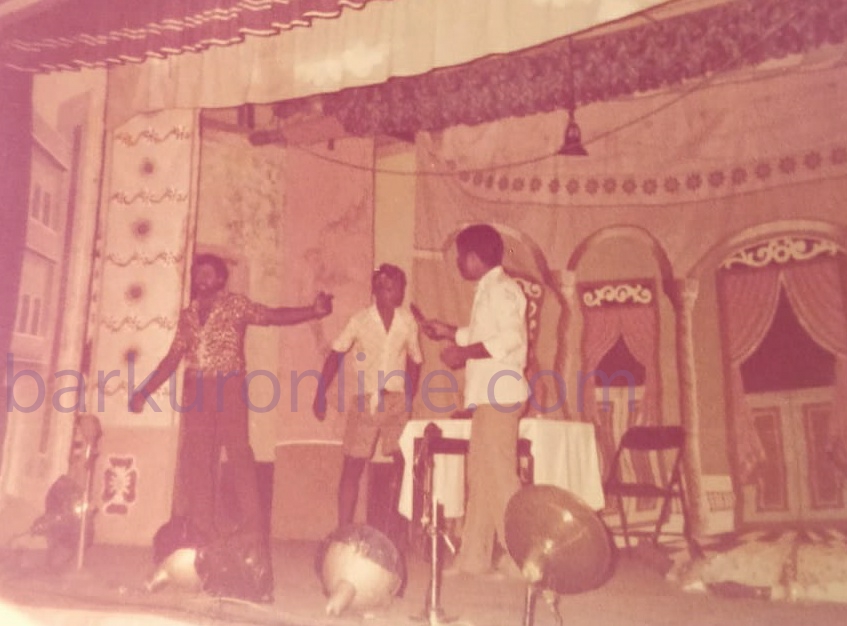 The emotional attachment of CYM Fraternity succeeded in retaining this open air stage till today:
The parish felt that there is a need of a church hall for various occasions and celebrations. The reason was, the locals have to depend on, Kallianpur or Udupi church halls. After some time they preferred to opt and even ready to cross the river Sita and to go Sastan Maitri hall which was convenient, economically viable and feasible to everyone. When one talks about the hall - it means also the nuptials wedding receptions and other spiritual activities like jubilee and family occasions of the individual and the family. Hence there was a moment, the stage floated into a rough weather, as it was a bone of contention whether to keep it or to demolish it, to make space for Church Hall.
The decision was made in a complex way that is - if the hall is to be constructed  where the stage is, there bound to be coconut trees felling has to be done. Secondly, the hall would require a lot of place and money. (Compared to nearby Churches our parish owns small piece of land). There was a problem of funds. Those days, we had generous people but their pockets were rather with less money. The third decision was, we shall debris the open stage to build the hall inside the church compound. However, this was a bone of contention, as the open stage was built with the sweat and the help and memory of CYM. It was by the sweat of the brow of those youth of those days under the direction of the then Director. A lot of correspondence from various parts of the world was viewed and read in different angles and finally the emotional pressure and difficulty in raising of funds did not give a green signal and the plan obviously was dropped by the then Parish Priest and the Parishioners.  (Of course all know the all-important role played by this website in building the public opinion at that crucial time….)
The sentimental move was so strong; it showed the passionate love and sincere efforts and dedication the open stage had it. Probably this stage has given many to come out of themselves of stage fear. For some, how to face the crowd, how to act and excavate the talents and for many it may be a place where the best place after their home to come and chat and relax. Undoubtedly, this stage has given a lot to the people of the place, like joy through various Christmas like gatherings, dances, and entertainment. It also gave a real life situation through the social happenings affecting the families and individuals through various dramas and speeches. It also cautioned many people to be smart and alert in their life as the stage has brought out ocean of thoughts by the great personalities - be it spiritual, educational or even from art and culture.
In any case the turmoil and the rough weather have brought about a calmness and coolness in the church atmosphere by not attempting to destroy it. Even after the thought of destroying and building a new hall, there were many great occasions the stage has welcomed and presented itself to the people which probably included the silver jubilee of the stage!!!!.
This is the very reason to have an 'ICYM Ex-Members Co-ordination committee' eventually paved way for the formation of 'ICYM Ex-Members Association in the year 2002', (of course purely based on active / passive principle…) again in the blessed hands of its founder Director Rev. Fr. Henry D'Souza, now Bishop of Bellary Diocese……!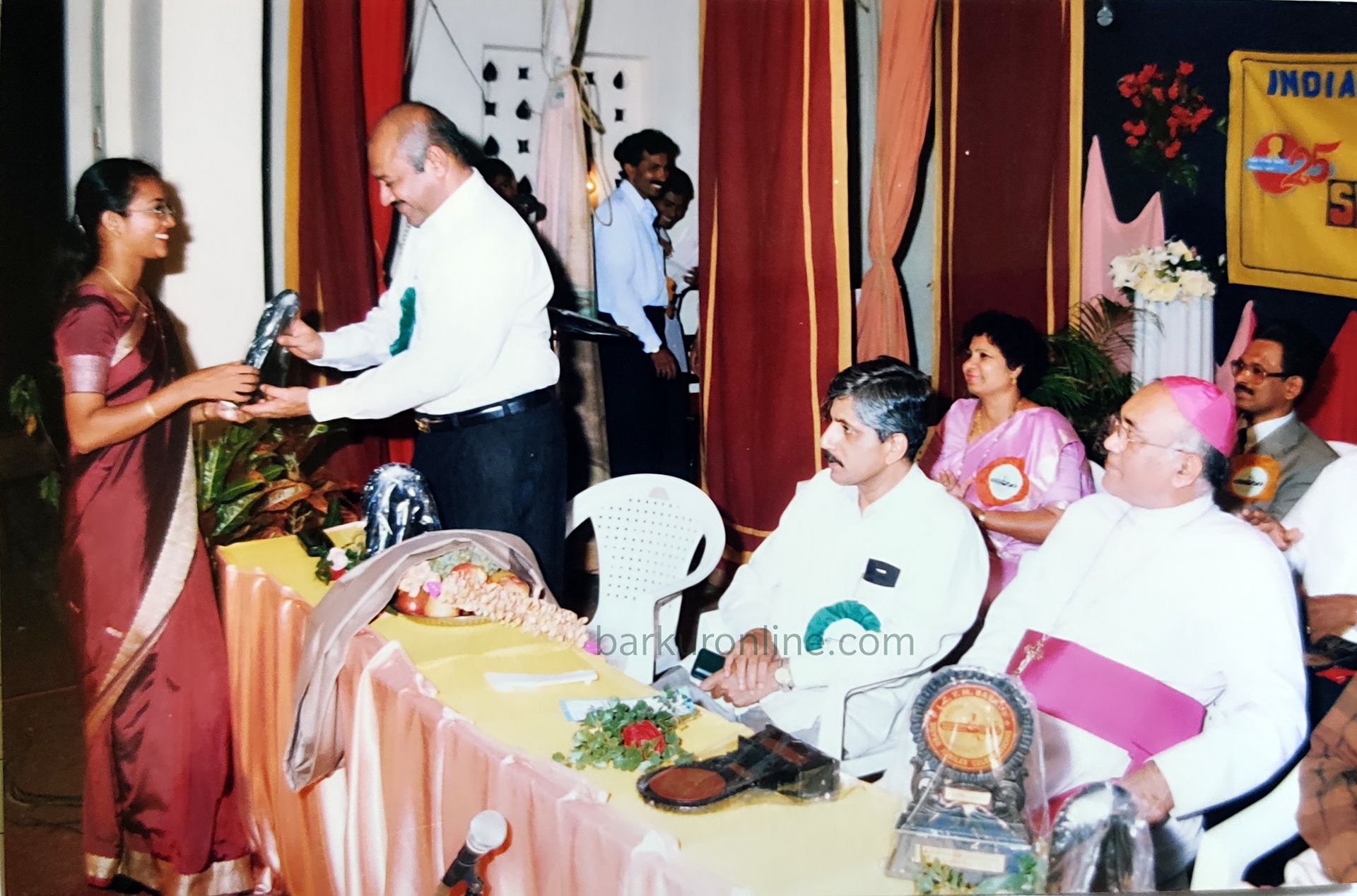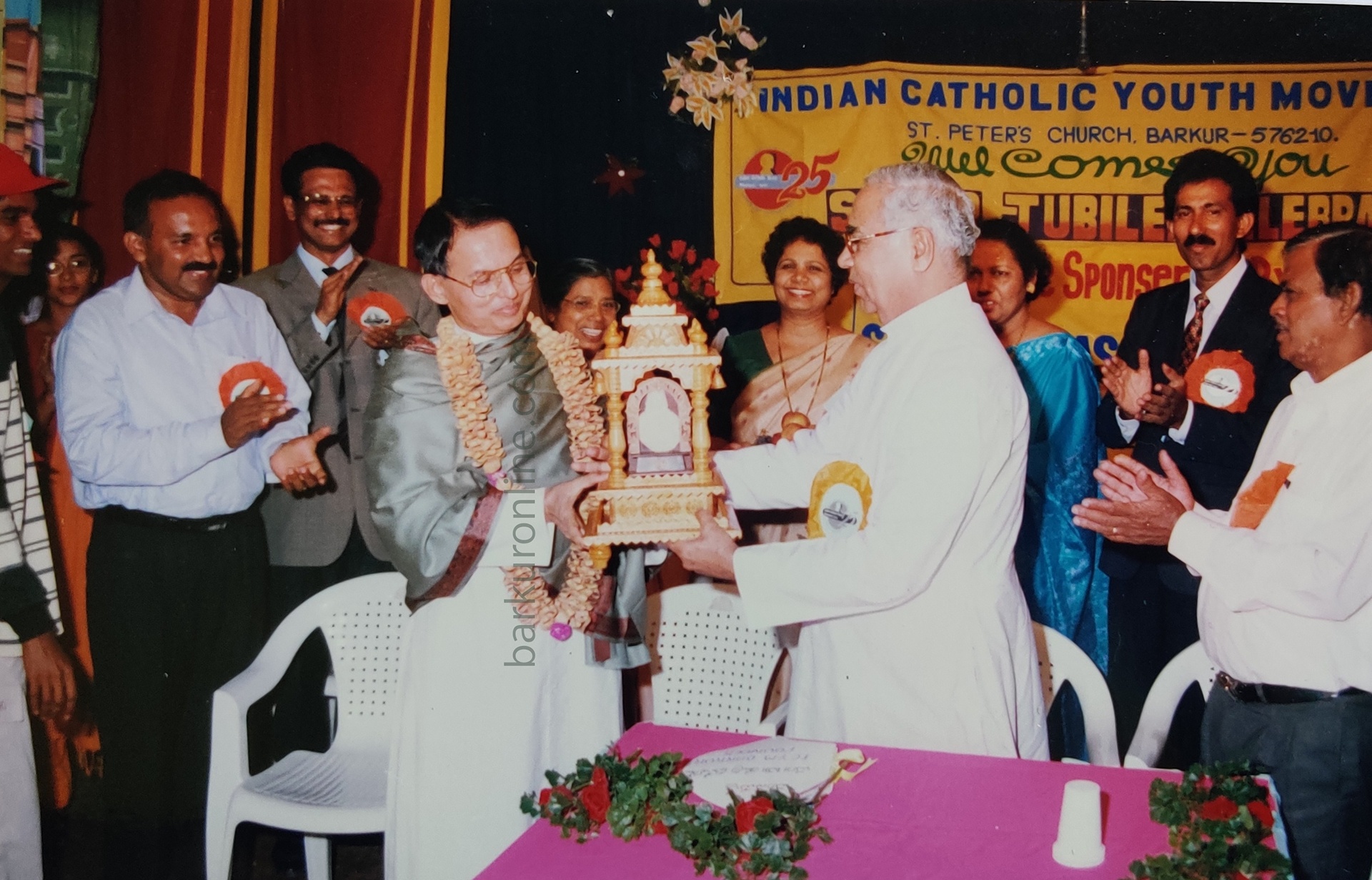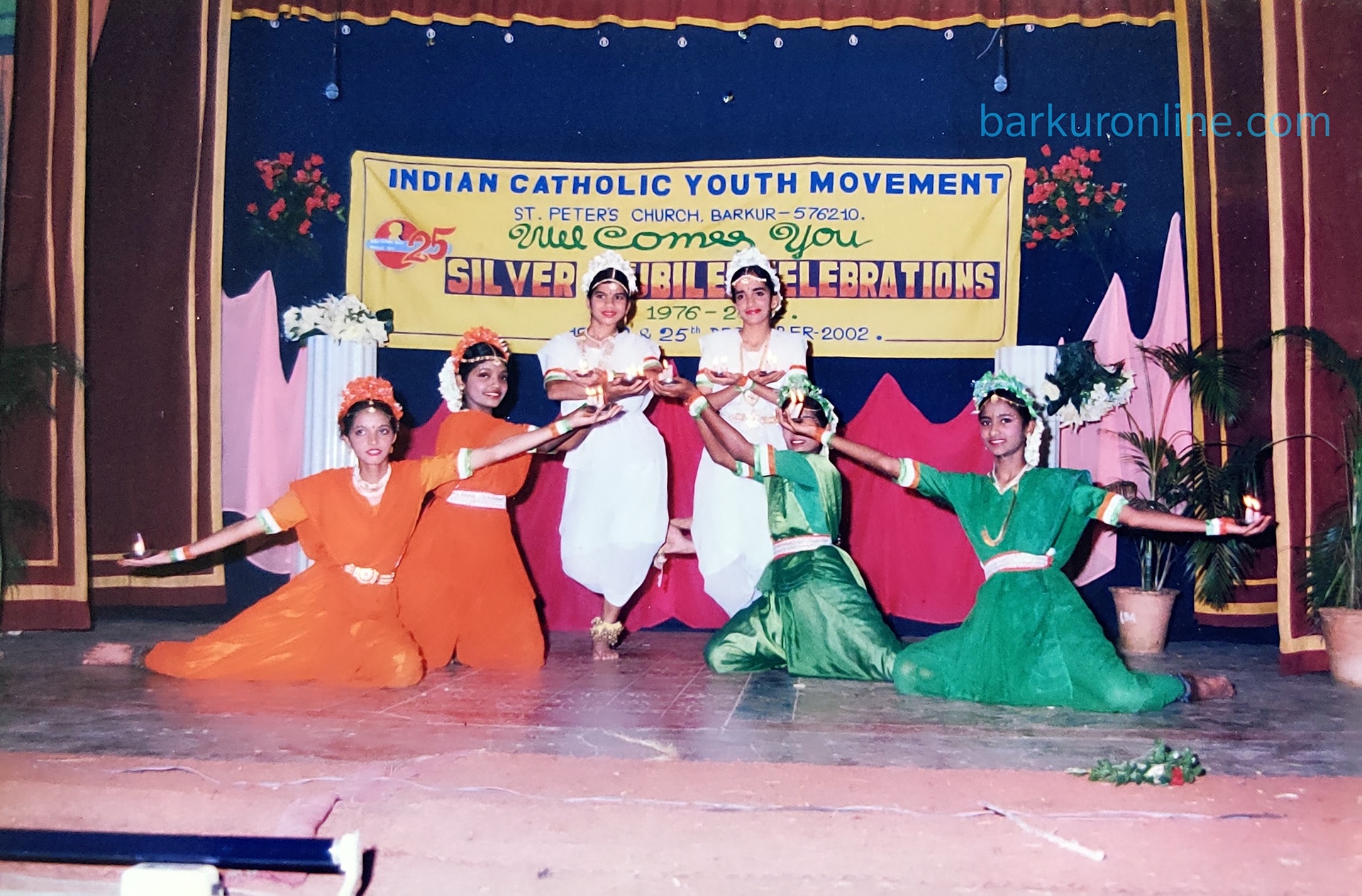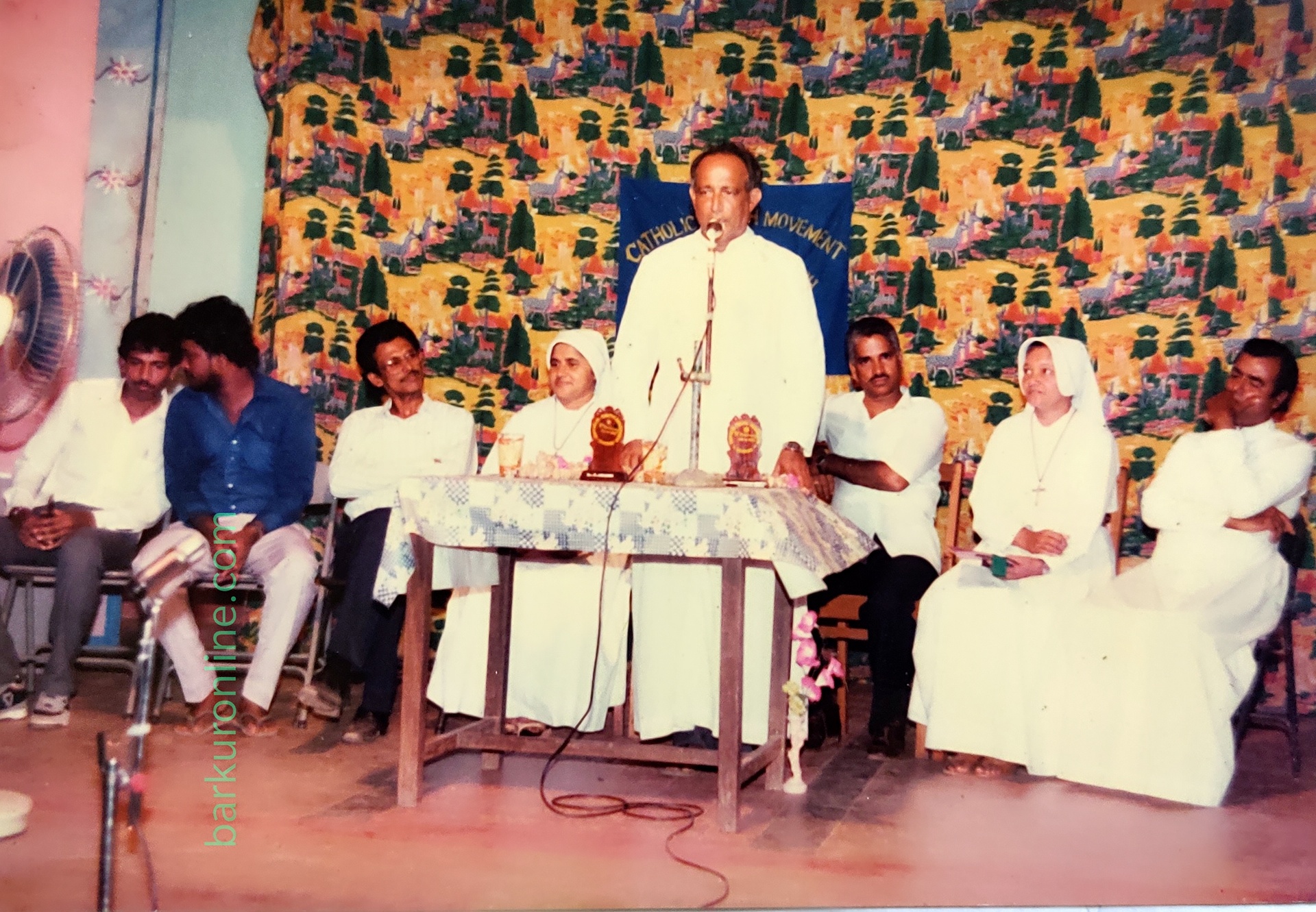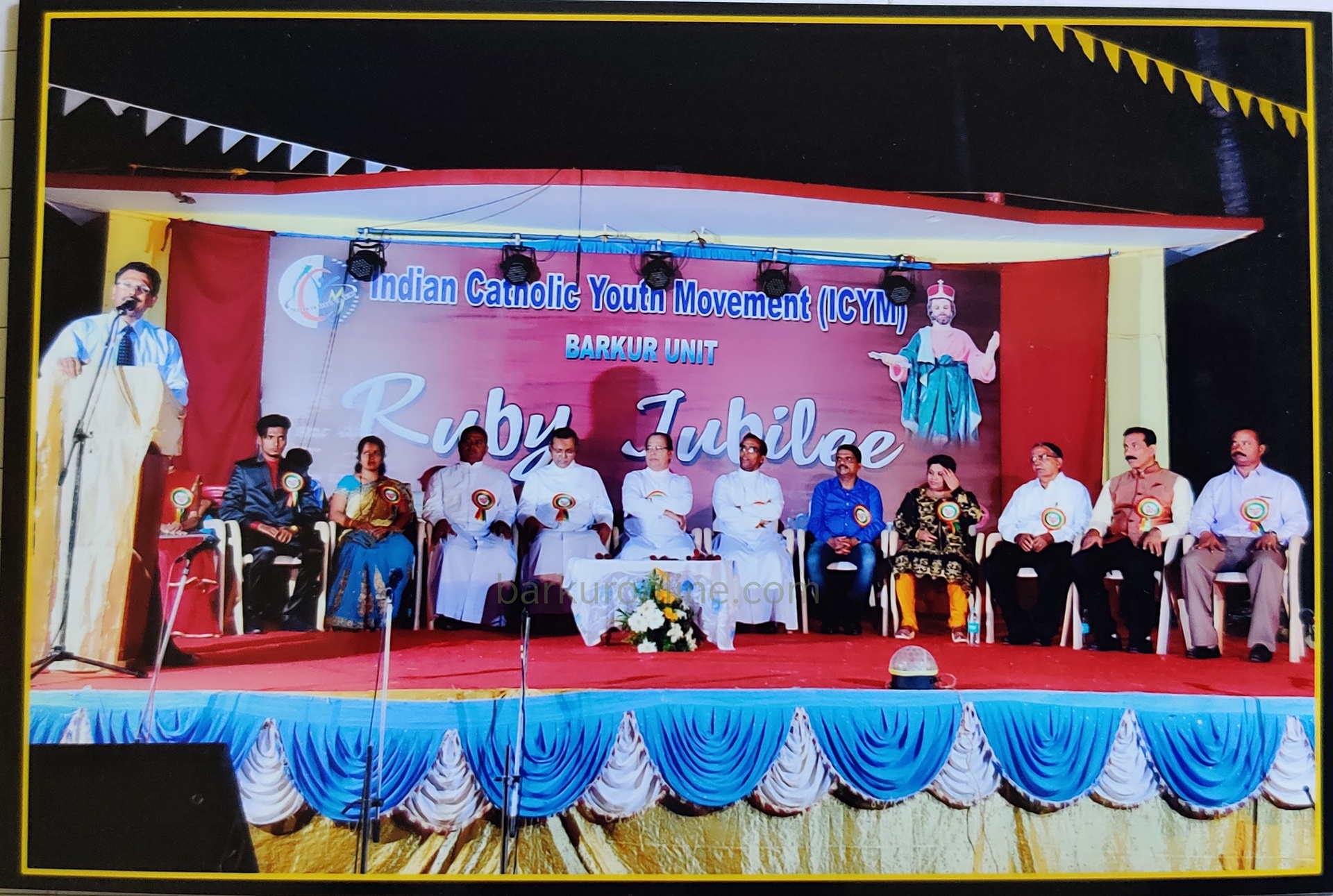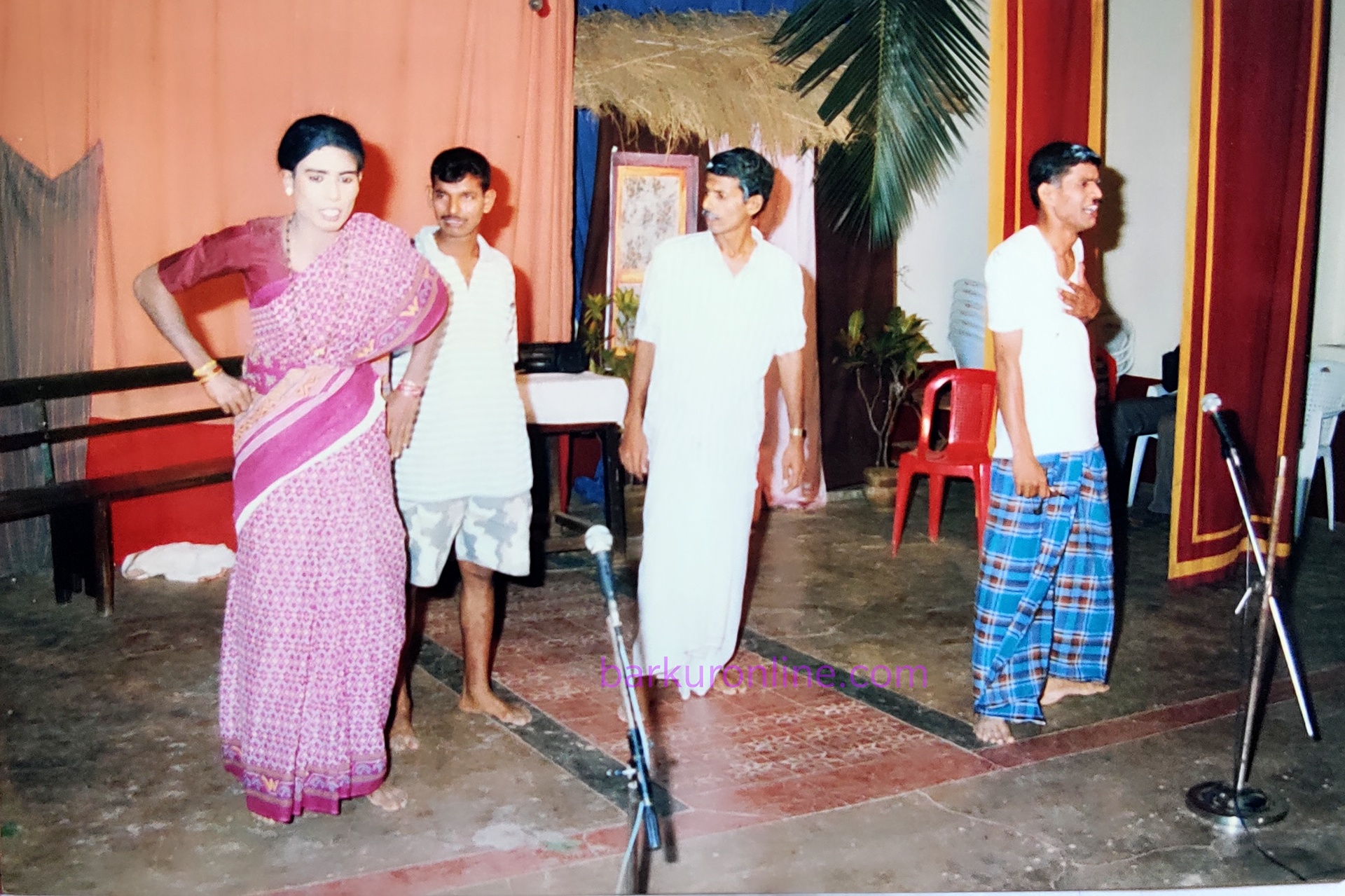 Center of socio-cultural activities for Four decades:
Last 41 plus, great years it has witnessed great artists performing here, legendary Konkan Kogul Wilfy Rebimbus, Kevin Misquit, Mand Sobhann team….There is no clue how many plays enacted here…? Surely a record number in Barkur. This podium provided microphone to great leaders, both political and social to speak….on different occasions……The CYM celebrated its, land mark events - 5th, 10th, 15th and Silver Jubilee on a grand scale and in 2016 had its Ruby Jubilee too….There is no count of children and youth who performed, danced, entertained us…! So many Institutions / Associations / organizations / Clubs and their members utilized this space to exhibit their talents – The Expressions,  Rotary, Lions, AYA, SPCYA, SPA, various Church pious groups etc. etc…… will remain indebted for these opportunities over the years, and the kind and highly tolerable Barkurian spectators who watched, patted and patronized us both as group and individuals……!
There held few weddings, Engagements, Months mind Mass, valedictory functions of various rallies, honors to achievers, space for meetings and discussions, farewell, Christmas and New Year celebrations, All religion conferences and various Get together….In a way this space is cosmopolitan and sacred… as it helped to give a reflection of our own identity and personality…..and a place to reinvent ourselves…The undersigned also a beneficiary, as I got n number of opportunities in life to speak, present reports, sing, dance, raised toast, perform in plays and what not…..there is no end to it…..! 
Yes that is why, I think, before the start of any performance all great artists respectfully bow, kneel down and kiss the stage ground…..What a kind gesture towards the small space, which catapulted them to the world of recognition….!!
We will remain grateful to:
We respectfully remember the Founder Rev. Fr. Joseph D'Souza who dreamed this and Rev. Fr. Henry D'Souza who executed it and most of the time it is / was CYM which maintained it. The donors who contributed in different ways in the beginning, various Vicars and their assistants put in their best effort to keep it 'ready for use' status, the Parish Council to guide and all responsible, and all who part of it, to keep it to be relevant, even today, after 41 great years of service.
Now our St Peter Church building getting renovated, and restored with all its glory, out of the half a dozen collateral structures around the church, the Mother Mary's Grotto, the artistic Belfry, new parochial house, the community Hall and this 'open air stage' are most important. Of course church is a 'house of prayer' and this stage an equally holy 'place for performance' and a window to external world, over the years….We are looking forward for Stags Golden Jubilee in 2028 and prior to that 'CYM 50 years in 2026…..!
On behalf of  Team barkuronline.com & ICYM Barkur Ex-Members Association,
P. Archibald Furtado, 25th October, 2019.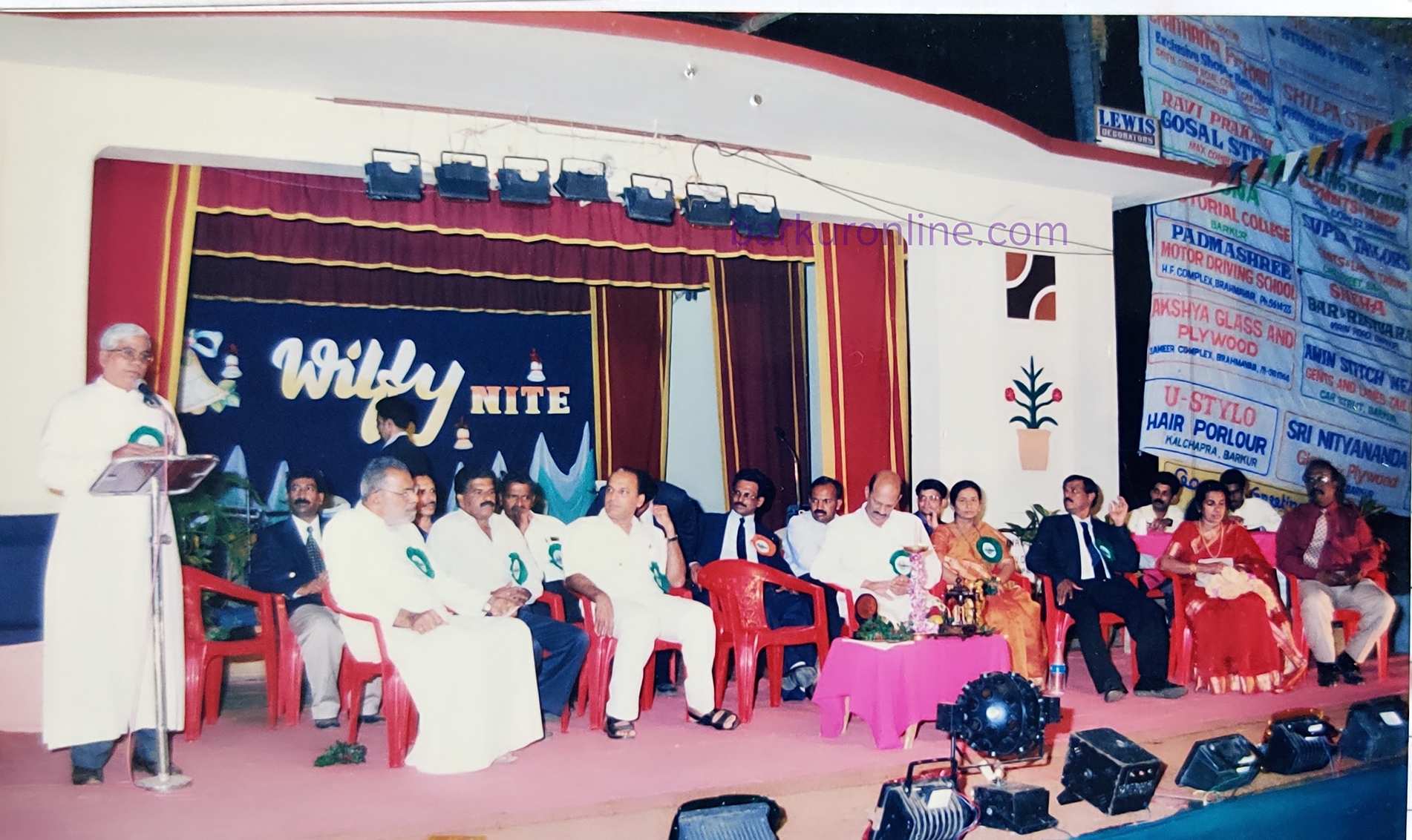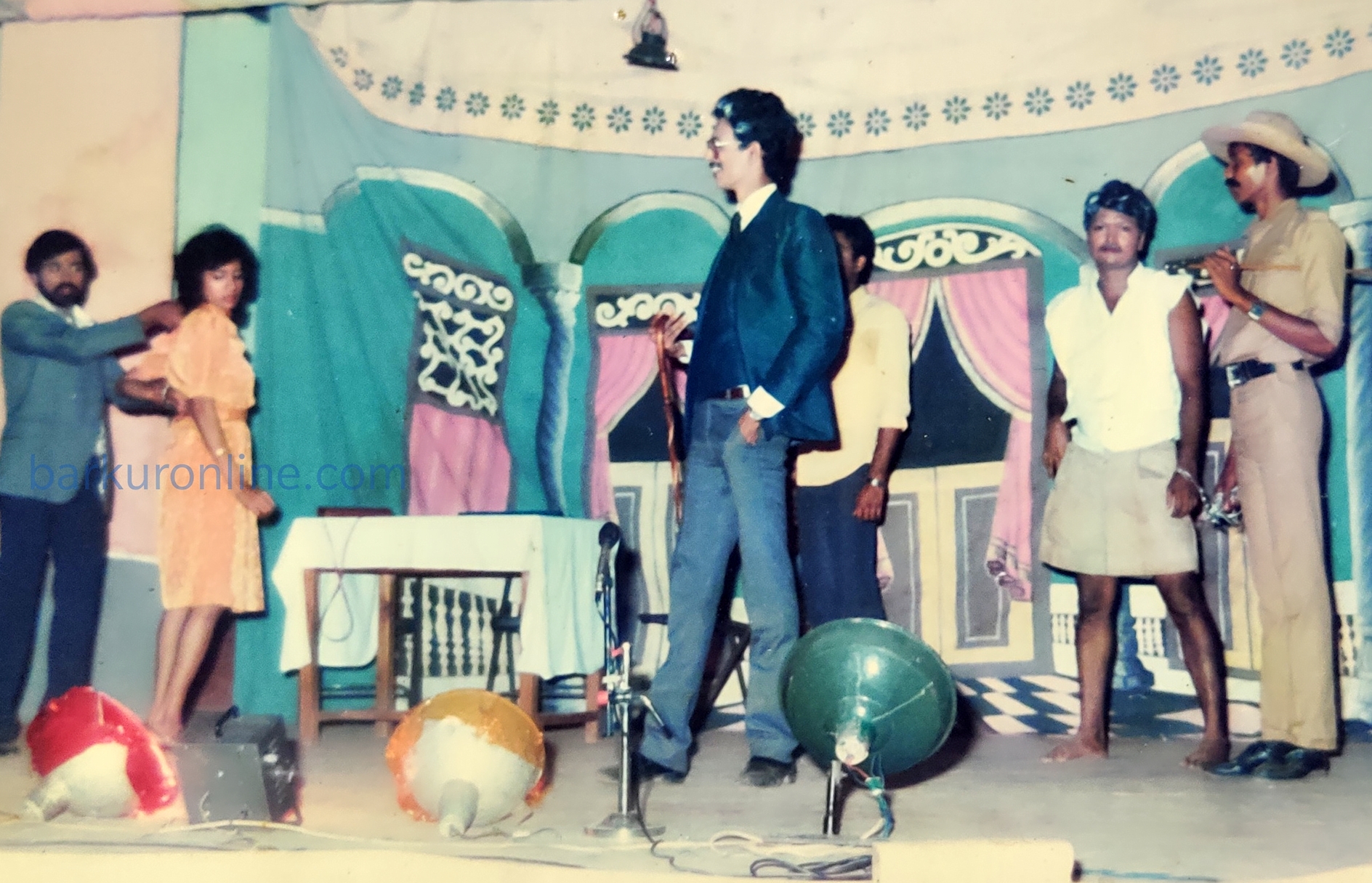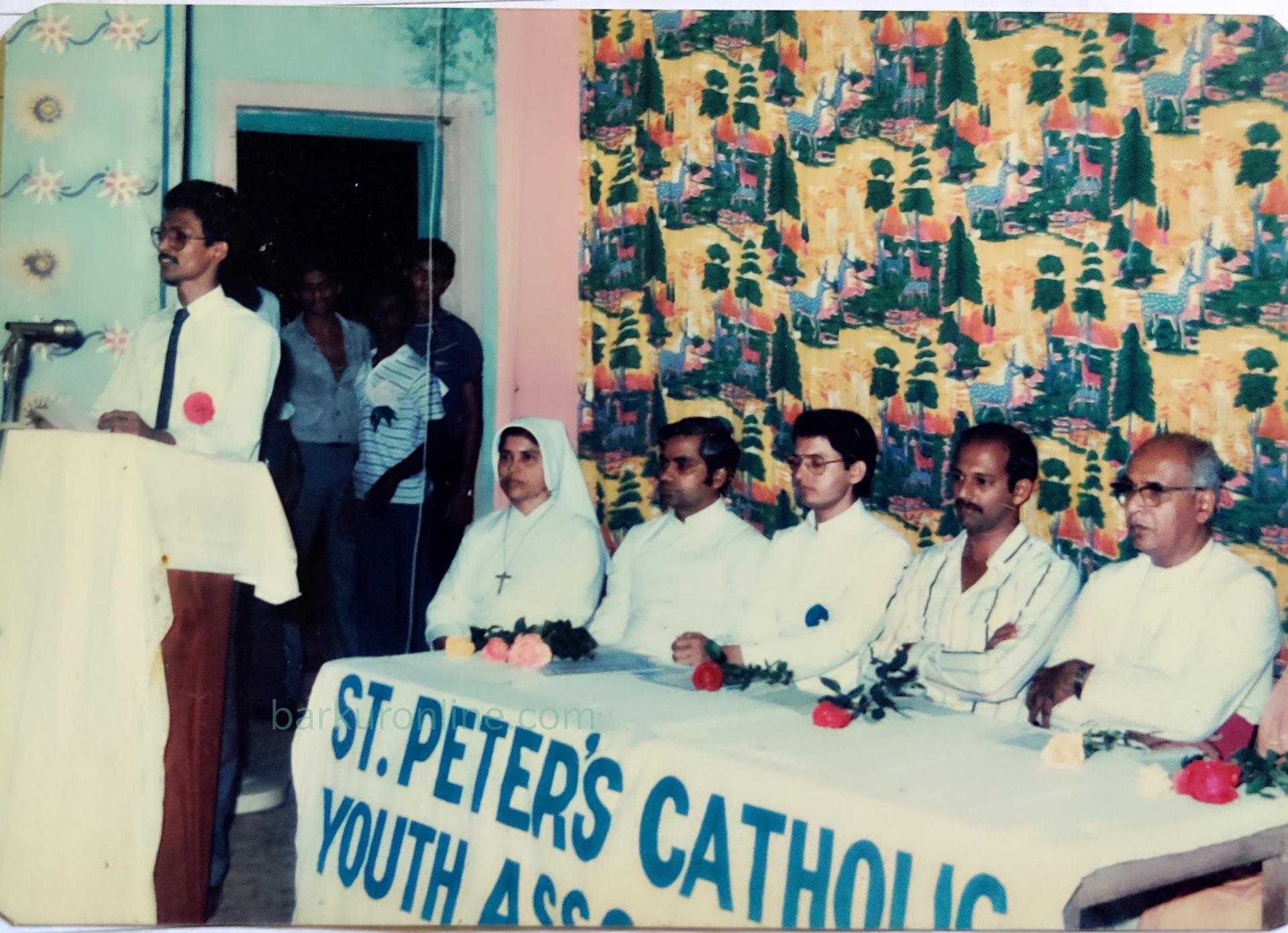 Names of the donors displayed in the Stage Building
FOUNDERS

 1. St Peters Association Barkur
2. Indian Association, UAE
3. Hector Walter D'Silva
4. Karamchand Sequeira
5. Walter Sequeira
6. John Urban Lobo
7. Richard Carvalho
8. Telesphor Suaris
9. Robert Fernandes
10. George Montero
11. Severine Andrade
12. Philip Dias
13. V.L.Roche
14. Sebastian Picardo
 15. Alice Stanly Lewis

BENEFACTORS

1. Rev.Fr. Joseph D'Souza
2. IHM Convent Barkur
3. Pais Brothers
4. Emmanuel Noronha
5. Victor Sequeira
6. JFX Sequeira
7. WA Sequeira
8. Salvador Sequeira
9. Winifred Sequeira
10. Maxim Sequeira
11. Simplen Sequeira
12. Anthony D'Souza
13. Augusne j. D'Souza
14. Dian D'Souza
15. Elizabeth D'Souza
16. William D'Souza
17. Richard Mars
18. Avith Mars
19. George Mars
20. James D'Silva
21. Br. Valerian D'Silva
22. Br. Mathias Picardo
23. Benedict Picardo
24. Angeline Picardo
25. CYM Barkur
26. Clotilda Monteiro
27. Ignatius Gonsalves
28. Augustine D'Lima
29. Fredrick Andrade
30. Jerome Lobo
31. Gregory Lewis
32. Elias Crasto
33. F.F. Carvalho
34. Patrick D'Almeida
35. Stanley Fernandes
36. Peter Fernandes
37. O. F.S. Fernandes
38. Lawrence Bibi Furtado
39. Fredrick Suares
40. Carmine D'Cruz
 
CURTAINS
1. Karamchand Sequeira
2. William D'Souza
3. Indian Community Kuwait
4. CYM Barkur