Restoration & Renovation Of St Peter's Church, Barkur
A perfect, professional and excellent 
RESTORATION & RENOVATION OF ST PETER'S CHURCH, BARKUR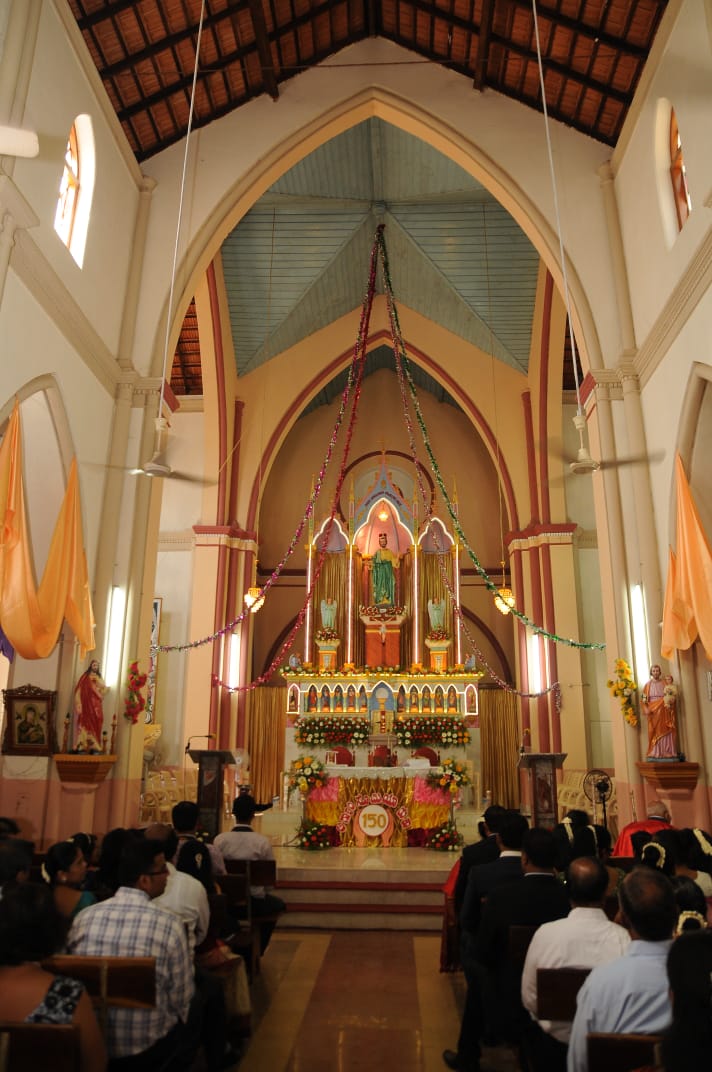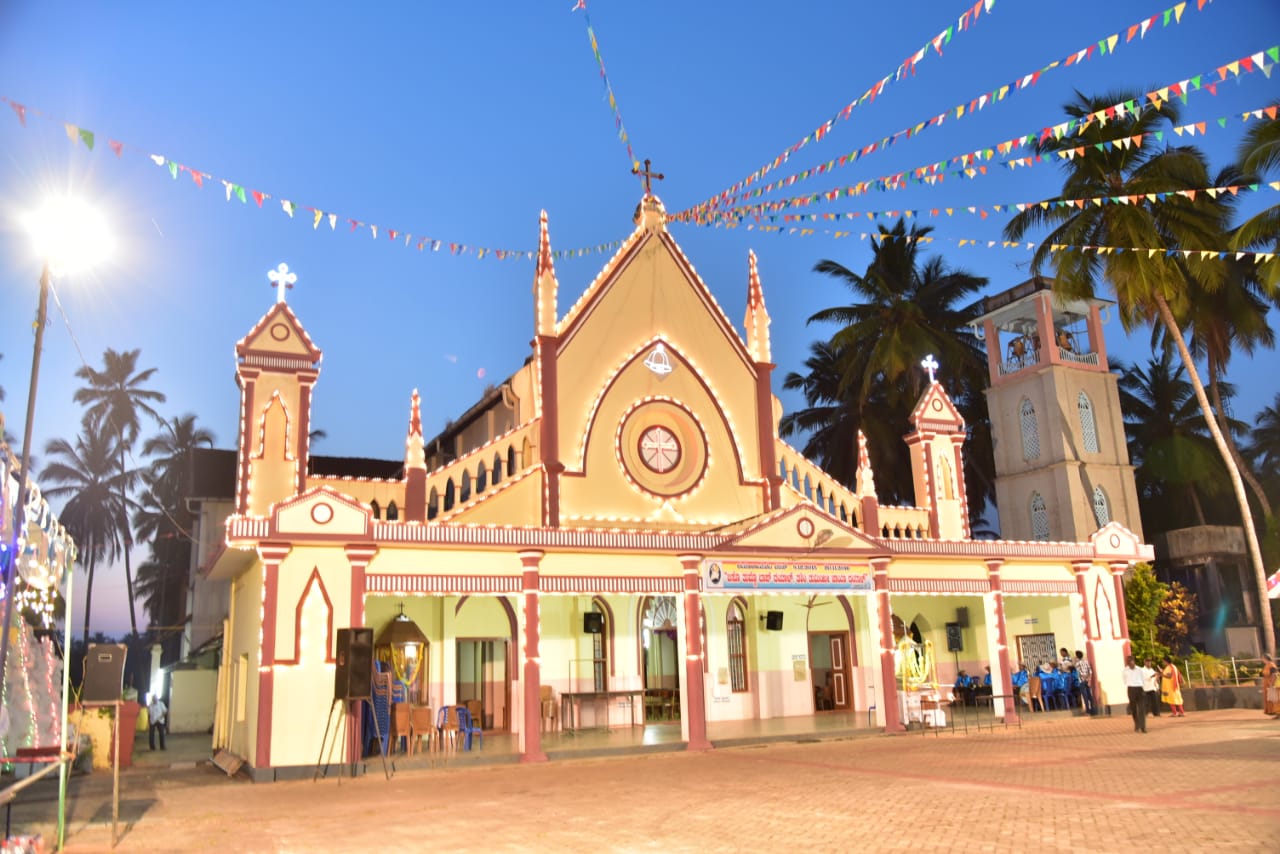 The present Gothic style Barkur Church is one of the most ancient in the Diocese of Udupi. It was inaugurated on 28th May, 1923…, by the then Bishop of Mangalore, HE Rt. Rev. Paul Perini.
Legend has it that, the oldest Church or prayer house of Coastal Karnataka was located in Barkur and records states, the Church of Holy Cross near the present Chanda's Soda shop was destroyed by Tippu's soldiers on ash Wednesday, 24th February, 1784……Around 1801 or so, the few survivors of captivity, after Tippu's death in 1799, who settled in Barkur, built a simple new church which was in a place near present Maryknoll High School, popularly known as Khuris, with patroness Our Lady of Holy Rosary. This went into decay in the Padroado – Verapoly controversy around 1835…Earlier there were no sizable Catholic population in and around Barkur. Around 1850, record says, around 75 families were residing in Barkur, mainly in low lying islands from Hungarkatte, Airody, Uppinakote to Halekody…. The religious needs of these Catholics were taken care by Milagres Church, Kallianpur, as Barkur was an all-important ward under its jurisdiction. The difficulties in travelling, crossing rivers, torrential rains and floods, etc. often made the believers to be isolated without any spiritual care, may be for months together.
There came forward some devout aristocrat families from Barkur, to donate land to start a Chapel in Barkur in 1854 which was again served by Milagres Kallianpur till 28th April, 1861, and on 29th April, 1861, this Chapel was raised to the status of a full-fledged parish with a resident Parish Priest in Rev. Fr. Cosmos Rebello. Since then, there was a fast growth of parish and families rose to 200 plus. The church was too small and for many celebrations, more than half of the faithful were standing outside the church. In 1915, Rev. Fr. Denis Jerome D'Souza, then serving as Assistant Parish Priest in Milagres, was transferred to Barkur as Parish Priest with a mission to build a New spacious Church over here, which got inaugurated on 28th May, 1923.
(Click here for our earlier articles on main features of the Church)
Restoration work of the Church: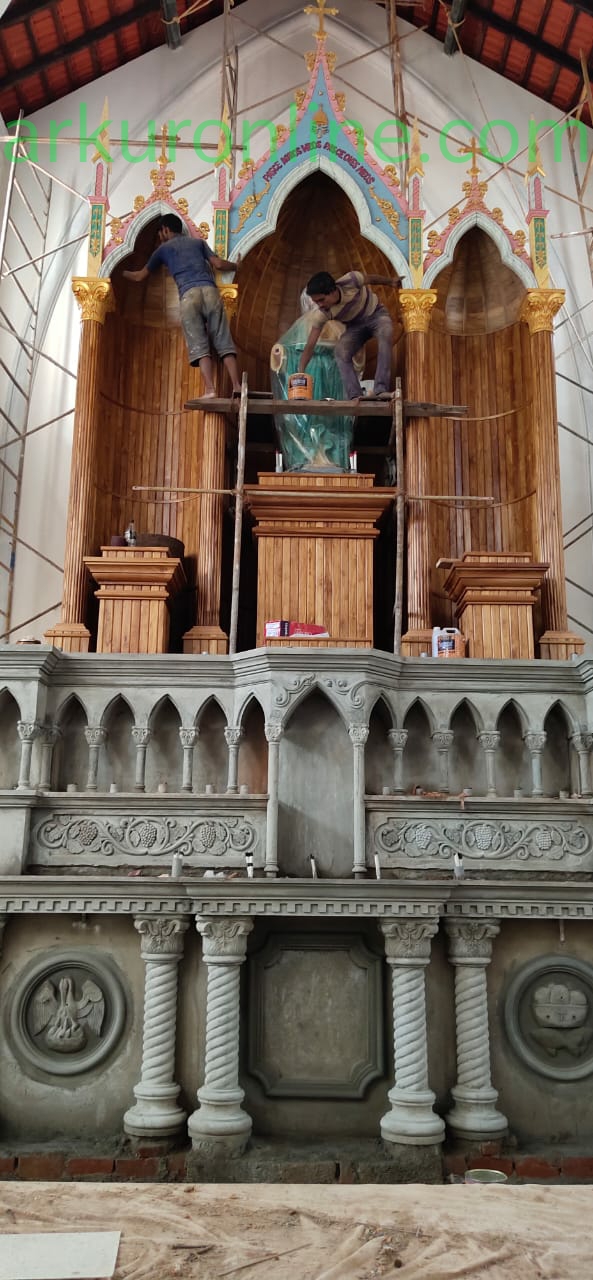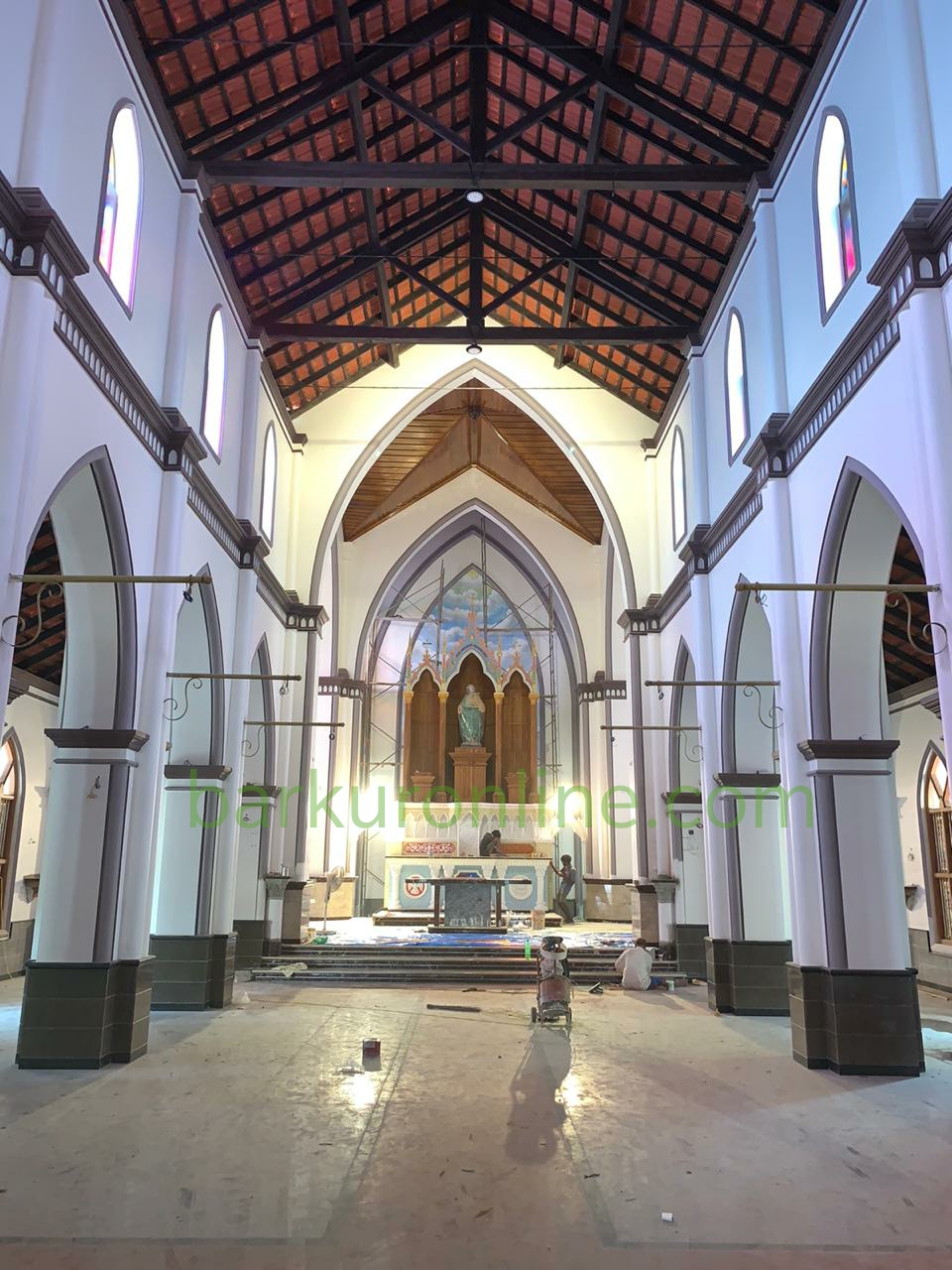 The Church structure is about a Century old now, (96 years). There were plans and proposals making round to construct altogether a New Church, in 2023. Sensing the emotional attachment of Barkurians to this architectural marvel, Rev. Fr. Philip Neri Aranha, took a wise, bold and appropriate decision just to repair, renovate and restore the whole edifice as it is.  In the beginning he too had no clue of what need to be removed and replaced, but was determined to retain its pristine beauty and Gothic architectural values. 
To start with, the tile roof ceiling has been removed, cleaned and again laid, so that frequent rain should not damage the interiors. Subsequently, floor was removed, and much crucial Altar got restored. Design retained as it is but recreated with much care and determination. No more use of curtains behind, as wooden flanks fixed at the backdrop of the Patron St. Peter and angels…. All artistic pigeon hole rooms housing Apostles statues renovated now, adding one space either side.
Additional decorative pillars, artistic sculpture added more beauty to the altar, hope right colour combination give a great look to the whole altar. Top wooden canopy with the tagline retained. Removing of wooden boxes to cover the Statues of Our Lady of holy Rosary and that of St. Anthony of Padua, saved some space and cleared the blockade and extended shade either side of Bolkavn, also very artistic….Most of the doors and windows were replaced with quality wood frames and artistic engravings from Biblical incidents….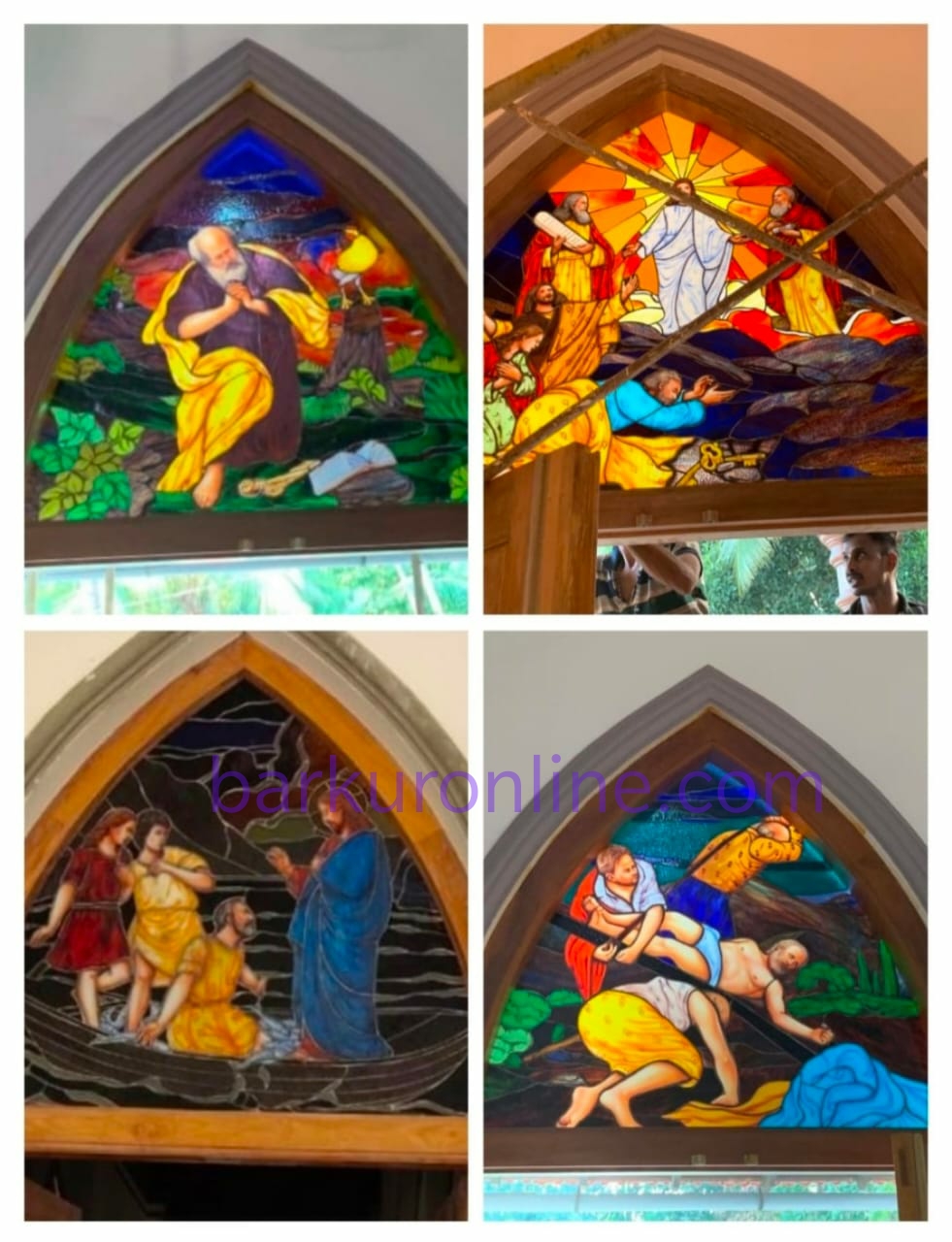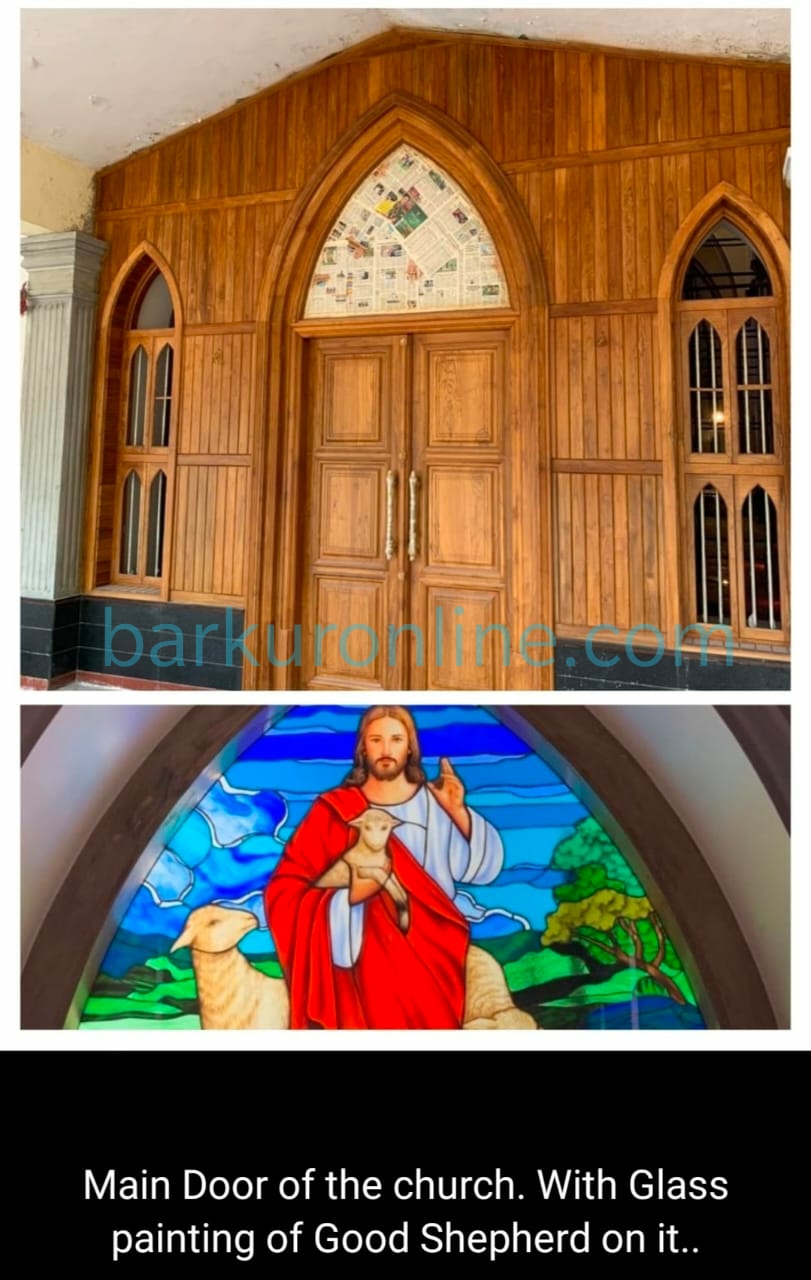 We must appreciate some innovative ideas such as putting glass painting above all the Nine Doors, depicting the main and historic incidents in the life of Patron Apostle…. This rightly added great value to the interiors. The top group of windows now re-dressed with similar colourful glasses…. There is more space now in the platform to move around, mainly in front of the holy table and reading stands.
The holy Wooden table earlier utilized for Holy Mass inbuilt with the precious relic of St. Peter, brought from Rome, in 1923 and the wooden Holy Tabernacle used for decades, (1923 to 1976) must be preserved properly, unused statues, earlier used Bell etc carry great historical and emotional significance…..need a proper preservation in a museum….
One can notice the best efforts put in, lifting the Portico to match with main Church design, decorative pillars, other artwork to give a much-needed facelift, is praiseworthy…. Once all the work gets finished with painting and placing the statues at their respective places, we are sure, Barkur Church will be the most beautiful among all the ancient churches and a sure tourist destination in Coastal Karnataka, in coming days….!
A big thank you to the Team: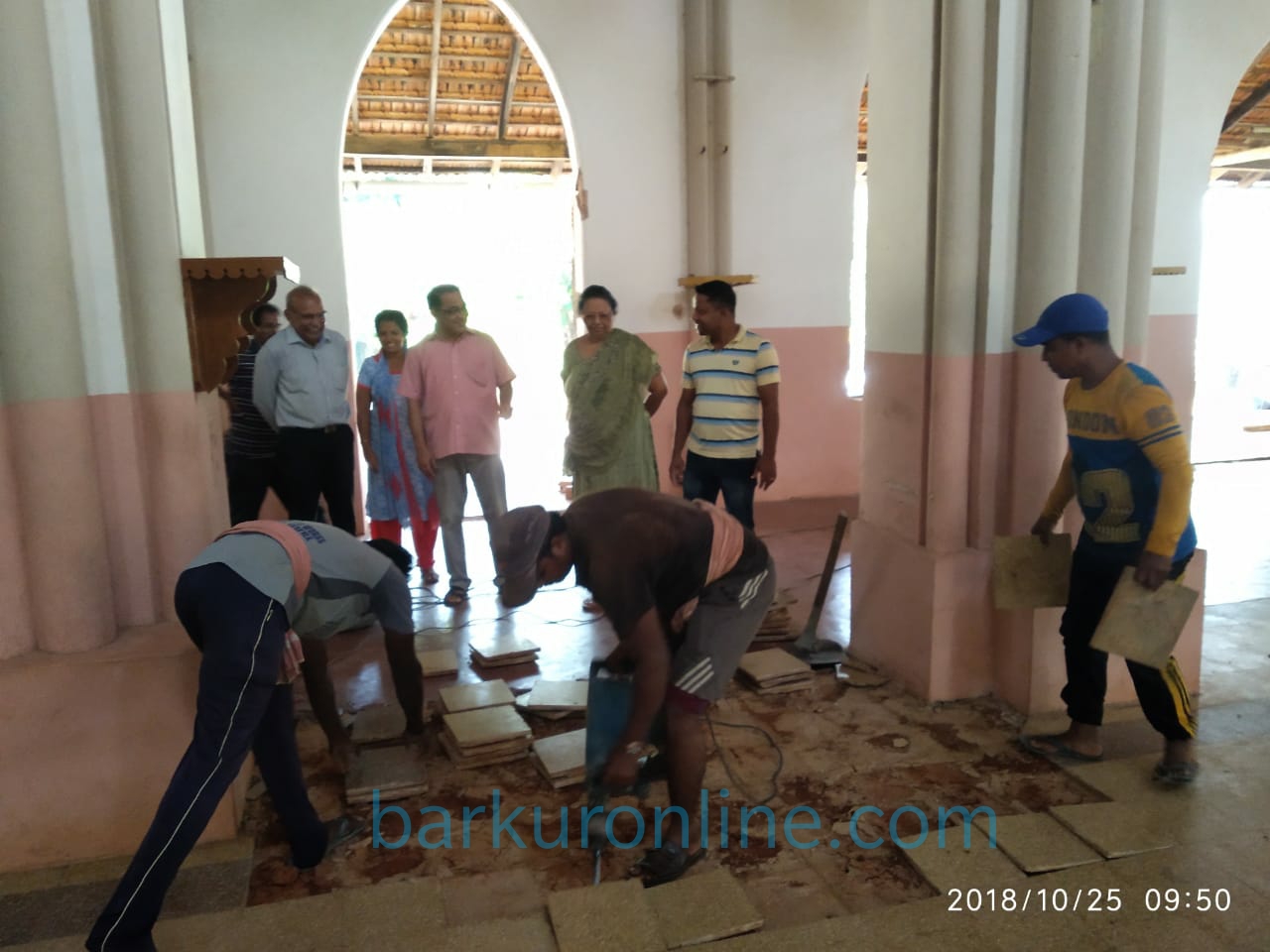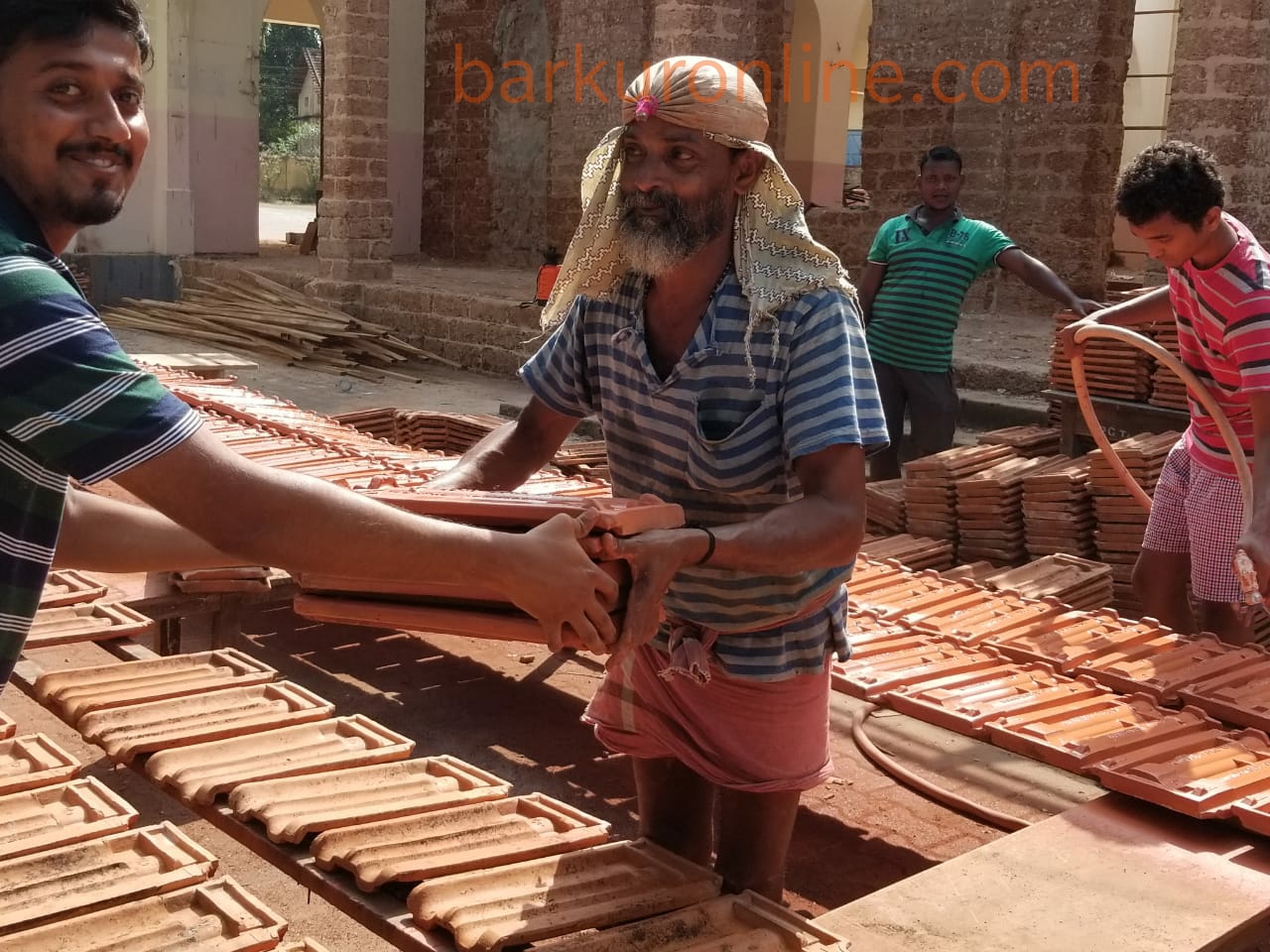 From day one, many people actively involved in this restoration work with Parish Priest leading, directing and supervising the developments hourly / day-to-day basis. It's our firm belief and trust that, God has put the right man and people in this crucial time and for right reasons…. Hardworking people like Joseph Fernandes, Norbert Furtado, James Gonsalves, Praveen Carvalho, Francis Picardo, Sylvan D'Almeida, John Picardo and many others were always seen at the worksite practically every day. All parish organizations, with Parish Council, Catholic Sabha, the ICYM, various sub-committees, doing their best to collect much needed funds in various ways and means……There was regular and routine cleaning work assigned to various wards, a team of dedicated women cooking food for them. Many Civil and Electrical Engineers from the parish, religious painters, art experts, carpentry specialists, masons were seen visiting and sharing their inputs and Fr. Philip Neri accepting and listening to the suggestions from all quarters.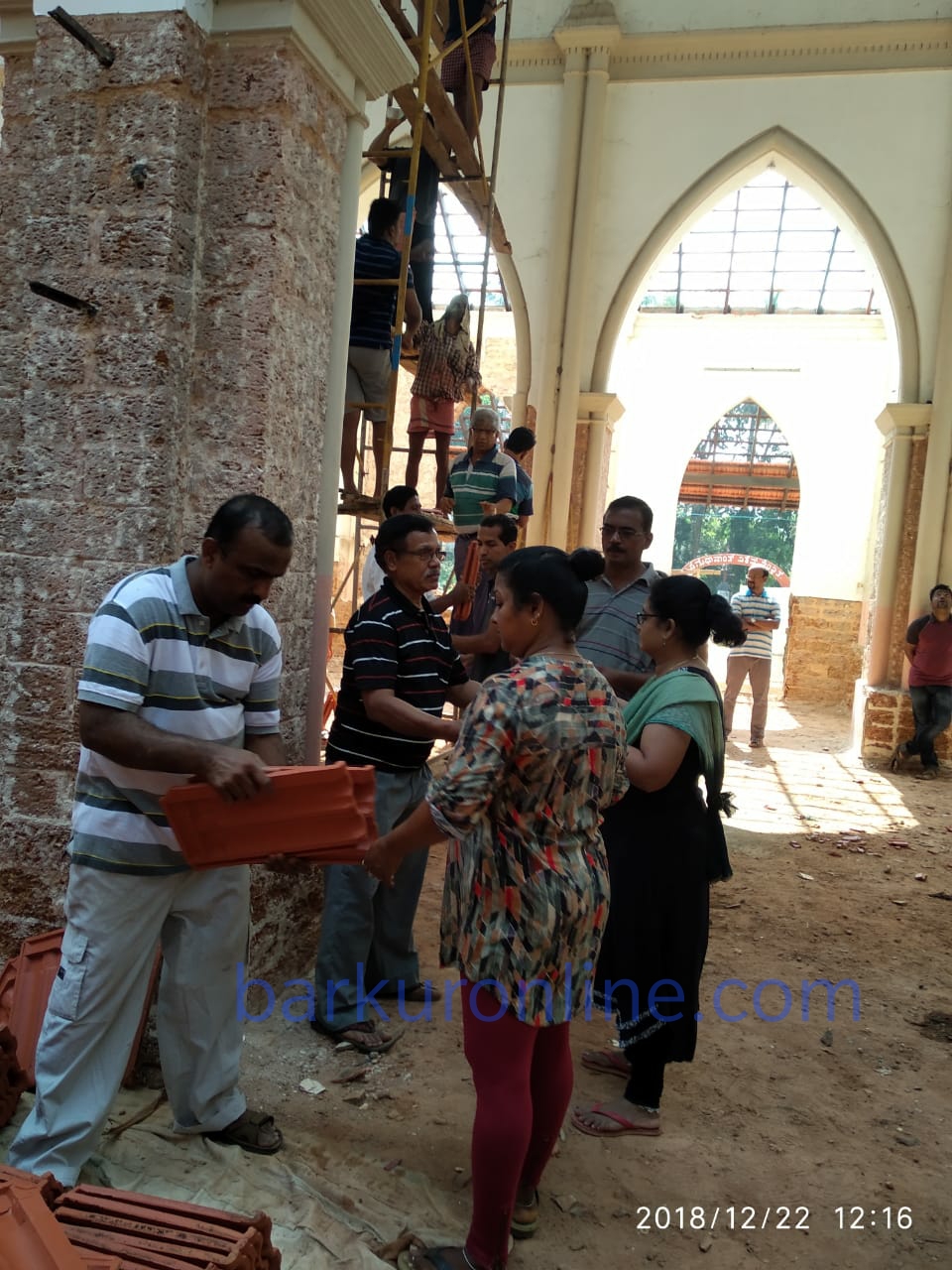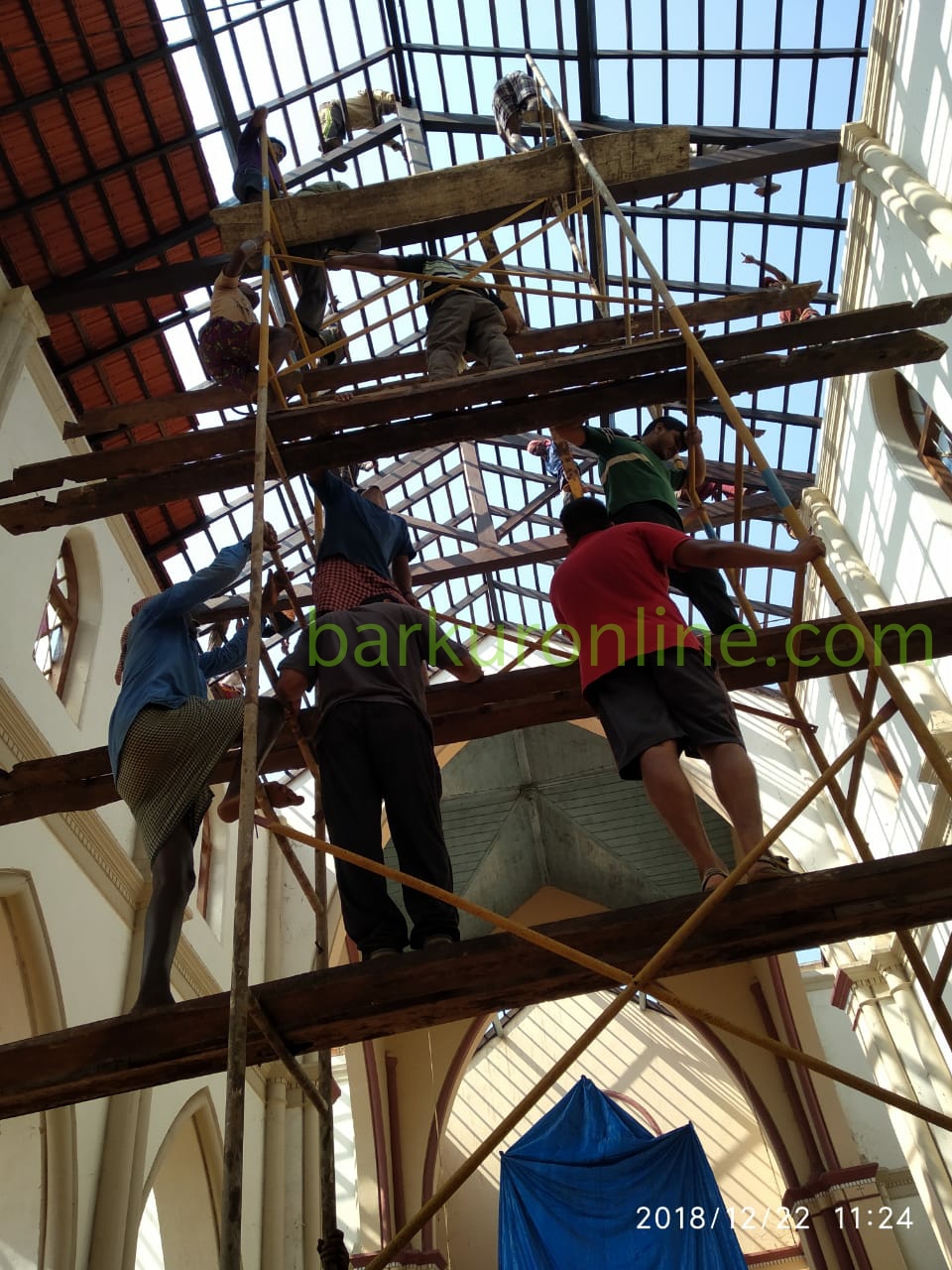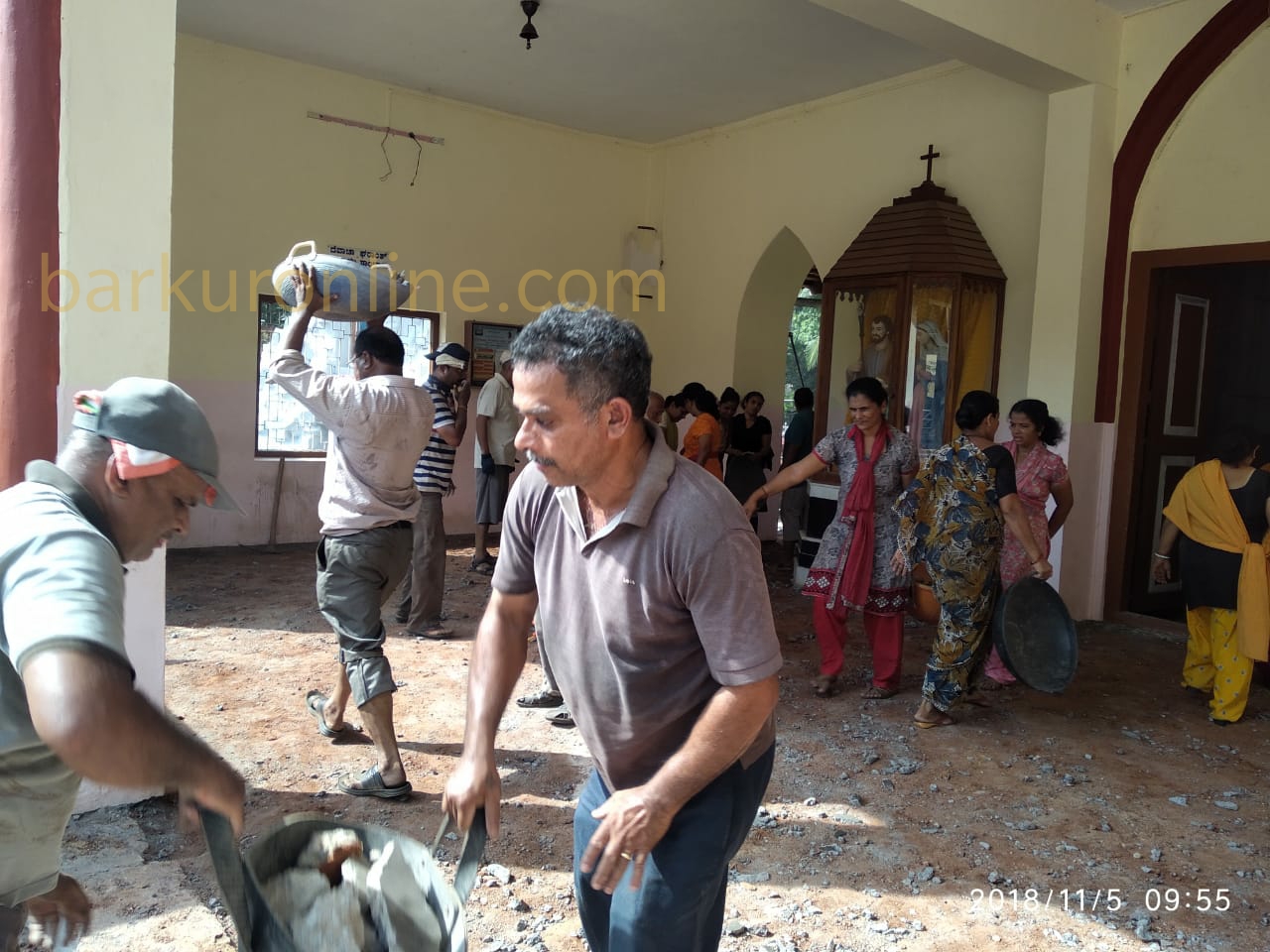 Miscellaneous:
Much needed modern washing provisions were made at this time need a special mention, new benches with kneelers are getting ready, better sound system and lighting, extensive arrangements for fans etc. are underway….
Conclusion:
Barkur-on-line, team, published series of articles, highlighting the richness of its High Altar, The Belfry, The Open Air stage, the Contribution of Founders etc.…..In coming days, if time permits, we will try to publish some insights on mother Mary's Grotto, New Parochial house, List & Services of Assistant priests served in Barkur, A note on Centenary Celebrations of the Church 1954 etc. Of course, the Souvenir planned to commemorate the Grand Inauguration rightly find place for all such milestones in the long journey of Christianity in Barkur, vis-à-vis India…..!!
Our Web-master Mr. Kishore Gonsalves and his team working on a Documentary on Barkur Church to be ready for viewing on Inauguration day on 15th December, 2019. To make a concise short film, combining rich and versatile history is a real challenge, since duration of the same cannot be too lengthy……
Before calling a close, we wish to express our heartfelt thanks to each and every one of you, for sharing your valuable inputs, photographs, other evidences from time to time.
Will see you all on 15th December, 2019.
With regards,
On behalf of Team Barkur-on-line & ICYM Barkur, Ex-Members Association,
P. Archibald Furtado, 4th December, 2019.