Kurady Sadashiva Kalkura.
If anyone has not heard of Mr. Kurady Kalkura, he/she must not be from Barkur, Brahmavar or Udupi! Yes, Barkuronline team too was aware of him, however, this team finally managed to get a few details of him, lately!  Thus we are very proud to present, even though long overdue, Mr. K. Sadashiva Kalkura, as the Personality of the Month, POM.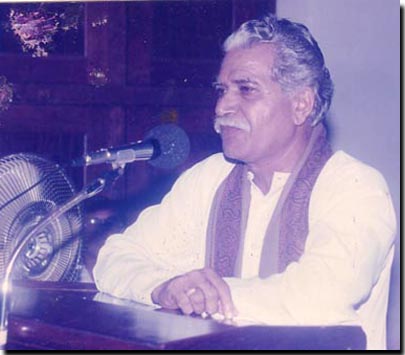 A great orator
This great personality was born, to Late Mr. Narayana Kalkura and Late Mrs. Lakshmi Deviamma, on 24-10-1935, in Kurady, Hanehalli village, Barkur, in the then undivided South Kanara, when it belonged to Madras State, India.  He had a very traumatic, impoverished and much disturbed childhood. He was forced to 'carry and attain' adulthood at the very tender age of 8 with the untimely and sad demise of his father. (Of course, it was nothing new in those days for any one to die young. Life span was much shorter then, and life saving critical medicines were not much known, nor found in the vicinity.) He went on to build a strong household, successfully fighting (for every brick and tile, and meal, literally!) fighting the feudalistic-jealous relatives and selfish village goons. Unfortunately, with the continuous `engagement' with the feudalists and ruffians, unknowingly he imbibed some of the feudalistic ethos.  After all, you need a thorn to pick out another thorn!
If you hear the word Kurady, the first thing pops into your head is Kalkura, as though there is no Kurady without Kalkura, or no Kalkura without Kurady.  Let me tell you why:
When you hear the word Yakshagaana, who do you remember? Kalkura my friends, Kalkura. (and Kurady too!) His public speaking ability or the oratory skills and his in-depth knowledge and love for theatre and especially to Yakshagana, is well known not only in Barkur, but in South Kanara as well. He depicted/enacted the highly coveted roles of Karna, Vali, Shri Rama, Shri Krishna, Kaurava, especially Bheeshma, Manthare and even Kaikayi with very impressive life like personality of these epic heroes or heroines.  It looked like these epic personalities were speaking through him, or in other words, he looked, as though he was possessed by them!  He really enjoyed these roles.  He had the opportunity to play and act along with the other famous senior Yakashagana artists such as late Malpe shankaranarayana Samaga, Shri Gopalakrishna Bhat and many others.  If the word was out that Kalkura will be there in the drama, or Yakshgaana, the attendence used to get doubled.  People used to throng just to listen to his authoritative, divine, loud even without a microphone, flawless verses from the Puranas, without being prompted, and just to hear his voice and watch him perform.He used to portray the epics of Mahabharatha and Ramayaana, wearing the age old regal costumes, and ornaments, compounded with his voice, hand gestures, eye movements, and facial impressive gestures, moving about in tune with the rhythm of the music of the drums, with his fluid oratory, so much so, the crowd used to feel the presence of Gods, as though, the Gods were talking through this otherwise a humble man.  Even grown ups used to wipe out their tears, or try to hide the raised hairs of the body, in response to the thundering oratory of Mr. Kalkura.  Such was the power of speech of Mr. Kalkura!   "A person of religious exhibitionism with atheistic and agnostic ideals!" says one of his sons, in appreciation of his Yakshagana performing talents.He is always in the news. The other day there was a public meeting at Brahmavar to celebrate our MLA Mr. Hegde's 10 year completion of public life. This function was attended by about 10,000 strong crowd.  It was Mr. Kurady Sadashiva Kalkura who gave the attention getting, crowd quieting, introductory talk, which practically stole the show!He was also a member/office bearer of Vidyabhivardhini Soceity of NJC Barkur.
He taught at the oldest School in Barkur, the Board School, near the Church, for several years as a teacher, and he was the Head Master for 6 years just prior to retiring from Brahmavar, where he earned the goodwill of parents and students alike.  Being a teacher belonging to Government Schools, he was transferred to several (6-8) schools, throughout his career. "Yes, we were transported in our infancy from one place to another place, because of our father's frequent transfers, but such was the accepted way of life, if one worked in Govt. offices, or specially as teachers.  Of course, we didn't suffer, only our mother suffered. But when once he was transferred to Mogaveerapete, Kokkarne, we settled down in Kurady." Says one of his son, with mixed emotions.
Shri Kalkura had obtained an M.A. degree in Kannada, B. Ed from Mysore University.  Thus he started working as a teacher. He worked in the following schools as a teacher in the order listed for about 35 years, from 22-08-1959 to 31-04-1994:
1.       Govt. Lower Primary School, Karikkala, Puttur Taluk (now Sullia).
2.       Youth Vocational Course School, Kota. (These schools were established all over India in response to Gandhian Principles; now these schools are defunct - just as the Gandhian principles!)
3.       Govt. Lower Primary School, Kappadi, Kundapur Taluk.
4.       Govt. Lower Pr. School. Mogaveerapete, Kokkarne, Udupi Taluk.
5.       Govt. Model Hr. Pr. School, Barkur, Udupi Taluk.
6.       Govt. Hr. Primary School, Uppoor, Udupi Taluk.
7.       Govt. High School, Brahmavar, Udupi Taluk, as Head Master.
His Various Interests :  He was and has been, and even now, an 'A grade Arthadhari' .  Arthdhari means, the one who explains the Sanskrit Shlokas/Versus, in the language and words the general public or faithful can understand the meanings. While explaining, he also enacts the  singing role sung by the bhagavatha.  In Yakshgana he was the main orator on epics such as Ramayana and Mahabharatha.
Though he had been trained in the basics of Yakshagana dance, he chose to remain a Talamaddale Arthadhari and a teacher. (In olden days Talamaddale was the training session of Yakshagana Bayalata during the off-season i.e., rainy season. Later it grew as an independent art form; curtailed and modified version of Yakshagana Bayalata. In Talamaddale, artistes sit in day-to-day dress and debate (usually heated!) the Puranik episodes taking roles, as Baghavatha sings the Prasanga. Arthadhari is one enacts a character. Of course, as an amateur Yakshagana artiste he used to participate in Bayalata occasionally. Shiva in Meenakshi Kalyana, Arjuna in Babruvahana Kalaga are some of the memorable roles he played.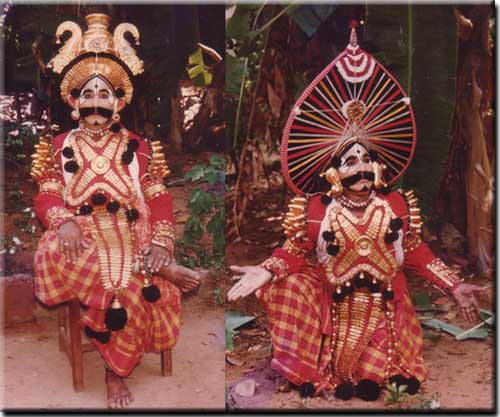 As Hamsadhwaja (left) and  Karna (right)
He studied the Bible and also Koran.  He did extensive research on the topic on 'Shivasharana' (devotees of Lord Shiva) literature.  He has published 100s of articles in various news papers/magazines, souvenirs or handouts, etc.   Many of you youngsters might recall a matured article in the National High school Silver Jubilee Souvenir titled - SHIKSHANA, JEEVANA and DHARMA, way back in early 70's.
He studied and passed in Gamaka Proudha. He has taught Gamaka for over ten years in Kokkarne and Mandarthi, the world famous Hindu temples and seats of Hindu religious learning.  These temples are highly thronged pilgrimage places.  Gamaka is a distinct musical style or a tradition with equal importance to notation/musical notes (Swara), literature (Sahithya), and emotive aspects (Bhava). Though it resembles Carnatic music, it has its own distinct features.As performing art it has two parts, rendition and narration. Shri Kalkura, with a considerable amount of knowledge and training in rendition, excelled in narration as well.He practiced 'Yoga' and 'Dhyana' (meditation) even from his childhood days.  He has extensive knowledge of 'Ayurvedic Medicines and first aid techniques.  As an orator, he has delivered speeches and essays at various public functions.  The educational department recognized him as a resource and sent him to various school functions, to teach at teachers' training courses, and to various educational functions/talks/speeches, while on duty and being paid as well. He has acted in many a dramas too. He got certificates as an effective teacher.
He is a voracious reader.  As a father he never asked or forced his children to read (fortunately, says one of his son!), but he set himself as an example. He collected many a thousands of books, different types of books, (and read them too!)   Where would he keep these books?  So he opened a library! He owns this library with books worth one and half lakh rupees.  He has donated over 1000 books to various teachers or students of different schools and to anybody irrespective of caste or creed.   To the best of my knowledge, I have never heard of a public library in Barkur.  Can you imagine Mr. Kalkoora, a school teacher Not a big landlord, Not a businessman, Not a putta raja, but he has a private library! (Barkuronline takes pride in bringing this news to you!) Not just 30 or 70 books, but thousands!  Oh, Barkur, can Barkur take heed of this?  Can all the folks join together to open a Public Library, a National Library, just any library?  Can all the teachers join in this cause?  Can all the priests join in this cause? Can someone donate a little land?  Can each one of you donate some books?  Can some one take up this cause? By knowing proper procedures, donations can be obtained from Trust funds, like Tata's, Birla's, or from temple trusts, or may be from Government funds.  Elect a politician who can promise a library! (Yes, James, ideas are as cheap as Bangdas (Mackerels) in October, at 7PM in Sastan. I remember buying 24 Bangadas for 4 Anaas, Rs. 0.25, quite fresh ones too!)
He is the founder of the Kurady Cultural Association (Kurady Samskrithi Sangha), which he headed for about 25 years. The Samskrithi Sangha was quite well known in Karnataka during its hay days. Single handedly he brought Kurady on the cultural map of Karnataka. Several great personalities visited Kurady during the seventies much to the envy of small and big towns of Dakshina Kannada.
He is married to Yashoda, who is a hardworking, family oriented, and loving house wife.  They have 5 children, 3 boys and 2 girls.   K. H. Adithya Kalkura, K. Sathyashraya Kalkura, Devu Hanehalli (K. Devaratha Kalkura), K. Swarajya Lakshmi and K. Jayabharathi. All are gainfully employed and well settled, just like their proud father. One of his son Devu Hanehalli is a well known writer in Kannada for short stories, novel essays and works at the All India Radio, Mangalore.   Now I understand what they mean by "Like the father, so the son!"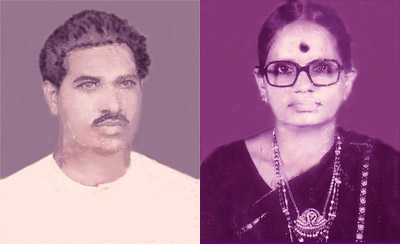 Behind every successful man, mostly there has been a woman. His wife Yashoda, apart, not only for their family of 7, but for the whole Kurady Kalkura family, this lady was the backbone, after ruining her own back, literally! Just like her mother-in-law she toiled, (It's beyond the comprehension of present the generation to engage themselves to such hard physical work!) like anything.
Shri Kalkura spends his retired life at Kurady as a responsible and cultured citizen. He never allowed or allows himself to get bogged down by difficulties and keeps himself busy in several fields like Yakshagana, Gamaka, education (both teaching and methodology), Traveling, Agriculture, gardening, etc. Though he smokes occasionally, drinks bucket full of coffee and tea daily and incessantly (like a goat chewing the cud!) chews pan, he has maintained good health. It is really amazing how he has maintained his health in spite of all such unhealthy habits!  He is a fitness freak, still!  He is highly emotional, short-tempered, and is lacking in `worldly' (in financial matters). His wisdom is not practical in day-to-day terms, such as making money or property, or worldly possessions! Which almost cost him his ancestral property. "He is already 70 and he may not inherit his ancestral property in his lifetime, if he does not fight for it eagerly!" says a son of his!
Barkuronline.com wishes him all the more vigor and enthusiasm to contribute still more to Barkur and its vicinity, during the rest of his retired life, besides enjoying with his children and grand children, for which may the Gods grant him best of long and healthy and happy life.  Barkuronline.com is grateful to Devu Hanehalli, for providing his honest observations, dates, and facts, etc.
James Fernandes USA, and Barkuronline.com team. March 2004.