Shri Panchalingeshwara Temple, of famed Annual Rathotsava, in Kotekere, Barkur.
Shri Panchalingeshwara Temple, of famed Annual Rathotsava, in Kotekere, Barkur.
Checkout our Photo Feature on Shri Panchalingeshwara Temple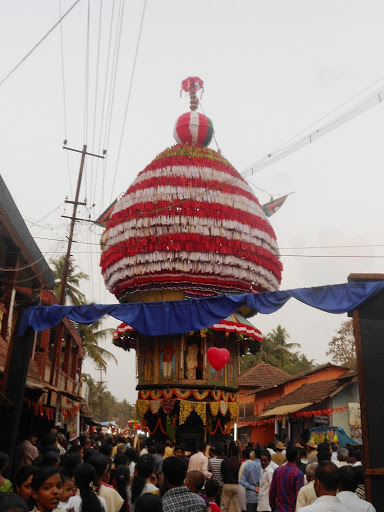 Temple is a house of worship, most of them built in honor God ….People utilize it to worship him and generally it involves traditional ceremonies and may include sacrifices. Few people visit these temples daily and many on special occasions. As per legends, we the Barkurians blessed to have 365 temples, as the ancient ruler of the place, used to visit and offer prayers every day in a different temple. The density of various temples in our town, is almost like Varanasi, within a furlong one can see half a dozen of them. Interestingly, that is the salient feature of Barkur… moreover this is the only place in Coastal Karnataka which house Moola-stanas for many sects, tribes, caste, and sub caste etc…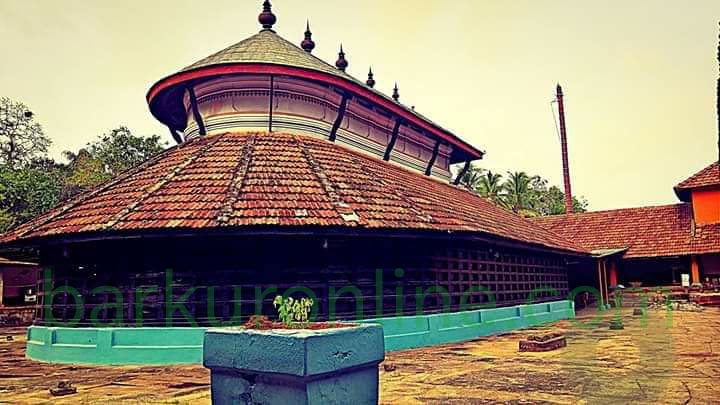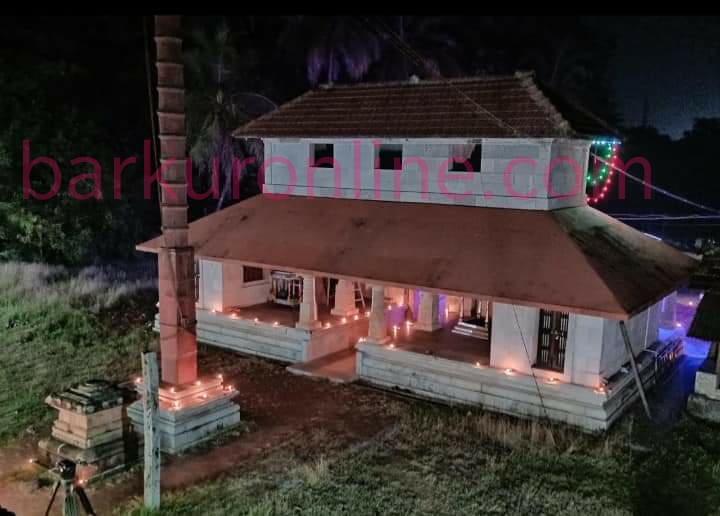 One of the rare temples all Barkurians respected, irrespective of Caste or creed over the centuries is 'Shri Pancha-lingeshwara Temple of Kote kere'. It was huge and majestic and enjoyed royal recognition and is /was popular in the surrounding, for its annual Rathotsava, colourful car festival, generally held in the month of April every year. Many will remember that in early years, in 60's  it was a minimum of 3 day festivities, and decades and centuries back, probably week long celebrations with beeline of special shops either side from Kalchapra till Temple, covering the whole car street….
The attractive, well decorated, huge wooden Ratha / Chariot carrying the presiding deity was taken / pulled by rope in a procession by the ocean of devotees till Kalchapra and after offering prayers over there, it was brought back to its original destination. (Occasionally an elephant from Udupi Krishna temple brought was an added attraction) This year the Rathotsava will be held on 1st April, 2020, and Nine days of preparations commence on 21st Of March, 2020….
The following are just few points of interest we gathered from various sources and local senior citizens:
    Though there were many Temples in Barkur, the credit of one having huge chariot / car goes to this Temple of Panchaligeshwara. In recent years few more temples added this car but comparatively smaller in size.
    There is a huge lake exactly in front of the temple by name Kotekere. It was a source of water for drinking, irrigation etc. It is apt to recall, the annual famous Lord Ganesh statue emersion in the same pond, venerated at Shri Pattabhi Ramachandra Temple near Kalchapra.
    It was stated, once the Temple was ready, the arrival of statues ordered from Kashi delayed and on the appointed Muhurta, the priests selected five stones and blessed and these are presiding deities over here. Rightly it conveys a great message to all - God is there everywhere and everything he made – He is shapeless. The eternal nothingness yet universality…..It dates back to 6th to 7th century old…..
    This location was Shri Markandeya's, (a great sage) place of penance. Still there lies a seat of stone in the temple, believed to be used by him…..
    The architecture of the whole Temple Complex is a mixture of many styles. The influence of Chalukya, Hoysala and Vijaya Nagara art and architecture over the beautifully and elegantly carved main entrance / pillars and followed in the mukha mantapa, (a feature of Vijaya Nagara architecture) a congregation hall…courtyard….etc.
    This temple includes an ambulatory facility for parikrama, (circumambulation) for the convenience of devotees.
    The inner sanctum, the 'garbha griha' where the primary statues and five lingam are placed is a simple bare cell.
    Historians observed there existed two temples inside – viz Panchaligeshwara and Mahalingeshwara. It was also known as Shri Markandeshwara Temple till 1713.
    The shape of the temple rectangle, built on a platform, built on red and rock stones. 
    Huge and tall wooden flag post was a special attraction over here, now straightened and beautifully preserved with a copper sheet cover.
    This temple was renovated many a times by various dynasties ruled Barkur. Many features were added. During Chalukya rulers, during 7th and 8th Centuries, 
    This temple houses many inscriptions of historical relevance.
    Special rituals, ceremonies were held regularly. There is daily puja and on special occasions, hundreds of devotes from far and near assemble to offer prayers on Makara Sankramana, Chaturthi, Maha Shivaratri, Navaratri, Kartika Deepotsava etc.
    The whole architecture of this Temple, reflects a synthesis of arts, ideals of dharma, beliefs, universal values, cherished under Hindhu religion and culture.
    Roof top of exterior structures at the main entrance though renovated with concrete slabs in these years, the shape and design remains the same.
    It also give an opportunity for inter religious participation in the festivities, Muslim community leaders involvement on Okuli Habba, celebrated on the following day of the Ratha, every year is a best example.
During our school days many temples, which were in bad shape, for want of maintenance, now got renovated, expanded, modernized, added facilities for the comfort of visitors. Today, hundreds of tourists, devotees and research historians visit Barkur…..and it is showing all signs of developing into a tourist destination…. 
More amenities like transport, restaurants, modern hotels with lodging and boarding, information cell with guide, water sports with boating facilities etc. to attract young and children, may boost the industry further and our Barkur will find a respectable place in the tourist map of Karnataka…..Once 'Coastal city Royale', it conjures visions and memories of the resplendent glory of the illustrious Alupa Kings, who reigned from Barkur throne…..!!. Unfortunately, other than temples, most of the other places of historical significance and value, like two forts, the palace, 12 large lakes, various Jain Basadies, even Kalchapra……are in ruins today, need a facelift….Preserving this rich culture, is also a responsibility of all of us citizens, with the involvement of local and State Govt. administration.
On behalf of Team barkuronline.com,
P. Archibald Furtado, 14th March, 2020, archibarkur@gmail.com – 98457 42750
Checkout our Photo Feature on Shri Panchalingeshwara Temple