Udupi: SMS College holds lectures in memory of Fr R Zephrine Noronha, Fr Alfred Roche
Udupi, Aug 17: Renowned educationists and social workers who transformed Brahmavar to be an educational hub of today, Fr Zephrine Noronha and Fr Alfred Roche, their memorial lectures were held on Saturday, August 17 at SMS First Grade College auditorium, under the leadership of College English optional department.
The seminar was given a start invoking Almighty Lords praises and prayers by students.
The much awaited function, rescheduled twice, due to torrential rains which created havoc in the coast and most parts of the state last week, that imposed chain of holidays declared by the district authorities, saw its light in the bright morning hours.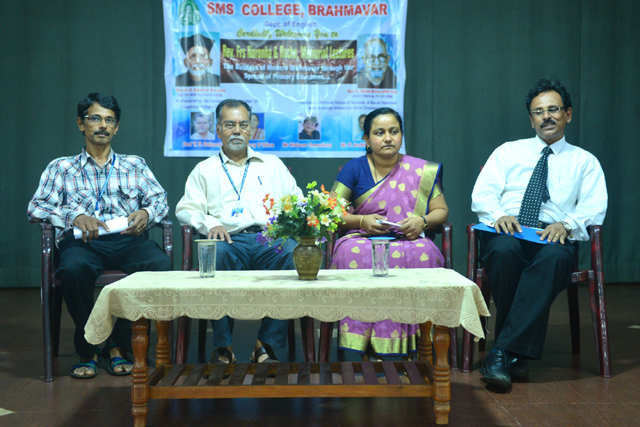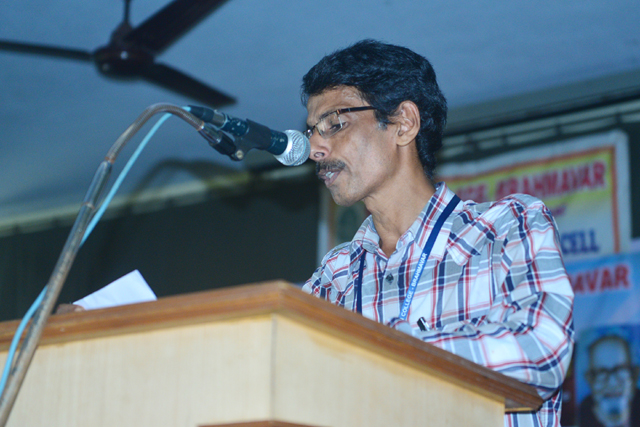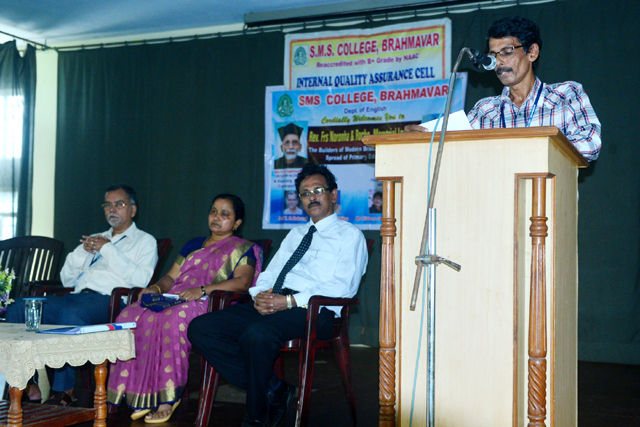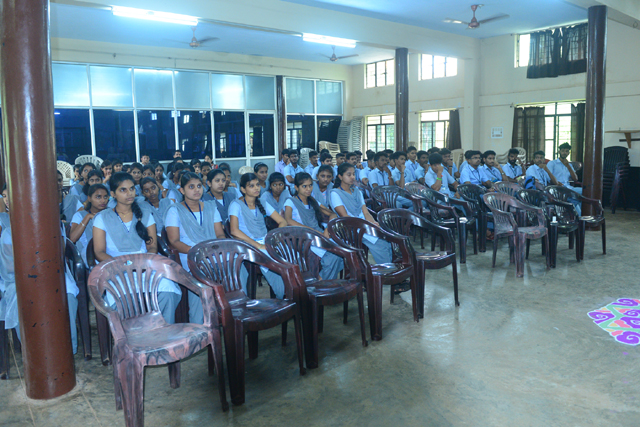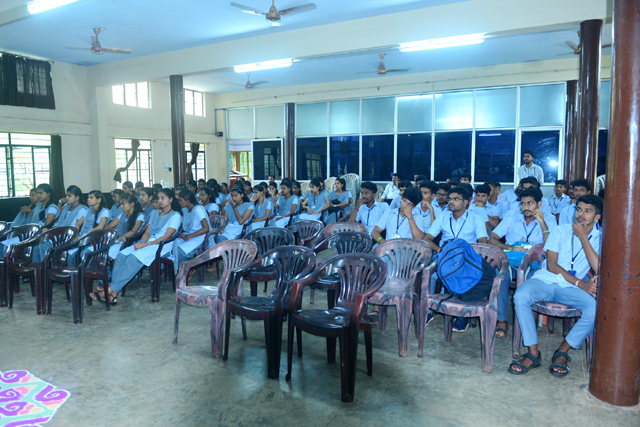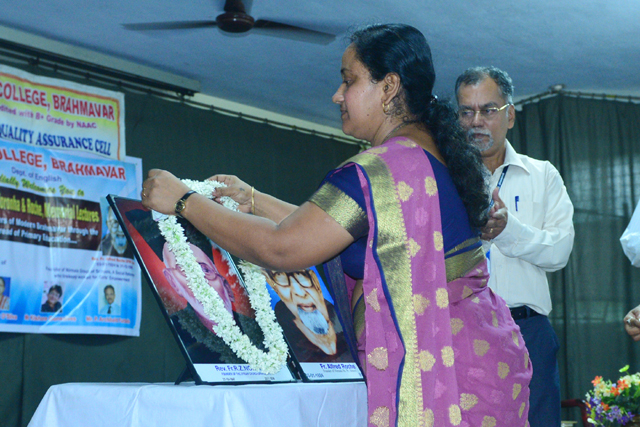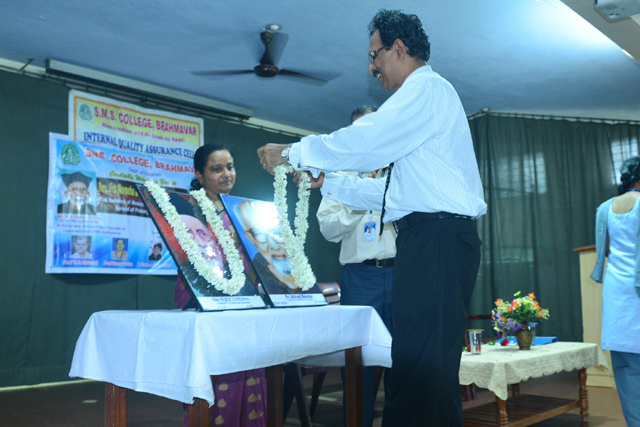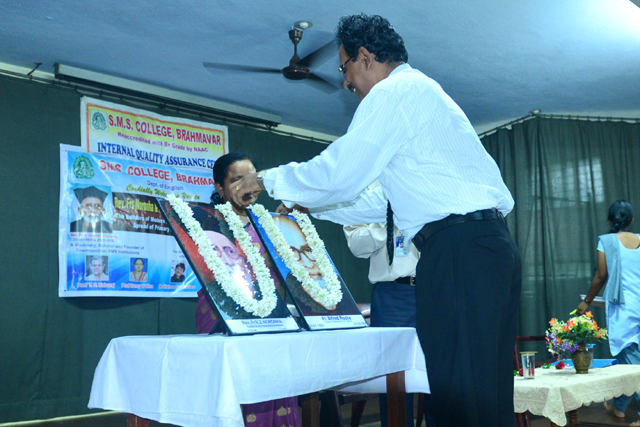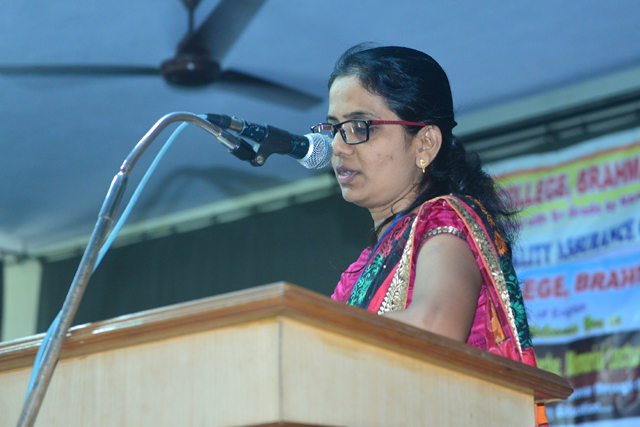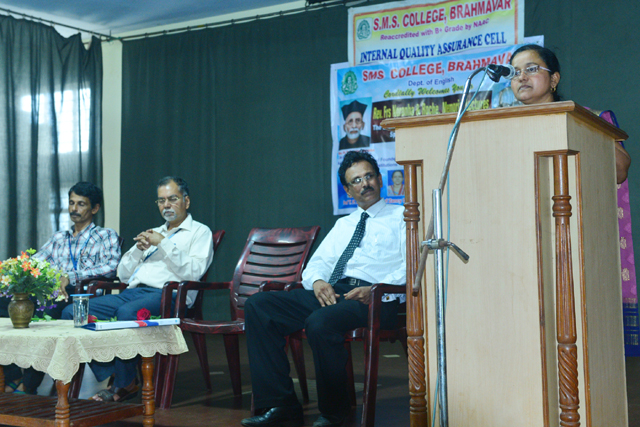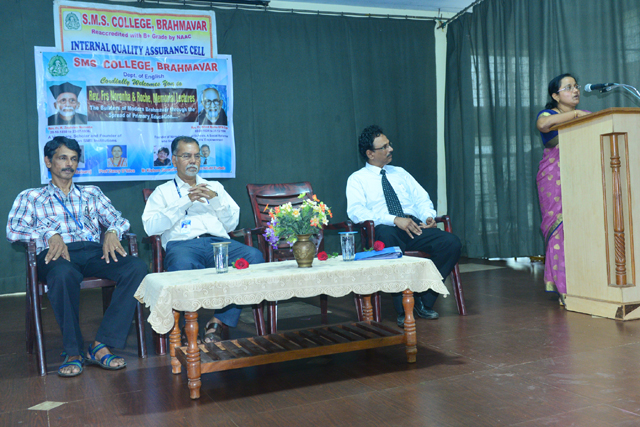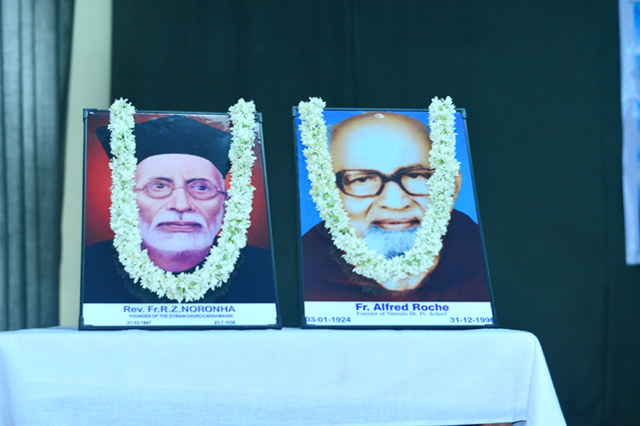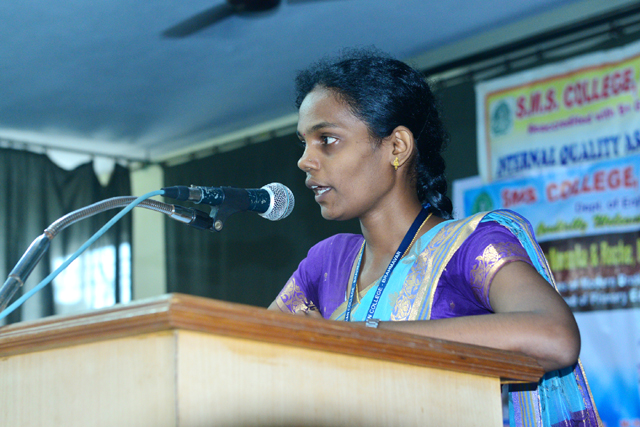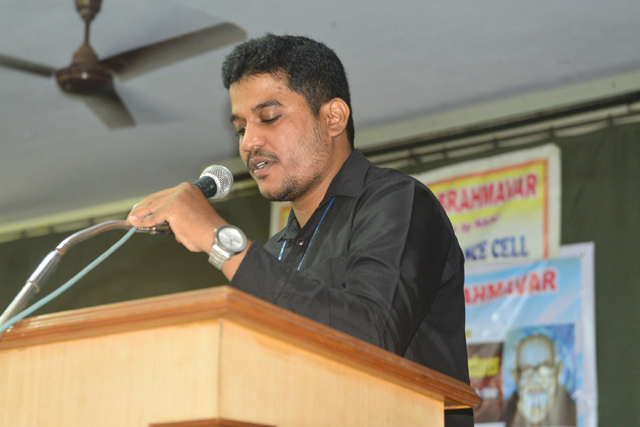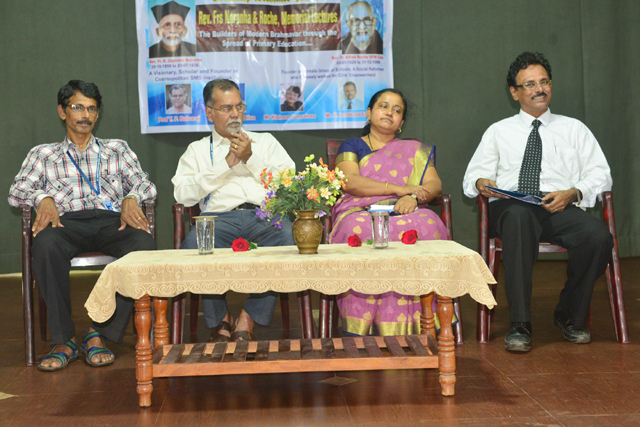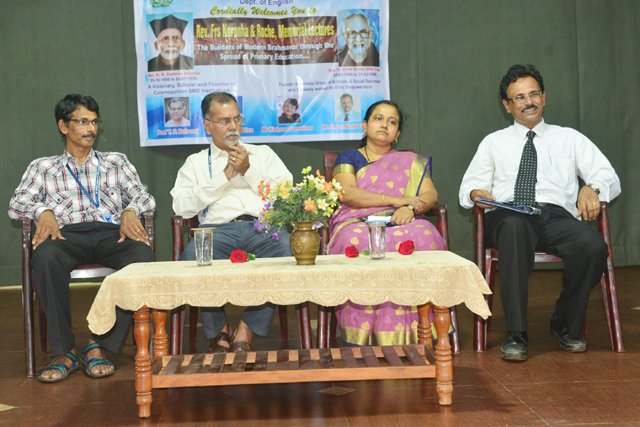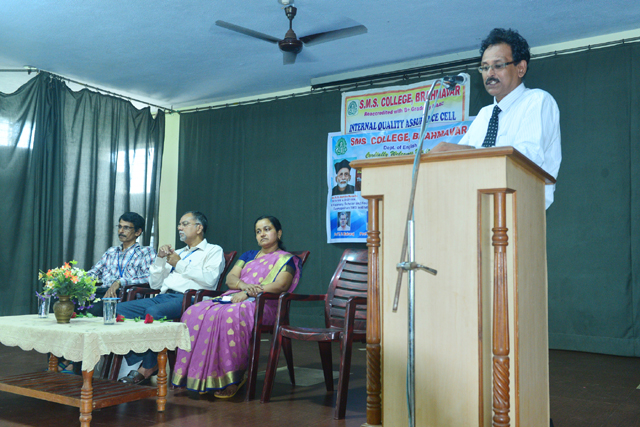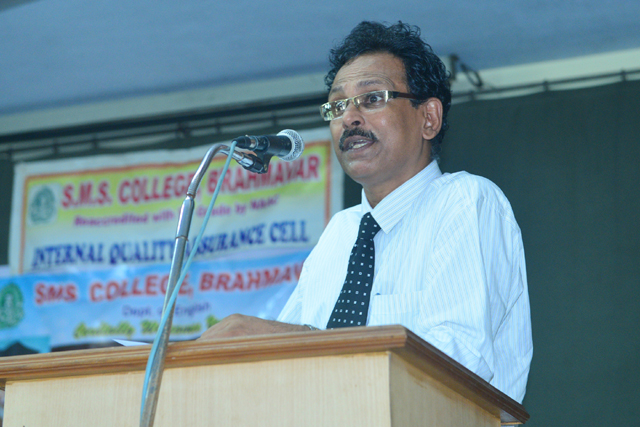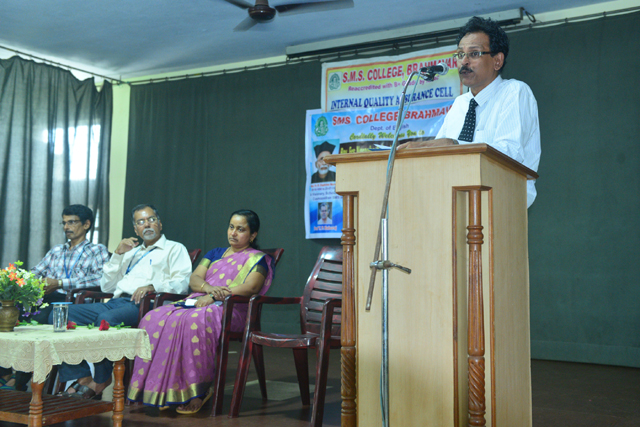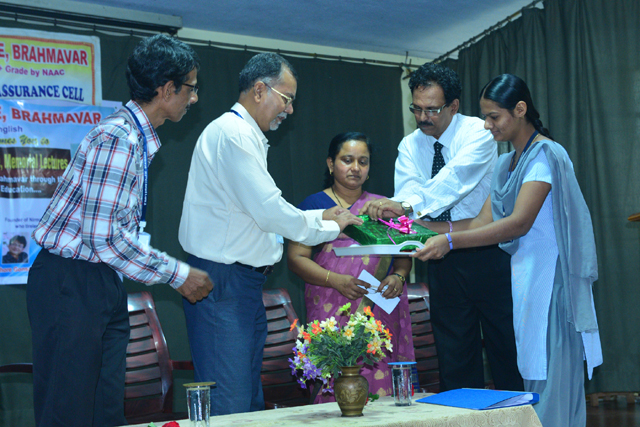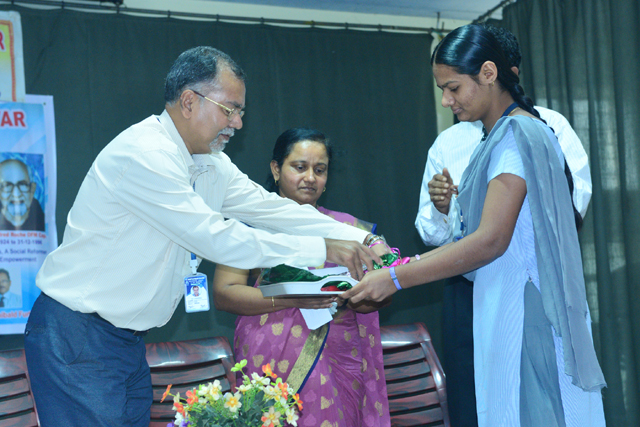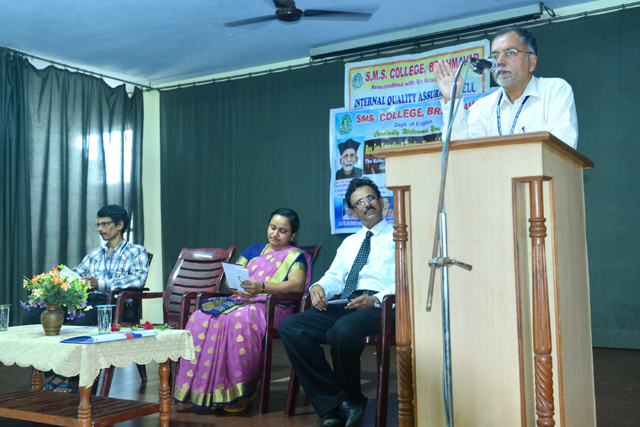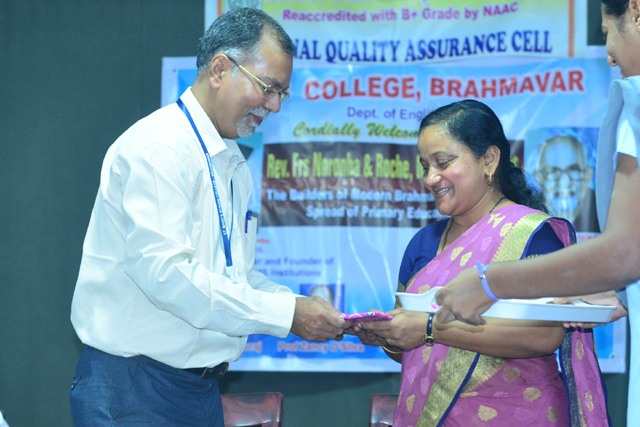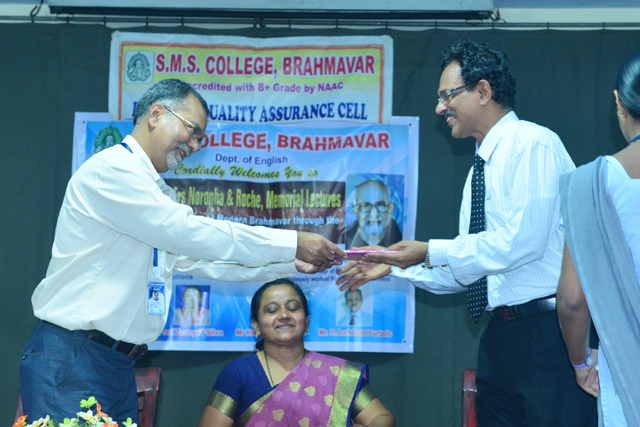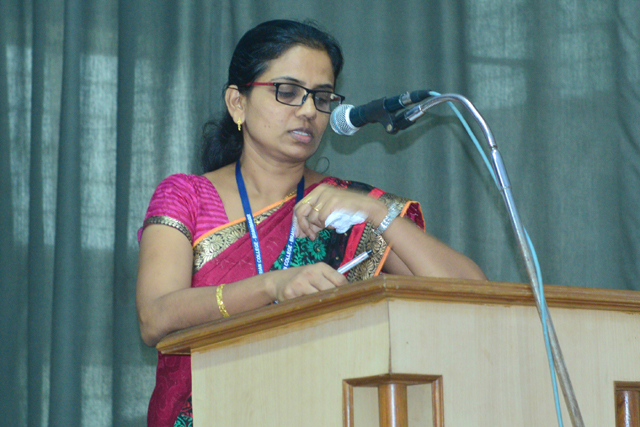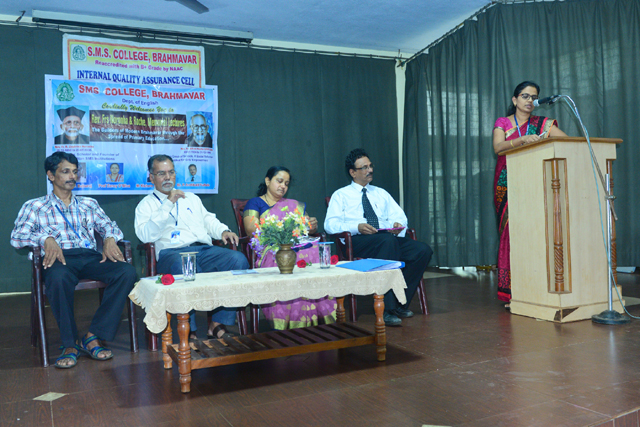 College principal Prof T P Baburaj presided over the function and once other distinguished speakers were escorted to the stage, by senior lecturer, department of English, Prof Alfred Furtado, briefed the audience the intentions of this programme and outlined the current need to remember such revolutionaries. He also highlighted the startling resemblances of the two unique personalities, with common intentions and objectives, lived and served Brahmavar in the last decades of 19th and 20th centuries, when this place was primitive, un-educated and very thinly populated.
As a mark of respect and gratitude, the Portraits of both the revered social leaders, Fr Noronha and Fr Roche were garlanded by the guests Zancy D'Silva and Archibald Furtado.
Seema Lewis, lecturer department of English, introduced the prominent speaker Zancy D'Silva, head of English department, SMS Junior College, who spoke highly about the founder of SMS Educational Institutions, way back in 1916, Fr R Zephrine Noronha, in the form of Cosmopolitan primary School. The saintly priest, hailing from Goa, who was exclusively spent his whole life in Brahmavar, which is almost 50 long years, 1888 to 1936, was a man of prayer, a visionary, a scholar, a writer and a social reformer inbuilt in one. He was not confined to a particular religion and sect; on the contrary, he wanted the place to be developed, poverty to be eradicated and firmly believed to achieve this goal, basic education must be the first step. Even after his death some 85 years ago in 1936, even this day, he is living in the hearts of Brahmavarites she stated. His burial place a pilgrimage center in the SMS Cathedral along with a memorial facing the Highway at the entrance.
In the absence of second speaker, Kishore Gonsalves, Barkur, of Daijiworld, as the programme was supposed to be held on August 12, who was scheduled to speak on Fr Alfred Roche, Jayasree, lecturer, department of English, gave a brief background of Kishoo, Barkur and his literary work and presented the prewritten speech to the audience. 'Born in Barkur in the year 1924, became a Capuchin Priest in the year 1951 and after serving in Farangipet, the young priest was entrusted with the task of developing Brahmavar, in general and the Holy family parish in particular as its First Capuchin Parish Priest on 4th April, 1956. Interestingly he believed in helping hands than praying lips and dedicated himself to understand the root causes of backwardness. Economic development, self-employment opportunities, basic education and good health were the four corners on which he wanted to build the modern society. He focused on girls education and their empowerment which only to be achieved with ability to read and write and this paved way for the commencement of Nirmala educational institutions'.
Soon after the above talks, Arun Kumar, department of English, gave a brief introduction of Archibald Furtado, a column writer in Barkuronline and other websites and periodicals, especially credited with editing an exhaustive book on the life and living of Fr Alfred Roche, Amcho Padryab, in the year 2018.
Furtado, summarized above two speeches with a strong statement as 'the above two great men are the architects of modern Brahmavara'. He gave valid reasons to substantiate this claim; they towed different paths towards a common destination to educate the masses, irrespective of caste, creed or religion, with the starting of Primary and elementary schools first. Both faced stiff reservations in the beginning, especially to convince girls to step into the schools. Both were Biblical and theological scholars as well as mastered Philosophy and have few very simple books to their credit in Konkani and English. Further, while concluding, he also emphasized 'such silent revolutionaries may not craved for any recognition in their life…but today SMS College and the English Dept. felt it to be a noble mission to have this lectures to commemorate their yeomen service for the cause of education and social welfare in a peculiar way and all concerned deserve appreciation'
Principal Prof T P Baburaj, released the colourful six pages brochure / leaflet, consisting of above lectures for the benefit of those who couldn't make it to attend this program and informed the attendees to spread a word in their group, that copies are available on request in the SMS College Library. He expressed his happiness in today's proceedings and congratulated the organizers for their best efforts to enliven a forgotten legacy. In these days when we hardly find any role models to follow, these two are true models to imitate, he stressed. While continuing he said 'Education is the only gift I received, not inherited any property from my parents' he informed and 'that is why now be able to stand before you…Similarly, these two great men, holy men made hundreds to stand on their feet and flourish….the society remain ever grateful to them….' He also appreciated the efforts of James Fernandes, Chicago, USA and his team, for instituting an endowment fund to defray the expenses, as these lectures will be an annual affair hereafter, in our SMS College' and with humility he acknowledged such generosity.
Student leader Reema Muscarenhus, took charge of the proceedings to make it both interesting and educative. Being half day, the organizers served refreshments to all participants. To conclude this unique event, Seema Lewis, lecturer, department of English, rendered the vote of thanks to everyone involved and specially remembered James Fernandes Chicago, USA, for his support and encouragement.