Barkur Udays Book on History Released
 'Vasthavada Odakugalu Ithihaasada Thodakugalu' a book on history by Barkur Uday was released at Sahodaya hall, Balmatta here on Saturday October 6.
The book explains the anomalies of the contemporary world due to mistakes made in the history.The programme was jointly organized by Tulunadu publications and Chintana Pustaka, Bangalore.
Shiva Sundar, human rights activists, Bangalore released the book.
Umar UH, director of Tulunadu publications, Dr Barkur uday, professor in history department, Mangalore University, C G Laxmipathi, professor in Sociology, Bangalore, Prof K Abay Kumar from University, Vasanth Raj from Chinthana Pustaka, Bangalore shared the dais.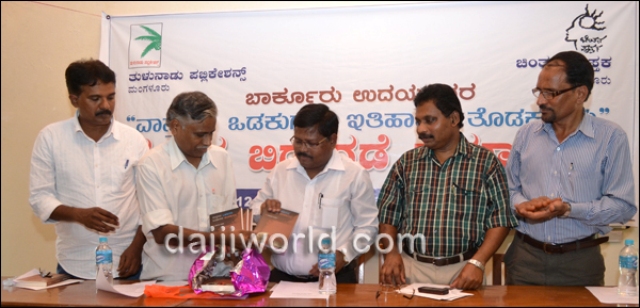 Dr Barkur Uday in his inaugural address assured readers satisfaction and curiosity when they read the book.
Speaking on the occasion, Shiva Sundar said that the book gives a complete understanding of history. "We have found many discriminations in history based on caste, creed, sex and other factors. The book deals with them comprehensively," he said.Speaking on the Mughal era, he said history praised Muslims and Islam, and later when Hindu rule came into existence, they were of more importance.He also said that the history has never been written from the point of view of Dalits or farmers.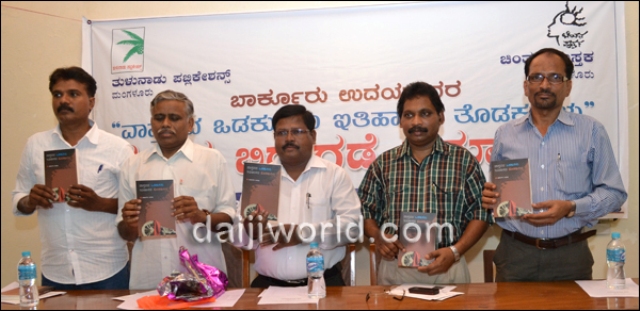 The book is useful in understanding past stories and raises various questions on history, he added.Umar U H welcomed the gathering and Vasanth Raj proposed the vote of thanks.