Expressions Online a virtual concert by The Expressions
'The Expressions', is a group of like minded people, without the barriers of language, region, caste and creed. Centered in Barkur, the name is synonymous for quality entertainment and talent promotion as its sole purpose for which it was born.
Keeping up with the current Covid 19 pandemic situation and current trends of online concerts, The Expressions is all set to present one of its own on the occasion of Monthi Festh or the Feast of Nativity. Aptly named as 'Expressions Online', the show will premier at 0730 PM on Saturday 12th September 2020 in www.barkuronline.com.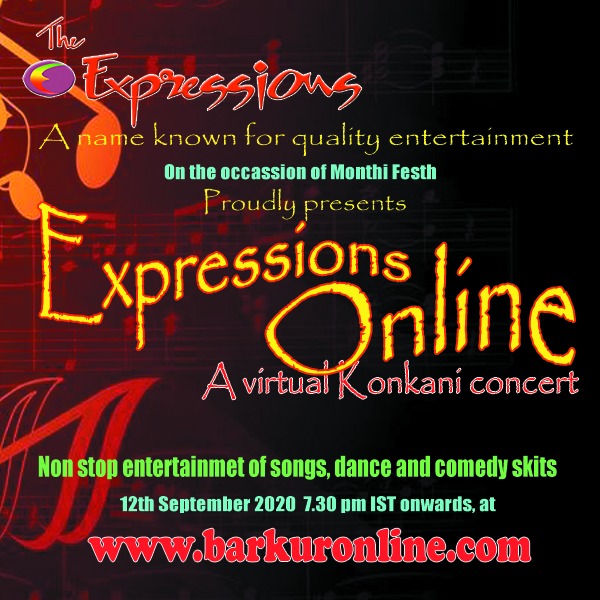 Talented artists of the group spread across the globe are collaborating remotely to put together a non stop entertainment program featuring selected Konkani songs of various composers, scintillating dance performances and comedy skits by the group's very own talented comedy trio, Sujatha Andrade, Alwyn Andrade and Stephen Lewis.   
The group has come a long way in its 20 years of existence. Presenting some path breaking cultural extravaganza starting from "Expressions 2000", "Sambhram", "Expressions 2005", "Karaval Milan Wilfy Nite", "The Expressions Wilson Olivera Silver Jubilee Nite", "Tuvvi Tuvvi", "Moagachi Aproop Ghadi" "Expressions 2009" "Expressions 2015", "Noorondu Nenapu Dinavoo Manadalli" and comedy drama "Konnee Samanaath" etc staged in Barkur, Brahmavar, Shirva, Mudarangadi and in the distant Bangalore and Mumbai too. The group also takes pride in the fact of being the Co-Organizers of two of the Annual Kavita Fests by Kavita Trust (Regd). Comedy skits presented by The Expressions in mega shows like Wilfy Nites and Wilson Olivera Nites, and Decennial Function of MCA Qatar and are much talked about and have won accolades and prizes in TV shows in Daijiworld and Namma TV  channels. The Expressions also joined hands with Parish Council of Jeppu to organize the Udupi Diocese level Wilfy Rebimbus memorial singing competition. 
The Expressions grandly launched, Rockin Angels, probably the first ever kids band in Udupi, in a mega show on January 1st this year in front of a jam packed crowd at the grounds of Mother of Sorrows church, Udupi.