Teachers Day by Barkur Educational Society
News n Pics Bridgit Gonsalves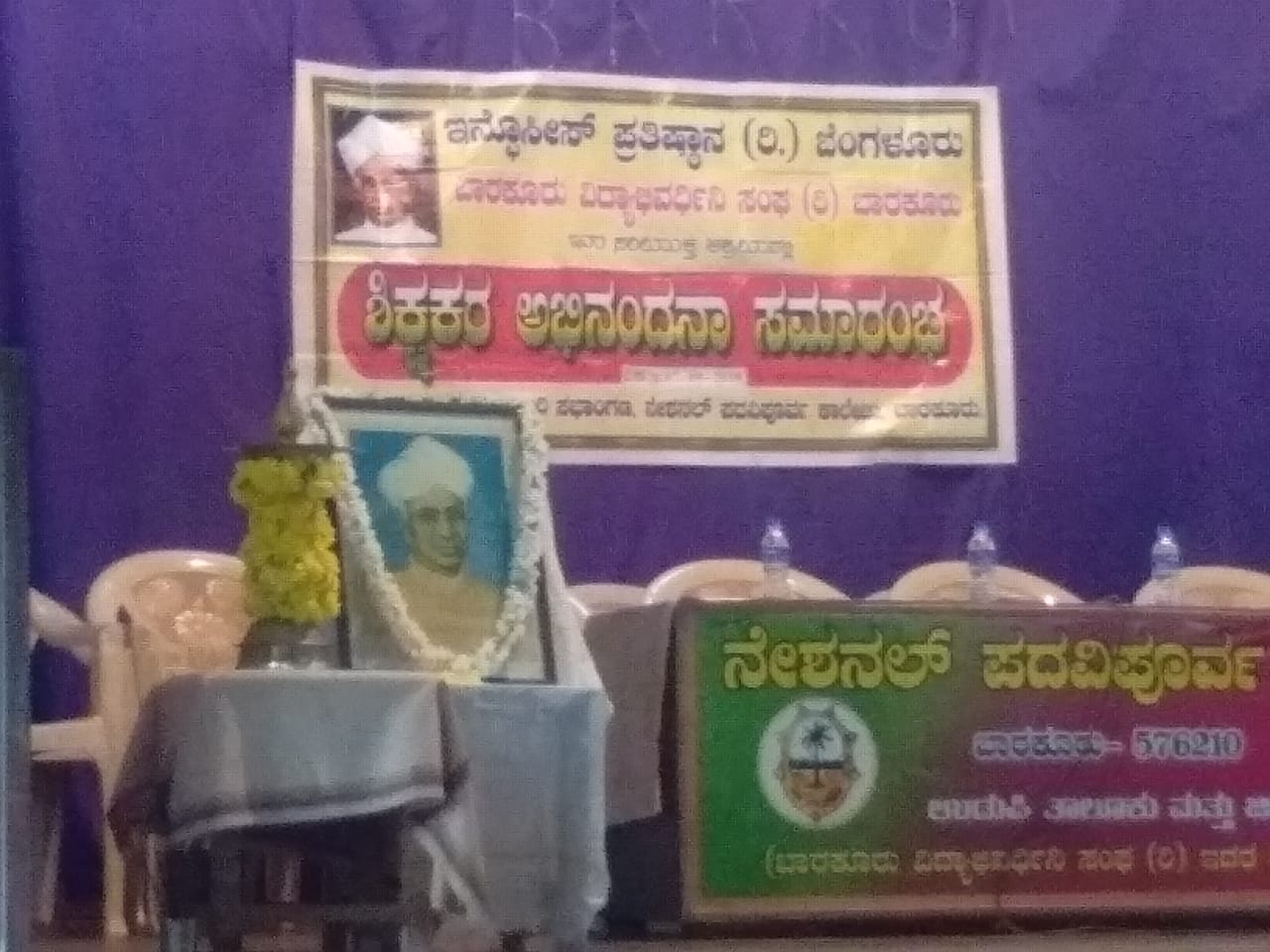 Teachers' day was held at NJC, Barkur by Barkur Educational Society. All the teaching and non teaching staff of five units of Barkur Educational Society, viz  National Junior College and High school, Hanehalli Higher Primary School, NRSMHP School, Herady,  SVVN English Medium School, and National ITI Herady, were present. The program was inaugurated by the President of Barkur Educational Society,  Mr.B.Shantharam Shetty, who presided over the function. Mr. Seetharam Shetty welcomed the guests and gave an introductory speech. Best teacher award , sponsored by Infosys Foundation, Bangalore, was given to Kamala teacher of NJC high school. Mrs .Jyothi Shetty received the honour on behalf of her.  Treasurer Mr. Krishna Hebbar asked the teachers to fine tune their skills to attract the students. Principal of NJC Mr. Kotraswamy spoke on behalf of all the of heads of five institutions. 
"Guru transforms the lives of the students where as a teacher teaches only the content." Said Dr. B M Somayaji ( correspondent of SVVN English Medium School, Herady) in his speech. He asked the teachers to become Guru and change themselves for better.
"Teachers have to work hard to improve the strength of the school." said, Mr. B Shantharam Shetty in presidential remarks.
Mr. Ramachandra Kamath, correspondent of National ITI, Herady, proposed the vote of thanks.
Mr. Sudhakar Rao, conducted the program.  All the committee members and correspondents of schools were on the dias. 
The celebration ended with a delicious fellowship meal,  sponsored by Mr.S Vittal Shetty, Vice President of Barkur Educational Society.