A father noticed that his son was spending way too much time playing computer games, e-mails, or on instant messages.
In an effort to motivate the boy into focusing more attention on his
schoolwork, the father said to his son, "When Abe Lincoln was your age, he was studying books by the light of the fireplace."
The son replied, "When Lincoln was your age, he was The President of The United States...."
A young boy used to attend every funeral, even though, the dead were unknown to him. When asked, "Why do you attend these funerals?", he replied, "I come here to collect the half burnt candles. These help me to read at night!"
Which candle burns longer, the white or the red one? (Both being identical in size, shape, or weight, except for the color.)
Answer: Both burn shorter!
James Fernandes, USA
The last sunset of year 2002 at the River Seetha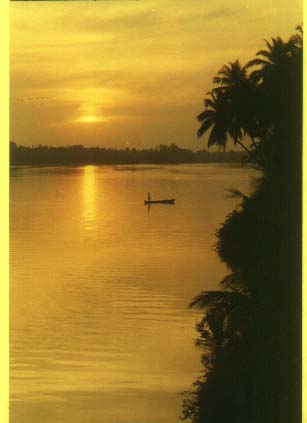 Foto Courtecy: Vishwas Studio, Barkur
For More of Barkur Masala Click