'Nityotsava Kanda Barakuru', an exhaustive Book written by, Prof Y. Mohan Rao to be released
-P. Archibald Furtado.
'Nityotsava Kanda Barakuru', an exhaustive Book written by, Prof Y. Mohan Rao will be released on 24th September, 2022.
The ancient and historical city Barkur has many wonderful things to explore. Various historians, social workers, theologian's, eminent writers tried to unearth hidden treasures and recorded them in different forms. More than a dozen presented their doctoral research thesis, commentaries, reference books etc over the years. The curiosity and invention will never end when it comes to Barkur, once the capital of Alupa kings and the seat of power for various dynasties over the centuries, those ruled and influenced Southern India in general and Coastal Karnataka in particular.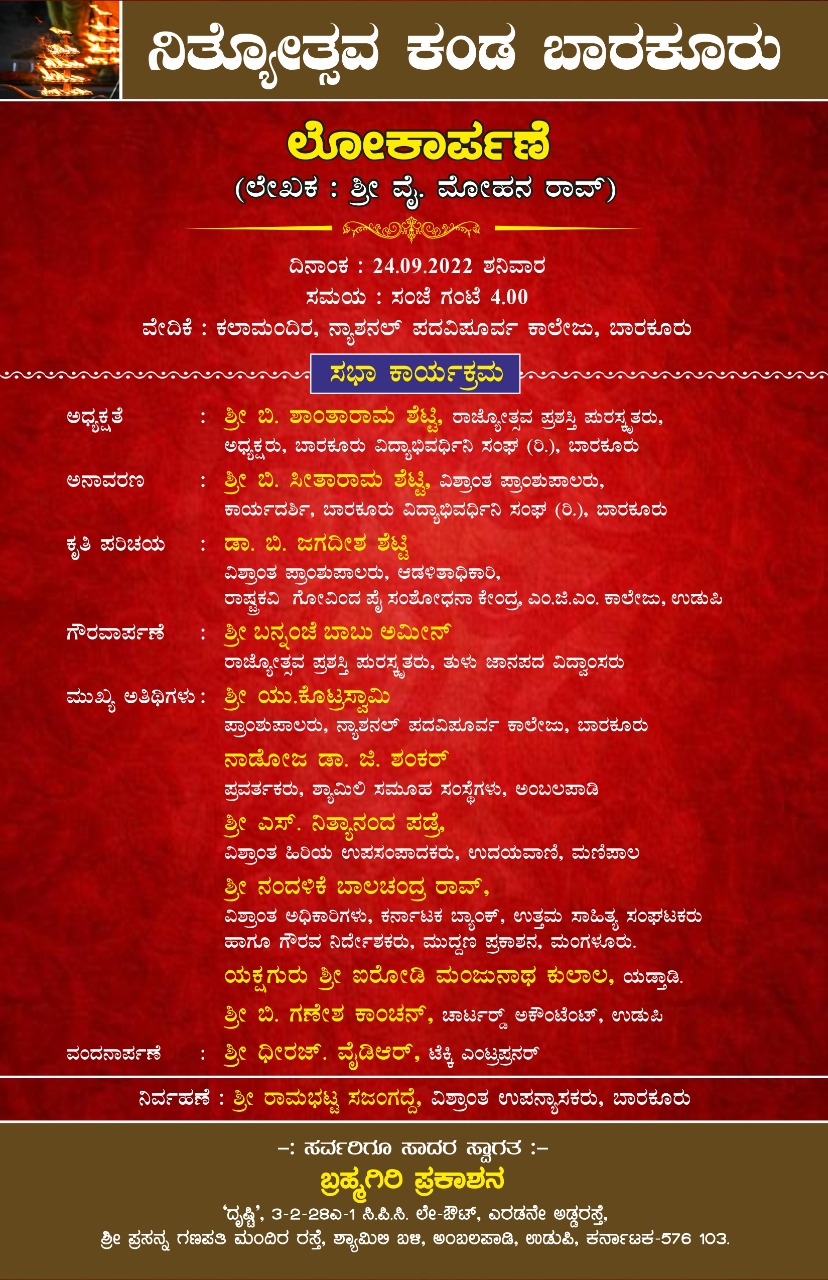 One important feature or significance of this town Barkur is it still attracting hundreds of people and command respect and reverence and the place will be a home for most of the castes and sub castes in the region. In other words, no place will be compared to Barkur, when it comes to Moola-stana's (roots and mother temple) of various sects and sub sects. Over the years, though the place lost its political prominence, its religious authority still intact with visible daily festivities, prayers, celebrations and obedience by thousands of people every year.
Prof Mohan Rao, who spent his prime years of life in the National Junior College as Lecturer in Commerce i.e. more than a three long decades, always had a passionate attachment to this town. He has written nearly a dozen books and series of articles. Now at his ripe 70's, with vast knowledge and authority, ready with a master piece to offer – 'Nityotsava Kanda Barkuru'.  Probably, this work will be the best of Prof YM Rao as he took long time to collect authentic records, tabulate facts and figures, and pictures to focus on few great Temples in Barkur and few other monuments. Colourful book containing around 300 pages, undoubtedly a prized gift to Barkurians and to all those linked to Barkur someway or the other. More than that, it contains some insightful narratives which will have historical and cultural richness attributed to his constant studies and in-depth research.
Book will be released for public during a programme to be held in the Kala Mandira, National Junior College, on Saturday, 24th September at 4.00 pm, in the hands of our Retired Principal, Shri B. Seetharama Shetty.