LIFE AND DEATH IS A PART OF OUR LIFE.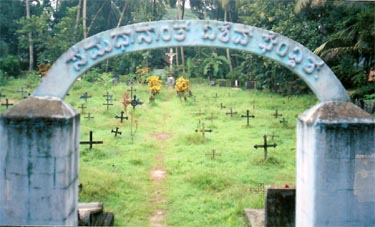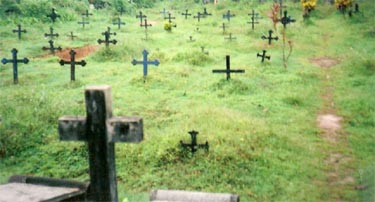 Every year when I visit my home in Barkur I make sure I visit the cemetery, located near my home parish, St. Peter the Apostle.
At the entrance to the cemetery there is an arch with the words, written in Konkani, "Samadanent Vishew Gevendit" (REST IN PEACE). There I see the graves of wonderful people marked with crosses that have been engraved with their dates of birth and death. Many I knew very well because they were born and raised in our beautiful town of Barkur. Others came and lived in our historic town. As often as I visit our cemetery I say a quiet prayer; "May the souls of these faithful departed rest in peace with God.'
Sometimes during my vacation days in Barkur I am privileged to do the funeral of a relative or parishioner whom I knew very well. In doing so I am able to participate with the family in the grieving process for their loved one. When I reflect deeply on this mystery of life and death, I am fully convinced that it is just a part of our daily living. Without knowing when and how our end will come, each of us has to be ready for that day and hour. For Christians and all other religions who believe in life after death, there is a comforting thought and hope that our ancestors, who have gone before us, are in a peaceful place in the presence of God our creator. Someday we also will go from this world and join the company of our ancestors in heaven. So the cemetery for us Christians and other religions, who do the burial rite for the dead, it is a final resting place. For the living it is a place to visit, pay homage with flowers or lighted candles, and offer prayers to our loved ones.
In our universal Catholic Church there are special days every year when we remember our beloved dead and those days are called the feast of All Saints and All Souls, celebrated on November 1st and 2nd .
The separation of our ancestors from us at the time of death is always painful. I know many people, feel strongly that ancestors, especially those who have loved us and whom we love, do not simply disappear. They somehow are with us, interested in how we are and what we are doing. They want to guide and protect us in some way and for example, communicate with us through dreams. This way of thinking about our ancestors need not seem so strange. Hinduism, Christianity and Islam all honor the dead. Their tombs are cared for and some are considered holy or saints. We pray for their assistance and feel they are with us, supporting us, and interceding for us to God.
Our ancestors do not disappear to some far away place. The idea they are near their loved ones need not shock us. We can take it for granted. If we truly believe this, we will take their separation at the time of death more calmly, even joyfully. Every time we celebrate the Eucharist we recall people who have gone before us and think of them as though they were celebrating and praying with us. Maybe if we were more open and welcoming, we would experience their presence and nearness even more. Love, concern for, and communicating do not disappear with death. The Spirit of God is there providing the link and enabling the process of communication, so to speak.
There is a saying: "no man is an island." We are all networked in various ways, even in ways unknown to us. We know this network extends across the borderlines of death. How enriching if we can experience this!
We pray to the saints. How many of us pray to a parent, to a relative, to a friend, or even a child whom we know is alive in the Lord and interested in our well being? I know some people who do! We need no ones authorization to do this. The love of our ancestors, people close to us, will be with us always as we continue to walk our journey of life in this world.
Let us not be afraid to face death when it comes because we know we will have a life to live forever in heaven.
Fr. Tony Andrade