JOY OF CHRISTMAS (birthday of Jesus Christ)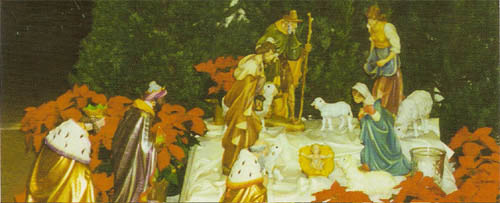 The celebration of Christ's birth on 25th December started in the year 336. In the course of a short time this practice spread all over the west and today it is observed all over the world.
Today we celebrate the birthday of Christ the child. God our Father invites us to this feast, for today is "born for you the savior in the city of David" and we commemorate this great event today: " The word was made flesh, he lived among us" God is come so close to us, become one of us, a living reality.
"Today is born to you a Savior", announced the Angeles to the shepherds. God, who manifested Himself in various times, assumed now the form of man and appeared in the person of Jesus. St. Paul says:" he is the image of the unseen God and the first born of all creation"(Col.1: 1-5) He became man to be with us human beings. He took upon himself all that is human to show his solidarity with us. In him goodness and friendship of God appeared in its fullness.
JOY OF CELEBRATION: Christmas is day of exuberant joy. The savior is born to the world. The baby lying in the manager brings salvation to humanity. The prophet Isaiah's vision is: " your savior comes" has become a fact. The shepherds were overwhelmed by the good news. Their joy had no limits they glorified and praised God. The shepherds as the first Christians evangelists proclaimed this good news and the good news of the birth of Jesus are addressed to all of us. We have reason to rejoice. We have reason to celebrate. For God is with us, God is for us; God who appeared in Jesus will make us "heirs in hope of eternal life."
CHRISTMAS AN EVERDAY EVENT: Christmas is not event of the past. Christ should be reborn in the hearts of each one of us everyday. We have to commune with God, we have to enter into his presence. Wherever and whenever we experience Him we experience Christmas the birth of God in us. God has become man He has become one of us. He has established his presence in the heart of each on of us. In order that we may experience the joy of Christmas we must: - Let Christ, our light shine in our soul, be the ground of our joy, we must purify our souls from all stains of sin and corruption and open the door for Christ, we accept the message He brings us the message of peace and love and finally we must share the love of Christ with others, for joy shared is doubled.
May the Lord bless all of our families and us in this holy season of Christmas, May He fill our hearts with peace and joy.
Fr. Tony Andrade.